A productive offseason took some of the spotlight off of the NFL Draft. That provides an ideal start for Quinnen Williams' New York Jets career.


There's little, if any, honeymoon for New York Jets draft picks. Nurturing behind veteran mentors has mostly been eschewed for ceremonial trials by green fire.
Some players thrive on instant participation. For example, D'Brickashaw Ferguson was public enemy number one upon his 2006 draft. The offensive lineman's lone crime was that his name wasn't Matt Leinart or Vince Young. He went on to become one of the most dependable blockers in NFL history. His 10-year Jets tenure ended with a single missed snap.
Ferguson's success isn't always the norm. The vocal detractors of Kyle Brady, 1996's premiere pick, were instantly vindicated when the tight end failed to tally more than 315 yards in a single season.
Instant exposure was a theme of the Jets' past two first rounds. Sam Darnold is viewed as the most legitimate team quarterback heir to Joe Namath. Jamal Adams had to convince some critics the 2017 Jets could win a single game.
With inexperienced rookies constantly forced to play savior, Quinnen Williams finds himself in a refreshing situation. Williams is the latest Jets rookie to have his name called upon by the NFL commissioner at the NFL Draft. The defensive lineman from Alabama was the third overall pick in Thursday's selection meetings.
Yet, there is an aura of New York indifference to this draft. Maybe it's the lack of a second-round pick, dealt in last season's Darnold transaction. Perhaps its the lack of eye-popping skills position prospects or the theories that the Jets need help at the more "boring" positions. There was even talk of trading down in the draft, a prospect that might've unthinkable while it served as consolation a six-game losing streak last fall.
But their ingenuity and ambition this offseason may be the most likely suspect in the assault on draft interest. There are certainly far worse problems for a redemption-seeking squad to have. For Williams, it's a hidden blessing.
Unlike recent drafts, there's no immediate pressure for him to carry the team. The Jets' success doesn't live or die on Williams' performance. They took care of that with a strong offseason, building a veteran-laden foundation with award-winning talent. Williams doesn't have to headline the squad. He can instead be a vital supporting player, at least while he gets the hang of this NFL thing.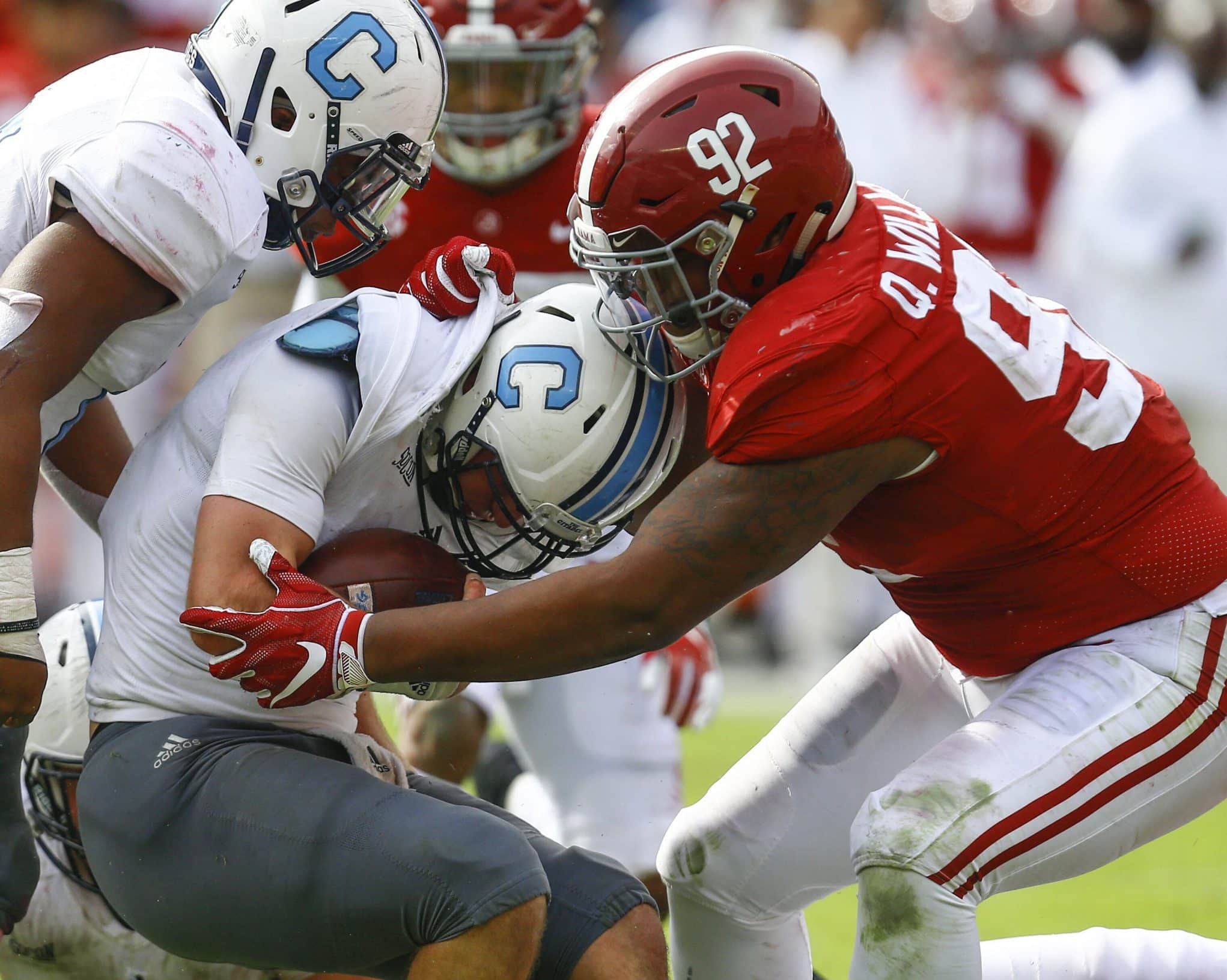 A viable criticism of the Williams selection is that he makes is living in an area the Jets were some solidified. The unrelated Leonard Williams returns in a contract year. Henry Anderson and Steve McLendon were welcomed back with new deals. Jets brass could've realistically filled an offseason need (i.e. interior blocking or secondary help) but went with the "best player available" option. That's a selection rarely afforded to franchises working on a playoff drought approaching a decade.
Through Quinnen Williams, the Jets were able to make it that pick, and give him ample assistance.
The Alabama product doesn't have to be an instant miracle worker. He can grow and develop in a relatively normal franchise setting. There's always going to be the fan and/or analyst seeking instant fulfillment, especially in New York. But from a rational standpoint, Quinnen Williams can grow and develop at a normal NFL rate.
The ironic part is, however, that the rookie is already embracing his potential responsibilities.
Williams has survived a college career under a ruthless tutelage in Tuscaloosa. There has already been a target on his back as a member of the polarizing Crimson Tide. For a player of his talents and mindset, New York could be a welcome change of pace.
If his opening statements are any indication, he won't have any of it.
"I can play anywhere up front. Wherever they need me to play, I'll be a dominant player up front and an elite player at whatever position they line me up at, whatever position they want me to play," Qunnien Williams said in a promise documented by Ethan Greenberg of the Jets official website. "I have to back it up when I get there. I have to come in and be that number one pick."
Quinnen Williams will get the chance to prove he was worth the selection soon enough.
Follow Geoff Magliocchetti on TWITTER