After taking seven defensive players in the 2019 NFL draft, here's what the New York Giants starting defense could look like this season.

As expected, the New York Giants focus during the NFL Draft was to improve a defense that ranked 24th a season ago, as seven of their 10 picks were defensive players. Some of those players should become instant starters in 2019.
Here's an early look at what the Giants starting 3-4 defense will look like this season:
LE: Dalvin Tomlinson– The versatile lineman is entering his third year with Big Blue and has been solid against the run while piling up 109 tackles. The Giants hope he can become a more effective pass rusher in 2019.
NT: Dexter Lawrence– The Giants 17th should become an instant starter. The 6-foot-4, 342-pound Lawrence will provide a strong push up the middle that has been missing since the Giants traded Damon Harrison in the middle of last season.
RE: B.J. Hill– Coaches and teammates raved about Hill throughout training camp last season and he didn't disappoint. He set a rookie franchise record with five and a half sacks (Lawrence Taylor unofficially had nine and half in 1981). As productive as he was as a rookie, Hill should have an even bigger second season.
ROLB: Markus Golden– One of the key free agent pickups this offseason will play a huge role for the Giants in 2019. Golden is familiar with James Bettcher's defensive schemes from their time together with the Arizona Cardinals. If Golden can return to his 2016 form when he had 12.5 sacks, the defense will be vastly improved.
ILB: B.J. Goodson– Goodson is entering his fourth year with the Giants and has always been solid at stopping the run, but has struggled against the pass. He brings a nastiness that all defenses need.
ILB Alec Ogletree– Ogletree was one of the team captains last year in his first season with Big Blue. He struggled at times early in the season but finished second on the team in tackles with 93, and led the team in interceptions with five.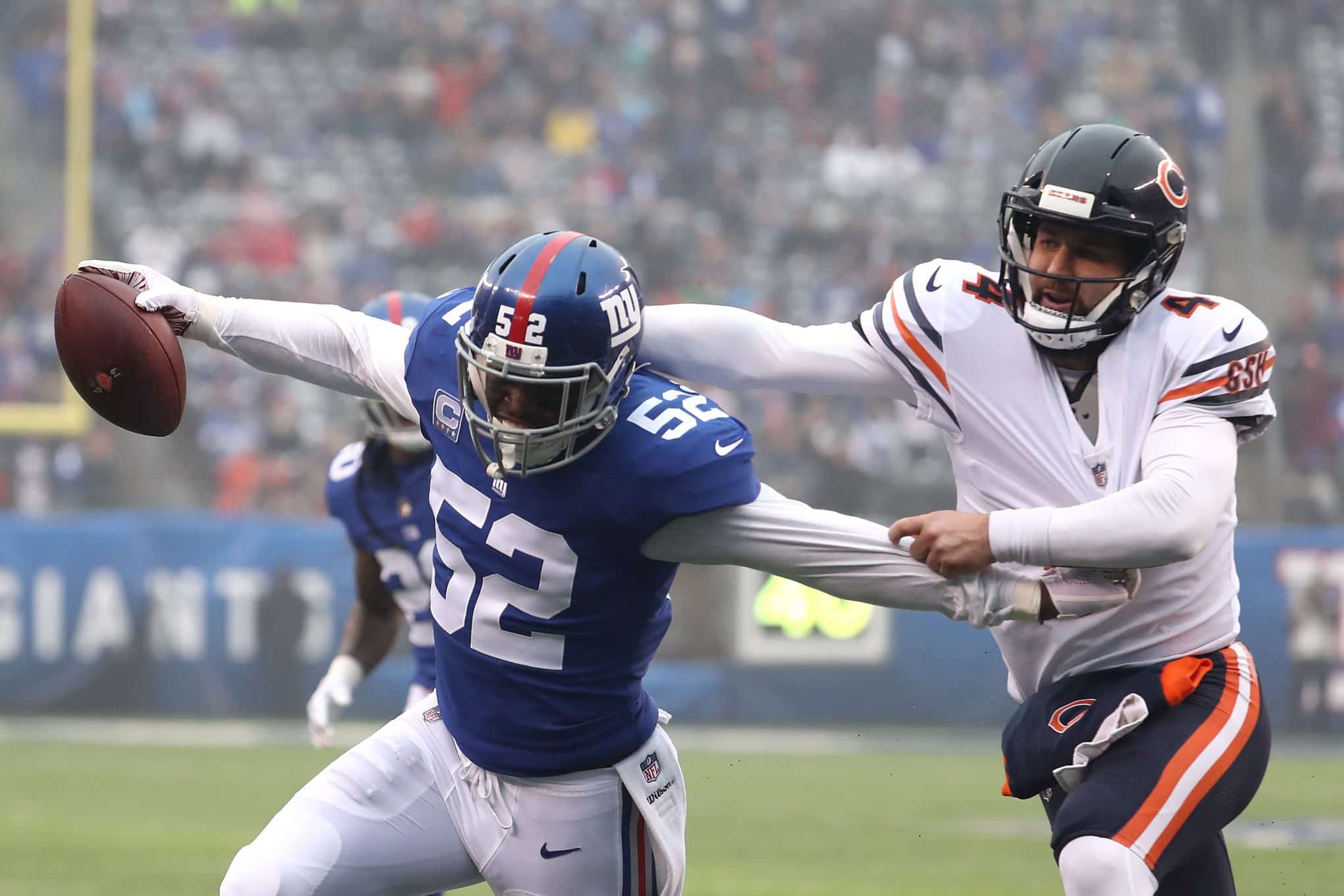 LOLB: Lorenzo Carter– Carter's play steadily improved week to week last season. His quickness and athleticism were a welcomed addition to the team. He finished last season with four sacks and that total will go up in his second season.
RCB: Janoris Jenkins– Some thought Jenkins may have been a cap casualty this offseason, but the Giants are bringing him back for his fourth season with Big Blue where he will cover the opposing team's best receiver. Jenkins will also be a mentor to the three cornerbacks the Giants drafted. As general manager Dave Gettleman stated, Jenkins as some puppies to train.
FS: Antoine Bethea– Here's another key free agent acquisition and another one of Bettcher's former players from his time with the Cardinals. The 14-year veteran is still very active as he had 121 tackles a season ago. He'll be an upgrade at free safety over last year's starter Curtis Riley.
SS: Jabrill Peppers– the Giants acquired Peppers in the Odell Beckham Jr. trade to the Browns, but he will fill the role that Landon Collins leaves behind at strong safety. Not only is Peppers a solid safety, but he's also been used as both a punt and kick returner. He should be better in coverage than Collins. The question is, "Will he be as good a tackler as the newest Redskins strong safety?"
LCB: Deandre Baker– the Giants traded three draft picks to get back in the first round to take Baker with the 30th pick. You don't make a move like that if you don't expect to play that player immediately. Many felt Baker was the best corner in the draft and he hasn't given up a touchdown since 2016. He was consensus All-American last year and the Giants are banking that he can live up to being the best corner in the draft.
This lineup is not etched in stone as there will be competition at every position especially in the secondary. But there's a good chance this will be the New York Giants starting defense come July.