The 11-year New York Red Bulls man, Connor Lade, scored the team's winning goal of their 100th victory at the Red Bull Arena.
He doesn't always score goals, but when he does, he scores a screamer from the top of the 18 with his weak left foot, a goal that gives New York Red Bulls their 100th win at the Red Bull Arena while snapping a painful five-game winless run.
Stay goalless, my friends.
Connor Lade beamed Daniel Royer's backheel pass in the bottom left corner of the net in the 38th minute to give the Red Bulls a much needed 1-0 victory over MLS newcomers FC Cincinnati on Saturday night. It was unarguably New York's goal of the season so far.
Lade only scored four goals in his seven-year career. The last time the 29-year-old was on the scoresheet was on July 13, 2016.
"I definitely don't score that often so when I do it's always special," Lade said in a postgame interview per the team's official website.

"It was a great team goal. You know, to be able to help the team win tonight was big for me."
A defender was obviously an unlikely goalscorer. However, head coach Chris Armas noted that in a match in which their opponents played with four defenders and four midfielders, he expected goals to come from an improbable source.
"Against a four-four block those guys [wide defenders] would become attackers," Armas said.

"So it wasn't so unexpected in terms of what we thought and where spaces would be. I think we can all see that.

"But yes, he's a wingback, it's a defender [scoring]."
It's not the first time this season a player who's not usually putting the ball in the back of the net scored for RBNY.
Alex Muyl, a midfieler who only racked 10 goals in 93 MLS appearances, is The Metros' top scorer of the season alongside Royer with two goals. Second choice striker Brian White netted his second MLS goal and youngster Cristian Casseres Jr. scored his first ever MLS goal.
Meanwhile, the club's all-time leading scorer, Bradley Wright-Phillips, found the net only once in six MLS starts this campaign.
Lade wasn't an unexpected scorer just because he's a defender, but also because he's not having the best season. The St. John's University product is one of the many players who's been struggling in the team's poor start of the season.
One of Lade's worst games of the campaign was RBNY's heartbreaking Champions League exit to Club Santos Laguna. Two goals came from his mistakes.
Santos netted their first goal after Lade missed a tackle and was mispositioned. Then the Mexican side scored their third goal when Lade allowed Diego Contreas to move right past him and score.
Nevertheless, it's like this game or any of the other games in which the wingback had a poor performance in didn't happen when you watch the 38th minute of the Red Bulls' game against Cincinnati.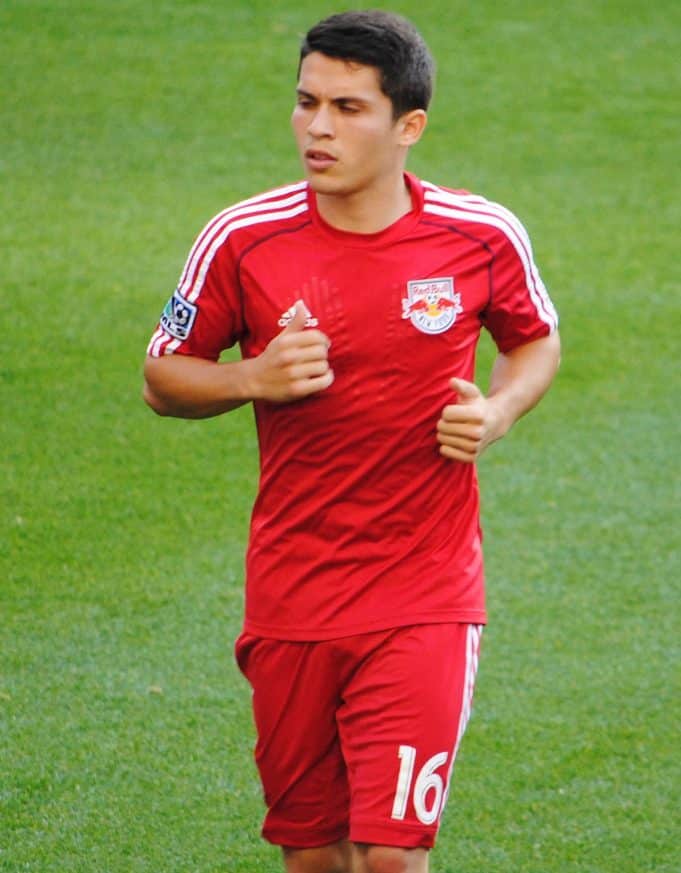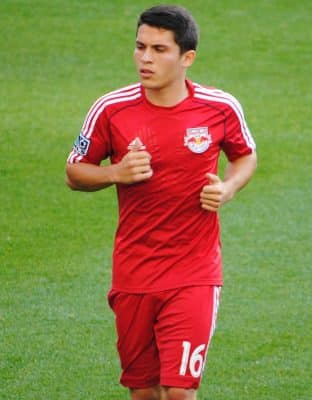 Lade was eager to score to put his side out of their misery. RBNY had only scored eight goals in seven games and didn't win in a month and 11 days.
The Jersey native screamed for the ball—a defender who has an average of 0.42 goals a year was screaming for a pass in the box to score. The player he was demanding the ball from was Royer, the team's second top scorer last year.
And Royer's pass could've reached Marc Rzatkowski, a solid midfielder with European experience, but Lade made sure he left the ball roll to him with his scream.
"Daniel held up the ball well. And I was screaming for him to lay one of," Lade said. "I think I screamed a little bit louder for Marc to leave it.
"I really wanted to hit that one."
He hit it. His thirst to hit a shot and bravery to ask for the ball when he's not even a scorer snapped New York's five-match winless run and carried the team to an historic 100th win at their first ever stadim, Red Bull Arena.
It was fitting for a player like Lade to score the winning goal of a century of victories at RBA. He's from Jersey where the Red Bulls play, has been with the club since 2007 when he was 18. Hence, he's been with RBNY since before entering college and now he's a married 29-year-old man with a daughter.
Not only is Lade a veteran, but he's also reportedly one of the most loveable guys in New York's locker room.
Furthermore, he's a worker who leaves it all on the field. Lade can play several positions and can play on either side of the defense, can push up to midfield, and can use both feet.
Connor Lade is the most interesting man in New York's roster. He doesn't always score goals, but when he does, he scores a goal that could change New York's season around.