The Brooklyn Nets' first-round elimination at the hands of the Philadelphia 76ers was a quintessential showing of Murphy's Law.
Most Cinderella stories end with unimaginable success. The Brooklyn Nets failed to experience that, but them even qualifying for the postseason seemed impossible five months ago. Following the injury to Caris LeVert, Brooklyn endured eight-straight losses, dropping their record to 8-18. They were more likely to have a lottery pick than a postseason berth.
As the season progressed, the Nets grew hotter and hotter. Brooklyn finished with a 42-40 record, their best mark since 2013-14. The reward was the sixth seed in the Eastern Conference and a first-round matchup against the Philadelphia 76ers. Things ended unfavorably. After a strong Game 1 performance, Brooklyn suffered four-straight soul-crushing defeats. In short, they didn't play well.
The most apparent shortcoming was D'Angelo Russell's poor play. My colleague Collin Loring covered that topic in-depth. However, Russell's suspect decision-making and inability to hit shots didn't single-handedly sink the Nets.
Ed Davis' Ankles Failed Him
The Brooklyn Nets' problems started from the ground up. Literally. Ed Davis, the blue-collar frontcourt workhorse, battled ankle problems that limited both his effectiveness and availability.
After Game 1, it was clear Davis was an x-factor. He finished with 12 points and 16 rebounds and was a team-high plus-28. His effort on the glass was invaluable. But it was Davis' bothersome defense on Joel Embiid that gave Brooklyn the chance to win. Not many defenders can contain the seven-footer. With superb footwork and seemingly superhuman strength, Embiid is a load in the post. Despite being short and weighing less, Davis stood his ground.
Davis matched up against Embiid on 25 possessions, per NBA.com. The third-year center shot just 1-of-9. It was evident that Kenny Atkinson needed to lean on Davis more than ever. He had what it took to make life difficult for the series' best player.  
Unfortunately, the Nets' luck ran out. Ed Davis played six minutes in Game 2 and 10 in Game 3. His ankles got worse and led to him being inactive for the final two contests. Joel Embiid flourished. He terrorized Jarrett Allen and Rondae-Hollis Jefferson, both of whom lack Davis' knowledge of how to deal with such a dominant player. Allen got bullied particularly hard. In four games, Embiid scored 56 points on him and shot 52.4 percent.
Embiid didn't dress for Game 3 but still posted remarkable numbers because he didn't have to contend with Davis. Across Games 2, 4 and 5, he averaged 25.7 points on 55.8 percent shooting in just 24.3 minutes.
The impact exhibited by Davis extended beyond Joel Embiid. He anchored a suffocating bench unit. The sample size is small, but, according to the NBA's on-off stats, the Nets posted a defensive rating of 96.5 with Davis on the court. It plummeted to 118.1 when he sat.
Ed Davis wouldn't have been the reason the Brooklyn Nets advanced, but losing him was one of the most crushing blows that could've been dealt.
I'm not sure there's a word that adequately describes the first-round play from Joe Harris and DeMarre Carroll. Lousy? Brutal? Terrible? Awful? Nauseating? Perhaps heart-breaking is the way to go. 
There was an enormous drop off in both Harris' and Carroll's shooting. Harris was especially dreadful. After leading the NBA in three-point percentage (47.4) and winning the three-point shootout, the 27-year-old made just four of his 21 attempts (19.0 percent). For context, that mark is the sixth-lowest among all players with at least 10 tries from three.
Harris was such an integral part of Brooklyn's regular season offense. His presence as both a shooter and cutter helped keep the floor open, allowing the likes of D'Angelo Russell, Spencer Dinwiddie and Caris LeVert to penetrate the defense. He was automatic and a reliable safety net.
Adding to the frustration of Harris' futility was that Philadelphia didn't do anything special on defense. His catch-and-shoot attempts occurred with regularity, boasting a frequency of 46.5 percent, 3.5 points higher than his regular season mark. In total, he made three of his 20 catch-and-shoot attempts. Moreover, Harris was considered "wide open" 23.3 percent of the time, on par with the 24.7 percent he posted in the regular season. (Note: a shot is deemed "wide open" when the closest defender is more than six feet away.) The data above can be found on his shot dashboard.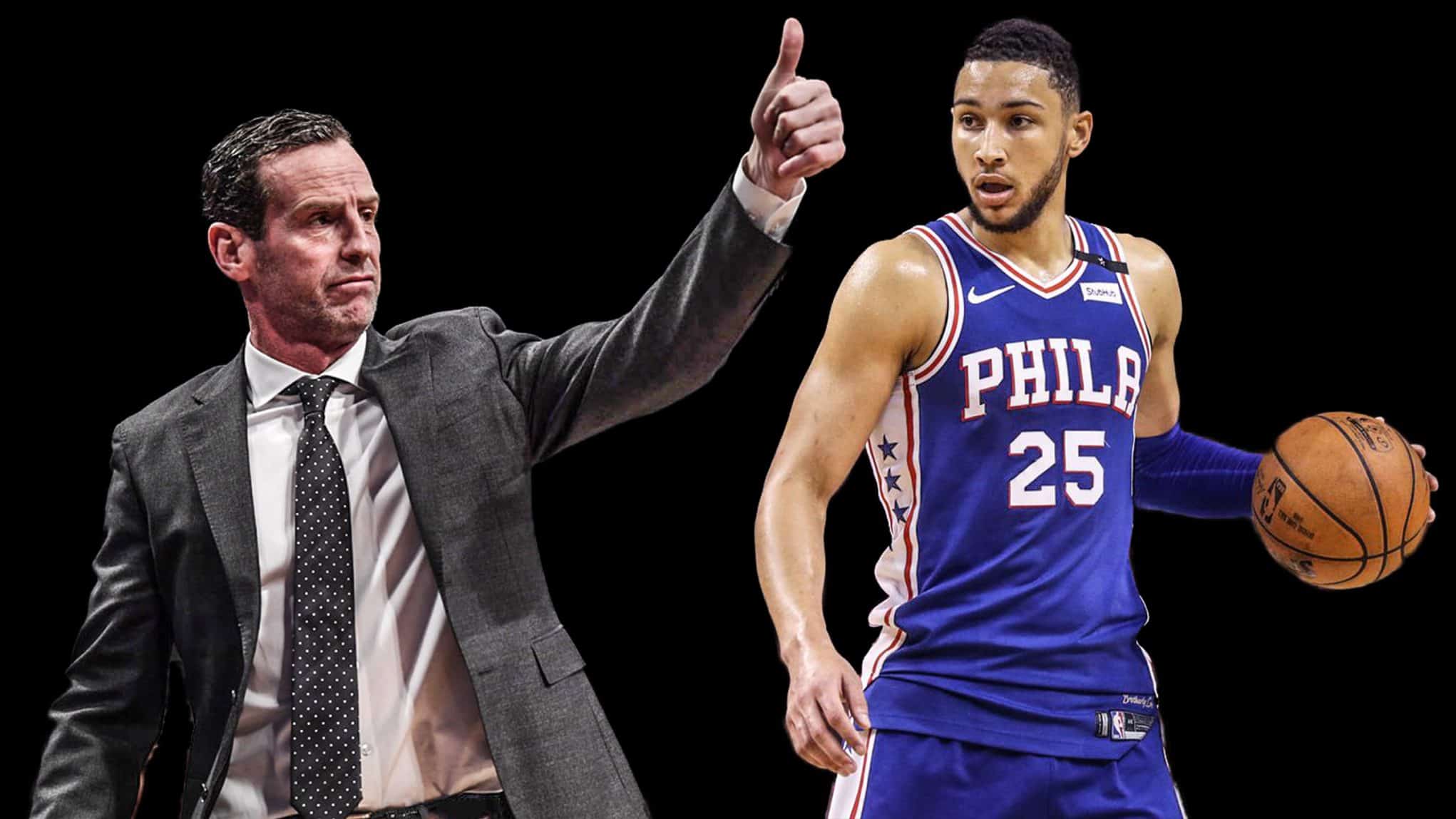 DeMarre Carroll may not have been as big a letdown, but he underperformed nonetheless. He made just seven threes on 24 tries, working out to a clip of 29.2 percent. Like Harris, he was terrible when catching and shooting. Overall, Carroll went 5-of-21 in that situation. His impotence didn't end there, though. Again, like Harris, Carroll struggled when left wide open. He finished 3-of-14 on those looks.
If Joe Harris and DeMarre Carroll weren't such high volume shooters, this issue wouldn't be so prominent. But they are. And Kenny Atkinson involved them heavily because of it. Carroll finished with a three-point attempt rate of 63.2. Harris was at 48.8.
Kenny Atkinson Mishandled His Rotations
In the playoffs, your best players see extended minutes. If a coach wants to give his team a fighting chance, he'll provide his star(s) the opportunity to make plays and put away the opponents. The only things that change that are injuries (see: Joel Embiid) or if one team is significantly better than the other and blowing them out regularly (see: Giannis Antetokounmpo against the Detroit Pistons). Neither applied to the Brooklyn Nets. Kenny Atkinson was too conservative in his approach.
None of the Nets averaged more than 30 minutes. Joe Harris was the closest at 29.9, and D'Angelo Russell wasn't far behind at 29.6. For comparison, Brett Brown had three players over 30.
Atkinson, throughout his three seasons, has done his best to limit the stress on his players' bodies. For that, you must credit him. But that doesn't fly in the postseason. Take Caris LeVert and Spencer Dinwiddie as examples. The two averaged 28.9 and 26.3 minutes, respectively. It's obvious but Atkinson allotting them more minutes would've had a tremendous benefit on the team. That's not wishful thinking, either. LeVert posted 21.0 points on 61.2 percent true shooting. Dinwiddie recorded 14.6 points and shot 37.5 percent from three. Further, Rodions Kurucs saw his minutes decrease despite proving himself in the regular season. He didn't play in Game 4 and saw minutes in the series finale when the game was already out of hand.
Although Kenny Atkinson will receive blame for the loss, the reason his rotations were so bizarre was because of his inexperience. His previous teams won 48 total games in two years. Suddenly, he's above .500 and thrown into a series against a contender. It wasn't an ideal situation, and learning on-the-fly in the playoffs is impossible. Still, his obscure rotations proved detrimental.