It never hurts to add more scoring power; so should the New York Rangers take an improbable risk with Mitch Marner?
Though the NHL postseason is rather exciting, it can be kind of dreadful when your team is not in it. Take the New York Rangers for example. After missing the Stanley Cup Playoffs for the second year in-a-row, fans are looking for answers.
Of course, the fans are breathing easier knowing that the Blueshirts have the second overall pick in this year's draft. Blueshirt faithful are counting the days until they draft Kaapo Kakko (or Jack Hughes if the New Jersey Devils pass on him).
That's right Rangers fans, the Blueshirts are taking steps in the right direction. First comes the draft in late June, then comes free agency on July 1. The most notable free agent on the market is Artemi Panarin. I wrote about how the Rangers should go after Panarin but be careful with the money they offer. However, I also predict he will go to the Florida Panthers thanks to Joel Quenneville becoming their coach.
So in the event, Panarin is off the table, who should the Rangers pursue? Other notable free agents include Erik Karlsson, Matt Duchene, Jeff Skinner and Anders Lee, among others. However, like Panarin, all these seasoned veterans are going to require big cap hits.
So let's look a little smaller.
Instead of swinging for the fences, maybe just hit a single that will become a run later. Let's look for someone who is young, deploys a ton of potential, hasn't yet hit his prime, and can develop alongside the young Ranger players. One player I like to think of, who is about to be a restricted free agent, is Toronto Maple Leafs forward Mitch Marner.
Admittedly, this is a longshot. Leaving an elite offense to go play for a team that is still trying to create one sounds nuts. However, this is one of those cases where it never hurts to look.
Let's look at Marner's stats.
In three NHL seasons, Marner has 224 points in 241 games. The 21-year-old is coming off a career year with 94 points in 82 games (26 goals, 58 assists). You can take those numbers with a grain of salt because of the Leafs talent around him, but he still led Toronto in points this season.
Obviously, the Leafs want to keep Marner. But even with the spectacular numbers he put up, Toronto might not be able to come to an agreement on salary. Toronto is in cap hell as it is and they don't want to bury themselves even further.
Maybe the Leafs don't want to risk overpaying Marner.
Perhaps they don't want to give a huge contract to a guy who is only 21-years-old and has only one season averaging over a point a game so far. So, they decide not to offer him a giant cap hit, which makes sense considering that the team needs defense.
It's not Marner's fault his team might be hesitant. Perhaps Marner can thank his teammate William Nylander for giving the Leafs a reason not to give in to high demands from young players. With three huge contracts on the books already, the Leafs can't really afford another one that will handicap them.
So let's create a scenario.
Say that Marner wants a contract to the likes of Nylander. In fact, Marner might want even more than Nylander since he puts up better numbers. Maple Leafs general manager Kyle Dubas likely does not want to cave to Marner as he did with Nylander.
The Leafs obviously want Marner, so they will make a counteroffer. This is when Rangers GM Jeff Gorton could swoop in. If neither Marner or the Leafs budge, Gorton could give Marner a call and offer a significantly higher contract than the Leafs. Not what Marner initially demanded, but more than Toronto is willing.
In the unlikely event that Marner agrees to the Rangers and Leafs don't match, they would have to give the Leafs draft picks for compensation. This is not necessarily a bad thing if you're the Rangers.
This would take place after this year's draft, the Blueshirts don't have to worry about losing that second overall pick. Plus, Gorton might be willing to make some sacrifices in order to get yet another young forward on the team with high scoring ability. Also, the Leafs don't have a lot of balance to their roster so maybe they want to use those picks to beef up their blueline.
Now picture Marner playing alongside guys like Mika Zibanejad and Chris Kreider. With nifty hands and a scoring touch, he has the potential to be a catalyst. He can replace the spark that Mats Zuccarello left behind when he went to the Dallas Stars.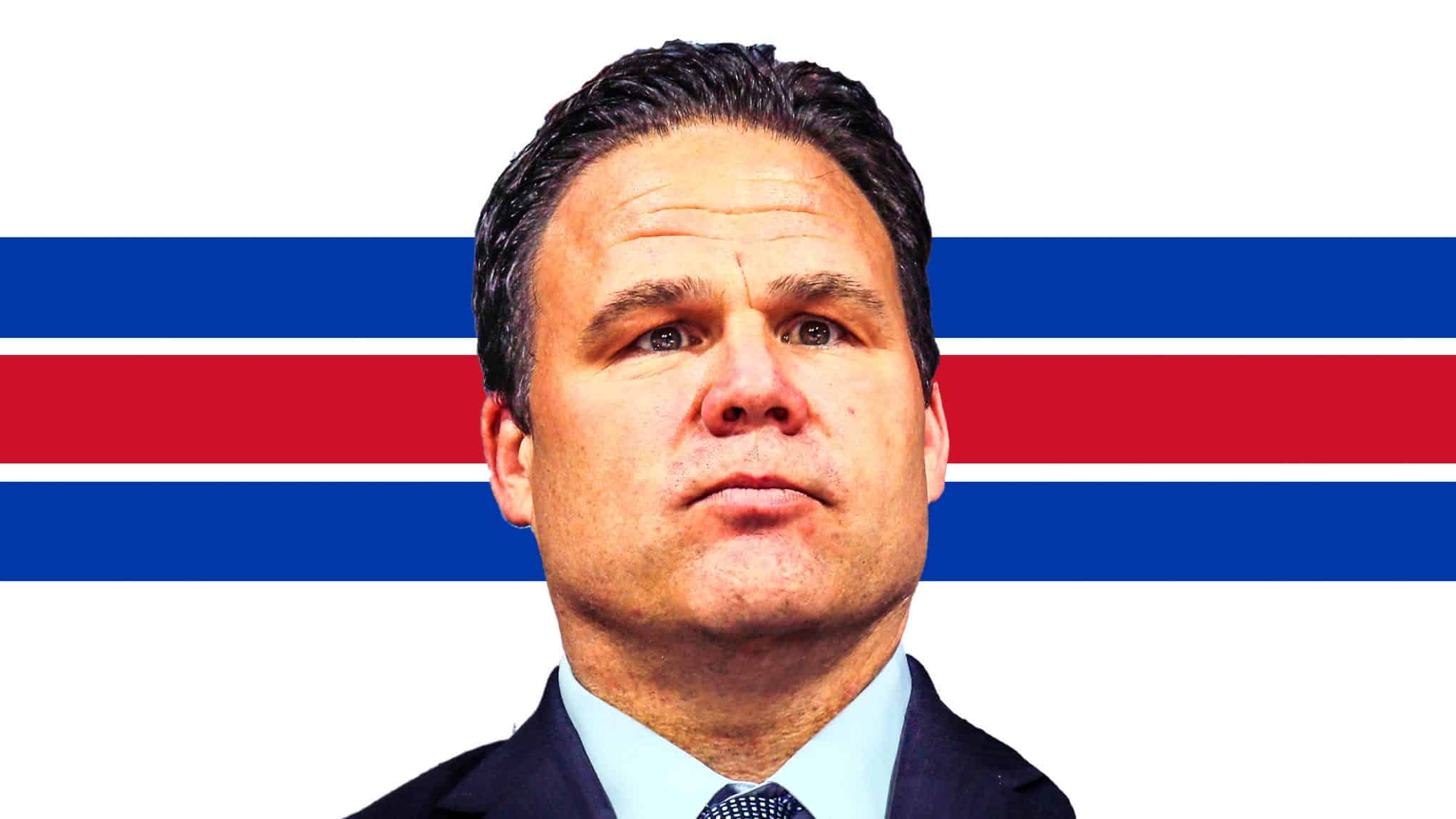 An up-and-coming star like Marner (who would then have a chip on his shoulder thanks to the Leafs) along with Zibanejad and Kreider who just came off career years has the potential to be one of the more dangerous lines in the NHL.
However, it is unlikely that this will become a reality. The Rangers have some great potential forwards at the moment. With the likes of Filip Chytil, Lias Andersson, prospect Vitali Kravtsov and the anticipated arrival of Kakko (or Hughes), they have a plan set up already.
After selecting Kakko (or Hughes), Gorton might turn his focus to the defense and making sure his roster has balance. The Rangers most notable defensive prospect is K'Andre Miller. It makes sense to put more focus on the offense if a huge difference maker is available. However, Marner's cap hit may still have the potential to make it hard to create a solid team on both ends of the ice. If the Rangers have to give up picks that could be turned into more solid defensive prospects, it might not be worth it.
Don't forget, Gorton also still needs to resign the Rangers restricted free agents. These players include Pavel Buchnevich, Brendan Lemieux, Neal Pionk and Tony DeAngelo.
Also, with Nylander not having a no-trade clause, I think the more likely scenario is that the Leafs will trade him for some picks and/or defensive prospects, thus not only creating more balance but also making enough room to keep Marner playing in Toronto.
So concludes another day of playing armchair GM. We can only sit back and wait and see what the front office has planned for the offseason. It's probably a worthless cause to convince Marner to leave Lake Ontario to the bright lights of Broadway.
But hey, Jeff Gorton won't truly know if Mitch Marner's a possibility until he picks up the phone.