New York Jets general manager Mike Maccagnan has finally snapped his long-running, ultra-baffling NFL Draft streak in the third round.

Saturday, April 30, 2016. Barack Obama was president. Peyton Manning had just retired. For days earlier, the Red Woman—Game of Thrones Season 6, Episode 1—had just revealed herself to the world for the old, decrepit and frail individual she actually is.
Saturday, April 30, 2016, marks the date Mike Maccagnan last selected an offensive lineman in the NFL Draft.
The New York Jets choice was Brandon Shell in the fifth round, marking the second consecutive season Mikey Mac went with a big offensive heavy in the fifth (Jarvis Harrison, 2015). Little did we know it would take three seasons for the Jets to call out another offensive line name.
The mind-boggling, ultra-baffling streak ended on Friday, April 26, 2019, when USC tackle Chuma Edoga turned Jet.
"You're about to become a New York Jet."@edogawd gets the call he's been waiting for ???#NFLDraft | #TakeFlight pic.twitter.com/m6iy2BUqQs

— New York Jets (@nyjets) April 27, 2019
The lack of premium O-line interest has become criminal in recent years. Even the novice football person knows it always starts up front.
In 2015, Maccagnan was handed a below-average offensive line. Nick Mangold was 30 and D'Brickashaw Ferguson was 31 (four years removed from his last Pro Bowl). Oday Aboushi, Breno Giacomini and Willie Colon represented the final three pieces to a line that finished 28th in rushing.
The most critical five-man unit in sports needed serious work.
Maccagnan signed James Carpenter as part of his failed "aggressive rebuild." He also welcomed back Brian Winters from injury. A 10-win season against a cupcake schedule camouflaged a seriously neglected issue.
The patchwork continued with Ryan Clady, Kelvin Beachum, Spencer Long and this offseason, Kelechi Osemele, all while ignoring premium talent in the bloodline of the league, the NFL Draft. The results haven't been tough to examine.
Football Outsiders placed the Jets 2018 O-line last in the league with a horrid 3.59 adjusted yards from scrimmage mark. Power ranked 26th in the run game and 18th when passing furthered the unit's perceived woes.
The conversation seemingly reached a tipping point this weekend when rumors of Maccagnan's seat turning hot showed face. Multiple reports, including two league sources via Pro Football Talk, have Maccagnan's job in doubt following the NFL Draft.
The reported rift between the GM and head coach Adam Gase surround the Le'Veon Bell signing and Matt Paradis bypass, who eventually signed with the Atlanta Falcons. The two Jets employees, who sit on an even hierarchical plane, aren't seeing eye-to-eye on personnel.
Gase wants offensive linemen while Maccagnan continues to semi-ignore the unit.
Investigate the healthier NFL teams; the elite offenses almost always start with premium offensive line talent up front. Top-tier draft talent is sprinkled throughout the New Orleans Saints line.
The Saints rookie collection a couple of seasons ago shouts the name Alvin Kamara loudly, but Ryan Ramczyk represents the real completion of the offense.
This offseason, Max Unger retired. New Orleans wasted no time by selecting potential Jets target Erik McCoy in the second round. In fact, they traded up to get their man despite already fielding a talented O-line.
The successful teams tend to pile on the O-line talent despite active stature. Look to the Jacksonville Jaguars' Jawaan Taylor selection after snagging Cam Robinson in the first round just two seasons prior.
Other top-tier organizations over the last several seasons, the New England Patriots, Kansas City Chiefs and Philadelphia Eagles, have all pounded the offensive line draft pavement.
Bill Belichick has chosen nine offensive linemen since Maccagnan took office, a first and third rounder among the crop. The Eagles have gone with five, a first and second rounder included. New Orleans is running on five total choices, two firsts, two seconds and a third highlighting the group.
Maccagnan and the Jets, who were stuck on two OL picks in 28 chances, are now at three in 34 total selections. Two represent fifth rounders (2015 and 2016) with Edoga's choice marking Maccagnan's highest offensive line pick in five drafts.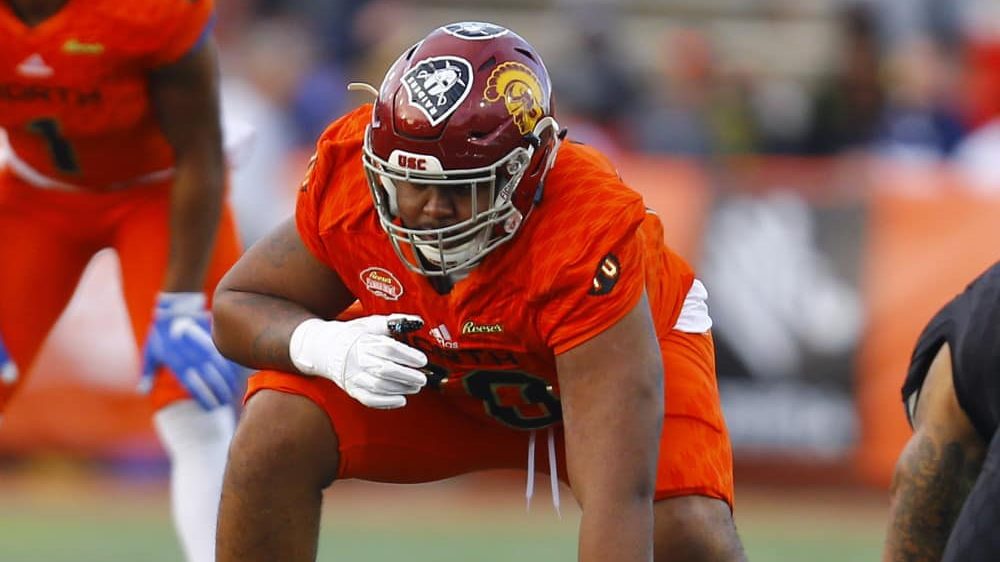 Edoga, who was once ejected from a game after shoving an official and comes with dedication questions, is now thrown into the tackle mix with Beachum and Shell. The absence of a drafted center means Jonotthan Harrison is the de facto starter, ramping up the interior questions.
At least the streak is snapped. It's a start. It's crucial to add young, premium draft talent to a group that thrives on August competition and the USC product can hopefully do just that.
Donald Trump is now president. Peyton Manning is breaking down film, long retired. And Game of Thrones is ready to conclude its series with Season 8, Episode 3 featuring the Army of the Dead invading Winterfell on Sunday night.
New York Jets general manager Mike Maccagnan has finally drafted another offensive lineman. For another, it seems we'll have to wait at least another year.
At some point, first and second-round offensive line talent is needed, especially over five NFL Draft seasons. Right?