Just wait: the New York Red Bulls are now experiencing the "pawing" stage of the grueling 2019 MLS season. 
Watching a bull paw can be beyond terrifying because you know what might come next; it's going to attack. New York Red Bulls might be in the midst of the pawing stage of their season.
Despite winning the Supporters' Shield with a record-breaking 71 points last year, RBNY is experiencing a rough start of the season. The club is the second-to-last placed team in the Eastern Conference, having won just one of their seven MLS games while netting eight goals.
The team's captain, Luis Robles, is assured that the club will go back to their form from last season.
"It will revert back," Robles said in an interview with MLS.com after training on Thursday.
"So for us, it's about preaching patience but also quality input. 'Cause sooner or later the output will be good. Planting good seeds. Right now we're working hard, the guys are giving an honest effort. So in my mind, it's not a matter of if it's just when."
It's not the first time the Red Bulls are going through a poor start of the season. Back in 2016, Chris Armas's men started their campaign with a mediocre 1W-6L-1T record. Shockingly, they ended that regular season at the top of the Eastern Conference with a 16W-9L-9T record.
What changed? Robles said signing former MLS Cup MVP Aurelien Collin and a team talk before their match versus Colorado Rapids on April 16, 2016, changed their season for the good.
"In 2016, there were two pivotal moments that turned our season around. First, on the surface, that was really obvious, we traded in Aurelien Collin. He was huge to a lot of people. He saved our season," the 34-year-old said.
"The second moment is one people don't see. That's when all the veterans—I remember we were in Colorado, right before the blizzard game, all the veterans sat on the bus. At that point, we were one-and-six or somewhere around that. At that point, we just said we have to be better. Every single person has to work harder, every single person has to demand more from each other."
Collin is playing for Philadelphia Union now. RBNY might want to transfer him in again so he can help change things around. But one simpler thing the team can do is have another radical team talk. Ten players remain from New York's 2016 roster, hence the experience needed in a team talk is there but also, more importantly, the experience needed to flip things around on the pitch is definitely there.
Not just the experience, RBNY has the talent to snap their run of poor results. The club only lost one starter from last season when they notched the most points ever in an MLS regular season, Tyler Adams. They have four All-Stars on their team: Bradley Wright Phillips, Kemar Lawrence, Amir Murillo and Aaron Long, and the 2015 MLS Goalkeeper of the Year, Robles.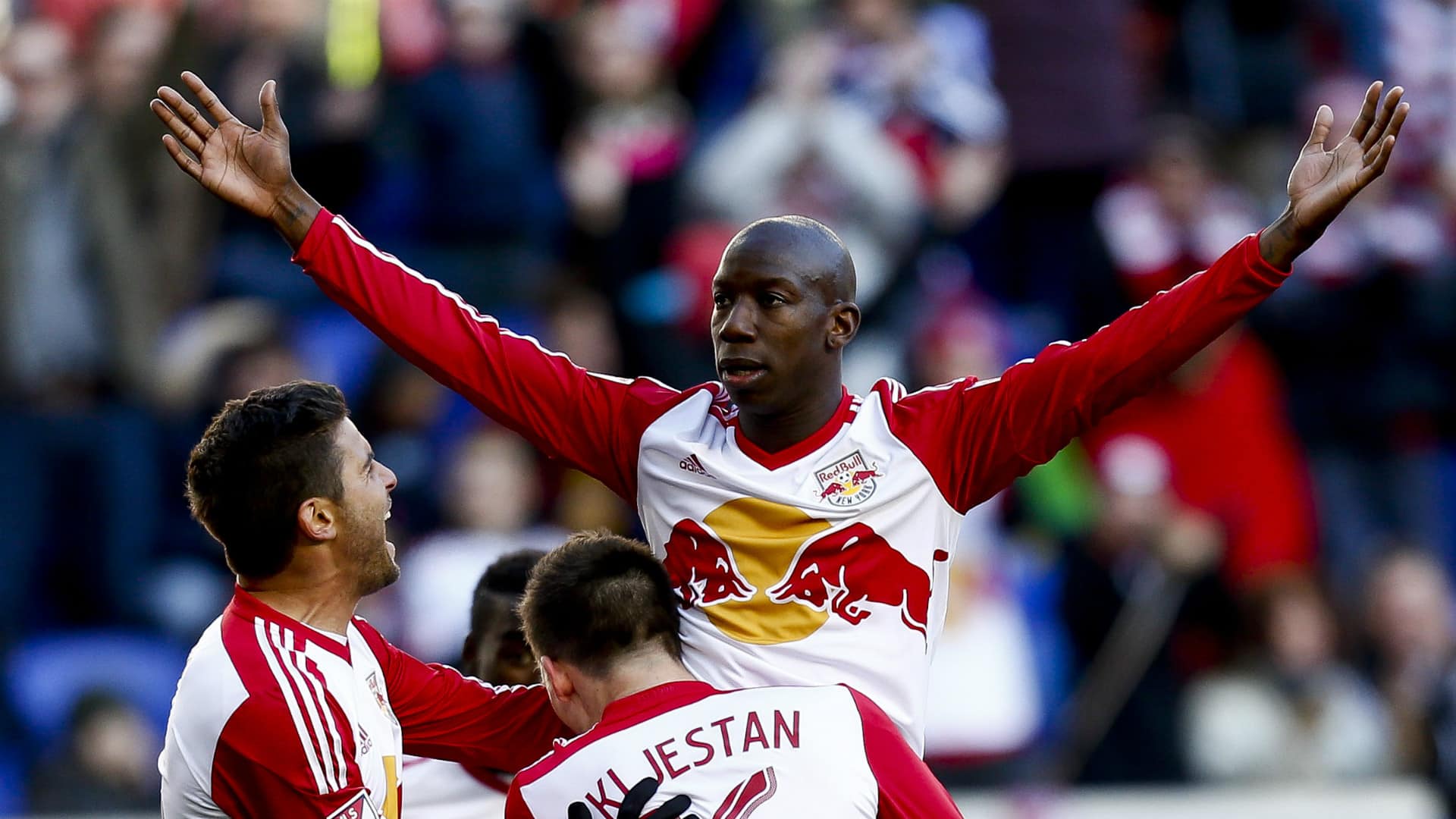 Lawrence is so confident that there's is talent still in the New Jersey-based club that he said the team has the best defense in the MLS, and mind you the Red Bulls have yet to keep a clean sheet in the league this season.
"We got the best backline in the league and I will continue to say that. You can see it's just little slip-ups," the Jamaican said after practice on Thursday.
Little slip-ups as ball watching, Murillo was caught ball watching when Columbus Crew scored from a corner kick on March 2, Robles let a low-shot crawl right past him last week in the team's 1-0 loss to New England Revolution and so on.
Because he and his teammates have the roster to overcome their hiccups, Robles is not worried about their current record.
"If there's a ton of struggles you want to struggle in the beginning. It's because of our personnel that I feel confident going forward that we will ride the ship," the keeper said.
"There isn't any sort of panic."
Looking at their previous matches, some might suggest otherwise. The Metros can't even connect on their passes, it looks as if they're playing without a game-plan. Can something like this really be fixed as flipping a light-switch as Robles makes it seems like? Only time will tell.
But one thing we know for sure is the players and the coach are confident and eager to get back in form. As mentioned, the Red Bulls are actively pawing. But sometimes bulls paw yet don't attack.
RBNY's next match is against a struggling F.C. Cincinnati side home at the Red Bull Arena at 7 p.m. ET. Will this game produce another season revival team talk—or anything that will transform their season?