The New York Jets selection of Quinnen Williams in the 2019 NFL Draft means more beef is added to the inside. Just how is it going to work?

Faced with prime real estate in the NFL Draft, New York Jets general manager Mike Maccagnan chose the "best available player," or whatever that fantasy actually means in reality. (Best available player is a silly notion as so much is dependent on development and situation.)
It's Déjà vu all over again.
Quinnen Williams it is. This means for the second time in four seasons, an interior defensive tackle joins a squad with two established interior defensive linemen already employed.
The supporter will point to Maccagnan's track record in the top six. Jamal Adams, Sam Darnold and Leonard Williams (to a much lesser degree) represent excellent choices. The contrasting individual wonders why the general manager has picked so many times in the top six. If the track record is so golden, why do the Jets continually find themselves in such a transparent situation?
For several years running, edge and offensive line have remained dire needs. Amazingly, Kelechi Osemele represents the long addition in either area this offseason. Mix that with the Déjà vu that is adding another interior big boy on top of two existing employees and a familiar Florham Park situation is born.
How in the world will Quinnen Williams, Leonard Williams and Henry Anderson coexist? It didn't happen for Leo, Sheldon Richardson and Muhammad Wilkerson; what makes Mike Maccagnan think it'll work this time around?
We do our best to piece together the New York Jets front seven with their new unique rook.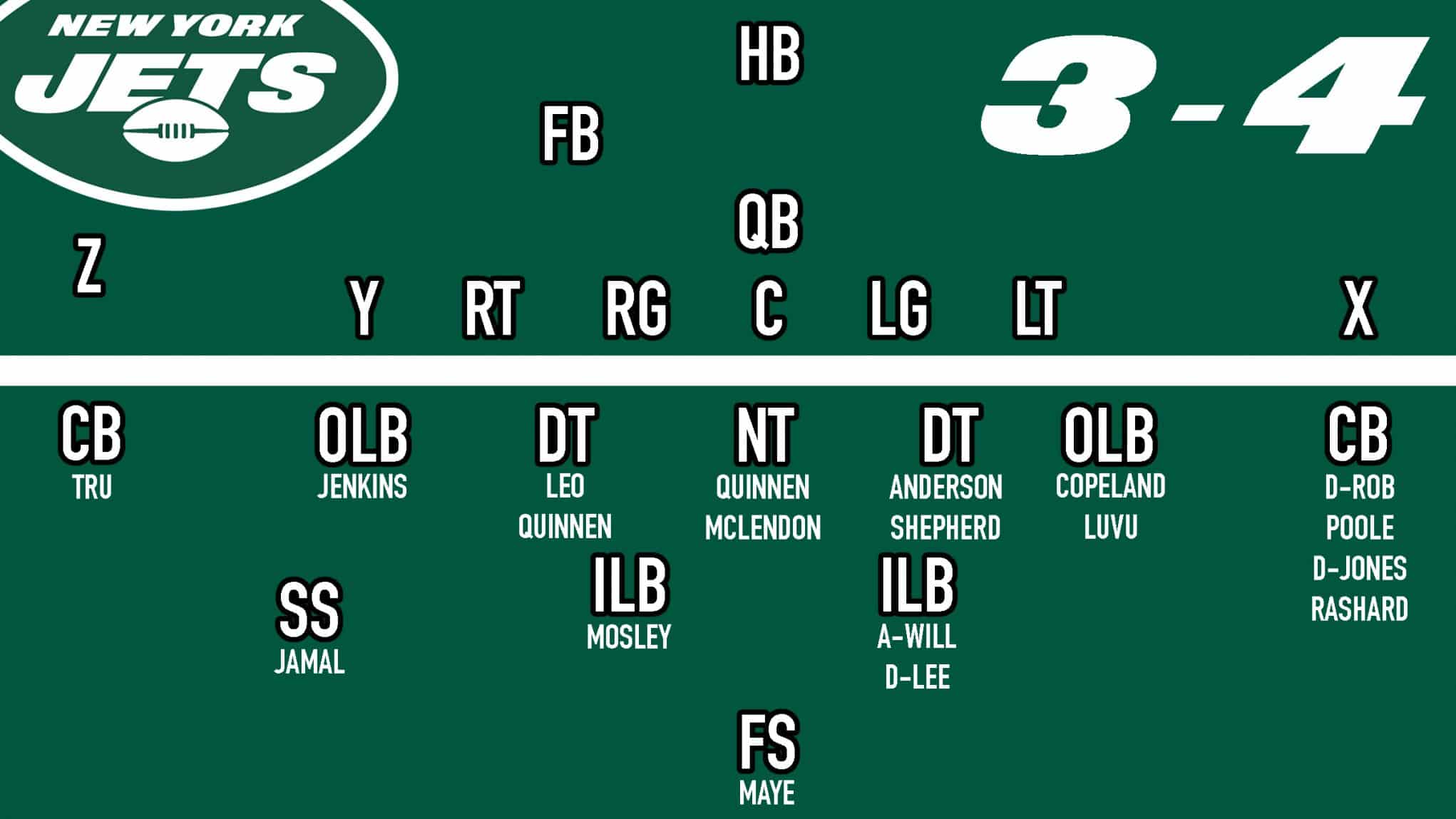 Relating to the most overhyped topic of conversation this offseason, the New York Jets have already stated they're sticking to the 3-4 base under Gregg Williams. It's completely overblown. Williams will run a ton of 4-3 sets.
Nevertheless, the 3-4 receives the top billing on paper. Either Quinnen Williams or Leonard Williams must play the nose tackle; it's the only way to ensure all three big guys see the field at once.
At 300 pounds, Quinnen is a lighter 0 or 1-technique player, but will have to get it done in this new age NFL that features a sideline-to-sideline game that puts immense pressure on the edges. A quicker man in the middle becomes crucial when chasing down the play and preventing cutback opportunities.
Is he big enough? Traditionally, 320-330-pound guys man down the role. When Leo, Sheldon and Muhammad were together, none of them could get it done. Steve McLendon started at the spot.
The nose tackle remains the key with this current personnel look. There's no shot Henry Anderson or either of the two Williams brothers can play the edge in the 3-4.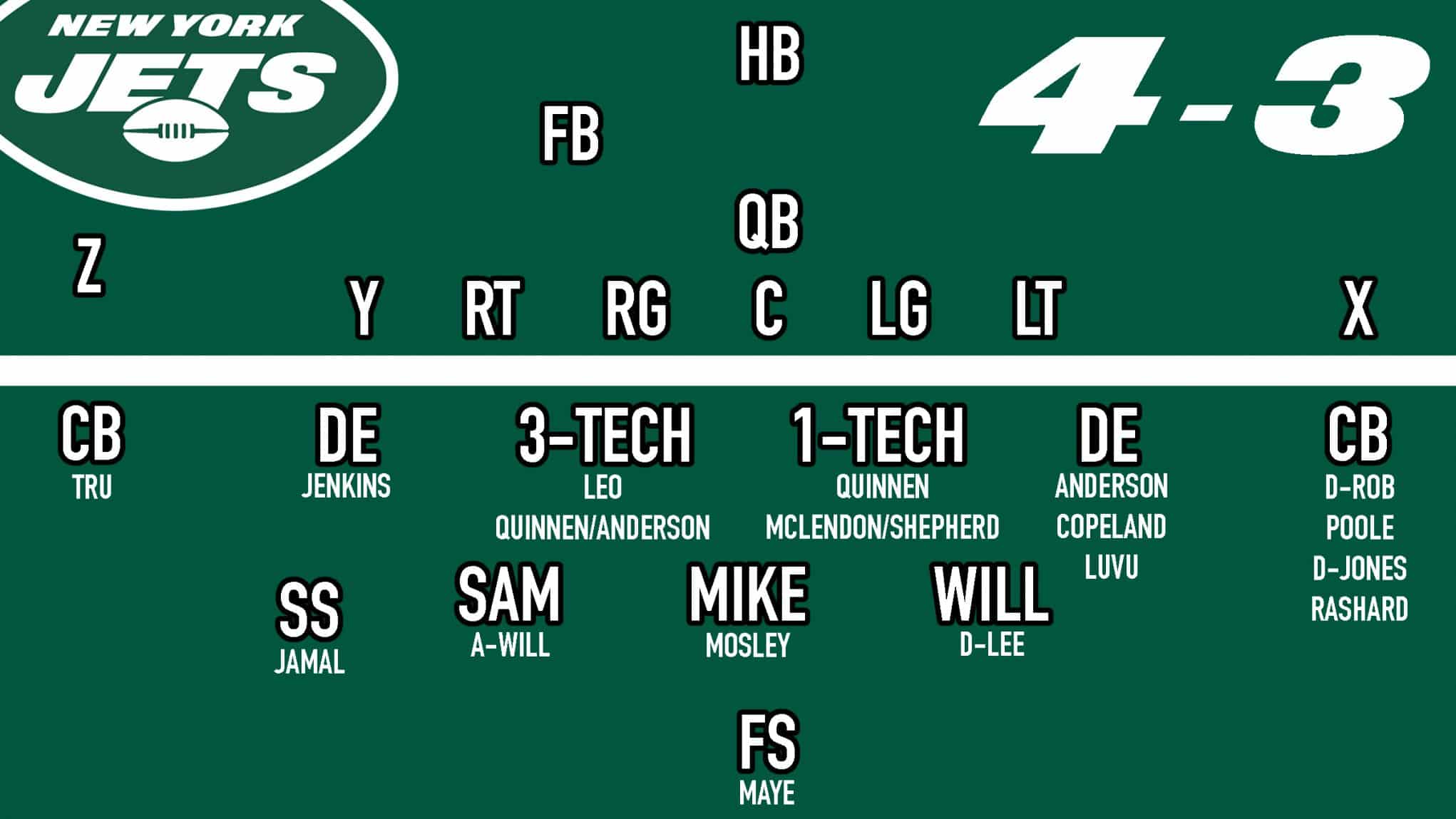 1-TECH: Quinnen Williams, Steve McLendon, Nathan Shepherd
3-TECH:: Leonard Williams, Quinnen Williams, Henry Anderson
DE: Jordan Jenkins
DE: Henry Anderson, Brandon Copeland, Frankie Luvu
SAM: Avery Williamson
MIKE: C.J. Mosley
WILL: Darron Lee
CB: Trumaine Johnson
CB: Darryl Roberts, Brian Poole, Derrick Jones, Rashard Robinson
SS: Jamal Adams
FS: Marcus Maye
Ironically, the 4-3 actually fits the Jets current look best. Darron Lee has a place as the WILL and one of the 300-pound interior players can at least give it a go on the edge.
This isn't your father's NFL. While today's jet-sweep/RPO-style game allows for a lighter nose tackle, it also forces the edges to play lighter, more athletic. Outside front-seven players must possess the ability to play in space. Neither Quinnen, Leo nor Henry should even attempt this activity.
If one has a slim shot, however, it's Henry Anderson.
If Anderson can man down the edge at least some portion of the game, it helps alleviate a serious lack of outside presence. Just understand what Josh McDaniels and Tom Brady will do to that one heavy side; they'll hammer the flat if the Jets place a 300-pound man on the edge.
Look around the league; unless the guy's name is J.J. Watt or Calais Campbell, 300-pound players never take on an outside role. Once again, similarly to 2015, the Jets are defying the way the NFL plays the game.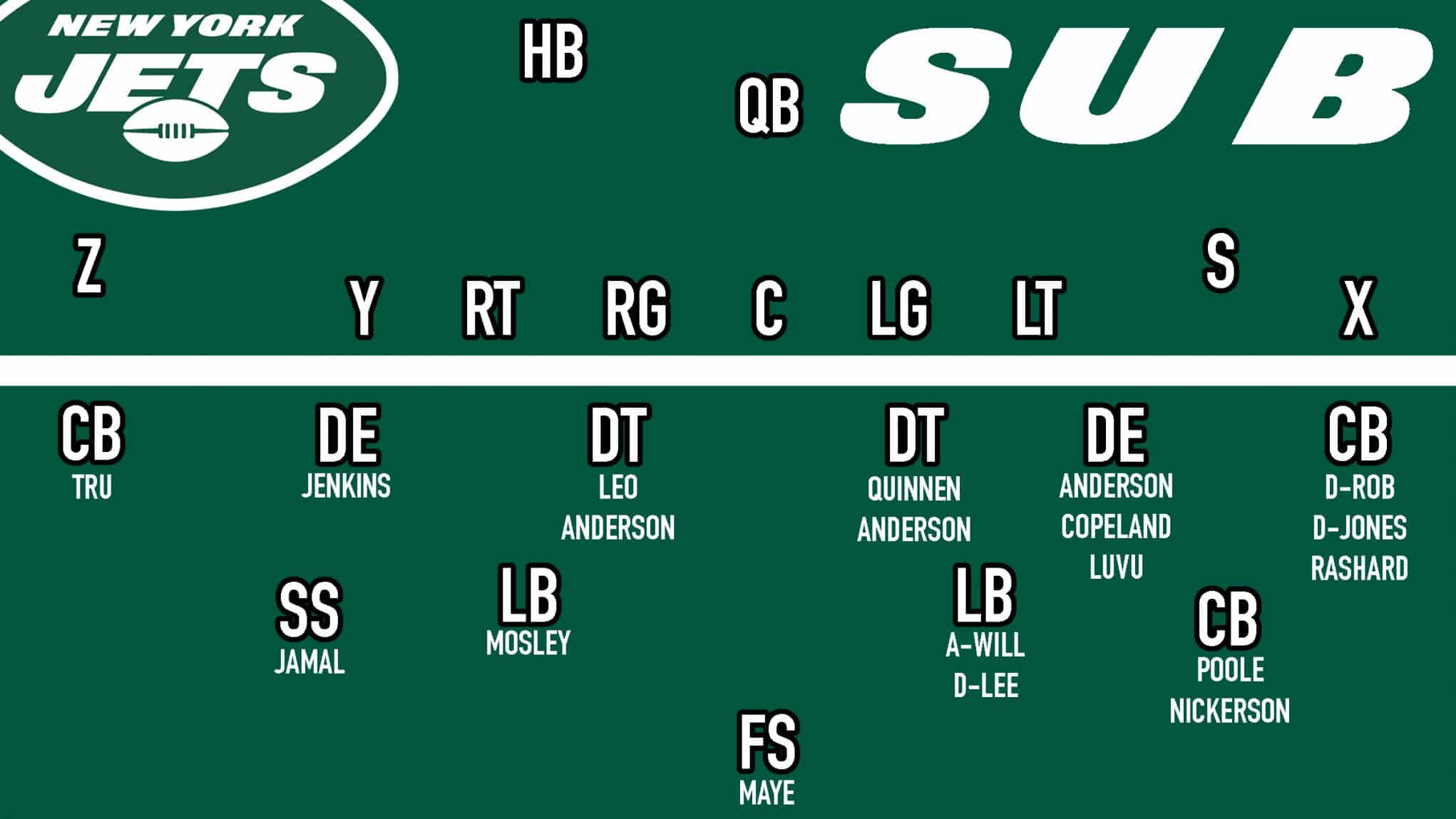 DT: Leonard Williams, Henry Anderson
DT: Quinnen Williams, Henry Anderson
EDGE: Jordan Jenkins
EDGE: Henry Anderson, Brandon Copeland, Frankie Luvu
LB: C.J. Mosley
LB: Avery Williamson, Darron Lee
CB: Trumaine Johnson
CB: Darryl Roberts, Derrick Jones, Rashard Robinson
NB: Brian Poole, Parry Nickerson
SS: Jamal Adams
FS: Marcus Maye
The four-man show at the line of scrimmage rules the NFL sub-package roost. It matters very little if the defense runs a 3-4 or 4-3. The four-man, two second-level look is the new NFL base.
And once again, one of the three is forced to play the outside.
Whoever attempts to take on the role, similarly to Sheldon Richardson attempting to play outside linebacker a few seasons ago, will be forced into a situation that doesn't help max production. These three players work better inside by using their quickness against bigger guards. It doesn't work the other way around (by using power against tackles). The speed just isn't there for all three.
Final Thoughts
Henry Anderson remains the key. Leonard Williams should not play outside. Quinnen Williams is a beast in the middle while using his sideline-to-sideline speed and quickness. If Anderson can move outside, all is well in Jets land.
It's a tough situation, no matter how it's analyzed.
The Quinnen Williams selection literally brings us Leonard Williams 2015 2.0. "Best available player" and "best talent in the draft" remain identically meshed in time. The addition of an interior player on top of two already employed, again, does the same thing.
The only New York Jets question is this, "Can Gregg Williams get it done with the puzzle pieces in a way Todd Bowles never could?" If not, production and value will go down the toilet in a similar fashion to the big-three of yesteryear.