The New York Giants will have no shortage of options in the first round. ESNY predicts which direction Big Blue will go.

The wait is over; the 2019 NFL Draft is finally here. After finishing last season 5-11 and trading Odell Beckham Jr. this offseason, the New York Giants are one of the more intriguing teams heading into the draft. They have 12 overall picks, including two first rounders, No. 6 and 17.
After months of analyzing the Giants needs and which players might be available in the first round, ESNY predicts where the Giants will go with No. 6 and 17 on Thursday.
Jason Leach
No. 6 – Josh Allen (EDGE, University of Kentucky)
A lack of a pass rush has plagued the Giants for years. The franchise hasn't had a player with double-digit sacks since Jason Pierre-Paul had 12.5 in 2014. Over the last two seasons, the Giants defense finished tied for 29th and tied for 30th in total sacks.
In order for defensive coordinator James Bettcher's 3-4 scheme to work, the Giants need an elite pass rusher, and that's why Josh Allen is the perfect fit if he's available. In his last three seasons at Kentucky, Allen sacked opposing quarterbacks 31 times including 17 sacks in 2018 when he was named a unanimous All-American.
Allen would be a disruptive force coming off the edge that the Giants desperately need, and if he's on the board, they have to take him.
No. 17 – Christian Wilkins (DL, Clemson University)
The Giants will need to continue to bolster their defense that finished 24th a season ago by taking Christian Wilkins with their other, first-round pick. The 6-foot-4, 300-pound Wilkins is a versatile and athletic defensive lineman that would go perfectly with B.J. Hill and Dalvin Tomlinson.
In his four years at Clemson, Wilkins registered 192 tackles, 40.5 tackles for loss, 5.5 sacks, and was a valuable member of two National Championship teams.
Wilkins developed a reputation for being a team leader at Clemson and that is the type of player that general manager Dave Gettleman covets. To get this type a player at 17 would be a steal for Big Blue.
Ryan Honey
No. 6 – Josh Allen (EDGE, University of Kentucky)
If the Giants aren't going to go with a quarterback with the No. 6 pick, then pass-rusher is the route they'll probably take. Big Blue's defense was tied for 31st in the NFL last year with 30 sacks in the regular season. They need a dominant pass-rusher to complement guys like linebacker Lorenzo Carter and defensive lineman B.J. Hill. Josh Allen could be that guy.
Allen had 88 combined tackles, 17.0 sacks and 5 forced fumbles for Kentucky in 2018. It's evident that he's one of the more dominant pass-rushers in this draft class. With Ohio State defensive lineman Nick Bosa and Alabama's Quinnen Williams projected to go before Allen, the Kentucky standout could be available at No. 6.
No. 17 – Dwayne Haskins (QB, Ohio State University)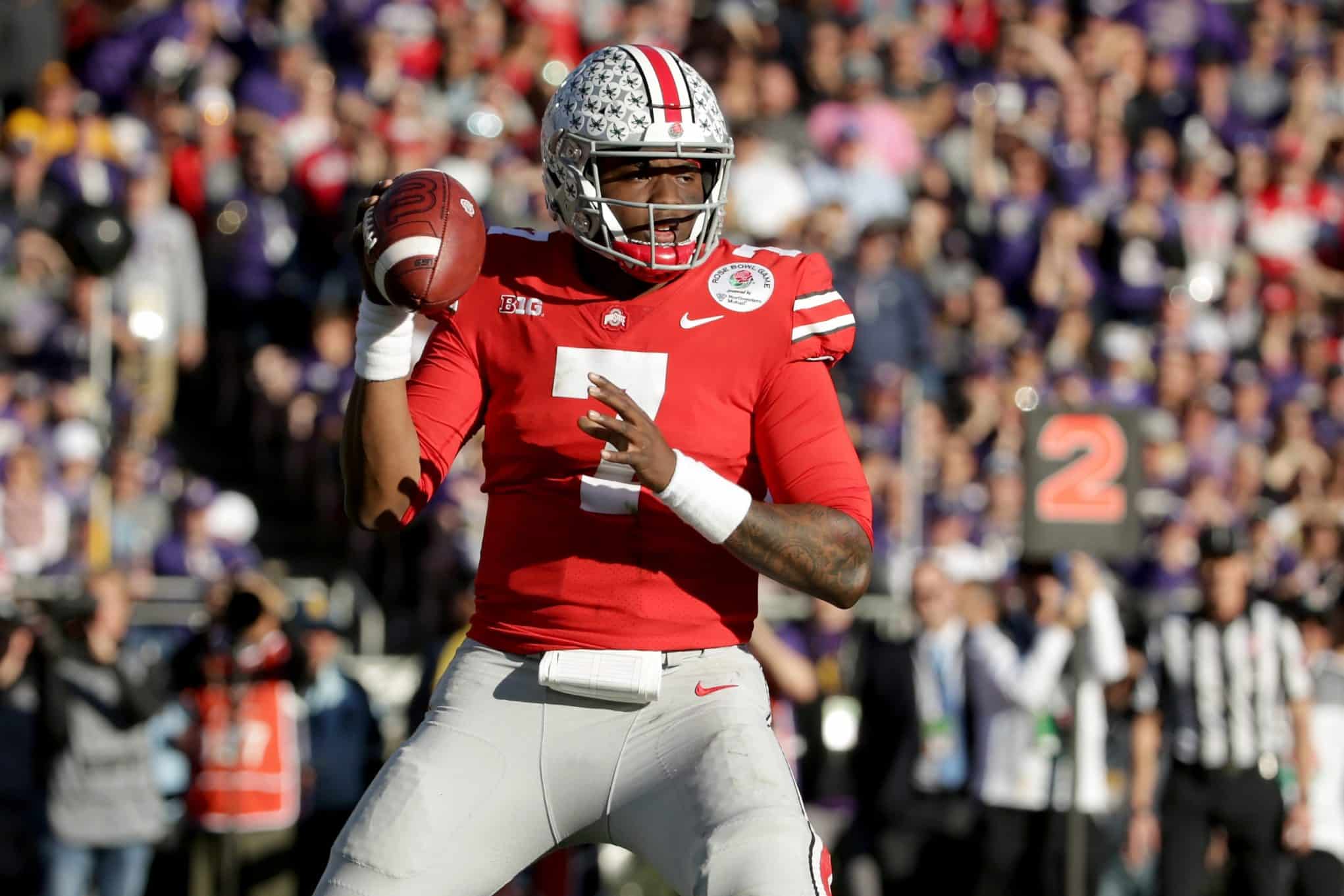 Dwayne Haskins is someone that Giants scouts, writers, and fans have had their eyes on since the beginning of this process. The Buckeye quarterback threw for 4,831 yards, 50 touchdowns, and only eight interceptions in his lone year as the Ohio State starting quarterback. He's a premier pocket passer that definitely can succeed in Pat Shurmur's system.
Haskins will not be attending the NFL Draft in Nashville. Many say it's due to his draft stock plummeting as of late. If his draft stock is indeed plummeting, there's a good chance he'll be available at the No. 17 pick. Sports Illustrated's Peter King said Haskins may be the fourth quarterback taken in this class. Therefore, he could be the only first-round talent at quarterback that's available at the time of that selection.
Jeevan Kirkland
No. 6 – Ed Oliver (DT, University of Houston)
The Giants finally solidify their defensive front and it's a scary one. With this pick, the Giants add Ed Oliver to a line already consisting of Dalvin Tomlinson and B.J. Hill (all of whom are 25-years old or younger).
New York should take advantage of the strong defensive class in 2019 and wait until next year for the quarterback. The choice at six is Ed Oliver due to his insane athleticism and potential.
Oliver stands just under 6-foot-3, while also weighing in at 281 pounds. However, he moves at the speed of a skill position player. Oliver's short shuttle time was 4.19 seconds which was faster than Giants star Saquon Barkley (4.24 seconds). Oliver ranked in the 95th percentile, or higher, in every event he showcased during his pro day.
This athletic ability has earned him comparisons to back-to-back Defensive Player of the Year Aaron Donald. If Oliver lives up to his hype and can refine his technique with the Giants, New York will have a generational player on the defensive line.
No. 17 – Devin Bush (LB, University of Michigan)
Big Blue decides to draft for the defensive side once again, leaving their tattered offense alone. The Giants choose to fill another need at the linebacker position with Devin Bush.
Bush is an undersized linebacker at only 5-foot-11. His length may be an issue at the pro level. However, he works to subsidize his lack in size with his amazing athleticism. The Michigan product ran a 4.43 40-yard dash with a 40-inch vertical leap at the combine. His 102 tackles and five sacks during his sophomore season show exactly what he can do with that speed.
Devin Bush would use his already enhanced skill set to enter the Giants as an immediate starter and would help complement Alec Ogletree at the other inside linebacker position. This would send B.J. Goodson to a rotational spot where he is best suited. With the selection of Bush, the Giants will overhaul their defense by picking two amazing athletes in the first round.