As Easter eggs are found across the country this Sunday, the New York Jets have found plenty of their own in the final of the NFL Draft.

After a weekend spent hunting for Easter eggs, the focus of New York Jets fans now turns to this week's NFL Draft. Ironically enough, that's when the Jets will be looking for hidden treats in unusual places as well.
The pomp and circumstance of Thursday's first round is well known. But true football followers will follow the selection proceedings to their Saturday conclusion, where the final four of seven round play out. Small schools, pick gimmicks, and great stories rule the day, as fans are introduced to names who will likely be starring the second halves of summer exhibitions.
At times, however, diamonds in the rough can be discovered. The Jets are not immune to the concept, discovering several notable franchise names through the final three rounds or the rookie free agent list…
(NOTE: "Day 3" status consists of being chosen in the 4th round or later or being undrafted) 
(11th round, 1978)
Jets fans have long sought a lasting name at quarterback. They had one throughout the 1980s in Ryan, albeit in backup form.
In the penultimate round of the 1978 draft, the Jets took Ryan with the 281st overall pick. He went on to spend a dozen years with the franchise, most of them in an understudy capacity. His most prominent Jets season came in 1984 when he started 11 games in holding the spot for rookie Ken O'Brien. His most notable Jets moment came in 1987, when he led a game-winning drive in overtime, throwing the last of a career-high four touchdowns in a 37-31 win over Miami.
(6th round, 1966 AFL)
Boozer was chosen in both the AFL and NFL drafts, the final year of separate league drafts. A hidden gem from Maryland State College (now Maryland Eastern Shore), he spurned the NFL's Pittsburgh Steelers for the Jets.
The Jets originally intended to work Boozer alongside fullback Matt Snell. An injury to the latter in 1967 allowed him to showcase his skills on a national level for the first time. Despite playing in just eight games, Boozer led the AFL with 13 total touchdowns (10 rushing). A brutal knee injury cut that year short.
With his open field abilities limited after the injury, Boozer became a bruising, bulking goal-line option. His 52 career rushing touchdowns still rank second in Jets history. He was placed into the Jets' Ring of Honor in 2015.
(5th round, 1993)
An early draft entry out of West Virginia, Murrell was a rare bright spot in one of the darkest periods in Jets lore.
In the midst of the horrors of the Jets' 1-15 campaign in 1996, Murrell was one of the league's top rushers, posting one of the most prolific rushing seasons in Jets history. His 1,249 yards were good for seventh in the league (besting Emmitt Smith and future Jet Curtis Martin), and also, at the time, good for the second highest tally in Jets history.
That campaign began a streak of three consecutive 1,000-yard seasons for Murrell, the last coming in Arizona.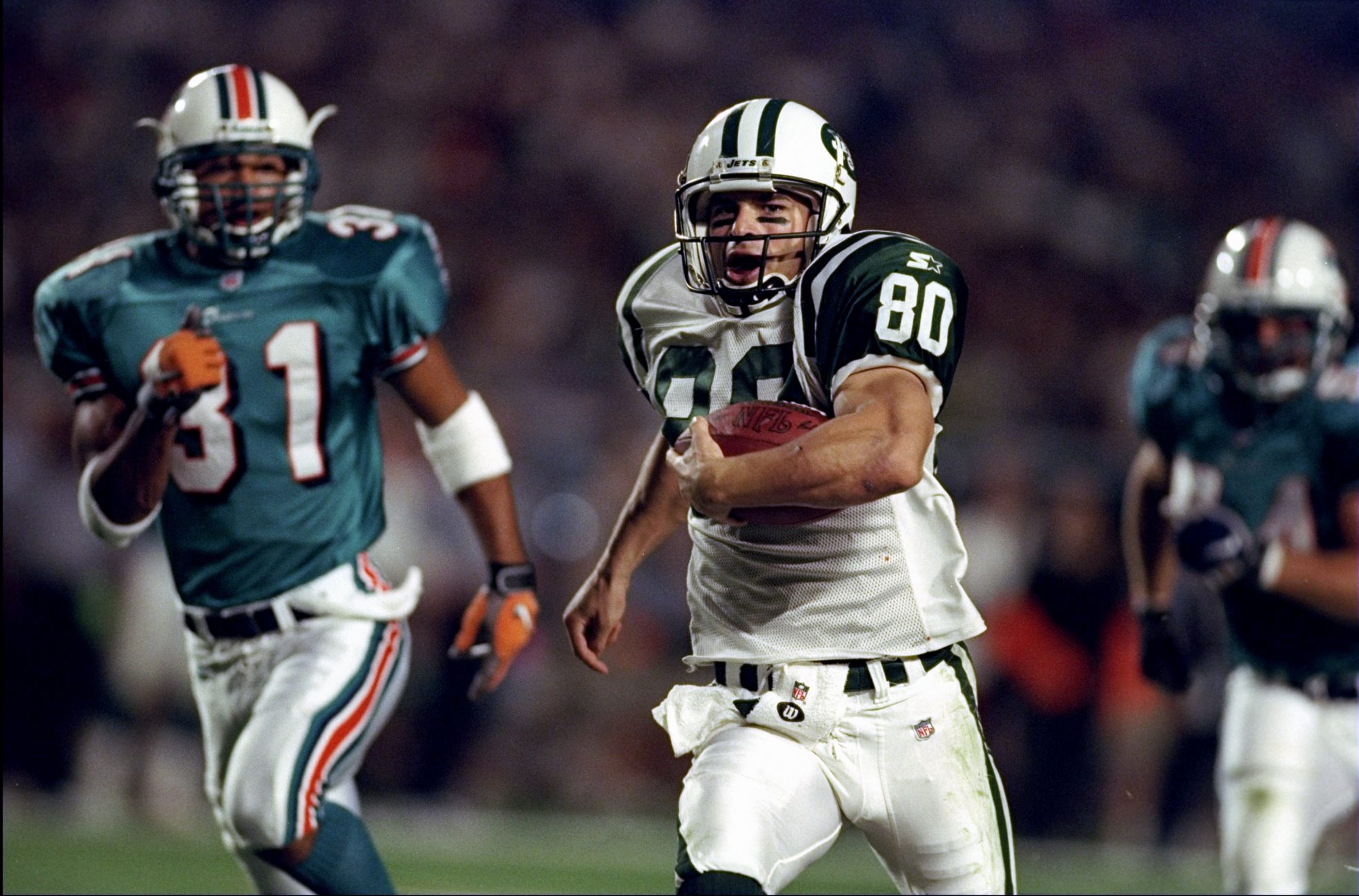 (Undrafted, 1995)
Chrebet began his career as an unsung summer signing out of local Hofstra. A 5'10 catcher from Garfield, NJ, Chrebet's size turned him away from countless opportunities, including a CFL tryout that ended after one day.
He went on to become one of the most beloved Jets in team history.
Another breakout in the lean years of the Rich Kotite era, Chrebet finally became known to national audiences during the Jets' playoff run in the 1998-99 campaign. In that year, Chrebet posted career-highs in receptions (75) and receiving yards (1,083), ending the year with 121 yards in the AFC Championship Game in Denver.
Chrebet's most famous Jets moment came in 2000 when a trick play led to Chrebet catching a game-winning touchdown pass from Martin. That score came against the Tampa Bay Buccaneers and Keyshawn Johnson, a former teammate that had been critical of Chrebet and his talents.
To this day, he ranks third in Jets receiving yards (7,365) and his number 80 has yet to be readministered since his 2005 retirement.
(4th round, 2004)
Chrebet's injury, a concussion, allowed for Cotchery to rise up on the depth chart. By 2006, his third season on the roster, he had worked his way into the starting lineup and rewarded the Jets confidence with 961 yards on 82 receptions. He would also go on to have 100 yards in the Jets' ensuing wild card loss in New England.
Cotchery would play seven years in New York, his best season of 1,130 yards coming in 2007.
(8th round, 1966 AFL)
Another future Super Bowl champion that originally turned down the NFL, Lammons stuck with the Jets despite an offer from Cleveland. He apparently made the right move, as the Texas product was one of the biggest contributors to the Jets' championship run. He picked 52 yards on four receptions in the AFL Championship game, earning one of Joe Namath's three touchdown passes.
(14th round, 1975)
New Jersey football dominated Fields' career from start to finish, save for a four-year outlier at Pennsylvania's Widener University.
Born in Woodbury, Fields went to Gloucester Catholic, graduating in 1971. After his late selection, he became a staple on the Jets' line, and one of the most dominant. Over a 13-year stay, he reached three All-Pro teams, in addition to two Pro Bowl squads. He would go on to play a single year with the Giants before retiring in 1988.
(8th round, 1977)
Alexander hadn't played a down of offense in four years at LSU, but was immediately switched to the offensive interior upon his arrival to Jets training camp. It's a position he literally stayed in, as Alexander didn't miss a game until his 11th season in green.
(12th round, 1967)
Rasmussen was a Nebraska alum … not of Lincoln, but of Kearney, where he one of five players to partake in the NFL. Of that tally, he was the only one to be drafted.
Rasmussen was already in the starting lineup when the Jets won the Super Bowl in his sophomore year. He was the last of the Jets' starting lineup to leave the game, lasting until 1981. He even managed to enter a scoring summary in 1972, when he recovered a fumble in the end zone against the Dolphins.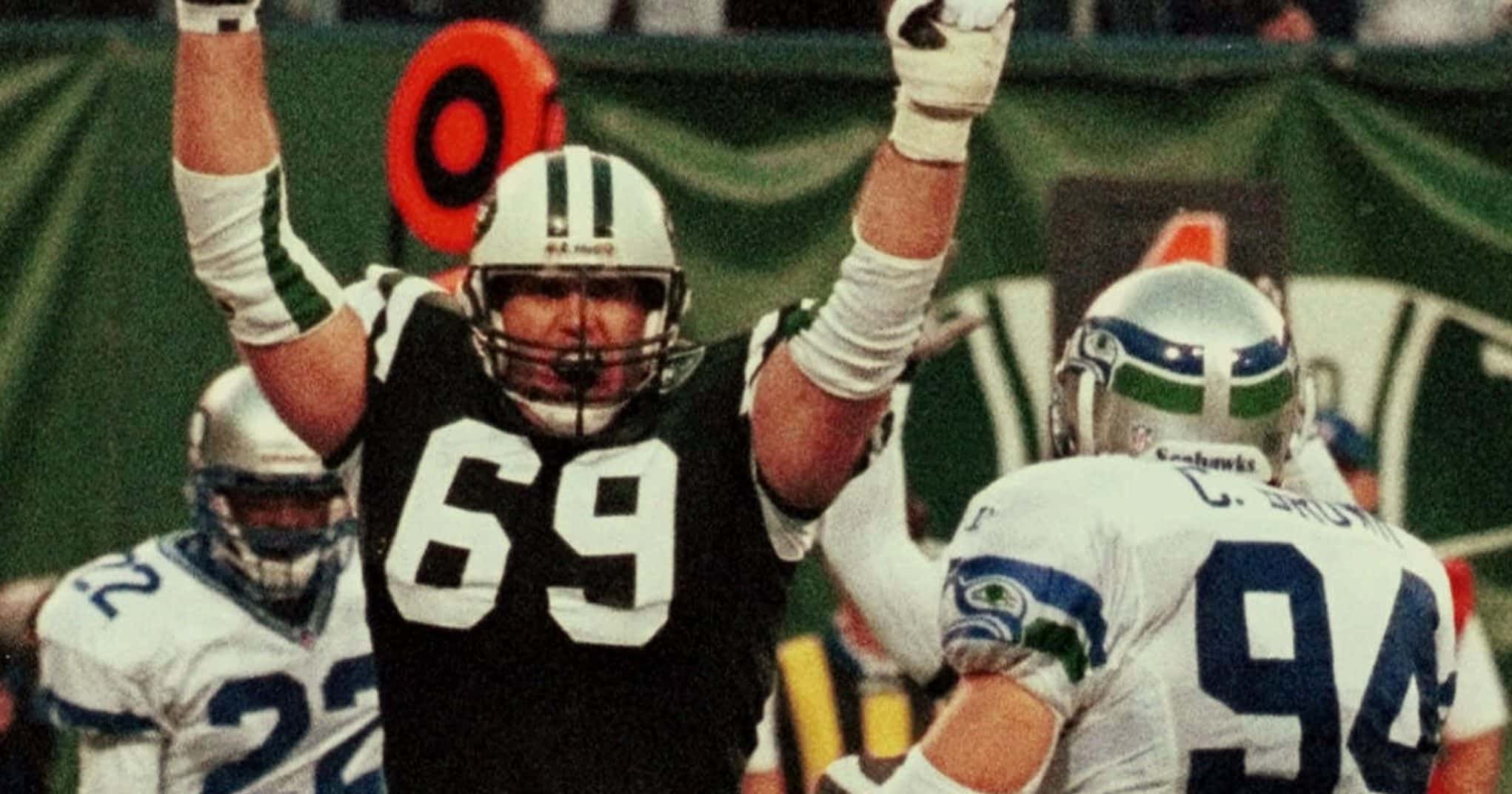 (4th round, 1998)
Unlike a lot of day three selections, Fabini managed to make an impact right from his entrance. He started all 16 games of the 1998 season, as well as two playoff games. After an injury cut his sophomore season short, he switched from right to left and went on to start 80 straight games. Yet another switch, this one back to right, ended his Jets career prematurely, as a chest injury kept him out of seven games in 2005.
Fabini moved on to Dallas after that season, but the Jets still named him to their All-Time Four Decade Team.
(Undrafted, 2002)
Moore's career is perhaps forever defined as the infamous "Butt Fumble", as the rear-end referred to in the moniker is his own. But Moore managed to rise up through the Jets' ranks, becoming a full-time starter within two seasons. In his penultimate season, Moore was nominated to the 2012 Pro Bowl. He ended his career with 142 NFL starts.
(6th round, 1989)
Washington was actually better known for his basketball prowess first, as he landed a scholarship at UTEP. He'd play two seasons with the Miners before a year in junior college. Two years at Idaho awaited afterward, where added football to his repertoire with the Vandals. In his senior year, Washington partook in both the Division I-AA playoffs and the NCAA Men's Basketball Tournament.
Drafted by the Jets, Washington played eights seasons in green, six as a starter. He would earn a team-high 8.5 sacks in 1992. Washington joined the Denver Broncos in 1998 and helped the team win the latter of back-to-back Super Bowls. His Broncos beat the Jets in the AFC Championship Game en route to the title.
(6th round, 1988)
An Elmira native, Frase kept the New York theme going as a star of Syracuse football. While he made plenty of contributions on the field, he was honored with two Ed Block Courage Awards, one with the Jets, voted by his teammates in an award that values players who are "role models of inspiration, sportsmanship, and courage." Frase played seven seasons with the Jets before he was lost to the Jacksonville Jaguars in the 1995 expansion draft.
Today, Frase oversees The Joshua Frase Foundation. Named after his son, the foundation raises funds for medical research toward myotubular myopathy.
(7th round, 1997)
The Jets were one of the rare teams to give Ferguson a chance. Despite a strong career at Georgia, Ferguson became a bit of an outcast for a positive marijuana test prior to the NFL Combine. He had earned starting duties by his second season and went on to become a staple on the Jets' defensive line for seven seasons. The Jets' confidence in him was rewarded with 368 tackles and 20.5 sacks.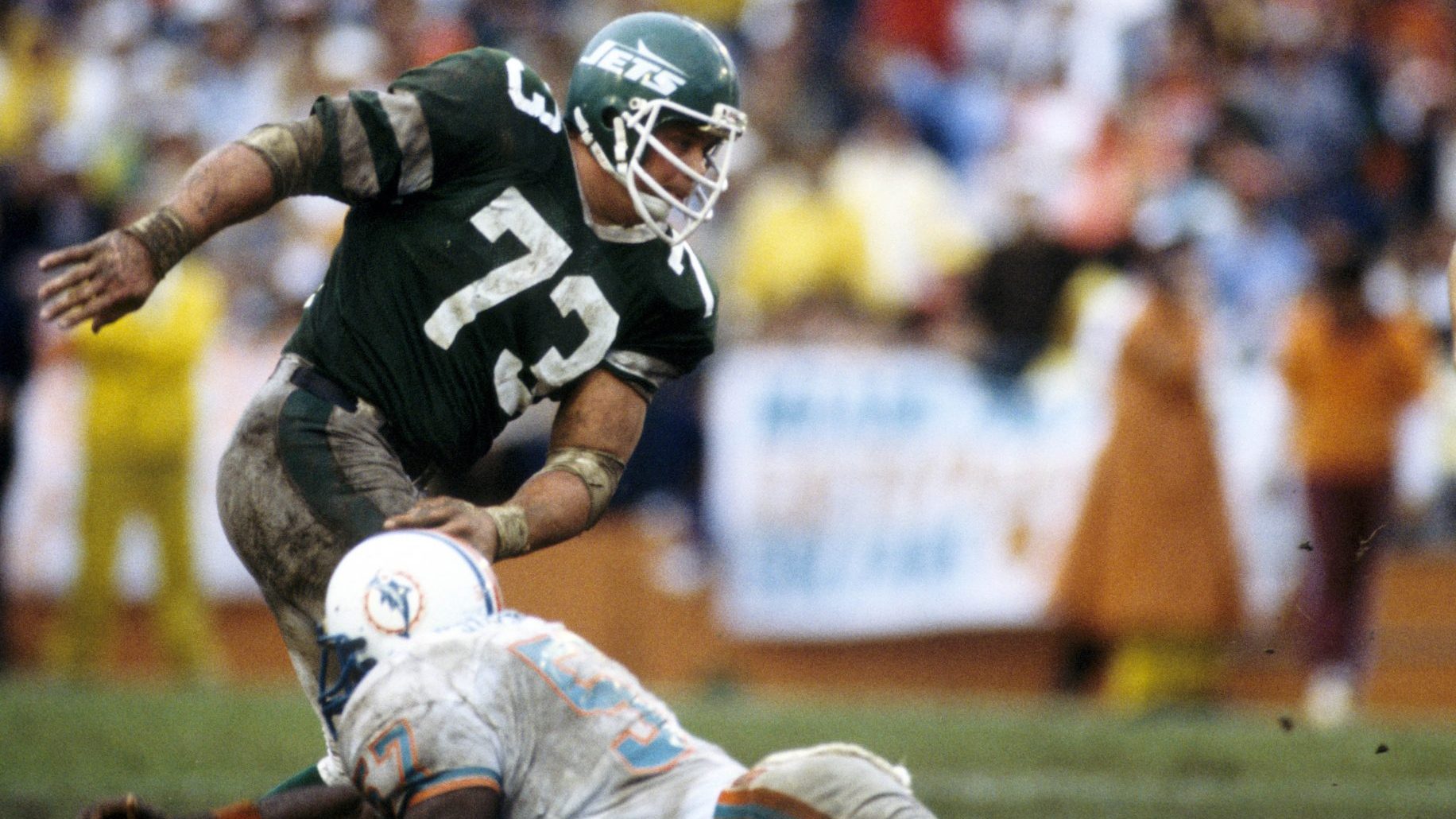 (6th round, 1977)
Klecko went from sixth-round castaway to Jets immortality. He is one of five players in team history to have his number, 73, officially retired, an achievement honoring an 11-year career. He would earn 24 sacks throughout his Jets career as a member of the famous New York Sack Exchange alongside Mark Gastineau and Marty Lyons. That number might only seem deflated by the fact the sack became an "official" stat in 1982. One season prior, Klecko was credited with 20.5 sacks, a mark that would stand as the fifth-highest total in NFL history. Consolation could be provided to Klecko through a trio of Defensive Player of the Year awards earned that year. He would also reach a total of four Pro Bowls.
(4th round, 1970)
An alum of Linebacker U, Penn State to the college football newcomer, Ebersole spent eight seasons with the Jets. He took over starting duties in 1973 and would earn at least one interception in each of his remaining years. A multi-interception turnover game in 1973 against New England, where he earned two of five turnovers in a 30-28 win.
(5th round, 1979)
Blinka came from the unsung football grounds of Sam Houston State, but made a decent impact with the Jets. He was an immediate starter, earning four turnovers in his rookie year. That effort earned him an AFC All-Rookie Team nomination.
Blinka was also a charter member of the USFL. After departing from the Jets, he spent a single season with the Denver Gold in 1985.
(6th round, 1976)
Martin had interceptions in each of his three full seasons as a Jet. He earned two alone in his rookie season.
(5th round, 1996)
Coleman was a dual-sport athlete at Texas Tech, competing in both football and track and field. His football prowess led to a selection by the Jets in 1996.
At first, Coleman didn't get along with Bill Parcells. The head coach gave him the unflattering nickname of "The Wizard" after he had trouble learning the defensive schemes and playbook. By 1999, his fourth season, Coleman had beaten out veteran Otis Smith for the starting duties. That season also served as a breakout with 62 tackles and six interceptions. In that latter category, Coleman had taken a Dan Marino pass 98 yards back to the end zone in a December victory.
Coleman would play two more seasons with the Jets before shipping off to the Houston Texans in the 2002 expansion draft. He currently coaches the Tucson Sugar Skulls of the Indoor Football League.
(6th round, 1978)
Jackson departed Tallahassee as Florida State's leader in interceptions. The Jets saw his potential, as he started every game of his rookie season. The faith was rewarded in the form of five interceptions that ranked second in the league. Jackson would go on to appear on the 1978 NFL All-Rookie team.
The best was perhaps saved for the 1982 season. He was limited to nine games, as was the rest of the league thanks to a players' strike, but made the most of them with seven turnovers. His five interceptions ranked second in the league once more, and he also led the league with two non-offensive touchdowns. Jackson would end the season by playing a big part in the Jets' run to the AFC title game. He had an interception in the Jets' divisional round victory over the Los Angeles Raiders and recovered a fumble in the sloppy championship loss in Miami.
(4th round, 2005)
A quarterback-turned-defender at Louisville, Rhodes won a tough competition for the starting safety job and started every game of his rookie year. It was a season that would end with Rhodes tallying 105 tackles.
His sophomore year worked out even better. Rhodes earned 98 tackles, including five sacks, and contributed to eight turnovers (four interceptions, three forced fumbles, one fumble recovery). The efforts were rewarded with a second-team Pro Bowl effort, and later with a five-year extension granted in 2008.
Longevity with the Jets, however, was denied to Rhodes thanks to a sour relationship with head coach Rex Ryan. After five years with the Jets, he was traded to the Arizona Cardinals. He would spend three years there before becoming an actor.
(Undrafted, 1993)
The Akron alum joined the Jets as an undrafted rookie in 1993. By 1995, he was the Jets' top safety, working on the third of nine seasons with the team. That ensuing season ended with Green leading the NFL in tackles, which accompanied seven turnovers (three fumble recoveries, two forced fumbles and interceptions each) and two sacks.
Currently tied for fourth in team history in interceptions (24), Green returned to the Jets for one day in 2006 to retire in his namesake's color. Previously, the Jets had named him to their All-Time Four Decade Team.
(Undrafted, 1974)
Leahy may have technically been a St. Louis Cardinal first, but made his regular season debut with the Jets in 1974. An All-American soccer player at Saint Louis University, Leahy became a New York staple for nearly two decades. To this day, he remains the Jets' all-time leading scorer, departing in 1991 with 1,429 points. In comparison, runner-up Nick Folk tallied 729.
(7th round, 2016)
Edwards was a multi-sport athlete in his homeland of Victoria, Australia. It was his kicking prowess that earned him attention from Sam Houston State, and later the Jets, who made him their penultimate pick of the 2016 draft. Among punters with at least 200 attempts, Edwards' 44.6 average ranks second in team history.
(4th round, 2006)
The pick was for Washington was the Jets' compensation from Kansas City for the hire of Herm Edwards. A versatile weapon at Florida State, Washington carried his skills over to the Jets, where he became one of the most dangerous returners in the league. In 2008, he led the league in all-purpose yards en route to first-team All-Pro honors. One year prior, he led the league with three kickoffs returned for a touchdown. He remains the Jets' all-time leader in kick return touchdowns with four.
Follow Geoff Magliocchetti on TWITTER