Here are five and one reasons why former New York Red Bulls striker Thierry Henry could change the team's season when he takes over.
It's a match!
The New York Red Bulls are winless in their last five matches and sit in the second to last spot of the Eastern Conference table. Soon-to-be Red Bulls head coach Thierry Henry was also winless in the last five games he coached for his former team, A.S. Monaco, and the club was the second to last placed team in Ligue 1 when he was sacked.
Well, when you put two negatives together, it spits out a positive; New York will hope they got their math right on this one.
Analyzing the whole situation, it's not that bad of an idea to put Henry in the sideline at the Red Bull Arena; he could actually be the perfect candidate to restore New York—the perfect imperfect candidate.
1. Henry is itching to bounce back from his nightmare at Monaco
There's nothing scarier than a man who wants to get back up from failure.
Painful is an understatement to describe Henry's three months at Monaco. He won his first match with Les Rouges et Blancs a little over a month after taking over, slimming by Caen, 1-0, on Nov. 24, 2018. Before this long-awaited victory, Monaco lost two matches with a 4-0 scoreline.
After the win, things did not get much better in December as Monaco held a 2W-4L record. Later in January, the 41-year-old was winless in five consecutive games. The club had to let him go.
For someone who's one of the best strikers the Premier League ever saw, this unusual failure must've hurt.
Now he has a chance to recover with the Red Bulls, another team he played for. How much does he want to take from this opportunity? You can bet that Henry will leave nothing behind in New York.
2. He's been there before
Even though it was only for three months, coaching a club that's struggling is nothing new to the Frenchman. As mentioned, Henry reigned over a struggling Monaco side.
Frustrated players, articles criticizing him and the teams, disappointed fans, mean tweets, the pressure to win the next game—all that will cram on top of Henry if he lost his debut match with The Metros versus F.C. Cincinnati on Saturday.
That's something he had to deal with most of his days at Monaco. It was a learning experience that will certainly help the former French international player when takes over at the Red Bull Arena.
Furthermore, Monaco also taught Henry how to deal with the emotions that come with coaching a club you played for. The Les Ulis native played for the French team for five years and spent four seasons playing for New York.
3. Henry was in the midst of some interesting signings at Monaco
RBNY fans could be getting their wish of having another designated player.
Henry helped notched four lucrative signings when he was at Monaco: former Arsenal star midfielder Cesc Fabregas, ex-Brazil international Naldo, young promising left back Fodé Ballo-Touré and veteran defensive midfielder William Vainqueur on loan.
Not only would a young coach like Henry want to sign game-changing players, but a coach who had a playing career as successful as he is going to attract superstars.
The Red Bulls made one major signing during the offseason, acquiring teenage striker Mathias Jorgensen.
4. He's Thierry Henry
Henry was the Premier League's Golden Boot winner for four consecutive seasons, was a Ballon D'Or runner-up, is in the English Football Hall of Fame and so on. Who wouldn't become inspired by a coach with such a terrific soccer resume?
He will earn the players' respect because of what he did on the pitch.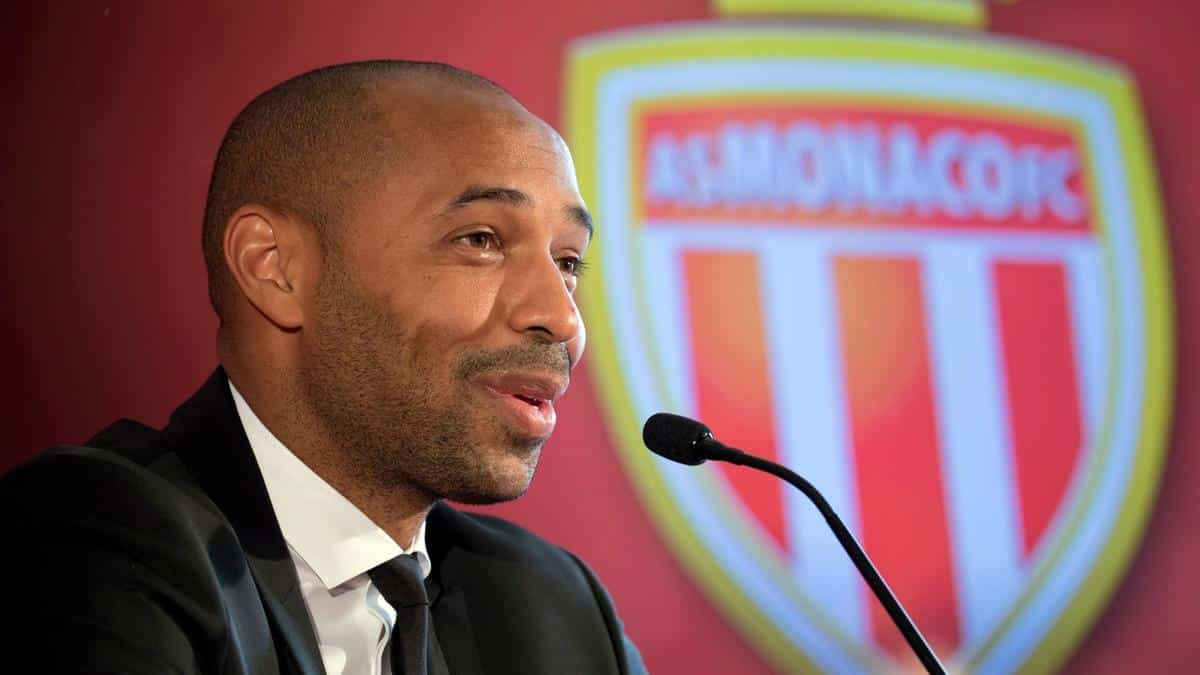 Guillermo Barros Schelotto, a former MLS MVP and Argentine international, started coaching the L.A. Galaxy this season. L.A. is the second placed team in the Western Conference. Ex-Real Madrid star midfielder Zinedine Zidane transformed a struggling Madrid side and ushered them to nine trophies in two years.
But of course, not all former great players can inspire their team to greatness. Former A.C. Milan recognized midfielder Gennaro Gattuso is not having the most successful moment of his coaching career with his ex-team. He only won 48 percent of the matches he coached for Milan.
5. Henry is not afraid to tweak how the team plays
One of the reasons why the Supporters' Shield champions are underperforming this season is due to opponents quickly figuring out the Bulls' system. When Henry arrived at Monaco, he wanted to change how the team plays and adopt a possession style similar to his former side F.C. Barcelona.
That's exactly what the Red Bulls need: a young coach who's eager to turn things around a bit. And what needs to change in RBNY's game is that they have to hold on to the ball more as Henry wanted to do with Monaco.
But this could be scary, Monaco didn't have the personnel to play like Barca. New York is playing without a true identity as of now, if Henry tries to implement a whole new playing style to the club from the get-go this could hurt the team even more.
6. Strikers get ready to learn
While Henry was Belgium's assistant coach, Manchester United striker Romelu Lukaku expressed how influential the Frenchman was in his growth as a striker.
"Henry is the best thing that has happened to me because since I came to England aged 18 I have had the best mentors," Lukaku told NBC Sports per Duncan Wright of The Sun. "Thierry, for me, is the best. Every day whether it is positive and negative I take it in my stride because I know what is expected from the top level.

"Working with him in Belgium I really take my time with him asking questions, I don't take him for granted, I sometimes ask him questions for two hours. I will get the information that I need and take it on board."
The Metros teenage striker, Jorgensen, is supposed to be the club's future. He could be, indeed. Jorgensen is one of the luckiest young forwards in the world. Having Thierry Henry as head coach could speed up his development tremendously.