With the New York Giants seemingly depleted on all fronts, they will be looking for a few players to take on a bigger role in 2019. 
The New York Giants have lost a lot of the firepower they possessed in the 2018 season. On both sides, they'll be without some key playmakers. To help fill these holes, young and upcoming players will have to step up.
Sterling Shepard
New York decided to trade their biggest star, Odell Beckham Jr., this offseason. The result is that the receiving core will need someone new to play the top wideout spot. OBJ demanded quite a bit of offensive attention and without his presence, there will be more touches to go around.
Beckham saw 124 targets (catching 77 of them), resulting in 1,052 receiving yards and six touchdowns. Missing the star-studded receiver will cause the ball to go to different pass catchers. One of these pass catchers is Sterling Shepard.
Shepard will be entering his fourth year as a pro in 2019. He will also be entering with a $41 million contract extension. Shepard has definitely earned this mutually beneficial extension and he will look to improve on his first three seasons after collecting his paycheck.
During the first three seasons of his career, the Oklahoma product totaled 190 receptions, 2,286 yards and 14 touchdowns. While these are not elite numbers, his past campaign was by far his best. In 2018, the former second-round pick set career highs in yards (872) and receptions (66).
Shepard not only assisted the Giants with his pass catching ability but also helped New York with his outstanding blocking ability. After a 40-16 rout of the Washington Redskins, Saquon Barkley was asked about an incredible 52-yard run. Barkley responded by saying, "Can we talk about Shep's block on that play?" This is just one of many instances that Shepard's will to get in front of the defender has freed up his teammates.
Putting all of this together, there is no reason that Shepard should not be able to step into the bigger role that is destined for him. Barring injury, Shepard could become the number-one threat on the outside for the Big Blue. He may even see his first 1,000-yard season.
No matter what, Shepard will need to do a lot more in 2019 as the Giants are not returning with their best receiver from last year.
Sam Beal
Since the days of the NYPD in 2016, the New York pass defense has experienced a sharp decline. The Giants secondary finished 23rd amongst all NFL teams in passing yards allowed this previous season. To make matters worse, this subpar unit lost two starters—Landon Collins and B.W. Webb—this offseason. Collins was the best run stopper in the secondary and probably on the team. Webb was a starting cornerback.
While New York has already filled the strong safety role with Jabrill Peppers, they will be searching for a replacement for Webb, who put forth one of the best years of his career this past season as he totaled six passes defended, one interception and 59 tackles. His departure to Cincinnati forces the Giants to find a much-needed replacement.
Sam Beal is one of the players that are up for this promotion. Beal is a former third-round pick in the 2018 supplemental draft. It was said that if Beal was to wait another year in college, he would have probably been a fringe first-round candidate. Nevertheless, the Giants snagged Beal last year while forfeiting this year's third-round pick.
Beal came in as a very intriguing prospect for the Giants with his great size and athleticism. He stands at 6-foot-1 and 185 pounds, a great size for a cornerback. Additionally, he runs a 4.40 40-yard dash and has a ridiculous 37-inch vertical. The Western Michigan product totaled 10 pass breakups, 26 tackles, a forced fumble and two interceptions in his last collegiate year. Beal seems to possess all the measurables New York desires at the position. He even earned high praise from Giants' general manager Dave Gettleman.
"We're very, very excited about getting Sam in the draft," Gettleman stated after the selection of Beal. "He's long, he's very athletic for a corner, he has all the physical skills, he can carry the vertical, he has very good play speed, he shows instincts out there, he has ball awareness, he doesn't panic when the ball is thrown at his guy, and he is a very willing tackler. We just feel it gives us a really talented young kid with the ability to ascend."
Unfortunately for Beal, his rookie season came to an end before it even started. He suffered a freak practice accident on July 25, 2018. The supplemental draft pick dislocated his shoulder causing him to later undergo surgery. He would have been an interesting player to keep an eye on last season as he may have competed for the slot cornerback job with Grant Haley and B.W. Webb.
Coming into this season, Beal will have to take on a heightened role. Due to the parting ways with B.W. Webb in free agency and the trading of Eli Apple during the season, Sam Beal should come in as a favorite to land either the slot cornerback position or the cornerback two spots.
Scouts have said that Beal possesses elite one-on-one man coverage ability which should help him fit perfectly into James Bettcher's defensive system. Attributable to his measurables and versatility, Beal should be able to fill the increased role he is slated for.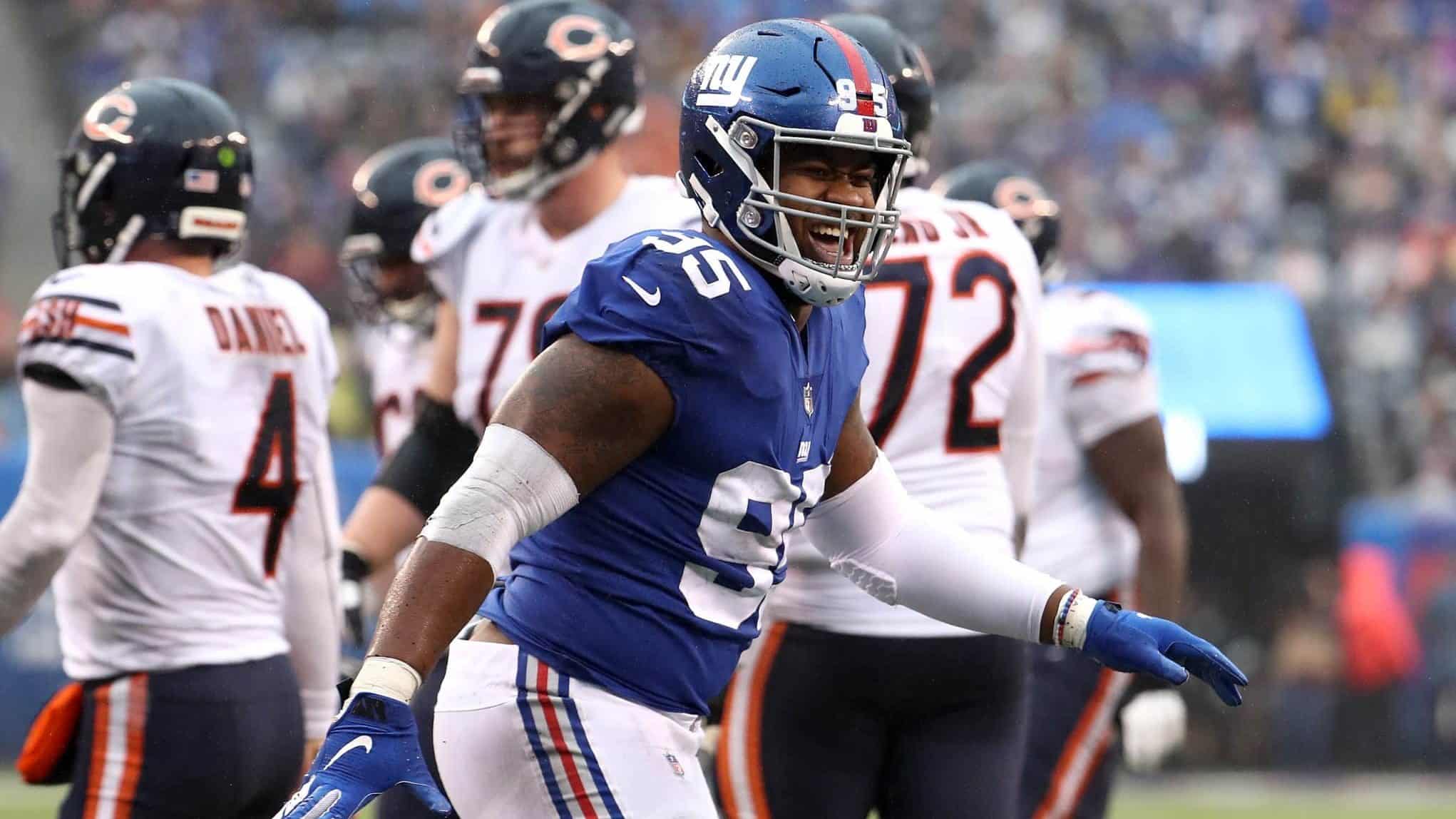 B.J. Hill
The direst need in Jints land is the four-man conventional pass rush. Big Blue was abysmal in every category when it came to getting after the quarterback. They finished second to last in the NFL with 30 sacks. They also featured a league's third-worst sack percentage of 5.1 percent. New York was never really able to get after the passer allowing him to get ample time in the pocket. Throughout the season, it was evident that the Giants needed a serious tune-up in the pass rush department.
To magnify the issue, the team will not return their leading pass rusher from the 2018 season. The Giants traded Olivier Vernon to the Browns, and the pro bowler will be leaving with his seven sacks and 21 quarterback hits. He has been a consistent threat for the Giants off the edge and the lack of his presence will cause the pass rush, already starving for contributors, to decline in production.
However, Vernon's absence screams for an uptick elsewhere. Interior defensive lineman B.J. Hill can help fill the void. 
Hill was selected with the 69th pick in the 2018 draft and this was regarded as a steal by many. He proved this to be correct with his outstanding play off the edge. For example, Hill instantly gained the respect of Giants fans with his record-breaking 5.5 sacks. The rookie out of N.C. State broke the rookie record for most sacks in a season while only starting 12 games. He also added eight quarterback hits to his rookie campaign. 
This year, Hill will have a bigger spot on the team's front seven. He will likely come in as a starter and without injury, he will be expected to start all 16 games. Missing Olivier Vernon will cause the Giants to lose a lot of production in terms of the pass rush. B.J. Hill can help to subsidize that by stepping up inside.