The stars are shining bright for the Brooklyn Nets and Philadelphia 76ers, but Joe Harris and JJ Redick remain vital pieces to the puzzle.
The Brooklyn Nets and Philadelphia 76ers have no shortage of stark contrasts. The Sixers are top heavy with most of their talent frontloaded in the starting lineup while some of the Nets' best production comes off the bench. Philly's stars are physically imposing players that bully their opponents into submission. Brooklyn's stars are shifty guards who finesse their way into open looks.
However, the starting shooting guards on each team are a literal representation of the Spider-Man pointing meme. The matchup between Joe Harris and JJ Redick has been a bellwether for success in this best-of-seven series.
Game 1 - Harris Shines
Harris' strong performance in Game 1 helped the Nets grab an early lead. The Nets utilized staggered screens to free him up for open looks from deep. He went 3-for-4 from beyond the arc in the first quarter although he wouldn't attempt another three for the rest of the game.
In reality, he didn't need to. His gravity as a shooter opened up lanes for D'Angelo Russell, Spencer Dinwiddie, and Caris LeVert to drive the gaps. Furthermore, simple screening actions created mismatches that put Redick in one-on-one isolations over and over again.
The Philly sharpshooter would foul out after scoring five points in 22 minutes. He only shot 1-for-4 from the three-point line and Brooklyn's decision to "top-lock" Redick took him out of his game. Essentially, top-locking is a defensive scheme that aims to cut off shooters from the three-point line. It's a way to force guys like Harris and Redick from running off screens on the perimeter.
The Nets never stopped dogging Redick on defense and hunting him out on offense. As a result, he wore down as the game progressed. The aggressive top-locking made him work on every offensive possession. Moreover, by hunting Redick out in switches, they were able to take advantage of his suspect defense and take him out of his rhythm offensively.
In short, Harris was a stud in Game 1 and Redick barely managed to show up. This round went to the Nets, but Redick wouldn't remain silent.
Game 2 - Redick's Redemption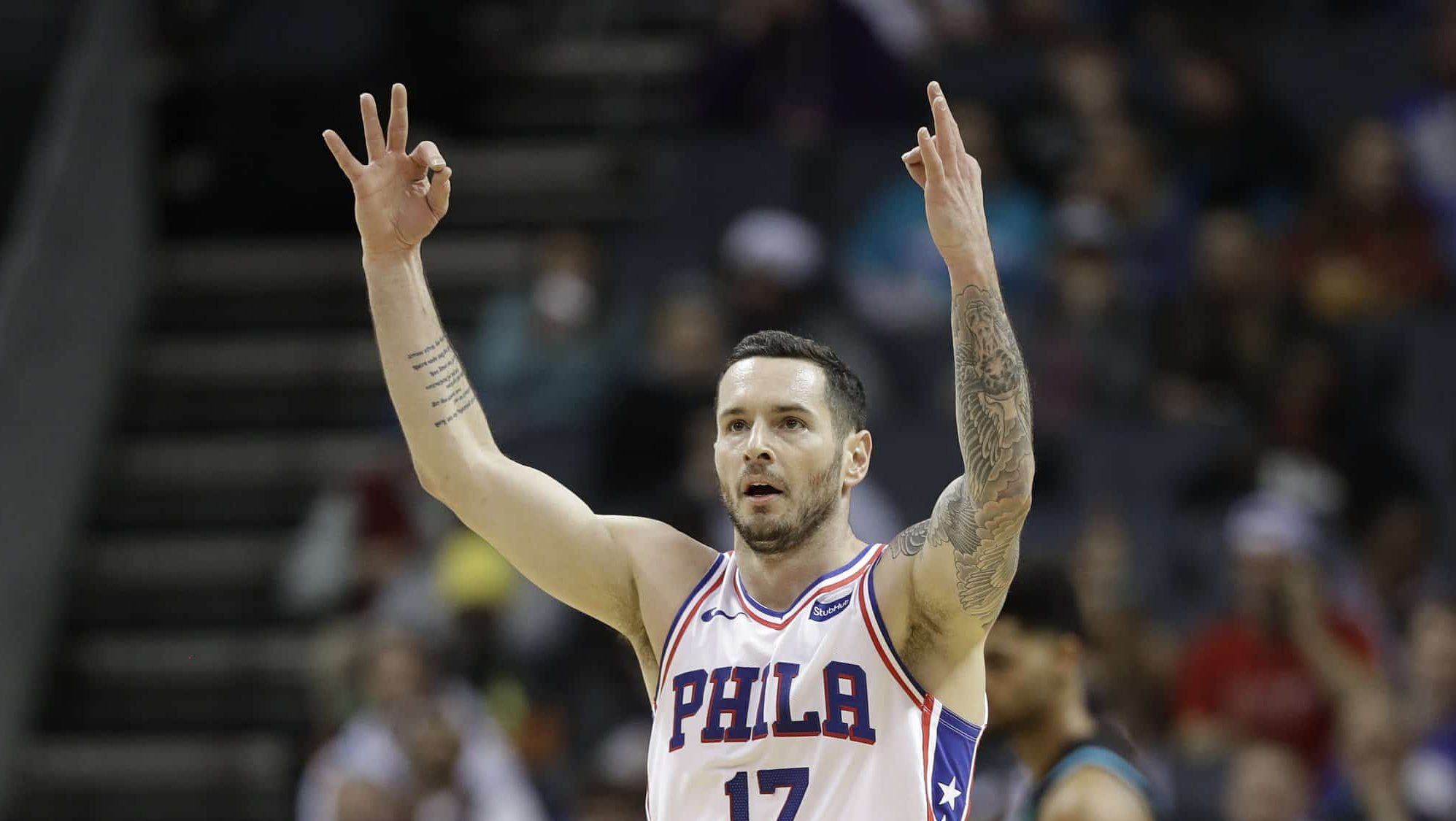 Game 2 flipped the script. Harris was a no-show while Redick was a catalyst as a floor spacer and cutter. Sixers head coach Brett Brown effectively adjusted to Brooklyn's top-locking scheme. The best way to counter top-lock defense is with backdoor cuts. In Game 1, the Nets were active in help defense and were able to shut down Redick's cuts.
However, in Game 2, Brooklyn was more disorganized on the defensive end and it resulted in 17 points on 7-for-12 shooting for the savvy veteran. The Sixers were a plus-18 with Redick on the floor.
Philly didn't need to look far for a blueprint to stop Harris in Game 2. Although Nets head coach Kenny Atkinson outmaneuvered Brown in Game 1, Philly turned around on Monday and employed the same top-locking scheme that frustrated Redick.
"It's tough, they were blocking a lot of the screening situations," said Harris, per Brian Lewis of the New York Post. "They were forcing me to the rim, taking away any sort of 3-point threats. But a lot of it is on me, just being able to move a little more aggressively, hunt different shots maybe in transition. You can't just be reliant on getting into the half-court and expecting screens to get open. It's just not easy in the playoffs, and everybody kind of game plans for individual guys."

"You got to be a little bit more determined moving without the ball."
Harris was completely taken out of his game and he finished with a putrid four points and only attempted two threes in the game. Make no mistake, if Joe Harris—the top three-point shooter in the NBA all season—is only attempting two threes, the Nets are in trouble.
Game 3 - Adjustments
The playoffs are a series of adjustments. It's as much of a chess match as it is a basketball game. It's up to Atkinson to figure out how to free up Harris for open looks on one end while keeping Redick frustrated on the other.
Offensively, the Nets must make plays on backdoor cuts. It's the most effective way to counter top-locking Harris is an underrated cutter and finisher at the rim. However, the Sixers will usually have Joel Embiid lurking in the paint to protect the rim.
Another way to counter this style of defense is by putting the ball in Harris' hands more. The Virginia product is underrated as a pick-and-roll guy. That certainly isn't Harris' game, but it's a changeup Atkinson could throw to see if they can catch the Sixers napping.
If the Nets aren't comfortable with running Harris in the pick-and-roll they should look to use him as a screener. Different sets like Spain pick-and-roll and 21 Nash can use Harris' gravity to open up space in the lane. Of course, screen-the-screener actions usually lead to disoriented defenses—a Shangri-La for shooters.
In the following clip with two Spain sets, look for the shooter setting a back screen for the screener before popping out to the top of the key.
For Brooklyn to stop Redick, they need to reorganize their defense. They must continue to top-lock Redick and run him off the three-point line. He'll have opportunities for backdoor cuts, but an organized Brooklyn defense should have enough help on the inside to make Redick's life tough at the rim—this is how they stopped him in Game 1.
The stars have been on full display in this series, but the mirrored shooting guard matchup is far more important than meets the eye. Harris is looking to flip the script like his counterpart did in Game 2. Redick is looking to build off his performance on Monday.
Keep an eye on this matchup. It may tell the story of this series.