The New York Giants 2019 NFL schedule has officially been released and it'll be the Dallas Cowboys in Big D during Week 1. 
The NFL schedule has been released for the prestigious 100th season and, in what has become a common theme, the New York Giants will begin their season at Dallas to take on the Cowboys on Sunday, Sept. 8.
This will be the fourth time in the last five seasons the Giants have opened the season at Dallas. Last year, the Giants lost a Week 2 game in Dallas, 20-13. They were defeated in season openers in Dallas in 2013, 2015 and 2017, and won in 2016.
The Giants first home game will be on Sunday, Sept. 15 against the Buffalo Bills at 1 p.m. ET.
Your 2019 #NYGiants schedule‼️

Details ⤵️

— New York Giants (@Giants) April 18, 2019
Surprisingly, the Giants will not play any Sunday Night Football games this season, but they will play twice on Monday night. The first Monday Night Game will be home against the Cowboys in Week 9 on Nov. 4 and the second in Week 14 when they travel to Philadelphia to take on the Eagles on Dec. 9.
The Giants are 25-39-1 on Monday nights, including 9-10 at home and 16-29-1 on the road.
The Giants lone Thursday night matchup will commence when they travel to Foxboro to take on the defending Super Bowl champion New England Patriots. This will be the sixth and possibly final time Eli Manning and Tom Brady will face one another. Manning owns an all-time 3-2 edge.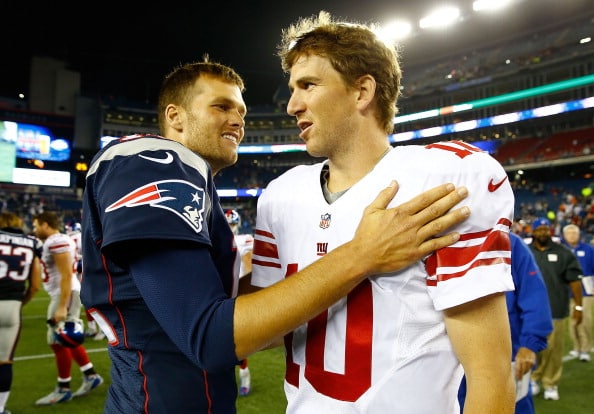 The Giants are 4-5 in Thursday night games since 2008, including 2-4 on the road.
The Giants will face one of their former captains and three-time Pro Bowler Landon Collins in Week 4 when the Giants host the Redskins on Sept. 29 and then again when they travel to the Nation's capital on Dec. 22 in Week 16.
The Giants regular season will conclude in Week 17 against the Eagles on Sunday, Dec. 29.
On paper, the Giants have a favorable schedule; they only face four teams that made the playoffs a season ago. On Thursday, head coach Pat Shurmur spoke about the upcoming season.
"This is an exciting time," said Shurmur, who is entering his second season as the Giants' head coach. "This week, we started the offseason program. And now we can see when we're going to play. We knew who our opponents would be and where we are going to play, but there's an excitement that builds once the schedule comes out."