On Tuesday in Times Square, it was revealed that Kevin Gilbride will return to East Rutherford as head coach of the rebooted XFL squad.

NEW YORK, NEW YORK—Kevin Gilbride is back in the New York groove.
The longtime NFL coach will return to professional football in 2020, as he will be the head coach of the new XFL team in the New York area. Currently without a nickname, the team will play their home games at MetLife Stadium in East Rutherford, New Jersey.
Fox Sports' Jay Glazer first mentioned reports of Gilbride's arrival on Monday. The hiring was confirmed in a rooftop press conference hosted by the XFL at the AC Hotel Times Square. Commissioner Oliver Luck was in attendance, as was league President and COO Jeffrey Pollack.
"I spent 10 great years as a coach in New York, so I know how savvy and passionate fans here can be," Gilbride said in his introductory statements. "I've missed the sidelines, and can't wait to hire a staff and get to work building the best team we can."
The team also revealed Janet Duch as its new President. Duch most recently served as the Senior Vice President of On Location Experiences at Madison Square Garden.
Having grown up with the area's sports teams, as well as working directly with the New York Rangers and Knicks, Duch is dedicated to making this football experience long-lasting and fruitful amongst a vocal fanbase.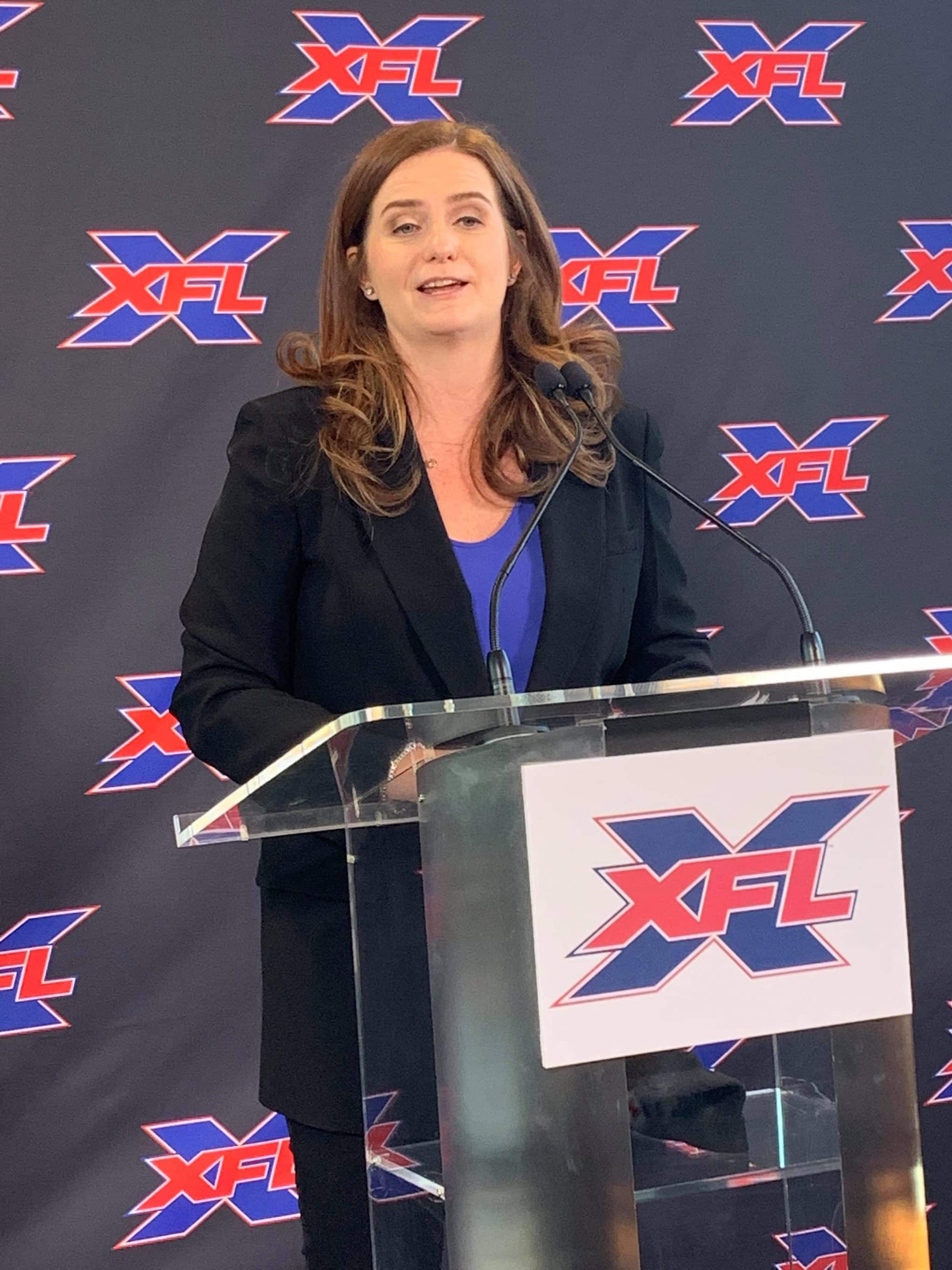 "It's a great privilege to help lead the XFL's New York team and help evolve the football experience, on and off the field," Duch said. "I'm excited for the opportunity to build a new organization and engage the passionate football fans we have in the tri-state area. Our mission is to bring fans closer to the game they love."
Gilbride, 67, began his coaching career in 1974 as a linebacker coach at Idaho State University. His first NFL job came in 1989, serving as the Houston Oilers' quarterbacks coach. A promotion to offensive coordinator followed after Oilers quarterback Warren Moon threw for a then career-high 3,631 yards and 23 touchdowns. Under Gilbride's supervision, Moon had two more career-best seasons, leading the league in passing yardage in 1990 (4,689) and 1991 (4,690). That former season also saw Moon top throwers in touchdown passes (33).
After five years in that spot, Gilbride joined the inaugural coaching staff of the Jacksonville Jaguars, serving two years as offensive coordinator under head coach Tom Coughlin. The expansion Jaguars reached the AFC title game in just their second year of existence, bolstered by an offense that ranked second in league yardage. Notable names that broke out under Gilbride's tutelage included quarterback Mark Brunell and receivers Jimmy Smith and Keenan McCardell.
The performance earned Gilbride his only prior head coaching experience to date, taking the San Diego Chargers' job in 1997. After a 4-12 debut, the Chargers won the first two games of Gilbride's sophomore campaign. Offensive struggles, primarily the ineffectiveness and antics of rookie quarterback Ryan Leaf, doomed San Diego to four straight losses, leading to Gilbride's October firing after a 6-16 mark with the team. Over four of the next five seasons, Gilbride returned to the offensive coordinator title in Pittsburgh and Buffalo, taking only the 2001 season off.
After stops with five college and six professional squads (including a two-year stint with Ottawa's CFL team), Gilbride made a home for himself in New York. In 2004, he became the New York Giants' quarterbacks coach when Coughlin accepted the head coaching position. He would go on to work directly with rookie thrower Eli Manning, supervising the transfer of starting power from Kurt Warner.
Midway through the 2006 season, Gilbride was named interim offensive coordinator. He was given the position on a full-time after the season ended. In his first full season at the offensive helm, the Giants defeated the undefeated New England Patriots in Super Bowl 42, with Manning earning MVP honors. Gilbride and the Giants would earn another ring four years later, duplicating the Manning honor and victory over New England in Super Bowl 46.
Manning would go on to establish a monopoly on the Giants' starting quarterback position, starting every remaining game of Gilbride's decade-long tenure after taking over the job midway through the 2004 season. Their finest campaign together was perhaps the 2011-12 Super Bowl trek, as Manning threw for 29 touchdowns and a franchise-record 4,933 yards. He also earned six game-winning drive, another franchise best. Other notable personal seasons overseen by Gilbride include Tiki Barber in 2005 (franchise-high 1,860 yards, one fumble) and Steve Smith in 2009 (107 receptions, another team-best).
Gilbride retired from coaching after the 2013 season. His son, Kevin M. Gilbride, served as a Giants assistant from 2010-17, and now holds the tight end coaching spot with the Chicago Bears.
Back in New York football, Gilbride will oversee the new version of XFL football. New York is one of two markets retained from the XFL's original version, a single-season in 2001. In that year, head coach Rusty Tillman led the New York/New Jersey Hitmen to a 4-6 mark.
For this incoming revival, the team is not expected to retain the Hitmen nickname.
Gilbride is the fifth coach in the rebooted XFL to be revealed. Other confirmed locations in the return include Los Angeles, Dallas, Houston, St. Louis, Tampa, and Washington D.C. A head coach for the St. Louis squad is expected to be unveiled on Thursday.
The new XFL is set to begin play in February 2020.
Follow Geoff Magliocchtti on TWITTER