NFL Analyst Peter King speaks on the quarterback options for the New York Giants and how they should draft Eli Manning's successor this month.
This offseason is huge for the New York Giants mainly due to the future uncertainty of the quarterback situation. Eli Manning will still be back for 2019, as head coach Pat Shurmur confirmed in March, but that doesn't mean the successor won't also be on the roster.
The Giants have a chance to find the next guy at the quarterback position in the draft and also could be in the running to trade for Arizona Cardinals QB Josh Rosen.
In the midst of all this talk about the "quarterback of the future" for Big Blue, NFL Analyst Peter King is providing his opinion regarding the matter. In his latest mock draft for Pro Football Talk, King analyzed each of the Giants' two first-round picks (No. 6 and 17 overall).
For Big Blue's sixth pick, King writes "New York Giants: Drew Lock, QB, Missouri. Doubt GM Dave Gettleman will do this, or take any quarterback here. (In fact, I keep hearing Dwayne Haskins is sinking, and may be the fourth passer picked in this draft.) Gettleman seems to have more of a mind to fix his lines in this draft. But a franchise passer trumps all. Lock or Haskins should be the pick here—unless the Giants think it's a lock that Lock will be there at 17."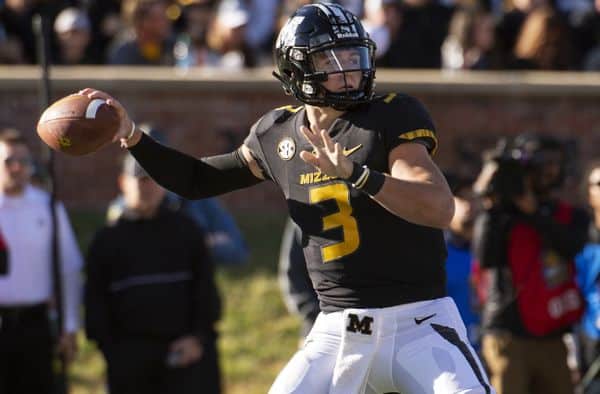 Both Lock and Haskins proved to be premiere pocket passers this past season at Missouri and Ohio State respectively. Lock threw for 3,498 yards with 28 touchdowns to only eight interceptions. The Missouri quarterback also completed 62.9 percent of his throws. Haskins, on the other hand, threw for 4,831 yards and 50 touchdowns in 2018, both Buckeye records. Haskins also completed 70 percent of his throws and only threw eight picks.
Lock and Haskins would both be great picks for the Giants, but going with a quarterback at No. 6 may not be the move. A pass-rusher in this defensive lineman-infested draft class could be a great choice for the Giants early on. Big Blue can handle the quarterback situation later, but the D-Line option must be pounced on immediately.
For their 17th pick, King writes "New York Giants: Depends on the first pick. If the Giants didn't take a quarterback at six and Drew Lock is here, he's the guy. If so, best available offensive or defensive lineman, such as guard/center Garrett Bradbury, who could compete to play opening day at a need position, center."
Bradbury, out of N.C. State, is one of the top-rated offensive linemen in this draft. He has a 6.12 prospect grade according to NFL.com and won multiple awards while at school. Bradbury was selected to the All-ACC First-Team and earned AP All-American honors. He also won the Rimington Trophy as the top center in the country.
Bradbury would be a great complement to offensive lineman Will Hernandez and Kevin Zeitler on the interior part of the line. However, the Giants did recently re-sign centers Jon Halapio and Spencer Pulley, so maybe taking another center might not be the best move.
If Big Blue were to look at any offensive line slot, they should search for a right tackle to replace Chad Wheeler. Wheeler posted the worst Pro Football Focus grade on the Giants in 2018 with a grade of 47.4. He also posted the worst run blocking grade in the NFL.
As far as King's main point, it's tough to make the prediction until they make their pick at No. 6. That I agree with. The sixth pick ultimately decides what they'll do with the 17th pick along with the rest of their early-round picks.
If the draft isn't where the Giants select Manning's successor, they still have the Rosen route. The Cardinals may look to draft Oklahoma QB Kyler Murray with the No. 1 overall pick and multiple teams have expressed interest in trading for Rosen.
The Giants are reportedly "not in love" with the UCLA product. However, King gave his analysis regarding the Giants' position in the Rosen sweepstakes.
King writes "New York Giants—Draft picks in top 100: 6, 17, 37, 95. Unlikely that GM Dave Gettleman will give the 37th pick for Rosen, in part because of value and in part because the Giants really aren't sure if all the noise about Rosen being difficult has any merit. But the Giants are an option because coach Pat Shurmur is a play-action devotee and likes his quarterback to throw with timing and rhythm. That's Rosen's game. Having Eli Manning for one more season would allow Rosen to learn behind a great preparer and very smart player. So how can the Giants make a deal like this, with no pick between early in the second round and very late in the third round? (I'd be very surprised if Arizona would consider Rosen for the 95th pick.) Well, the Giants could offer a second-round pick in 2020, or try to deal the 17th overall pick in some package that would include high second and third-round picks. But dealing for Rosen could allow the Giants to use three picks in the top 40 this year to do what Gettleman really wants to do: continue to build both lines while addressing the post-Eli QB life."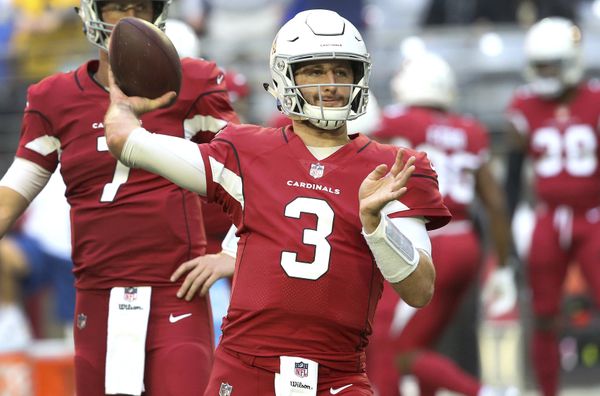 The "Kansas City model" definitely seems like a route the Giants could take. This refers to the Kansas City Chiefs drafting QB Pat Mahomes early in the 2017 NFL Draft and sitting him behind Alex Smith for his rookie season. When 2018 came along, Smith was shipped to the Washington Redskins. Mahomes was then given the nod to be the next starting quarterback in Kansas City. Mahomes, of course, went on to be named the NFL MVP.
Rosen sitting behind Manning could be beneficial for the young quarterback. Getting mentored by a two-time Super Bowl MVP is better than the situation Rosen found himself in last season. He initially sat behind QB Sam Bradford, who more-or-less has been a bust ever since he was drafted No. 1 overall out of Oklahoma in 2010. Rosen was then given the starting job week four of his rookie season.
The best bet for Rosen is to learn from a potential Hall of Famer and get a good supporting cast. Rosen as the Giants starting quarterback in 2020 with running back Saquon Barkley, tight end Evan Engram, wide receiver Golden Tate and potentially WR Sterling Shepard (barring a new contract) could be a great offense full of former early round selections.