The New York Jets have had an offseason to remember. But in the midst of hope, the departures of Jason Myers and Andre Roberts loom large.

The storm that is NFL offseason has reached its calm eye. Free agency has subsided, but the cloud of the draft is making its approach. The New York Jets managed to weather the first part of the storm. In fact, their home somehow got stronger, with the transactions yielding name-brand talents Le'Veon Bell and C.J. Mosley.
However, the Jets didn't get away completely unscathed, as some of their most valuable possessions were washed away.
Two parts of the Jets' Pro Bowl trio will don new uniforms this fall. On paper, the all-star vanishings pale in comparison to the return of Jamal Adams, the Orlando MVP and newly minted face of metropolitan football. If this latest green rebuild works, Adams will undoubtedly play a big part in it. But that departed duo, rare silver linings in the doomed crescendo of the Todd Bowles era, will still be missed.
In the midst of typical New York chaos, kicker Jason Myers and returner Andre Roberts wrote two of the league's most interesting stories. Myers, a California transplant turned local college hero at Poughkeepsie's Marist College, burst onto the scene with long field goals of historic proportions. The first kicker to convert at least five field goals of at least 55 yards has taken his leg to Seattle.
On the other hand, Roberts brought clarity to a career of special teams roaming, setting new career highs. Together, the two took as much pressure as they could off of a beleaguered offense, one working out its kinks for a touted quarterback prospect. Adding insult to injury, Roberts hinted on social media that his split, which led him to the arms of Buffalo, was less than amicable.
I think that says a lot about the organization

— Andre' Roberts (@AndreRoberts) March 13, 2019
There's no doubt that the Jets, shouldering a playoff drought that's nearing a decade, improved this offseason, if only because it's not a good idea to go 4-12 in any sport. But to unceremoniously ditch two rare silver linings has become far too typical of a Jets squad that has been the target of NFL meme-makers for far too long.
Left behind is special teams coordinator Brant Boyer, who has to conjure up a new plan with diamonds in the rough gone. Boyer rightfully earned his safety from the Jets' coaching purge with his 2018 performance, but now finds himself in undeserved dire straights now that they're gone.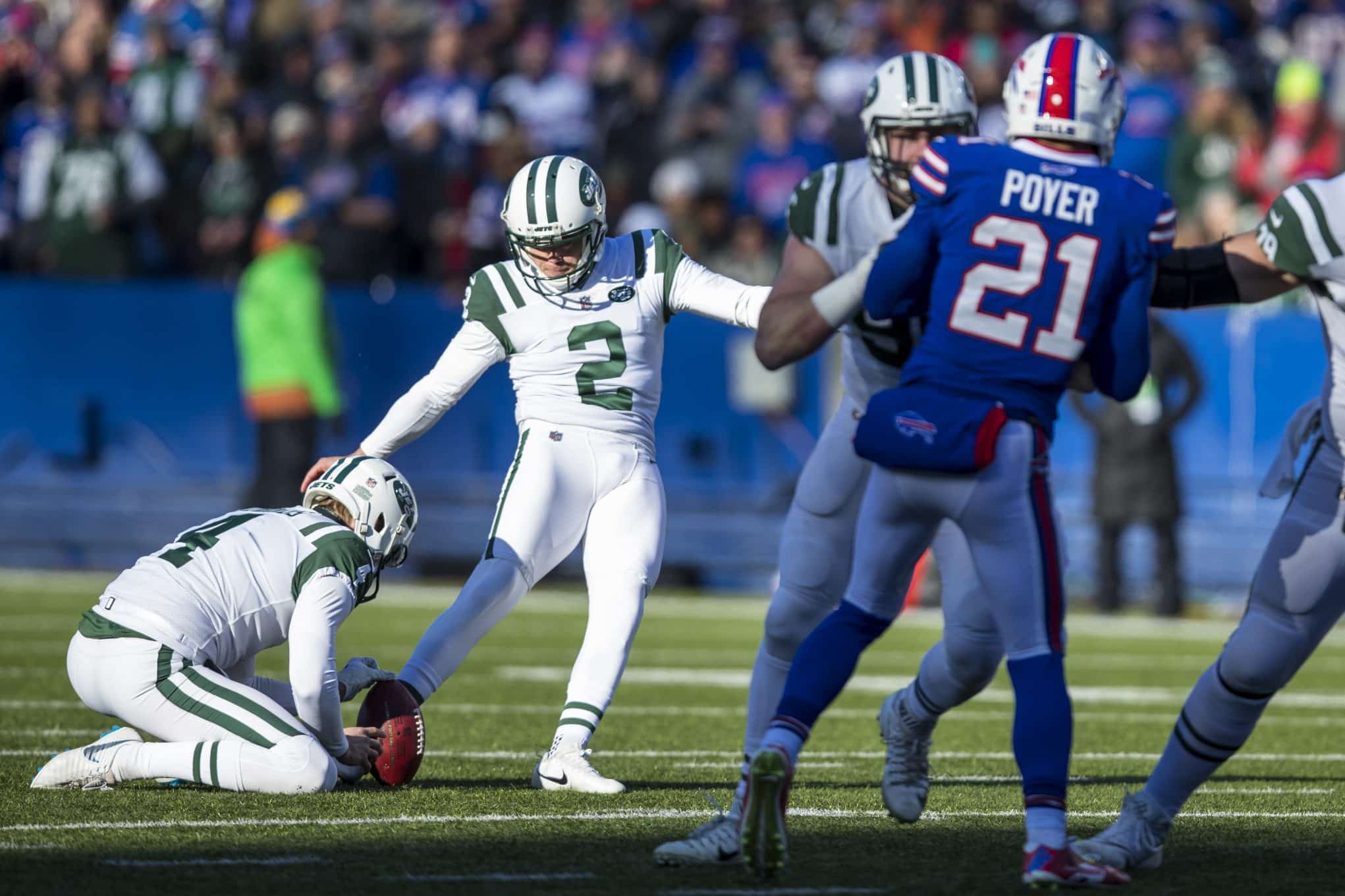 Boyer, a resilient NFL mind that has never backed down from a challenge, probably doesn't see it as an issue. But it's hard not to pity the work ahead.
The Jets have found their Myers substitution, bringing in veteran kicker Chandler Catanzaro last month. Catanzaro returns from a decent Jets tenure in 2017, notching 83 percent of his kicks. He is still perhaps best known for a monumental miss in October 2016, one that clanged off the Arizona uprights from 24 yards out in what became a nationally televised 6-6 tie against Seattle. His Jets visit brought levity, but the struggles continued in a one-year tenure in Tampa last season. He set history of his own with the longest overtime field goal from 59 yards out, but converted only 10 of 14 other field goals. Add four missed extra points to that equation, and it led to an early exit.
Replacing Roberts is even less certain. Newly acquired slot receiver Jamison Crowder has experience, becoming one of the most prolific returners in ACC history at Duke. But injuries have prevented him from carrying over that skill to the NFL, where Crowder hasn't been a consistent return man since 2017. Second-year back Trenton Cannon likewise has collegiate return experience, earning it at Division II's Virginia State, yet he ran back only one kickoff in his debut season. The draft, or even the AAF, could provide a solution, but it's one the Jets could've, and, frankly should've, avoided.
It used to be said that defense won championships. Today's league seems to worship the offense and its fantasy football connections.
Kickoff returns may be an endangered species … heck, the aforementioned AAF has eliminated them entirely…but the security blanket of a good kickoff return can take pressure off of an offense struggling to score. Sure, the Jets added the explosive potential of Bell, but when it comes to the type of quarterback Sam Darnold is … one that is full of hope, yet must be made as comfortable as possible in his developmental years … the potential of good field position could vanish with Roberts.
The same goes for the kicking game. In terms of available kickers, Catanzaro was a decent commodity. After all, he did add a perfect 5-for-5 ledger of triples in Carolina when the Panthers needed a Graham Gano replacement. If things don't pan out, however, unnecessary pressure is reapplied to an offense that could find itself forced into more fourth down attempts. Long field goal attempts, possible in Myers' reign, might become punts. It's fine that the Jets are making high-risk, high-reward deals. After all, that trend began last offseason with the Darnold deal that fully eliminated a valuable second-round pick.
But when the risk involves ditching the few components that were working for you, it's setting up potential for disaster. Unfortunately, in that field, the Jets are experts.
Follow Geoff Magliocchetti on TWITTER