Mike Maccagnan is actively making it known that the New York Jets No. 3 pick in the NFL Draft is for sale. Who are the realistic trade-down targets?

The rumors have been heavy that the New York Jets are looking to move down in the first round, as Mike Maccagnan himself recently confirmed.
After giving up three second-round picks to move up to the third pick last year, the Jets are barren on draft ammunition, which isn't ideal for a team with huge holes at a variety of positions.
Trading down makes a lot of sense. The Jets would have to say goodbye to the likely opportunity to choose the remaining available player between Nick Bosa and Quinnen Williams, but they would recoup the value they lost in last year's Sam Darnold trade. Building depth and filling holes become much easier with more throws at the dartboard.
So, if the Jets do elect to move down, who could they target in the middle of the first round?
Here are some of my favorite targets for the Jets in the mid-first:
GARRETT BRADBURY, CENTER, NORTH CAROLINA STATE
The need for help at the center position in Florham Park is well-documented. Luckily for the Jets, a trade down could put them in prime position to target a center in the mid-to-late-first or early second.
My favorite center prospect is easily NC State product Garrett Bradbury.
The 6-foot-3, 306-pound Charlotte, NC native is a prototype fit for a team that prioritizes outside zone concepts in their running scheme. At this year's Combine, Bradbury posted a 97th-percentile forty time (4.92) and a 91st-percentile three-cone time (7.41) among all offensive linemen. Those numbers back up the impressive athleticism and movement skills he shows on tape.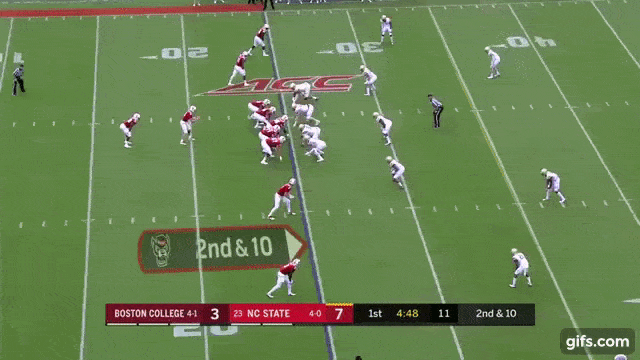 Bradbury played tight end in high school and came to NC State as a defensive end before converting to the offensive line. His athleticism comes as no surprise.
In addition to his obvious physical gifts, Bradbury brings instincts and smarts to the table that teams covet at the center position.
Bradbury has been a fast-riser and it now seems likely he will go in the middle of the first round. If the Jets find a trade partner and move back into the mid-first, Bradbury could make a lot of sense as the team's first selection of the weekend.
BRIAN BURNS, EDGE, FLORIDA STATE
Burns has flown under the radar as one of the highest-upside prospects on the edge. Nick Bosa has been known as the obvious number one, but Josh Allen has seemed to take the title as the number two edge.
Burns deserves more mentions as one of the potential two best edge prospects in this draft. While Allen boasts coverage ability and a speed rush that few others do, he isn't very polished as a pass rusher. This is a weakness that a lot of Allen fans seem to overlook. Burns tends to look more polished with his overall pass rushing technique.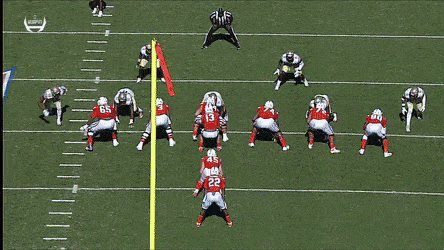 Burns is one of my favorite edge prospects in the draft. I have questions about his motor, but his physical attributes and repertoire as a rusher are stronger than he is often given credit for.
His 4.53 forty-time—97th percentile among edge rushers—will definitely work wonders for him in Nashville.
Burns makes a lot of sense as a prime target for the Jets in the 10-16 range of the first round. Their need for an edge is as dire as its ever been and Burns is right at the forefront of the best names at the position.
THE REST OF THE BUNCH AT EDGE
The pass rushing crop beyond Bosa is loaded with names that appear similar in attractiveness. Beyond Allen and Burns, players like Jachai Polite (Florida), Rashan Gary (Michigan), and Montez Sweat (Mississippi State) all will likely hear their names called on the first night of draft weekend. Clemson product Clelin Ferrell is one of my top edge prospects, but he might not be an ideal fit for the Jets since he doesn't seem capable of playing as a stand-up outside linebacker. He'll fit best with a team that can play him as a 4-3 defensive end.
JONAH WILLIAMS CONVERSION TO CENTER?
Jonah Williams has the talent to be the first tackle taken off the board in this draft, but a lot of experts like the possibility of him making the move to center in the NFL.
Williams' intelligence, instincts, and IQ are among his most lauded traits – three tools that would play very well at center.
It will be interesting to see where Williams falls and at what position that team takes him. If he is available to a team with a dire need for a tackle, I would think that team likely runs the card in and plays Williams at tackle. However, if Williams slips through the cracks and finds his way to a center-needy team like the Jets, I can see a move to the middle in his future.
Asking a first round pick to switch positions might not be the most prudent utilization of such a premium asset, but Williams seems capable of becoming a very good center in the NFL. It's an outside-the-box move I could see the Jets taking a stab at with their issues at center.