When Eli Manning was on the New York Giants roster on March 17, it guaranteed him a $5 million dollar bonus. How will his redemption-filled farewell tour unfold?

Hate it. Love it. It doesn't matter. Eli Manning will most likely be the New York Giants starting in 2019. The $5 million roster bonus that he receives as of March 17 pretty much guarantees his starting gig.
In total, the 38-year-old Manning will receive $23.2 million this season as he enters the final year of his contract. The decision to bring Manning back at that cap number when the team is rebuilding has drawn mixed emotions amongst Giants fans.
Some fans rejoiced that Manning will be the starter this upcoming season. After all, he's the best quarterback in the history of the franchise and has led the Giants to two memorable Super Bowl runs.
On the flip side, other fans feel the Giants should have moved on from Manning to simultaneously save $17 million in cap space. It would allow a rookie quarterback to lead the team since the Giants are in rebuild mode and Manning's best days are behind him. Many feel that ownership's commitment to Manning has set the franchise back.
Whether the Giants decided to bring Manning back because they thought they could contend for a playoff spot or to groom his successor, we'll have to wait and see what plays out in next month's draft.
Manning has enjoyed one of the most unique careers of any quarterback in NFL history.
His first eight seasons were glorious. He never suffered through a losing record since becoming the full-time starter. All told, he won three division titles and led the Giants to two Super Bowl titles while earning MVP honors in both games. The first Super Bowl victory will go down as one of the greatest accomplishments in team sports after the Giants knocked off the 18-0 New England Patriots, 17-14, in Super Bowl 42.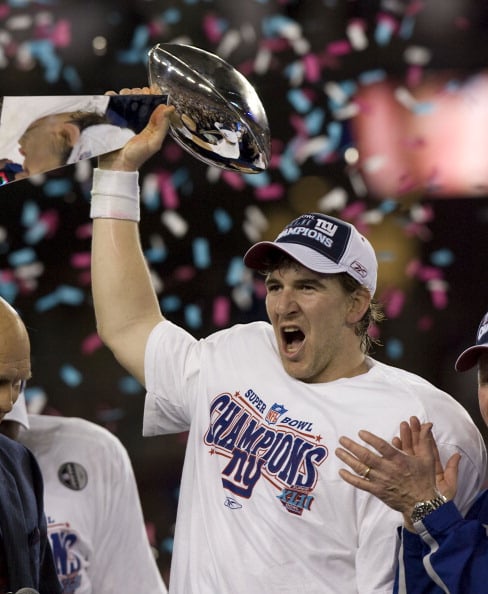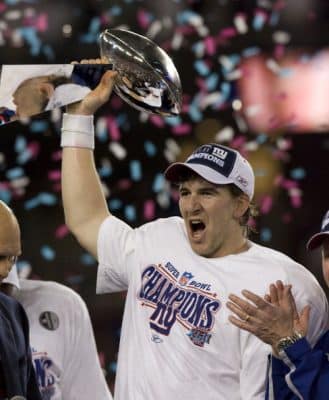 The seven years that followed the Giants beating the Patriots for the second time in a Super Bowl in Super Bowl 46, have been arguably the roughest stretch in the last 30 years of the franchise.
Since Super Bowl 46, the Giants have just two winning seasons, one playoff berth, and suffered double-digit losses in four of the last five seasons. As a result, Manning's regular season win-loss record sits at 116-114.
The brunt of the Giants recent failures has to go to the front office. Spotty drafting and free-agent decisions have left the Giants in the predicament that it's currently in.
Manning does deserve a portion of the blame. His play has been inconsistent.
Statistically, Manning's worst season came in 2013 when he threw 18 touchdowns and had a league-high and career-high 27 interceptions, resulting in the first losing season since becoming the full-time starter.
That was the season prior to the Giants drafting Odell Beckham Jr. Since Beckham's arrival in 2014, Manning hasn't thrown more than 16 interceptions in a season and has four 4,000-yard passing seasons.
But Beckham is no longer a Giant as in a surprise move executed two weeks ago, general manager Dave Gettleman traded him to the Browns for safety Jabrill Peppers and two 2019 draft picks (17th and 95th overall).
With his best receiver no longer in the fold, some feel Manning may revert back to his 2013 form.  In the 20 games Beckham has missed, Manning is averaging 41 fewer passing yards per game, and his passer rating is almost down nine full points.
Eli Manning's stats with and without OBJ. #GiantsPride #NYG pic.twitter.com/SRJUVBDoHh

— Jason Leach (@JasonKLeach) March 13, 2019
While Manning will have to play without a top-five wide receiver in 2019, he'll be playing behind an improved offensive line. The first trade Gettleman orchestrated between the Giants and Browns involved trading Olivier Vernon for right guard Kevin Zeitler.
The acquisition of Zeitler, to go along with Nate Solder, Will Hernandez, and Jon Halapio, gives the Giants their best offensive line since winning Super Bowl 46. We all know Manning is a much better quarterback when he has a stable offensive line that gives him time in the pocket.
We saw glimpses of increased production when the line gave Manning time during the second half of the season.
Although Beckham is gone, the Giants are not void of playmaking pass catchers. The Giants signed free agent wide receiver Golden Tate to go along with receivers Sterling Shepard and Cody Latimer, and tight end Evan Engram. Then, of course, there's Saquon Barkley catching passes out of the backfield.
This is an impressive stat, Tate has the most yards after catch since 2014. pic.twitter.com/eAHN62j2Bi

— Jason Leach (@JasonKLeach) March 23, 2019
While the Giants offense won't be as explosive without Beckham, they might be more complete and physical with the additions of Zeitler and Tate. These additions should be good enough to maximize whatever Manning has left.
Until the season starts, many will continue to criticize the Giants for bringing back the veteran signal-caller. Manning is too classy to address his naysayers publicly so he'll try to silence them with his play when the season starts.
In what could be his final year in the NFL, he can once again has a chance silence his doubters just as he did prior to the 2011 season when people scoffed at the notion that he was an elite quarterback.
Will Eli Manning find satisfaction and redemption in leading the New York Giants to a winning record or will he be another example of Father Time's undefeated streak? We'll have to wait until September to find out.