The New York Jets believe they have their franchise quarterback yet finding his backup remains critical. Perhaps it'll be Trevor Siemian.

For a city that's ever-changing, there are plenty of constants in the New York City area. A tree will be up in Rockefeller Center by December. The New York Knicks will miss out on that marquee free agent. The New York Jets will need a quarterback.
Yes, the Jets have security, at least for the time being, in Sam Darnold. Fueled mostly by promise displayed over the final month of his rookies year, the Jets have confidence that the number 14 under center can join phenomena like the Empire State Building's lights as New York staple.
But, yet, the Jets are still searching for a thrower, albeit one to partake in an understudy role.
In an eventful offseason that has yielded brand-name talent like Le'Veon Bell and CJ Mosley, stressing over a backup quarterback seems like paranoia. The reality is, however, that the position has slowly become one of the most underrated positions in all of sports.
The right decision at backup quarterback could make or break your season. The tri-state area has loved and loathed the concept in the Super Bowl. Nearly three decades prior, Jeff Hostetler picked up where an injured Phil Simms left off, going undefeated over a five-game stretch that ended in Super Bowl 25. More recently, Nick Foles fulfilled every Giants' fan's ultimate nightmare, a Philadelphia Eagles Super Bowl victory.
Contrastly, failure to have a reliable contingency option can sink seasons of hope. Prior to the arrival of Dak Prescott in Dallas, backups to the talented, but oft-injured, Tony Romo went 7-20 in his place from 2008-15. Indianapolis is likewise familiar with the concept. Season-long injuries to big name throwers Peyton Manning (2011) and Andrew Luck (2017) have given way to disasters and a quarterback hydra of Jacoby Brissett, Scott Tolzien, Curtis Painter, Kerry Collins, and Dan Orlovsky. The Colts posted a 6-26 record over those two years.
With the Jets firmly establishing themselves as contenders with their latest moves, they need a strong name behind Darnold in case of emergency.
Last season, the Jets had the ideal Darnold contingency in the form of Josh McCown. The 2002 draft holdover was the ideal backup: he had experience, reliability in a pinch, and the wisdom of a long-lasting NFL career that he loaned to Darnold. The rookie would constantly name-drop McCown when asked what was working for him in his new New Jersey home.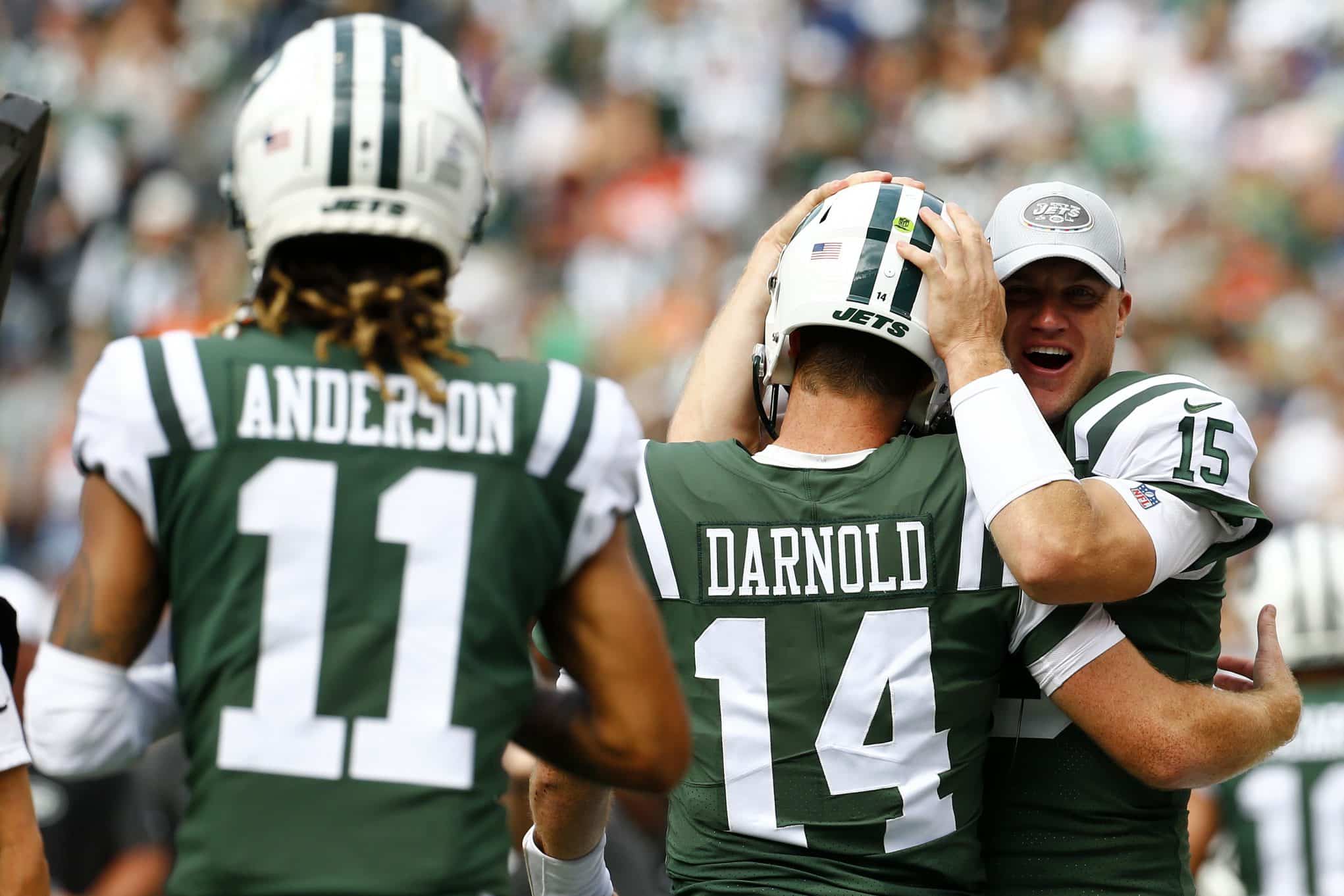 "It's amazing to watch him go through his daily process and what he does every single day to get ready for the game," Darnold said in December. "It's something that observed and it's just kind of another thing that I admire about Josh is he prepares so hard and I definitely took some notes of what he was doing."
For all intents and purposes, however, McCown is gone. In a statement released through his agent, McCown more or less gave the Jets permission to search for a reserve successor. He did not mention retirement, but it wouldn't be a shock to see him close his NFL book.
McCown's de facto departure is understandable. About to turn 40, he has expressed a desire to be there for his children while they are still young. However, he leaves the Jets in a precarious spot with their own "child", one that could derail any new aspirations gained by a fruitful offseason.
A familiar New York face is the only other quarterback on the roster, one that has two years of experience but no NFL passes to his name. Davis Webb was once seen as Eli Manning's successor in blue, but has a chance to reboot his NFL career in green. However, experience has proven to be a vital ingredient in the perfect backup.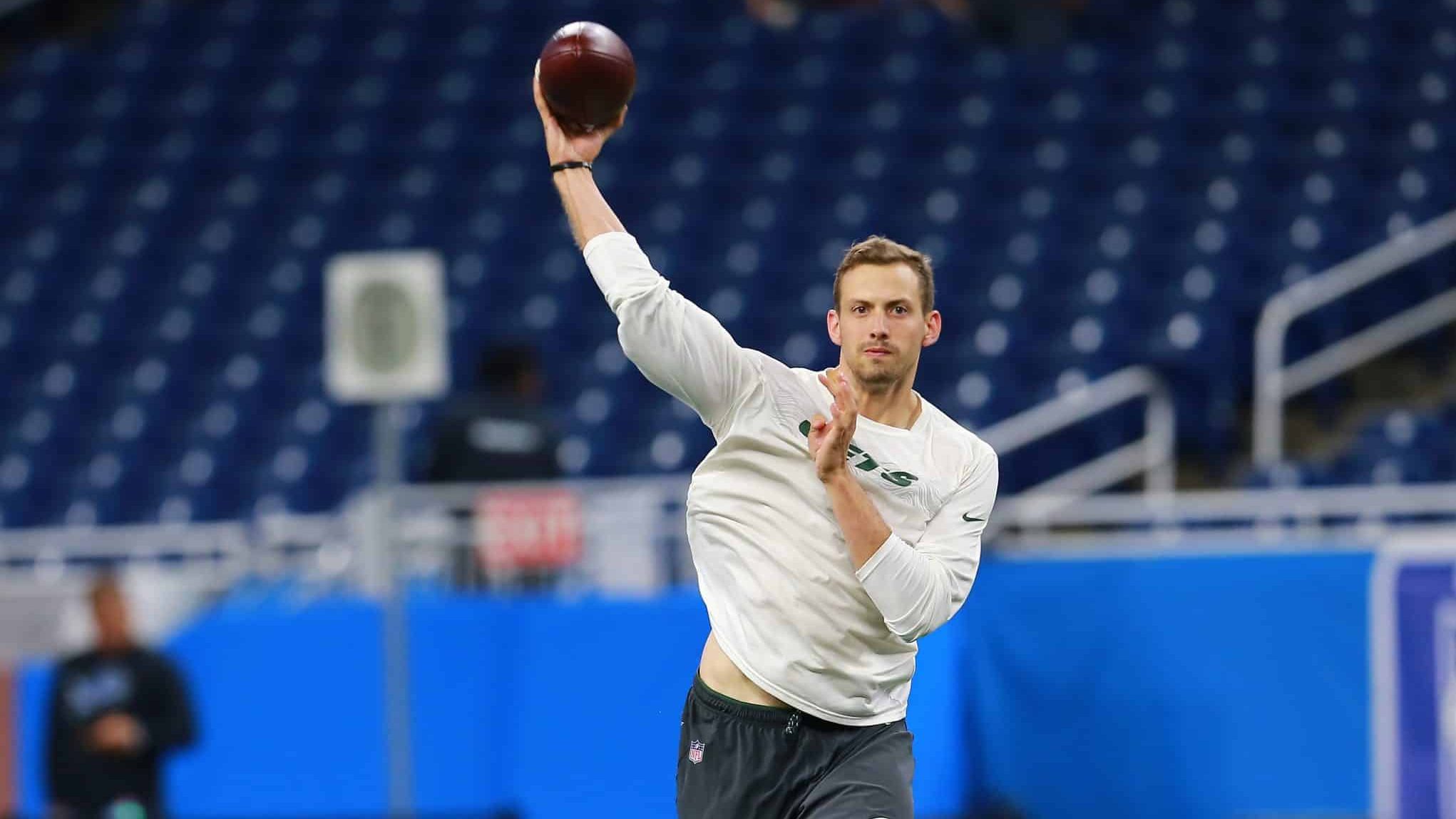 For example, when Aaron Rodgers was leading a successful charge in Green Bay during the 2017 season. A Week 6 injury in Minnesota, however, gave the reins to Brett Hundley. Prior to his entry, Hundley had thrown just 11 passes in his NFL career, and he never truly got the hang of starting in the NFL after thrust into the role, going 3-6 in nine starts. In that same season, Foles worked his Philadelphia magic, while Case Keenum, the Minnesota Vikings' third option after injuries to Teddy Bridgewater and Sam Bradford, helped guide his squad a division title. Those two squads would end up meeting in the NFC title game.
If the Jets are serious about providing Webb some experienced competition, they must address this opening sooner rather than later.
The team has begun to do their homework in the reserve thrower game, according to recent reports from NFL Network's Mike Garofolo. The team is set to welcome in Trevor Siemian, who served as a backup in Minnesota last season. Siemian certainly fulfills the experience necessary for a successful backup quarterback. He was the Denver Broncos' starter for a majority of two seasons, and had some memorable moments, like a 368-yard, three-touchdown performance in a Sunday night classic in Kansas City in 2016.
The Darnold addition makes everything so much more exciting. Then again, it also makes things all the more delicate. The security blanket that was McCown also provided a new layer of wisdom for the young quarterback. Siemian is decent enough, but this quarterback class, while short on potential franchise names, still has talents that can provide both physical and mental relief for the Jets' potent offensive hope.
Among the remaining free agents, for example, is Robert Griffin III. Last seen in Baltimore, Griffin knows exactly what Darnold is going through. He too was seen as a beacon in a major east coast city desperate for football success, with the Washington Redskins trading up to select him second overall in the 2012 draft. Like another Darnold understudy, 2018 training camp arm Teddy Bridgewater, Griffin's NFL career has taken an unfair detour in the form of injuries. Perhaps Griffin can be the latest mentor in a series of wisdom-bearers for Darnold.
Former Jets are likewise on the scene, ones that could be clinging to one final chance to build lengthy NFL stays. Laughable as the idea of welcoming back Mark Sanchez, for example, may sound, his veteran prescience in Dallas was cited as a positive influence over Prescott.
Elsewhere, Geno Smith is likely on his out of the Los Angeles Chargers' system. He is another who knows what it's like to be saddled with big expectations in New York. Elsewhere in veteran emergency names, new head coach Adam Gase worked closely with Brock Osweiler, who has succeeded in building a lengthy career as a reserve. Likewise cursed with big expectations, as he was the handpicked name to succeed Peyton Manning in Denver, Osweiler's failures could be the Jets' gain, teaching Darnold how to avoid the pratfalls that ended his starting chances.
Of course, it's entirely possible the Jets have a potential backup quarterback already in the backfield … Bell, their newest running back.
In his rookie year, Darnold stepped into a Jets offense low on truly elite talent. His run game ranked 26th in football. He was able to build chemistry with veteran receivers Robby Anderson and Quincy Enunwa, but that pair missed several games due to injury. Despite Darnold's best efforts, the Jets typically suffered when he had to do a majority of the work. When Darnold threw at least 30 passes, the Jets finished 1-7.
Under Bell, Darnold doesn't have to do it all on his own. In the signing, the Jets have a veteran option can remove part of the load from their young star in the making. Bell acknowledged he's ready to take on such a role in his opening New York statements.
"I'm just looking forward to being his security blanket, a guy he can rely on. Building our chemistry up in the backfield," Bell said, according to Manish Mehta of the New York Daily News. "He can be a guy that I can rely on and vice versa. The more time that I'm around him and the more practice that we get together, the better our relationship will be.
Either way, the Jets need to handle this sooner rather than later. Josh McCown wasn't the type of quarterback who'd win you a Super Bowl. But, in a short New York tenure, he was still able to establish himself as a guy the Jets and, more importantly, Darnold, could sorely miss upon departure.
Follow Geoff Magliocchetti on TWITTER