New York Jets running back Le'Veon Bell is so NFL clutch that some may just confuse him with the G.O.A.T., Michael Jordan. 

You already know about his big fantasy numbers and box score production. Le'Veon Bell has been an absolute workhorse, carrying loads of touches previously unforeseen in the NFL. He currently owns career averages of 86.1 rushing yards per game and 42.9 receiving yards per game, making him the only player in NFL history to own career averages of 85.0-plus rushing yards per game and 40.0-plus receiving yards per game.
You already knew that. If he wasn't beating your fantasy team, he was winning your team championships.
But the New York Jets didn't give Bell a four year, $52.5-million contract to win games for Joe Schmoe's fantasy team.
They gave him the dough to make the Gang Green offense fly like it hasn't flown since Bell's idol, Curtis Martin, was dropping 1,000-yard seasons on the year in his sleep.
Most importantly, they gave him the dough to make a certain young quarterback's life easier.
Sam Darnold, the youngest Week 1 starting quarterback in NFL history, could not have gotten a rawer deal in his debut campaign.
The wide receiver core was banged up and inconsistent. Quincy Enunwa started strong, and Robby Anderson finished strong, but neither could click with Darnold at the same time, and both missed a few games.
Jermaine Kearse seemed to throw in the towel, as he put forth one of the least efficient wide receiver seasons of all time.
The offensive line was sub-par in pass protection, especially among the interior trio.
Worst of all, the Jets run game was stuffed more frequently than any other team in the league, forcing Darnold to operate from third and long more often than any other starting quarterback.
Simply put, the man could barely have had less help than he did.
As Darnold prepares to enter his sophomore season, which is the year that most quarterbacks show you who they are destined to become, it was imperative for Mike Maccagnan and company to find players that would prevent the aforementioned issues from persisting.
There was nobody available on the market who fit the bill better than Bell.
Bell's skill set is absolutely perfect for correcting the quarterback-supporting problems listed above.
Firstly, the man knows how to use his patience to keep the ball churning forward and avoid any setbacks. Bell has only been stuffed (a carry for two yards or less and no first down) on 35.9 percent of his career carries, the lowest rate in the league among the 26 running backs with at least 700 carries since 2013.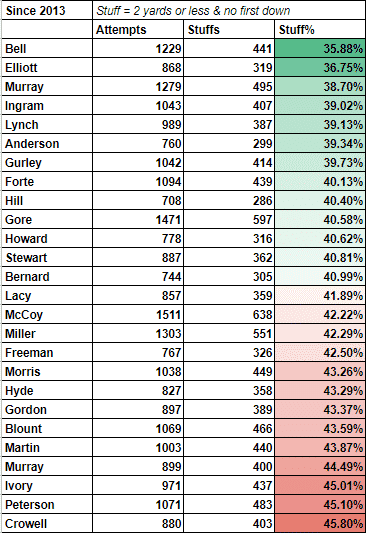 Now, does the strong Pittsburgh offensive line deserve a lot of credit for that? Of course. It's going to be hard for Bell to replicate a number that good behind a less-formidable Jets offensive line.
With that said, Bell still avoided stuffs better than any other Steelers running back who played behind that line in the 2010s decade. James Conner came the closest, at 37.7 percent. The difference between Bell's rate and Conner's rate, 1.8-percent, would be the difference between third place and 10th place on the above list.
Bell's ability to avoid negative plays should be able to give Darnold a much higher frequency of comfortable third-and-manageables than he enjoyed in his rookie season.
In addition to their problems with constant stuffing, the Jets run game simply wasn't effective on the whole. The Jets ranked 30th in rush offense DVOA, according to Football Outsiders. They picked up a first down on only 21.3-percent of their attempts, fourth-worst in the entire league.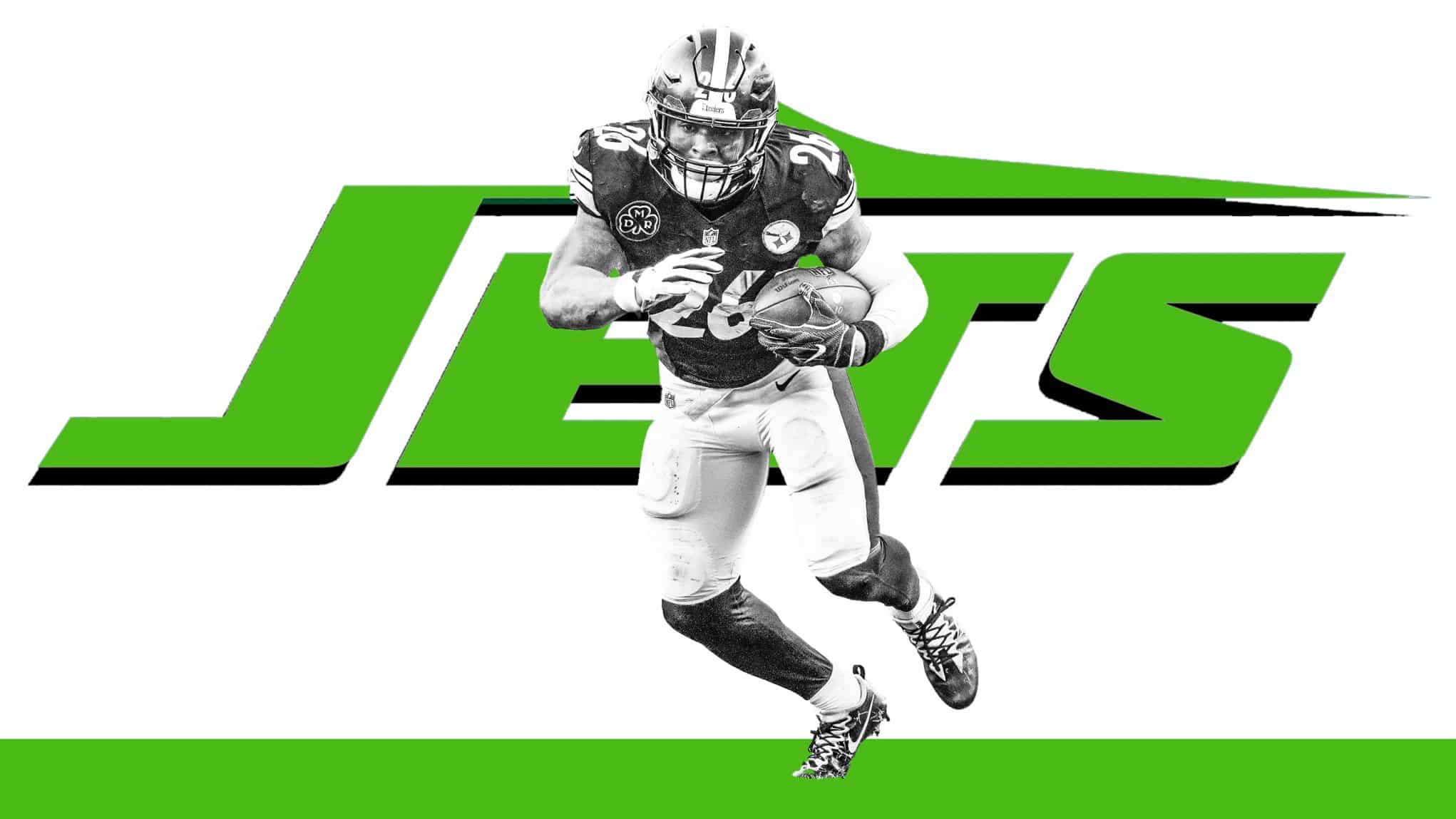 Bell is a bona fide chain-mover. He's picked up a first down on 24.4-percent of his career carries, the fourth-best mark among the 26 running backs with at least 700 carries since 2013. His total of 296 first downs ranks third in the league over that span.
The Michigan State product is also a phenomenal drive-finisher. It's yet another ability of Bell's that will help to fix a glaring flaw that hindered the 2018 Jets team.
In 2018, the Jets picked up a first down or touchdown on only 19.6-percent of their red zone carries, third-worst in the league.
Bell checks in with a remarkable 29.7-percent career first down/touchdown rate in the red zone. His combined total of 60 first downs and touchdowns ties him with Todd Gurley and DeMarco Murray for the most in the league since 2013.
He has been especially good at finishing down near the goal line. Since 2014, on 29 totes inside the five-yard line, Bell has scored 18 touchdowns, culminating in a 62.9-percent conversion rate. It's easily the best mark among the 28 running backs with at least 25 carries inside the five since 2014.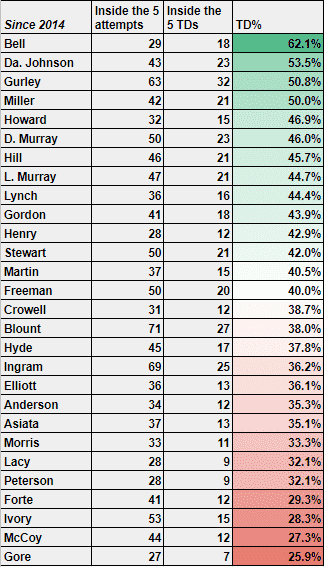 So, it seems clear that Bell's presence will go a long way towards turning one of the league's worst rushing attacks into a forceful threat.
However, as the league knows, Bell brings a lot more value beyond what he can do on the ground.
He is going to give Darnold that safety blanket out of the backfield he lacked in 2018.
Most are well aware of what Bell has done in the receiving game from a volume standpoint. Since he entered the league, the Reynoldsburg, Ohio native has more catches (312), receiving yards (2,660), and receiving first downs (124) than any other running back in the league. Bell's career average of 42.9 receiving yards per game is the highest in the Super Bowl era among running backs with at least 50 games played.
Those totals are nice, but what makes Bell really special as a receiver is the fact that he has mixed that immense volume with wizard-like efficiency. Bell doesn't just stack up check-downs to boost his numbers—his catches help the team.
The money downs are where Bell will shine the brightest. On 85 career third or fourth down targets, Bell has collected 39 first downs, a 45.9 percent conversion rate. That's the second-best mark in the league among backs with at least 40 third/fourth down targets over that span.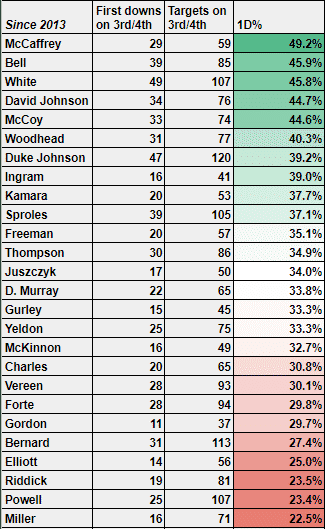 That level of reliability in the passing game on the money downs wasn't present in Sam Darnold's backfield last year. In 2018, Jets running backs combined to pick up only seven receiving first downs on 33 third/fourth down targets. That's a 21.2-percent rate, which if accumulated by a single player would be the worst mark on the above list.
Bell can get the big plays as a receiver, too. He owns a career average of 6.70 receiving yards per target. That places him fifth among the 26 running backs with at least 200 targets since 2013.
In comparison, the 2018 Jets running back room combined to average only 5.87 yards per target. If one player posted that number, it would rank 19th out of the aforementioned group of 26 backs.
While doing all of this, Bell also takes great care of the football.
This could be yet another area of the game where Bell represents a substantial upgrade over Darnold's 2018 supporting cast. In Sam's rookie season, his teammates were primarily responsible for a whopping total of eight turnovers while he was on the field.
Bell has only eight fumbles in his entire career. With 1,541 career regular season touches, he's lost the ball on only 0.52 percent of them. That's the second lowest frequency among the 18 running backs with 1000-plus touches since 2013.
The difference in quality between Bell and the rest of the pack is clear. He isn't just a fantasy football weapon. He makes winning plays in both phases of the game, doing it a level that has rarely been seen in the history of this game. His ability to mix a humongous workload with top-notch efficiency is outstanding, and it's that combination that makes him an impact player who can be instrumental in producing a lot of wins.