After signing free agent wide receiver Golden Tate on Thursday, it's obvious the New York Giants plan to replace Odell Beckham Jr. by committee.

A talent like Odell Beckham Jr. is hard to find and even harder to replace. That's why most of the New York Giants fanbase was in an uproar on Tuesday evening when they found out the star receiver was traded for Jabrill Peppers, a first-round pick (17th overall) and a third-round selection (95th overall).
In five seasons, Beckham established himself as one of the best players in the league and is on a trajectory that might one day lead him into the Pro Football Hall of Fame.
For whatever reason, general manager Dave Gettleman and Giants ownership thought it would be best to move on from Beckham only months after giving him a five-year contract extension.
So how will the Giants fill the void that the three-time Pro Bowl Beckham leaves behind?
We started to see Dave Gettleman's plan unfold on Thursday when he signed the best free agent wide receiver on the market, Golden Tate, to a four-year $37.5 million contract.
And here are the contract terms: Golden Tate to the Giants on a four-year, $37.5 million deal that includes $23 million fully guaranteed, per source. https://t.co/TN6fNHOfHv

— Adam Schefter (@AdamSchefter) March 14, 2019
The 30-year-old Tate is quick and shifty and is excellent at the run after the catch. In his nine-year career with the Seahawks, Lions and Eagles, he's amassed 611 receptions for 7,214 yards and 38 receiving touchdowns. He also brings championship experience as he was a member of the Seahawks Super Bowl 48 team and was voted to the Pro Bowl in 2014.
During his conference call on Friday, Tate discussed what made him choose the Giants.
"Well first off from afar, I've been a New York Football Giants fan growing up and I've always admired — really this entire division. I remember just always seeing the Giants on TV growing up and always kind of picturing myself maybe playing there one of these days, and it's kind of truly awesome that that time has come and I'm excited about the opportunity to play for this team. As far as Eli, playing against Eli a handful of times, whether it be in Detroit, or Seattle, or obviously in Philly, I like his game a lot.

"He knows how to get the ball to his playmakers. He's done that at a high level for a long time. I'm just hoping I can come in and fit right in and help him be the best player he can be, and also do the same for me and the rest of the guys on the field."
Tate will play a huge role with the Giants in 2019, but he's not the only receiver on the roster that will play a huge role in filling the void OBJ leaves behind.
Sterling Shepard knew that 2019 would be a huge year for him as he enters the last year of his contract. But once it was announced that Beckham was traded, Shepard knew the Giants would need to rely on him more than ever.
Last season, Shepard set career highs in receptions (66) and receiving yards (872). If he stays healthy, he'll set a new career high in receptions.
Some might be concerned with how the combination of Shepard and Tate will work on the field since they both line up in the slot often. But wide receivers coach Tyke Tolbert has his guys study and practice every position so they can lineup anywhere on game day.
Another player who will be lined up all over the field is tight end 6-foot-33 tight end Evan Engram. Injuries caused Engram to miss five games last season, but he excelled in the final four games of the season that Beckham missed due to a quad injury.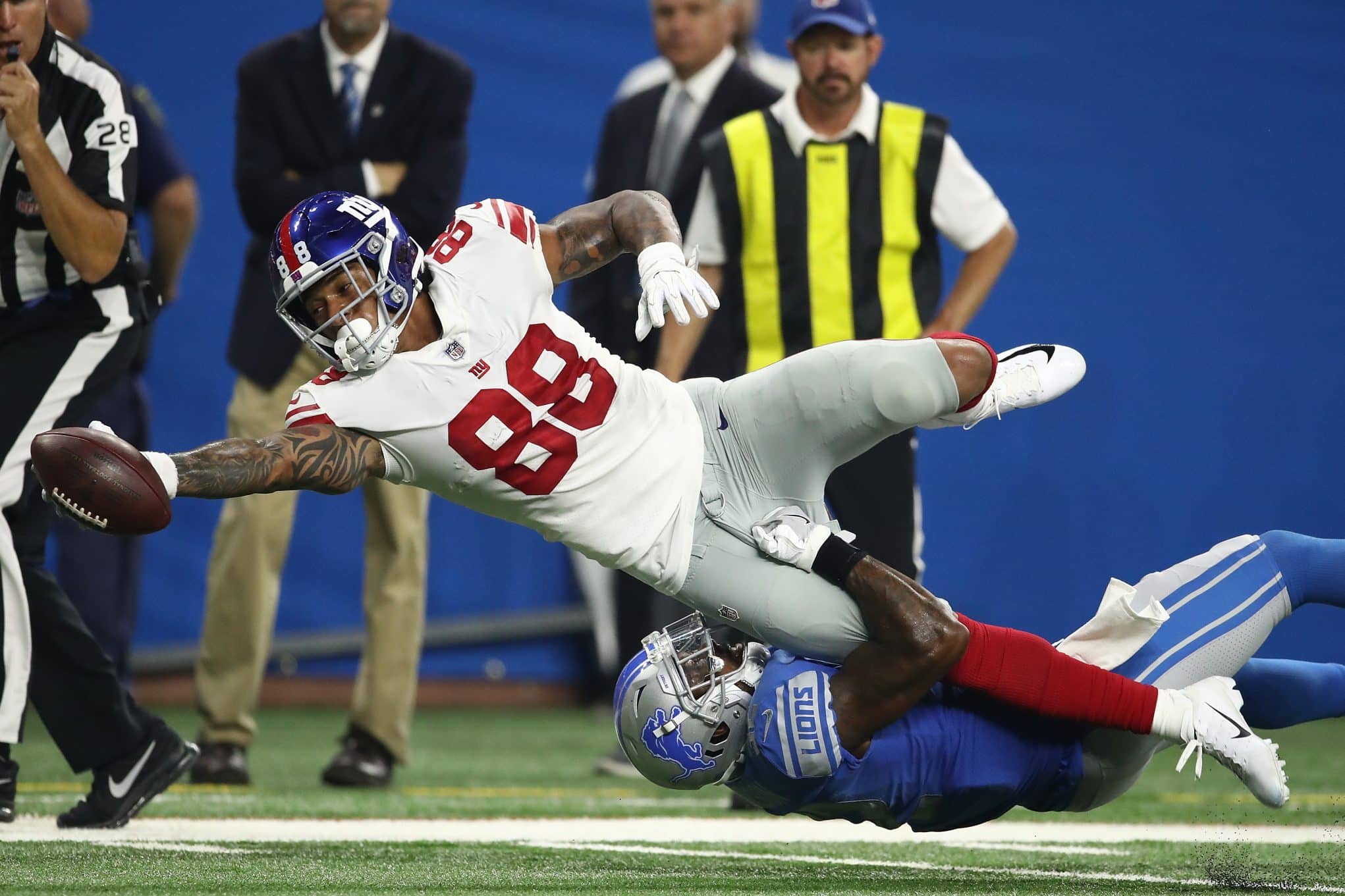 In the final four games of the season, he caught 22 passes for 320 yards and a touchdown. With Beckham gone, Engram with his speed and athleticism is now the biggest mismatch the Giants have as a receiving option.
In addition to Tate, Shepard, and Engram, the Giants have Corey Coleman who appeared in eight games last season and was used primarily as a kick returner. He'll surely see an expanded role in the offense this season.
Then, of course, there's Saquon Barkley. Whether it's a run or pass, when the Giants need a big play, they'll look to get the ball in the hands of Barkley.
So while it will take some getting used to not seeing Beckham on the field with the Giants, Gettleman and Giants ownership feel that they have the right players on offense to be an above average offense in 2019, and they still will acquire players in the draft.
Life without Odell Beckham Jr. will take time to get used to, but the New York Giants are not void of talent on the offensive side of the ball.