Former New York Jets RB LaMont Jordan oversees the San Diego Fleet's run game, but the AAF coach hasn't forgotten his eastern roots.
LaMont Jordan is a Jet that has become part of the Fleet.
Jordan's professional football journey began in 2001 when the New York Jets took him in the second round. The Maryland product became a dependable spell option behind Curtis Martin over four seasons in green. He'd end his tenure with the Jets with 1,277 yards and 10 touchdowns while averaging a strong 4.9 yards per carry.
Currently, Jordan is the last player to score a touchdown in a Jets postseason home game. In the 2002-03 AFC Wild Card playoff against the Indianapolis Colts, he ran for 102 yards and found the end zone twice in a 41-0 New York victory. It was one of five playoff games Jordan would play with the Jets.
Jordan would go on to play nine seasons in the NFL, also making stops in Oakland, New England, and Denver. He ran for a career-best 1,025 yards and nine touchdowns as a Raider in 2005.
Retirement has been anything but slow. He has helped players on the amateur level inch closer to their professional dreams, serving as a running backs coach at Football University. FBU runs a series of position-specific camps across the nation, and Jordan has passed on his knowledge to the next generation of rushers.
More recently, Jordan, 40, has returned to the professional ranks,  helping ring in a new era of football in San Diego.
As a sophomore with the Jets, Jordan's first career 100-yard game came in Sandi, as he picked up 107 yards in a 44-13 win over the Chargers at SDCCU Stadium (then known as Qualcomm Stadium). The Los Angeles-bound Chargers have since departed, but Jordan nonetheless finds himself making a difference on the west coast.
The Suitland, Maryland native is one of the many NFL alums partaking in the newly formed Alliance of American Football. The league, consisting of eight teams in its inaugural edition, enters its fifth week of play this weekend. Jordan is one of several names familiar to millennial football fans serving on the coaching staff of the San Diego Fleet. Jordan's fellow Jets alum Anthony Becht serves as the tight ends coach, while ex-Rams receiver Az-Zahir Hakim works with the receivers. The team's head coach is Mike Martz, who went 56-36 over six seasons at the Rams' helm.
Jordan's running back arsenal has been one of the AAF's most explosive units. Through five weeks, Ja'Quan Gardner is second in the league with 290 yards and fourth with a 5.5 average carry. The headliner came in a 31-11 win over the San Antonio Commanders on February 24, when Gardner's 83-yard scoring run helped put the game away. It's currently the longest run in AAF history. Gardner's understudy, Terrell Watson, likewise ranks in the upper half of runner rankings, ranking eighth in yards with 189. After a last-second 27-25 win over the Salt Lake Stallions on Saturday, the Fleet (3-2) are tied for first with San Antonio in the AAF's Western Conference.
As the Fleet continued their inaugural trek, Jordan took some time to sit down with ESNY to both reminisce on east coast memories and look forward to a bright future on the west.
Q: What can you say about your current crop of running backs in San Diego?
A: I love the group of guys that I'm blessed to coach. Since I've been out of the league, I've been doing some skill training and just kind of helping out with different football, high school programs. But this is actually my first time coaching at this level. Those guys have a good skill set.
One thing I love about all the backs that I have is that these guys get along. They work hard. Every last one of them either wants to get to the (NFL) or get back to the league. It's been a joy, and I've had a lot of fun. We meet, we laugh, we're very serious and these guys are very focused. I think that their hard work is shown in their performance. (Gardner) is leading the league in rushing. I'm loving it, I'm having a great time with these guys.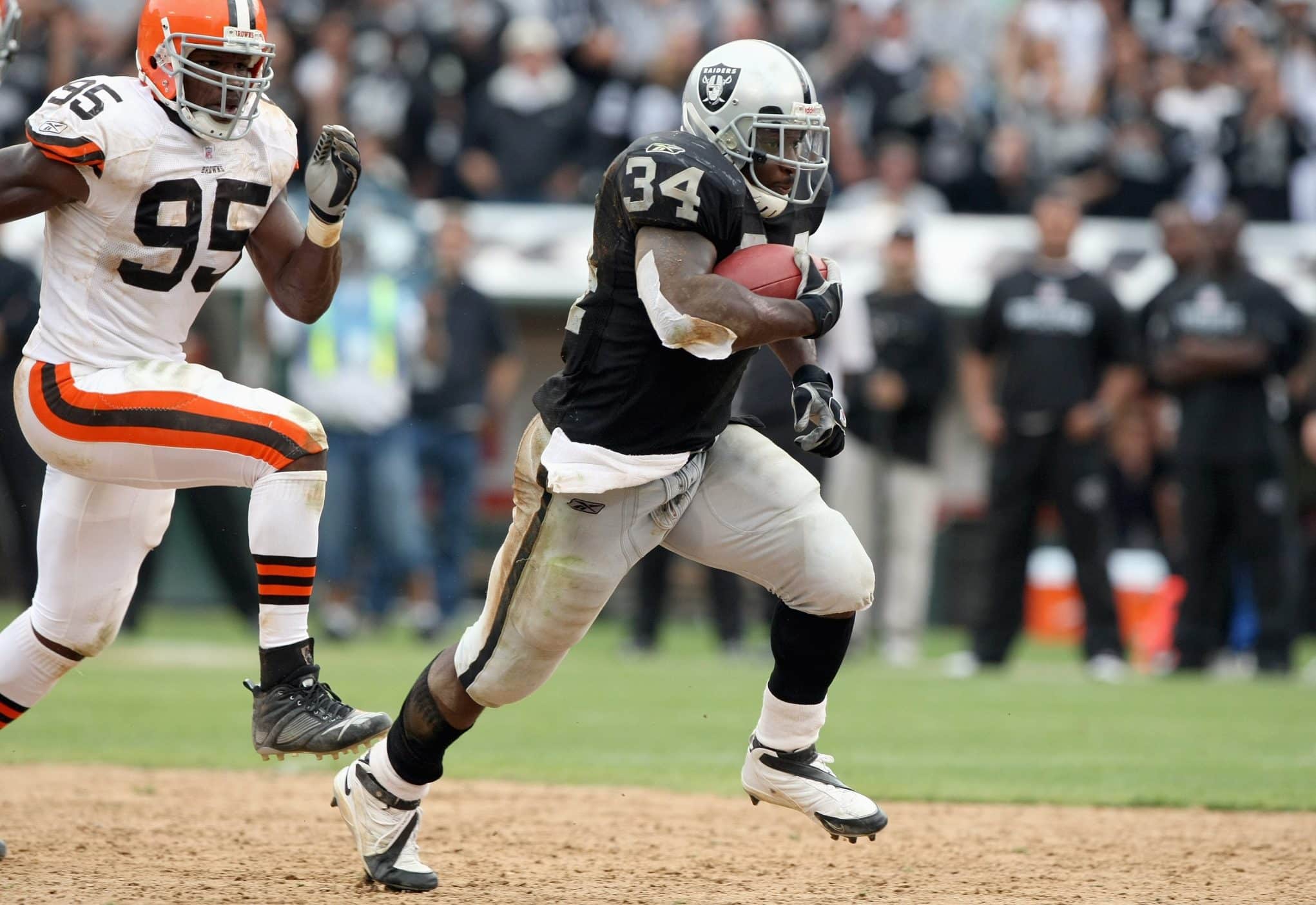 Q: What are your impressions on the AAF as a league thus far? 
A: I love this league. I can't speak for the other teams, but I can speak on what's happening here with the Fleet. There are a lot of guys that are learning how to play the game of football.
I did some analysis on the radio this past year for the University of Maryland. One thing about the college game is that it's all about how many plays you can run. I don't really think the college game is focusing on details. You can tell by some of the guys who are here. You ask some of the guys a question, have you ever had to take notes? The number of hands that go up, you have guys who have never had a playbook.
When you go from playing in college and then you want to play in the NFL, you want to play for a coach like Mike Martz. You want to play for a Bill Belichick or a Herm Edwards. There's a certain way you go about doing things, and, unfortunately, a lot of these guys have been allowed to get by with their talent. But, playing here in this league, what it does is that it gives guys an opportunity to come and learn the game of football. (They) learn it not only from head coaches who have coached in the NFL. When you look at myself, Anthony Becht, (defensive backs coach) Eric Allen, we're guys who have actually played in the NFL. How can I forget about Az-Zair, we're right next door to each other! These guys are getting an opportunity to actually be coached by guys who have played in one of the highest levels.
We can tell by the way the Fleet play that these guys are really taking the coaching. They come out here and they work hard. I just think it's something that had been needed for a while. We're just hoping we can continue to grow.
Q: What has it been like playing in a place like San Diego, who recently lost their NFL team?
A: It's been great. During my time with the Jets, I loved coming out here. I don't think we lost to the Chargers. I know that this is a very passionate fanbase. When I left New York, and I played for the Raiders, we came here once a year. I know this is a very loyal fanbase. Just listening to some of the people talking around town, some of the people won't even say the Chargers' name. They'll just say "the other team that left".
I went to Dick's Sporting Goods, and they told me they used to have six racks of (Fleet) stuff sitting out, and now they only have one rack (full), and this was in a matter of weeks. It really just shows you how passionate these fans are about football.
Quite naturally, the stadium isn't going to be as packed as a Chargers game, with this being a brand new league and not the NFL. But these fans in San Diego, they can get loud. I remember the first home game, when started chanting "Fleet, Fleet, Fleet, Fleet", it brought me to tears to hear how much passion these fans have for this game. As someone that has played in the NFL and a person that grew up with a desire to coach and mentor, to coach a team in a stadium I once played in, amongst a fanbase that's very loyal and passionate, you couldn't ask for anything better.
Q: What do you recall most about your New York Jets career?
A: I remember when I first got to New York, I hated it. I could not stand it. It had nothing to do with football. It was just, you know, I'm coming from Maryland, I'm using my blinker to change lanes, and people are doing everything to run me off the road. I thought these people are rude, blah, blah, blah.
But I absolutely love New York. I loved my time with the Jets, (especially) when you have an opportunity to not just learn the game of football from a person like Curtis Martin, but to be around a man as golly as Curtis Martin, to play for a head coach like Herm Edwards. Teddy Cottrell was our defensive coordinator. Coach Cottrell and I have actually worked together with Football University camps for a number of summers here.
I may not have like New York when I first got there, but I absolutely love New York. I miss it, I missed it when I left. To be able to coach with one of my former teammates, Anthony Becht, it's almost like we're in the locker room again.
I really believe that having a running back coach like Bishop Harris (helped). To play with the coaches we had on that staff, the teammates I had, I really think it helped me in my entire football career. But it definitely helped me when it comes to coaching.
Q: What lessons can you take from Curtis Martin to instill on your current group in San Diego? 
A: I'm not sure we have enough time to include all of them!
I think the thing about Curt was that he was consistent, and I think that's a lesson that I'm still learning. It's not about your ability to do something, it's about your ability to do something on a consistent basis, having that durability.
Your talent means nothing if you're injured and can't be trusted. So, one thing that Curt showed me was that if you want to survive, not only in sports, but if you want to survive and reach high levels in life, you have to be durable. That means that you're there and you have to be consistent. Durability and consistency, I believe, are foundations for trust. I think that's one of the biggest things I learned from Curt.
Q: What do you recall about the Jets' last home postseason game against Indianapolis in 2003?
A: I remember that we beat Peyton Manning! (laughs) If I'm not mistaken, it was raining and muddy out there. I remember how loud the fans were, how great of a feeling it was to great that playoff victory. My first NFL game was against the Colts in 2001. I believe they came to the Meadowlands. To be on a field with Peyton Manning, Edgerrin James, Marvin Harrison…to have a home game, to win that home game, to dominate that team the way we dominated, I just remember the fanbase.
It was my first time ever making a postseason. I had never made it to a postseason in high school, never experienced a bowl game in college. That was my first time exposed to postseason action when it came to the game of football. I still see pictures, I still watch the videos. It's just one of those great memories.
Q: How can the current New York Jets return to the playoffs?
A: That would be had for me to speak on. I don't know enough about the team.
But I will say this if there's one thing I remember: I was a Jet for my first four years. We made the playoffs for three of those. If there's one thing I remember, I'd say, is that we had great player leadership. We had a great group of veterans. You talk about Curtis Martin, Richie Anderson, Vinny Testaverde, Marvin Jones, Mo Lewis, Kevin Mawae…we had a great group of leaders out there. I also think we had a good mixture of not only great leaders, but younger guys who were willing to learn and follow those leaders. We just fell short (of a Super Bowl). I think you have to have good veteran leadership if you want to get back to that level.
Q: How fulfilling has your work with Football University been?
A: It's been great. I've been working with kids since I was a kid. Growing up, when the older kids were out in the neighborhood doing things that I couldn't do, I was out there helping the younger kids.
I went to school to be a teacher. I have a passion for teaching, and, now, the football field is my classroom. To be able to work with former pros, some of my former coaches, teaching these young kids not just about the game of football, but how it teaches us about life, it's very fulfilling.
I think this inspired me to work on my craft. It's part of the reason I'm blessed to have this opportunity (in San Diego) to learn from Coach Martz and be on his staff. Football University helped me lay a foundation because it gave me the freedom to be myself and come out there and pour my heart out to those guys.
Q: You remain one of Maryland women's basketball's biggest fans. What are your thoughts on the current Terps, currently ranked 9th in the nation?
A: I'm always excited about my girls! (Head coach) Brenda Frese is a great coach. Being out here, I'm away from the program, but I was doing some things back home, helping coach women's basketball with my mentoring program. I got away from getting to their games, but Coach Frese has a young group out there. One thing I know about a Brenda Frese basketball team is those girls are going to show up, compete, and play. I'm going to follow up as much as I can.
But when (Bill) Belichick said "no days off" after the Super Bowl, he wasn't lying! That is the life of a coach…no days off.
Jordan and the Fleet return to action on Sunday night, as they take on the Birmingham Iron (8:00 p.m. ET, NFL Network).
Follow Geoff Magliocchetti on TWITTER