With edge rusher, offensive line and Le'Veon Bell on the mind, the New York Jets linebacker and cornerback free agent targets must be identified.

Linebacker and cornerback aren't at the top of the New York Jets' free agency need list, but neither is off the list completely, either.
In reality, every position on this team should be considered a "need" with the exceptions of safety and quarterback. The Jets roster is that thin. They could substantially upgrade any position on the team except for the aforementioned two.
So, the Jets would probably be doing themselves a disservice by ignoring any position on the field come next Monday. If there's a star out there, they should be in on him unless he plays safety or quarterback.
With all of that said, let's look at some high-level targets at a couple of defensive positions that have not been discussed much as priorities for the Jets.
C.J. Mosley, Inside Linebacker, Ravens
The Ravens decided not to franchise tag their four-time Pro Bowl linebacker, and thus the Alabama product will be free to hit the open market.
Mosley is one of the best inside 'backers in the league, full stop. His coverage has been criticized, but I beg to differ with those critics. Mosley is fundamentally sound in coverage, doing a nice job getting the little things done, and he has a nose for the ball as well. He's racked up seven interceptions and 20 passes defended over the past three seasons—sublime marks for an inside linebacker.
He has a ton of experience being the main man in Baltimore's 3-4 defense. He's on the field for every single snap week in, week out, and brings a special tenacity to the field.
Inside linebacker is not one of the top needs for the Jets. Darron Lee and Avery Williamson are a solid duo in the middle of their 3-4 defense. Lee, while still poor in run defense and having his struggles off the field, took a huge step in coverage last year. Williamson is a phenomenal run defender. The two compliment each other well.
With that said, if the Jets see Mosley as big enough of a difference-maker, they shouldn't hesitate to extend a big offer his way, and figure out what to do with Lee later. Make him a cog in sub-packages, convert him to outside linebacker, just bench him, or explore his trade market. He's gone after 2019 anyway.
Mosley and Williamson could form a very formidable duo on the inside. If the Jets believe Mosley elevates the ceiling of the unit enough to be worth ~$15M/year, then go for it.
Kwon Alexander, Inside Linebacker, Buccaneers
Alexander has struggled with injury issues in Tampa Bay (18 games played over past two seasons combined), but he brings rare youth (will be only 25 years old this season) and playmaking ability to the table.
This is one area that these two ILB targets have huge advantages over the Jets' current duo—splash playmaking.
Alexander and Mosley have had a knack for making highlight reel caliber plays with very impressive frequency, while Lee and Williamson have not.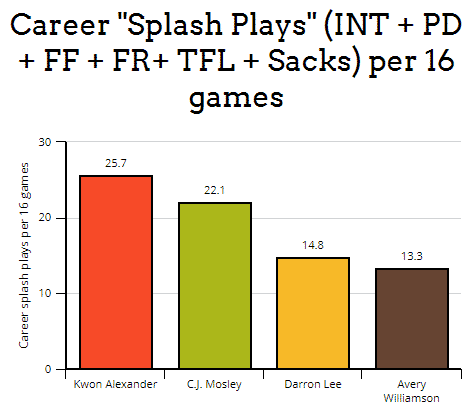 For Alexander, that number of average splash plays per game is among the very best at inside linebacker. Luke Kuechly has the best average among active ILBs with significant time in the league, at a slightly higher 26.6. Mosley's 22.1 is also near the top. Lee and Williamson, on the other hand, are near the very bottom at the position.
Alexander is an athletic freak who profiles as exactly what teams want in a modern-day NFL linebacker—a guy with sideline-to-sideline speed and the mobility to cover any position.
While he's had his issues rounding out his all-around game, Alexander definitely has not struggled to make the impact plays. In only 46 career games, he's collected two fumble recoveries, six interceptions, six forced fumbles, seven sacks, 22 passes defended, and 31 tackles for loss, culminating in the excellent splash play average you see in the chart above.
Bottom line, if the Jets want to turn the dial up on the big-time plays, they should be looking hard at Alexander or Mosley.
Cornerback is a bigger need for the Jets than inside linebacker. Two of the team's three starters from 2018 are hitting free agency, in Buster Skrine and Morris Claiborne. Their only incumbent starter, Trumaine Johnson, was a major disappointment last year.
Whether they decide to bring back their in-house guys or look elsewhere, the Jets need to sign some CBs in the coming couple of weeks. The market is thin at the position, but there are a couple of big names potentially worthy of top dollar.
On the outside, Ronald Darby is the headliner. He's had trouble staying on the field (17 regular season games over the past two seasons), but Darby projects as a great fit in Gregg Williams' aggressive defense.
If Williams stays true to who he has been, having aggressive man-to-man corners who can thrive on an island will be crucial. That fits Darby's skillset to a T—the Bills traded him to Philadelphia knowing his skill set would be wasted in Sean McDermott's zone-heavy defense. The following year, Darby won a Super Bowl in Philadelphia as he racked up a whopping 15 passes defended in only eleven regular season and playoff games.
Darby is a highly athletic, aggressive playmaker. He'll take his share of beatings over the top, but he makes up for it with a high amount of plays on the football. Over his four-year career, Darby has mounted 54 passes defended in 46 games, an average of 1.17 per game.
That's the highest average in the NFL since 2015.
Darby will be expensive (his Spotrac market value is $13.4M/year), so it will be a tough ask for the Jets to commit to yet another top-ten paid cornerback.
The Jets do need a lot of help at corner, though. In 2018, they ranked 31st in receiving yards per game allowed to wide receivers, at over 200 a game.
Darby probably won't be the team's first priority, but if they strike out elsewhere, he could definitely come in play.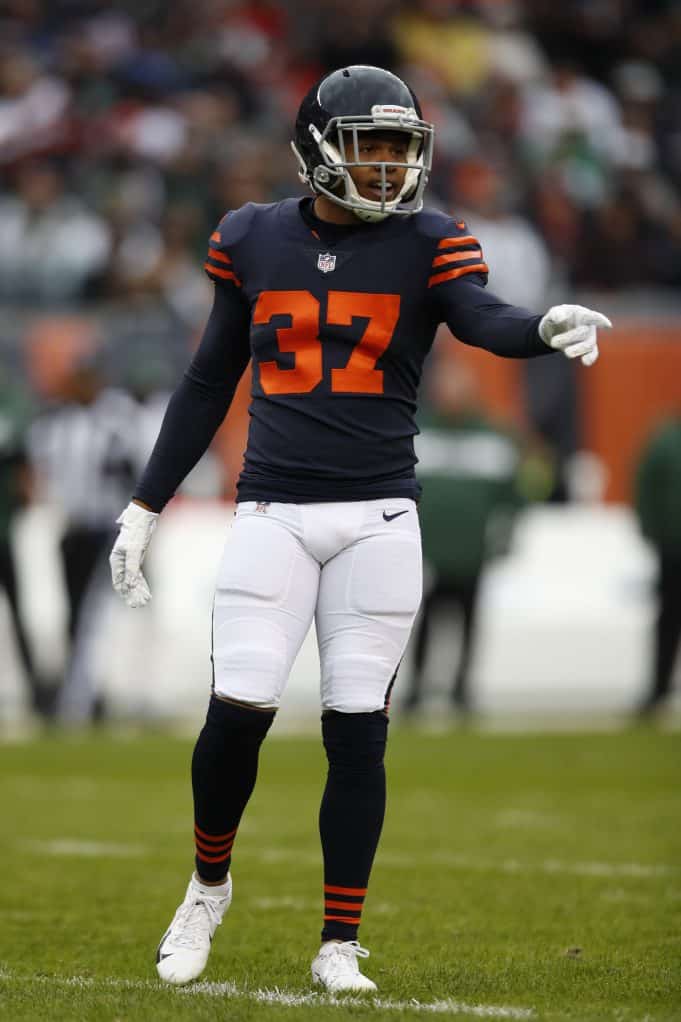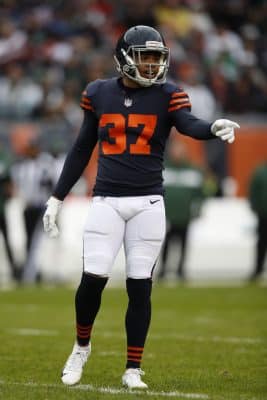 Callahan emerged as one of the best slot defenders in the NFL this past season. According to Pro Football Focus, when Callahan was covering the slot, he allowed only 0.69 yards per coverage snap and a quarterback rating of 78.9, which ranked second and eighth among corners, respectively.
PFF also noted that Callahan was one of only three cornerbacks in the entire league to play 300 or more regular season coverage snaps and not commit any penalties in coverage.
What a shock it would be for Jets fans to go from Buster Skrine to that.
Callahan is yet another player who has struggled with the injury bug. He missed the final four games of Chicago's 2018 season, including their Wild Card loss to Philadelphia, due to a broken foot. Yet, his 13 games played last season was still a career high. In total, Callahan has appeared in only 45 of 65 possible games in his career.
Spotrac values Callahan at only $7M/year. If he can be had at that price, then I'd be willing to deal with the risks afforded by his injury history and age (Callahan turns 28 in October).
Buster Skrine has been wildly volatile for the Jets, flashing with some high highs, but usually disappointing on the whole.
Callahan would represent a significant upgrade at one of the game's most rapidly evolving positions. Once considered a reserve role, slot corners are gradually becoming starters.
He hasn't been talked about much among the Jets fanbase, but Bryce Callahan should be a prime target for New York.