The Brooklyn Nets played with noticeably different energy during Monday's game against the Dallas Mavericks. It may be a product of crisper rotations.

On Monday, the Brooklyn Nets secured their best victory since the upset against the Denver Nuggets that occurred all the way back on Feb. 5. Prior to Monday, the Nets were 5-10 since Jan. 25 even with the returns of Caris LeVert and Spencer Dinwiddie.
You wouldn't be wrong to credit Brooklyn's fruitful winter to team chemistry, and that's where this group has seemed to be the most lacking over the past month. Things appear to click less on the court.
That all changed on Monday. Faced against Dallas and the potential Rookie of the Year, Luka Doncic, the Brooklyn Nets put things into high-gear by blowing the Mavericks out of the water by 39 points.
It's clear that Coach Kenny Atkinson looked back at what made this team so successful in January. By circumstance of tinkering with his roster, Atkinson may have stumbled into a winning formula going forward.
Here are a few lineup changes that should become permanent.
This one pains me. I love Caris LeVert as much as the next guy. But his rehabilitation process hasn't been all that smooth.
Here's the issue with incredibly ghastly injuries: they take many, many reps to get over.
For Brooklyn, a team that is on the edge of falling out of the playoffs, having LeVert play through his mistakes can be incredibly damning. Sure, it may benefit the team long-term. But having a taste of the playoffs this early into their window could pay immense dividends for D'Angelo Russell, Rodions Kurucs, Jarrett Allen, and the rest of the young guys on this starry-eyed roster.
Allen Crabbe has become overlooked in what he brings to the table because of that lofty $18 million contract. He's a career 38 percent three-point shooter. Not to mention, he's solid defensively.
Against the Mavericks, he made two of his three attempts from deep and was a team-best +39. (+39, folks!)
Crabbe gives Brooklyn three plus shooters in its starting lineup. The trio of D'Angelo Russell, Joe Harris, and Crabbe is terrifying to a defense. As a defender, you realistically can't give any of these guys an inch of space. This provides for more cutting lanes for the always hungry Rodions Kurucs or the feisty Joe Harris. It also gives Jarrett Allen more breathing room in the pick-and-roll.
When Crabbe starts, the Nets play a 5-out (ish) system. There's a resemblance of what the Houston Rockets looked like when Chris Paul was injured.
In Houston, everything ran through James Harden; an elite pull-up shooter and an overlooked passer. The Rockets complimented these two strong traits by surrounding him with a gang of snipers. The spacing of these teammates gave Harden more room to operate in isolation. At the same time, they also provided Harden with targets to swing passes to out of the pick-and-roll or in the aforementioned isolation.
In these two categories, D'Angelo Russell is very similar. Now, he is by no means as commanding as Harden when it comes to getting to the basket. But he is a tremendous ballhandler who is among the best at generating his own shot. Much like Harden, passing out of the pick-and-roll is a huge part of his offensive game, and D-Lo can find teammates in the corners (or in Harris' case, above the break) at a reliable rate.
You can sag off Caris LeVert (due to his lack of a jumper) and clog the driving lanes for Russell, Dinwiddie, or Harris by doubling. You can't do that when Allen Crabbe is in LeVert's place, spotting up on the wing.
Caris LeVert might be better suited to the bench for this iteration of the Nets. While the Allen Crabbe-inclusive starting lineup is full to the brim with spot-up shooters, the Nets' bench unit is charged with guys who can create their own shot. It's a unique foil to throw out in the face of opposing reserve defenses that are usually not as strong defensively compared to the starters. (Especially in one-on-one settings.)
Dinwiddie, as we saw on Monday, is among the best at weaving his way around the basket and producing athletic layups. DeMarre Carroll is probably the team's most consistent player and is a bail-out artist. Many of his points occur near the end of the shot clock and he's an incredibly valuable veteran.
At his best, LeVert is a savvy player who can use his impressive combination of athleticism and footwork to bounce of opponents for and-1 finishes. To be clear, he's not at his best at the moment. He's been kind of all over the place on the floor, ranging from running head-first into three defenders and turning the ball over to passing up easy layups. It will come back for LeVert but it will take some time.
One last thing, here's an interesting statistic: the Nets took 19 free throws against the Mavericks. The starting lineup generated zero of them. Instead, it was LeVert who attempted eight, Spencer Dinwiddie who attempted 5, DeMarre Carroll who shot five, and Ed Davis who took two.
Make what you want to out of that. To me, there's an interesting team dynamic I would like to see experimented with more.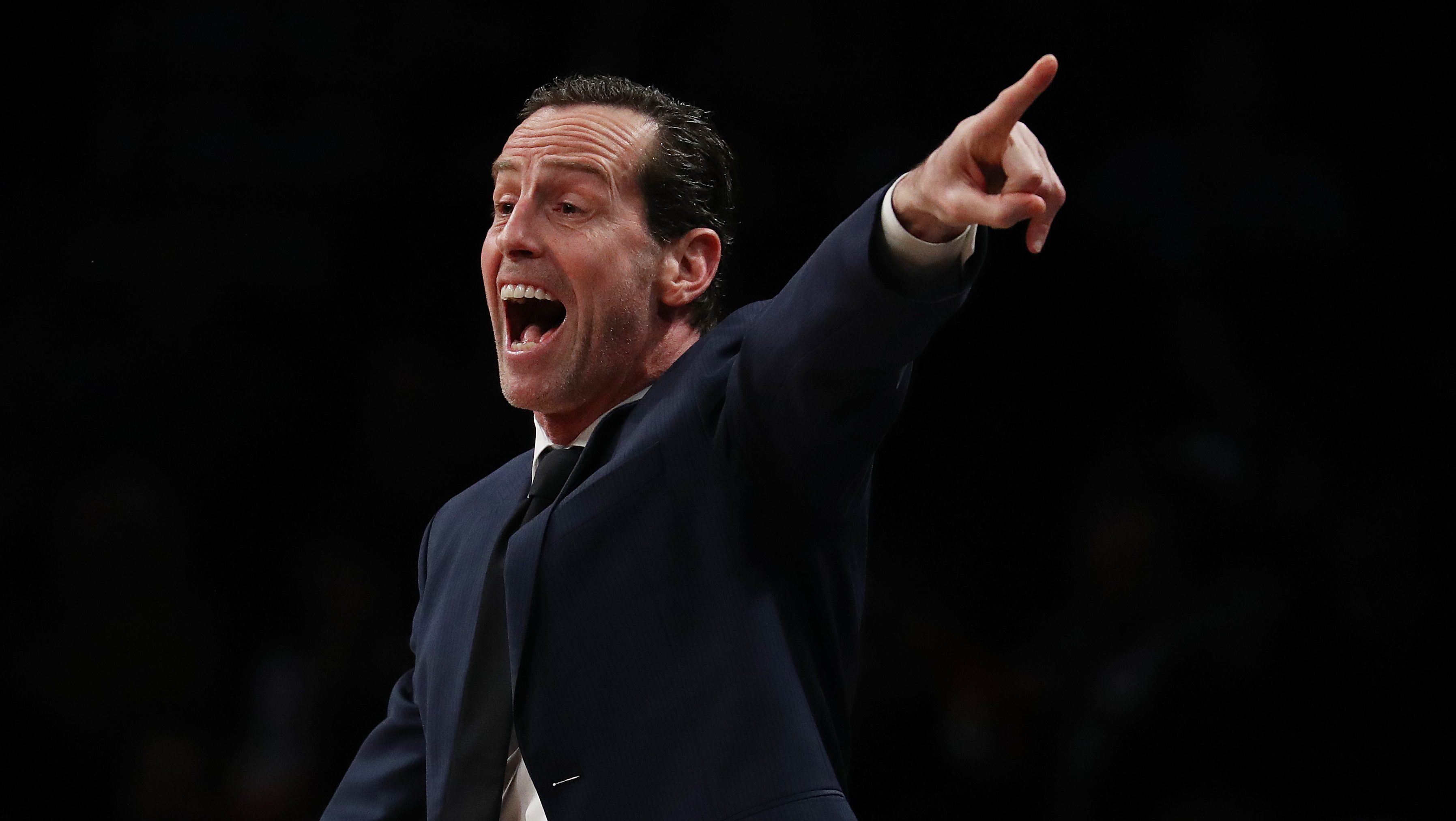 Keep Rodions Kurucs in the starting lineup.
It's tough to play rookies. I get it. Their mistakes are brutal to swallow for a head coach and they are the furthest thing from consistent.
When Jared Dudley and Allen Crabbe went down with injuries, Rodions Kurucs entered the rotation out of necessity. And boy did he make an immediate impact.
Kurucs is an energy guy at heart. He's an incredible defender for his age who can poke his hands into passing lanes with consistency. Not to mention, he's a tremendous cutter who picks his spots wisely on offense.
Prior to Dec. 14 (the 1st game Kurucs received more than 20 mins.), the Brooklyn Nets were 23rd fastest team according to NBA.com's pace ratings. Since then, that mark has shot up to 11th.
Now, is it fair to credit that increase in pace to a rookie player? Probably not. But Kurucs' non-stop motor has certainly been a contributing factor to this team-wide speediness.
One of my favorite plays from Kurucs is when he grabs a defensive rebound and dribbles the ball up at full-speed in transition. Sometimes, this results in wild turnovers, such as his errant pass that flew into the stands during Monday's game.
But for the most part, it gives Brooklyn the advantage on offense. A strong push in transition results in a higher likelihood of open threes; it catches the defense out of position. Next to D'Angelo Russell, Joe Harris, and Allen Crabbe – three guys who can knock down open shots – that's one hell of a bounty.
The only other player capable of creating transition buckets is, oddly enough, Rondae Hollis-Jefferson. What separates Rondae and Rodions is that Kurucs isn't a black hole on offense. He's fluid around the rim and is surprisingly explosive for his slight build. He's also a solid shooter from deep. On Monday, he canned 5-of-7 three-pointers. Next to the trio of Harris, D-Lo, and Crabbe, you better believe a lot of those attempts will be fairly wide-open.
Kenny Atkinson should continue to start the kid at power forward. He's a mismatch for opposing fours due to his tremendous speed and trigger from deep. Not to mention, he's the perfect foil on defense to the pick-and-roll; capable of picking up opposing guards in a switch.
One last thing.
This one may hurt, but Rondae Hollis-Jefferson does not deserve minutes. He's the longest-tenured Net on the roster and was the first building block to the rebuild. But I have a bad feeling that this season will be Rondae's last in Brooklyn.
That jumper is Michael Kidd-Gilchrist levels of broken. He's struggled a ton with his health this year and it's really cut into his consistency on defense.
He's an incredible teammate and against the right matchup, I could see him as a real positive for Brooklyn. But for the most part, it seems best to keep him glued to the bench.