There are only a handful of games remaining for the New York Rangers, so what exactly should we look for as the season comes to an end? 
New York Rangers hockey will be ending soon. This season has shown more life than a year ago, and there is a sense of excitement with this team. Which, if you think about it, is very strange considering it will most likely end in another non-playoff effort.
With 18 games left, there is still a lot to be seen. Will we get to see the ninth overall pick of the 2018 NHL Entry Draft, Vitali Kravtsov? Who, from the Hartford Wolf Pack, will be called up? And ultimately, how many more games will Henrik Lundqvist suit up between the pipes?
The youthful Rangers have shown there is still some more room to grow, but are closer than expected. This rebuild can very well soon be over, and the future certainly looks bright. The next month and a half should be considered a look at the future of this organization.
This season saw the arrival of Brett Howden, and Lias Andersson with Filip Chytil now being used on a much larger scale. Andersson did not show very much of anything, and the negatives outweighed the positive. Chytil has shown some flashes of excellence on a number of occasions but has now fallen into a bit of a rut.
Howden started off very strong and surprised just about everyone, but then turned the burner off. All of this before suffering a knee injury and being knocked out of action since Jan. 29. He is projected to be back within the next few games and will have a lot of eyes on him. These last games will determine whether he will be back with the Blueshirts at the start of next season, or if he will be in Hartford working his way up.
Speaking of Hartford, there will also be an emphasis on new faces and some old faces getting a promotion. On both the offensive and defensive side, there are some players that can see time with the Rangers.
There are a few forwards that could suit up for the Blueshirts by seasons end. Tim Gettinger has seen NHL time, but it was for all of 30:05 minutes of ice time. Ty Ronning has bounced between the ECHL and AHL level but has played adequately. Ville Meskanen has scored 29 points in 54 appearances with Hartford and is an invaluable right winger. Lastly, Ryan Gropp has also seen time with both Maine and Hartford, so his arrival is still possible, but a longshot.
Ultimately, it is a waiting game for the arrival of Vitali Kravtsov. At the end of the KHL Playoffs, the wait could very well be over. His call up will be a big move for the future of this franchise considering how he will be a huge part of it.
There is also an area of concern with the defensive core of the New York Rangers. With Adam McQuaid was traded at the trade deadline, and the arrival of Libor Hajek, there is undoubtedly going to be some more moves made.
Internally, the Hartford Wolfpack have some d-men that could see some time at the NHL level. Ryan Lindgren can make his return to the Rangers at the end of this season. John Gilmour could also get another chance with the Rangers. Sean Day is also another name that could be called up, as a left-handed shot.
In goal, these last few games should be split between Lundqvist and Alexandar Georgiev. This could very well be the last chance for Georgiev to cement his place as the backup to "the King". Igor Shestyorkin is going to be able to battle Georgiev for that role next season, and the end of this season can help. It will be a big decision come September, and it can go either way. As Shestyorkin is putting up video game numbers in the KHL, a translation to the NHL will put Georgiev back in the AHL. Even more, next season's back-up goaltender will be a favorite to becoming Lundqvist's successor.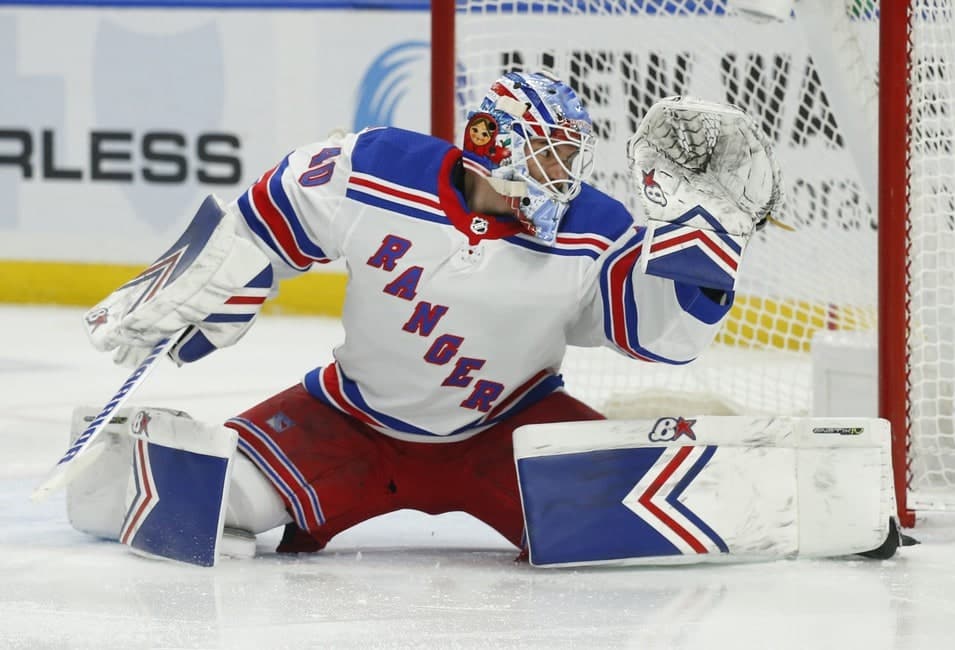 So, as another season of New York Rangers hockey is drawing to an end, there is a lot of good to come out of these last few games. It is a preview of the future and it can ease this franchise out of this rebuilding stage. Head Coach David Quinn has shown he can work with the younger players and has had a precedent stick.
Each and every player is being held accountable and if someone is underperforming, they will sit. It has been seen with numerous players, including Pavel Buchnevich, Brandan Smith and Brady Skjei. Going forward, this is a precedent that will be set to the younger players that come up.
These players will have to prove they belong in order to stay with the Rangers, and what better way to prove it then finishing out this season strong.