After three straight wins, Alexandar Georgiev is on a hot streak that should be rewarded with more starts for the New York Rangers. 
Entering play Sunday, the New York Rangers are sitting at 25-24-8 and 58 points, nine points out of a possible playoff spot. Crazier things have happened, but since the last 25 games of the season are upon us, some players still need to be tested to prove their value.
One of those players is Alexandar Georgiev.
With a 9-9-0 record on the season and a save percentage of .907, the verdict on him becoming an elite goaltender is still very unclear. More time in-between the pipes can easily sway the vote.
Georgiev has locked it down in his last three starts against high power offenses. During the stretch, he has faced 119 shots from Boston, Toronto, and the aforementioned Buffalo Sabres. He only allowed a total of six goals, giving him a save percentage of .950. Each of those teams has highly lethal offensive attacks, being ranked 15th, 4th and 20th respectively in goals scored this season.
With so few games remaining, and his current hot streak, number 40 should be getting a majority of the starts in net instead of Henrik Lundqvist down the stretch.
Currently, the plan is for Igor Shestyorkin to come over from the KHL and fight for the back-up goaltending position with Georgiev next season. So why not see what Georgiev can do? Now, it has been an up and down season for the Bulgarian goaltender as he has gone on trends of being elite and sub-par at times.
Depending on which way the Rangers front office decides to go with the two young goaltenders, it will have a direct impact on when Lundqvist is inevitably gone. Once "The King" isn't suiting up between the pipes anymore, it is all on the heels of both Georgiev and Shestyorkin for the future of this franchise. 
As reported by Brett Cyrgalis of the New York Post, Georgiev will be in net for Sunday afternoon against Pittsburgh. This will be a true test for him, considering the Penguins are in the top 10 of the NHL in major offensive categories like goals for (seventh), power play percentage (sixth), and shots on goal (10th). On his 23rd birthday, he faced a similar high-powered foe in the Toronto Maple Leafs and it took everything to make 55 saves. 
The Rangers roster can look a lot different after the Feb. 25 trade deadline, with rumors circulating about both Kevin Hayes and Mats Zuccarello. There will inevitably be changes whether something happens or doesn't happen at all. This also pertains to Georgiev. If he can show he has the skill to be a starting goaltender, they might be able to move him in a trade. Like they did with Cam Talbot in 2014-15, a team in need of a goaltender can take a bite on Georgiev.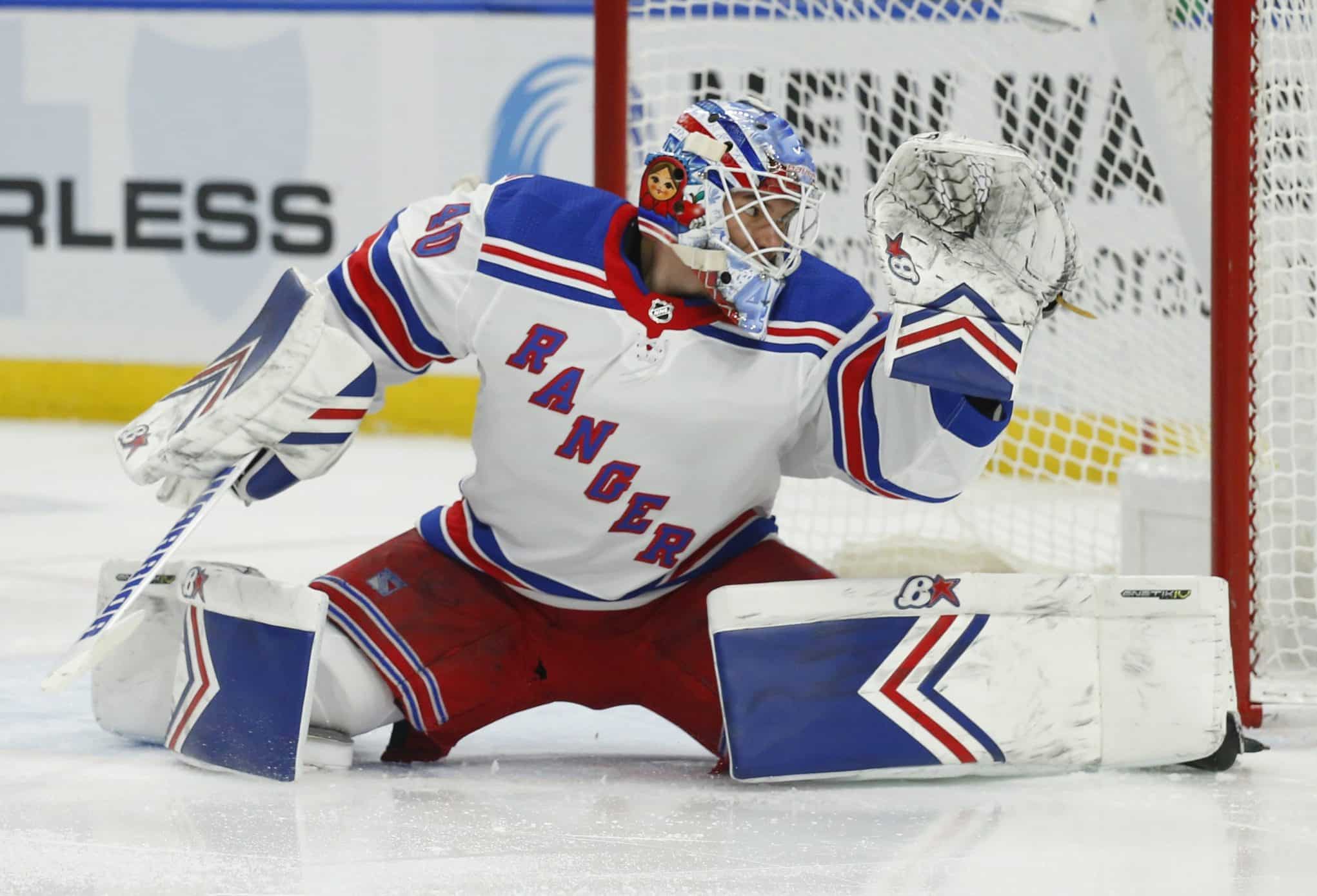 Georgiev is locked into his entry-level contract worth $925,000 AAV, and other teams in the NHL experiencing a rebuilding phase could use him as a very cheap option for starting goaltender.
Of course, there is also the argument of "why should Georgiev start if there is Lundqvist?" To that, it is a very good argument, but Lundqvist has shown signs of slowing down. He has allowed three or more goals in 25 of his 40 appearances this season. To add, he has a career-low in save percentage (.907), and a career-high GAA (3.02). There is also the streak of 20+ win seasons. Lundqvist is currently at 16-15-8, these last remaining games will be do-or-die to get it to 14 straight seasons. He is still a good goaltender, that is for certain, but time is just simply running out.
For the future of the organization, Georgiev needs to get the bump more often than not. Grabbing more playing time can only benefit him. If he falters, keep him for next season with Shestyorkin. If he succeeds, keep him for next season and either move him with upgraded value or Shestorykin. The possibilities are endless.