As he enters his 16

th

season in the NFL, there are five specific things to watch for concerning New York Giants QB Eli Manning in 2019.

There has been much speculation this offseason about the future of New York Giants quarterback Eli Manning. But last week, head coach Pat Shurmur said he expects Manning to be the starter for the upcoming season.
At 38 years old and entering the final year of his contract, 2019 could very well be the future Hall of Famer's last season with Big Blue.
Manning has established himself as the best quarterback in the history of the franchise and is the only quarterback to lead the Giants to two Super Bowl titles. But aside from trying to get the Giants into the playoffs, there's still so much to watch for with Manning in 2019.
1. Eli vs. Brady (Number 6)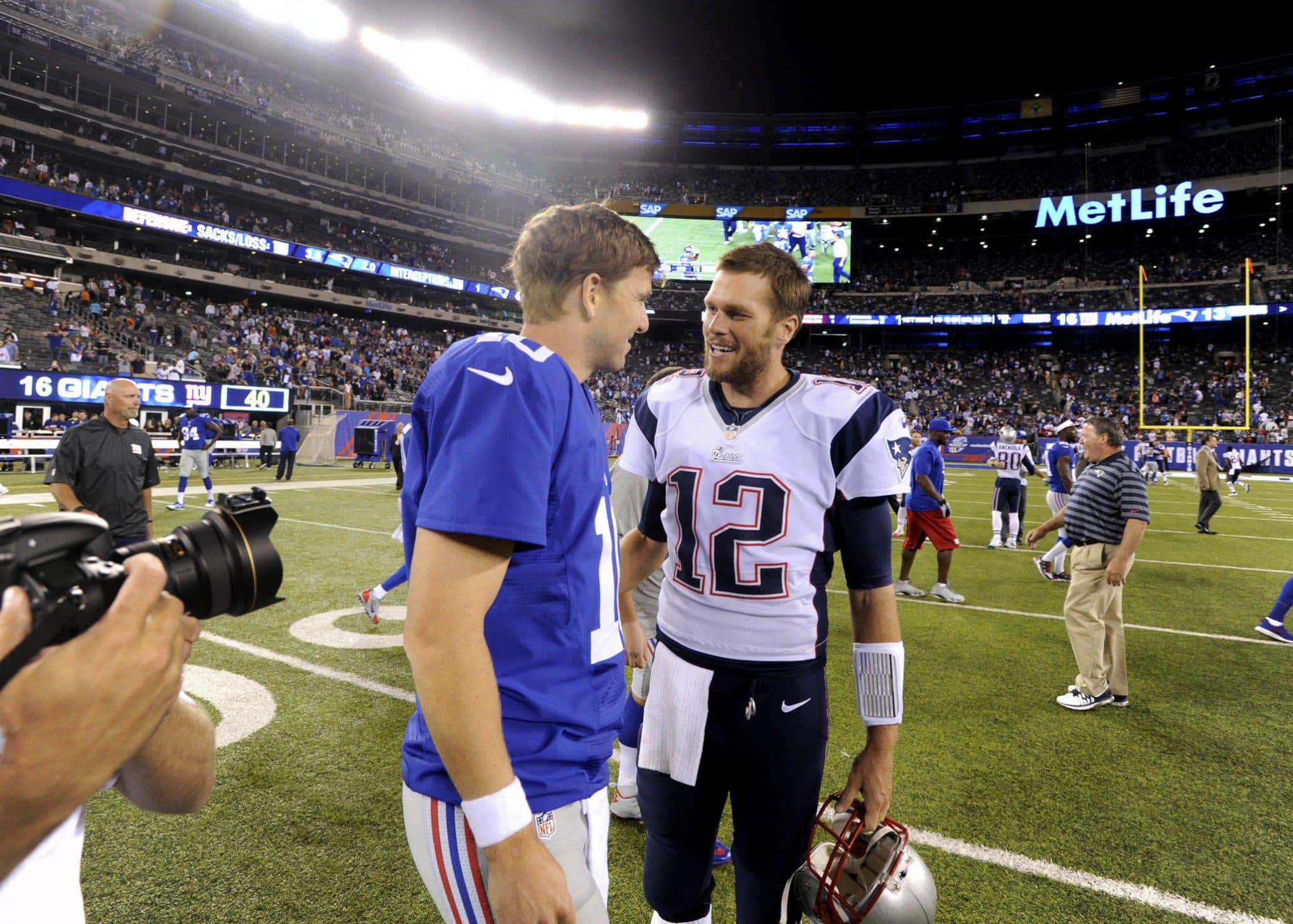 Barring an injury, Manning and Tom Brady will meet for the sixth time in 2019 with Manning holding a 3-2 edge. Manning is the only quarterback who's faced Brady at least five times and has a winning record.
2007 Week 17: Patriots 38, Giants 35
Super Bowl 42: Giants 17, Patriots 14
2011 Week 9: Giants 24, Patriots 20
Super Bowl 46: Giants 21, Patriots 17
2015 Week 2015: Patriots 27, Giants 26
Brady is considered the G.O.A.T. by many, but Manning has gotten the better of him. Unless the Giants and Patriots meet again in the Super Bowl, their regular season matchup at Foxborough will be the last time these two will meet.
Question is, "Will Manning improve to 4-2 over Brady or finish with a .500 record against him?"
2. Is he still the King of New York?
Manning will have another intriguing matchup against another AFC quarterback when the Giants face the New York Jets and their second-year quarterback Sam Darnold. Some felt that the Giants should have taken Darnold and last year's draft to be the successor to Manning, but the Giants took Saquon Barkley instead and he would go onto win the NFL Offensive Rookie of the Year.
Despite having 15 years of NFL experience some feel that Darnold, not Manning, is the best quarterback in the New York/New Jersey area heading into 2019. Will Manning be able to show that he's got plenty left in the tank while showing the young Darnold that this is still his town?
3. Will he reach 60,000 passing yards?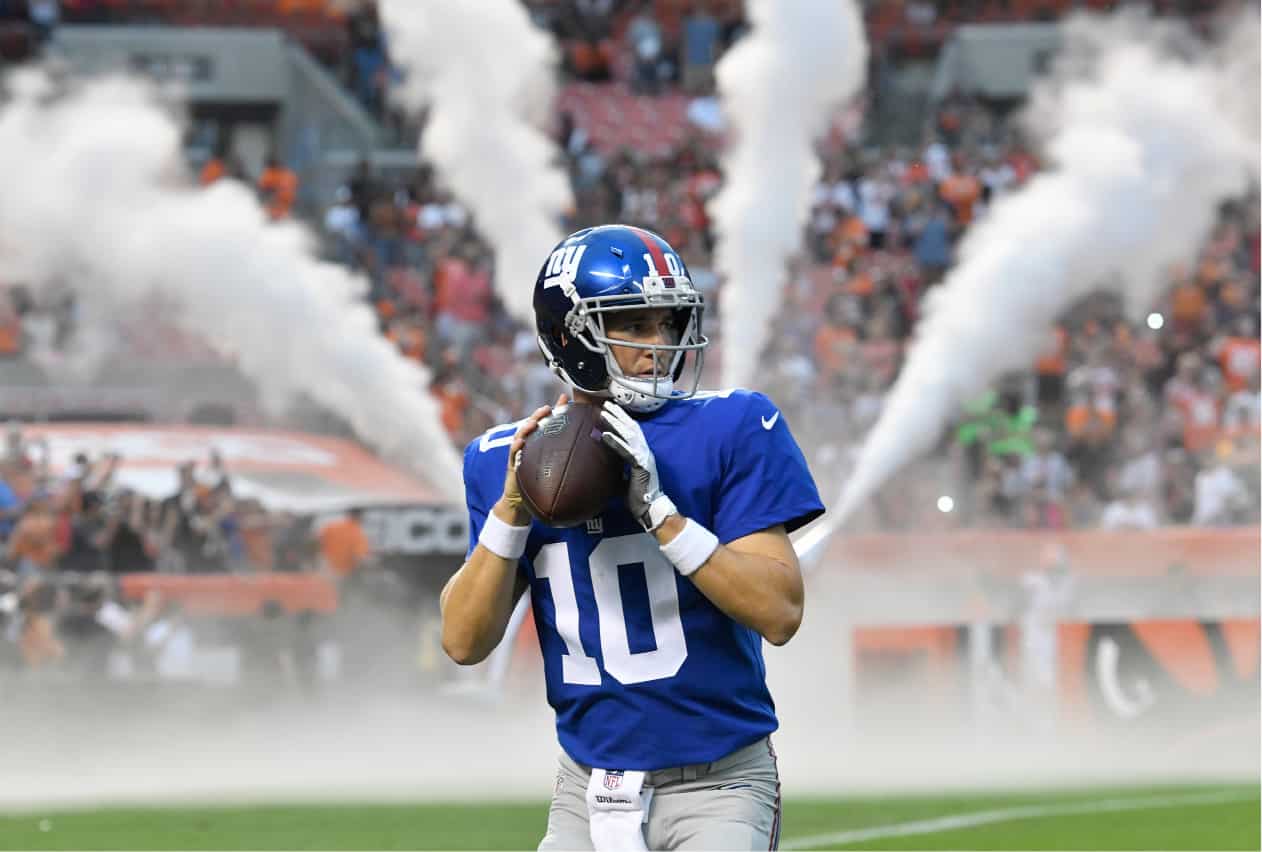 Manning is currently seventh on the all-time passing yardage list with 55,981 yards. With just 4,019 yards, he'll become just the sixth quarterback to throw for 60,000 yards in his career (Ben Roethlisberger can also achieve this in 2019).
Considering Manning has thrown for over 4,000 yards in four out of the last five seasons, it's a safe assumption he'll accomplish this feat.
4.
The Giants have fallen on hard times the last several seasons, missing the playoffs in six of the last seven seasons. As a result, Manning's regular season win-loss record stands at 116-114.
His 8-4 record in the playoffs gives him an overall record of 124-118, but his regular season record is in jeopardy of going under .500. If the Giants finish with another losing season, it could hurt Manning in becoming a first ballot Hall of Famer.
5. How will he be as a mentor?
As we mentioned earlier, Manning will be back in 2019, but there's also a high assumption that the Giants will take a quarterback with the sixth pick in the draft to be Manning's successor.
Mentoring your eventual successor does not always go smoothly in the NFL. We heard how Brett Favre and Aaron Rodgers didn't have the warmest relationship in their three seasons as teammates. But with the class and professionalism, Manning has shown from the day he became a Giant, you would expect he'll groom whomever the Giants draft so that the team can successfully transition smoothly