The New York Giants have numerous players on their roster that could potentially become cap cuts this offseason. 
This upcoming offseason, the New York Giants don't have a whole lot to spend. According to Spotrac.com, Big Blue ranks 17th in the NFL with nearly $27.5 million in cap space. Because of this, there are numerous players on the roster that could become potential salary cap cuts before the 2019 season.
The Giants have already made moves by parting ways with RB Jonathan Stewart and LB Connor Barwin. This, in total, has freed up $4.7 million against the salary cap. Neither was a tough release either after the 2018 season. Stewart had six carries for 17 yards before landing on IR after three games. Barwin on the other hand only had a combined 12 tackles and one sack through 15 games for the Giants.
Big Blue could definitely use more cash to help rebuild for 2019. After totaling a combined eight wins in the past two seasons, rebuilding is a necessity.
Thanks to Jordan Raanan of ESPN, we now have a few potential candidates that can be cap cuts for the Giants this offseason.
In 2019, veteran cornerback Janoris Jenkins is set to count $14.75 million against the salary cap. If he were to remain on the roster for next season, the Giants would owe him $11.25 million. The Giants could potentially save $7.5 million against the cap however if he were to be released.
"It would be hard to imagine the team allowing [Janoris] Jenkins to walk," writes Rannan. "He's the only bona fide starting corner back under contract on the Giants' roster and is coming off a fairly strong season. The Giants also moved some of his 2018 money into the final two years of his deal, indicating they viewed him as part of their future at the time of the move last summer, barring any unforeseen incidents. There weren't any last season. But Jenkins' $11.25 million for 2019 ties him as the NFL's fourth-highest paid corner back for this year. So he's not cheap. That puts him somewhat in jeopardy."
I agree with Raanan. It's tough to get rid of your number one corner. However, if he's that expensive, it wouldn't be a terrible idea to part ways with him. He only racked up 15 pass deflections and two interceptions through 16 games for the Giants this past year. Those numbers should be little higher for a guy who's in the top-five paid at his position.
If they were to get rid of Jenkins, the Giants could look to find a cornerback in the draft to replace him. They also get Sam Beal back next year, who missed his entire rookie year in 2018 due to injury. The Giants drafted Beal in the third round of the NFL Supplemental Draft last year out of Western Michigan. But, then again, we still don't know what Beal can bring to the table, especially coming off a long-term injury.
It's going to be a tough decision for the Giants when it comes to Jenkins, but in the end, I believe he'll remain a Giant for at least 2019.
This is a tough one to discuss, mostly because I'm big on Eli Manning and always have been. But here are the facts: he's set to count a whopping $23.2 million against the salary cap in 2019. The Giants could also save $17 million against the cap if they were to release their long-time quarterback.
Manning's currently 38-years old and is aging. The Giants are slated to take a quarterback with the No. 6 overall pick in this year's NFL Draft. However, they may want to keep Manning for 2019 to mentor whomever they possibly draft at quarterback. Just like Jenkins, it's another tough decision that probably will end up with Eli remaining with Big Blue in 2019.
"The Giants would save a nice chunk of change if they allowed [Eli] Manning to walk and replaced him with a cheaper veteran and a high draft pick," writes Raanan. "They also would probably get a quarterback who can do better than rank 25th in QBR, which Manning did this past season. But the Giants seem to be leaning toward another year with Manning as the starter after the offense showed some promise in the second half of the season. They finished sixth in offensive points per game (24.75) over the final eight weeks. Manning's salary of $17 million this season currently places him 15th among active quarterbacks. That's not an outrageous sum, although it could benefit the team if his salary and cap number were reduced this season. That remains a possibility even if it hasn't been discussed yet."
As I said before, Manning is aging. However, that doesn't mean the Giants are absolutely doomed with him under center. In 2018, Manning was ninth in the NFL with 4,299 passing yards. And, as Raanan said, the offense improved immensely in the second half of the regular season. The Giants lead the NFC East with 369 total points scored in 2018.
I wouldn't get rid of Manning for a cheaper veteran (unless his name is Russell Wilson). My guess is he'll stay. Even with a possible rookie quarterback such as Ohio State QB Dwayne Haskins or Duke QB Daniel Jones, Manning still gives the Giants the best chance to win games in 2019.
The Giants signed edge rusher Olivier Vernon in 2016 to a five-year, $85 million deal. Coming up on potentially his fourth year with the Giants, Vernon will be expensive in 2019.
The veteran pass-rusher will count $19.5 million against the salary cap next season, and the Giants will owe him $15.5 million if he remains on the roster. However, they can save $11.5 million if they were to release Vernon.
"[Olivier] Vernon is coming off a rough season," writes Raanan. "He missed five games, played through ankle and shoulder injuries and was questioned publicly by his coach. That didn't go over well behind closed doors. Still, Vernon is the Giants' best pass-rusher by a wide margin. I made the argument entering the season that he was the most important player on the team considering the drop-off behind him on the depth chart. That showed when he was sidelined for the first five games with a high ankle sprain. He still finished with more than twice as many quarterback hits as any other player on the Giants' roster last year, despite missing significant time and taking several games to get back near full strength. His 7.0 sacks also led the team. Vernon is expensive at $15.5 million this season, but he doesn't have any more guaranteed money remaining in his contract. That makes him worth a one-year flier for the Giants or another team. He could have value on the trade market, should the Giants elect to go that route."
Despite making the Pro Bowl this past season, Vernon overall has been a disappointment since his signing. For $85 million, the Giants need more production out of him, and that starts with staying off the injury cart.
I agree with Raanan that there was a drop-off behind him on the depth chart. However, he still could be replaced with a young linebacker who could develop. Rookie LB Lorenzo Carter had a combined 43 tackles and four sacks in his inaugural season in the pros. Carter also posted an above-average Pro Football Focus grade of 65.8 in 2018. He usually played on the opposite side of Vernon this past year, but he can definitely blossom into a pass-rusher in Vernon's spot.
If I were the Giants, I would look to either trade or release Vernon. The numbers aren't horrible, but they're not up to the standards of a guy making $85 million. Big Blue could definitely use that $11.5 million they'd be saving if they were to part ways with Vernon.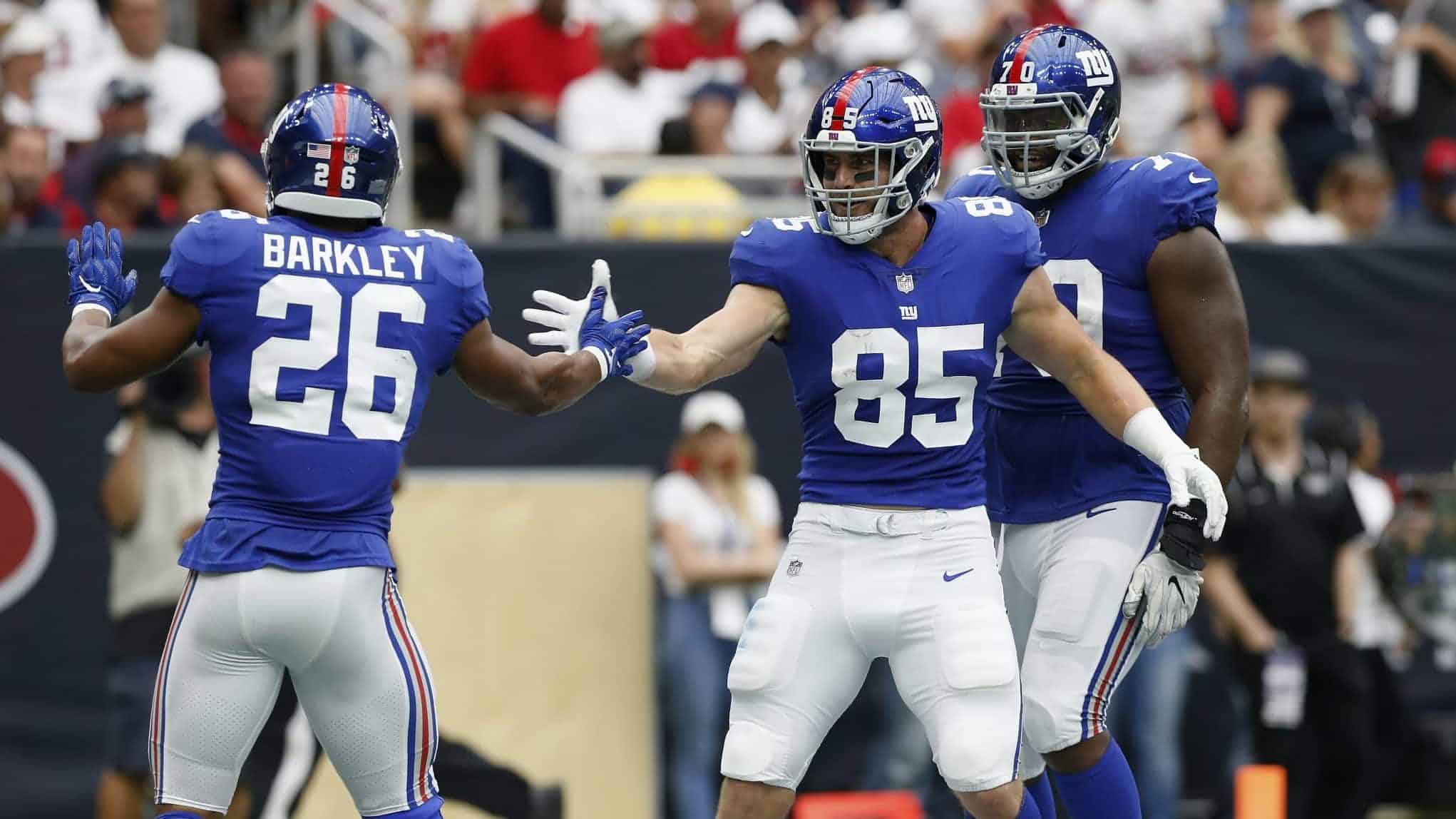 Tight end Rhett Ellison proved to be a reliable second-string tight end behind Evan Engram in 2018. Through 14 games this past year, Ellison caught 25 balls for 272 yards and a touchdown. Not astounding numbers for a tight end. But remember, he was mostly brought in for the blocking aspect of the game. He posted an above-average grade of 65.2 on Pro Football Focus in 2018.
This upcoming season, Ellison would count $5.75 million against the salary cap, and the Giants could save $3.25 million if they were to release him.
"Though [Rhett] Ellison is a valuable complement to Evan Engram because of his blocking, it's a move they might contemplate if they're desperate to free up money," writes Raanan. "They're expected to be in the range of $30 million under the cap at the start of free agency without any more moves."
If I had to make this decision, I would keep Ellison. If he were to remain on the roster instead of being released, it wouldn't make a huge difference money-wise.
He's a reliable asset to the offense, both through the air and on the ground. However, due to the recent re-signing of blocking tight end Scott Simonson, maybe the Giants will decide to part ways with him. Again, it's not their main guy at the tight end position; that's Engram all the way. Therefore, it wouldn't be a huge difference.
But, if I were the Giants, I'd keep him for the time being. He's not that expensive of a tight end and can definitely bring a few things to the table when it comes down to it.