Needing not one, but two pass-rushing edges, the New York Jets are blessed with an NFL free agency loaded within such a class.

In just under three weeks, the New York Jets will be diving head-first into the free agent market with their hoard of cap space, as negotiations are officially allowed to begin on March 11.
As anyone who has followed the Jets closely over the past decade-plus knows, perhaps the piece this franchise has been most starving for on the defensive side of the ball is a high-quality edge pass rusher.
There are a ton of huge names primed to see their contracts expire, but many of them might not hit the open market.
Whoever does shake free, the Jets need to pounce on.
Let's take a look at some of the most attractive names out there.
TREY FLOWERS
The 6-foot-2, 265-pound Flowers, who will be 26 at the start of the 2019 season, is perhaps the best option of the players who seem to have a realistic chance of hitting the open market.
The Arkansas product's total of 78 pressures in 2018 ranked second among edge defenders. In 2018, PFF credited him with a 10.5% run-stop percentage, fourth-best among edge defenders. Since 2016, he's 53rd in tackles for loss (25), 34th in sacks (21.0), 32nd in forced fumbles (5), and 19th in QB hits (59).
Flowers could net himself a megadeal worth upwards of $16-17M per year.
Patriots free agents have developed a stigma of failing once they leave Foxboro. Can Flowers break that mold?
He could easily end up as the best edge defender on the free agent market. If that comes to pass, the Jets are in no place to pass over on someone of his talent level. Flowers is a versatile piece that can line up anywhere and produce. Get him in if you can.
DEMARCUS LAWRENCE
If he does shake free of Dallas, Lawrence seems like the easy top option out of this group. Either way, he will likely sign the richest contract in the NFL among all free agents this spring.
The star defensive end is reportedly refusing to sign a second consecutive franchise tag, and the Cowboys are thin on cap room to keep the stud pass rusher around. While it once seemed like a longshot Lawrence would be available, it's starting to seem like a realistic possibility.
Over the past two seasons, Lawrence ranks fourth in the league in sacks (25.0), sixth in forced fumbles (6), seventh in quarterback knockdowns (49), and eighth in tackles for loss (29). He's one of only two players in the league to accumulate all four of those totals over the past two seasons—the other is Aaron Donald.
So, Lawrence is a beast. No question. He's a 6-foot-3, 265-pound classic 4-3 defensive end. He's going to be a very rich man soon, but where will his paycheck be coming from?
If not from the Dallas Cowboys, it had better be from the New York Jets.
Write him a blank check, Maccagnan.
JADEVEON CLOWNEY
The former number one pick has shaken off a rocky start to his career to become the premiere edge defender he was born to be.
Over the past two seasons, Clowney ranks second in the league in fumble recoveries (6), third in tackles for loss (37), seventh in defensive touchdowns (2), 17th in quarterback knockdowns (42), and 18th in the league in sacks (18.5).
Clowney is particularly a beast against the run, where he has been arguably the league's best edge defender in that phase of the game.
The Texans have been working diligently to keep the 6-foot-5, 255-pound South Carolina alum in navy and red, but the same philosophy that applies to Lawrence, applies to Clowney.
The Jets need to be at the forefront of the chase for his services if he becomes available.
PRESTON SMITH
The 6-foot-5, 265-pound Redskins outside linebacker is quietly a really nice piece to be had for somebody out there. He has played 64 of 64 possible career games and has racked up 24.5 sacks, 4 interceptions, 13 passes defended, 29 tackles for loss, and 59 quarterback knockdowns over his four seasons in the league.
Smith possesses above-average athletic numbers among edge defenders in every combine drill. In Washington's 3-4 defense, he had a frequent role in coverage, explaining his impressive strong career total of passes defended.
He could be a solid option if the Jets are looking for a SAM linebacker who could both drop into coverage and be an athletic weapon as a pass rusher.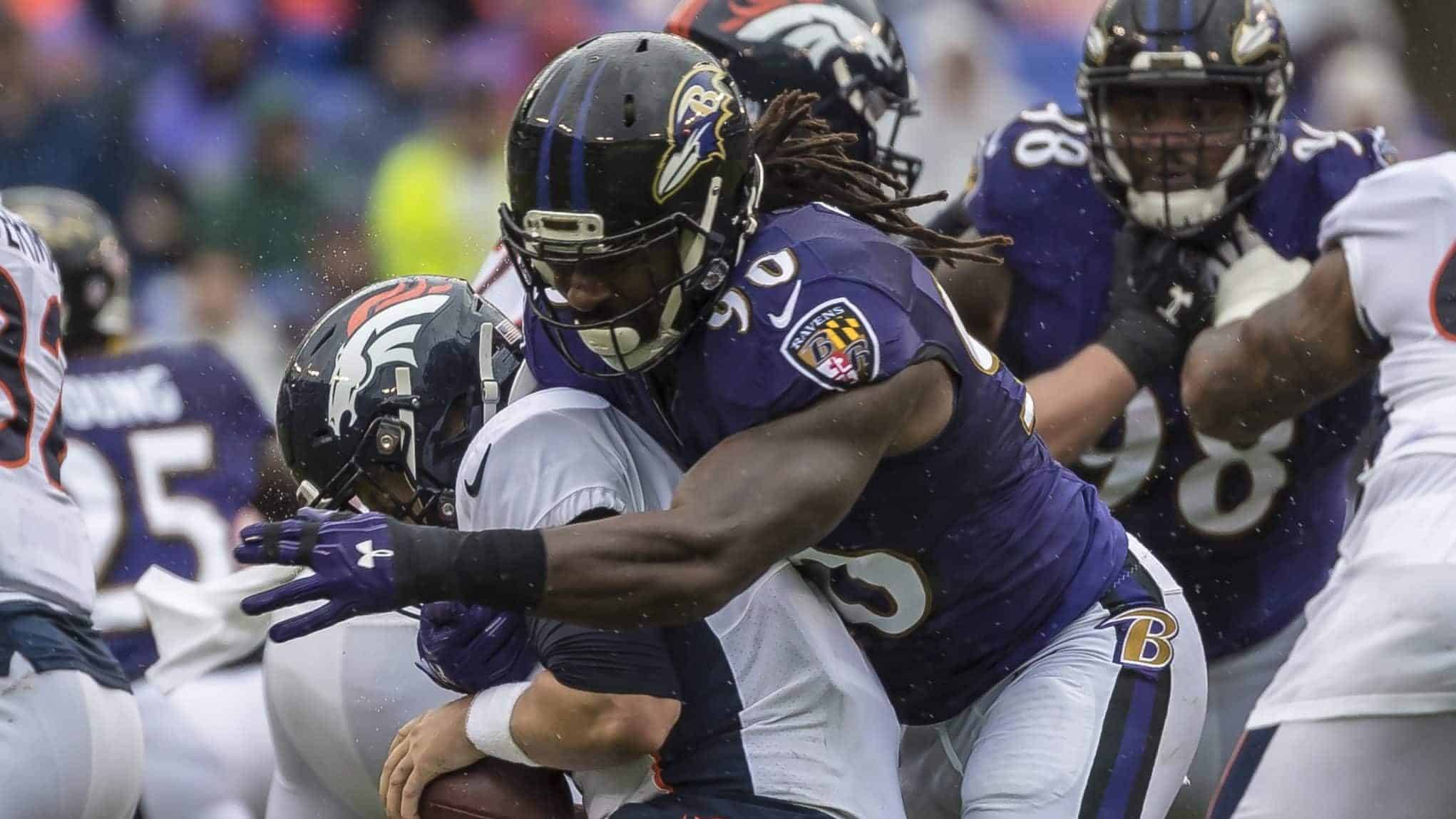 ZA'DARIUS SMITH
There isn't one, but two really solid Smiths available on the free agent edge market.
The 6-foot-4, 272-pound Raven has played defensive end in Baltimore's 3-4 alignment. He's strong and big enough to hold his own with his hand in the dirt. Smith could be a  quality candidate to play defensive end for the Jets if they do switch to a 4-3.
Smith had a career year in his contract season of 2018, posting career-bests of 8.5 sacks, 10 tackles for loss, and 25 quarterback knockdowns.
BRANDAN GRAHAM
Graham's age, as he will be 31 at the start of the season, as had him flying under the radar in this discussion. But he shouldn't—his production measures up with the best of them.
The 6-foot-2, 265-pound Eagles lifer out of Michigan doesn't have the flashiest sack numbers (he's averaged about six per year over his past five seasons), but he consistently tops the leaderboards in pressures at Pro Football Focus. He was top four among edge defenders this season and the same was true in each of the previous two seasons.
Graham is a durable player (one game missed since 2012) with championship experience and a knack of doing what needs to be done to accomplish the mission. He's an ideal fit in a 4-3 defense, which the Eagles have run throughout most of his time there.
He could be the bargain of the edge market. The Eagles are currently slotted at 31st in cap space with barely more than $2.0M free, so it could be hard for them to keep their cornerstone pass rusher.
If they do let him loose, someone should be getting a low-key, high-quality addition.
Others of Note:
Ziggy Ansah – The Lions DE's value is at a low point as he is heading into his age-30 season off of an injury-plagued down year, which was a franchise tag season. He had only four sacks and three tackles for loss in seven games. Ansah has two double-digit sack seasons under his belt that will get him some serious looks, with 12.0 in 2017 and 14.5 in 2015. However, he has a history of struggling with consistency in the past, as he had a 2.0 sack season in 13 games back in 2016.
Those previously mentioned high points will get him some looks, but Ansah will likely be relegated to one of the lower-tier deals on this market. Depending on the price, his deal could either be a great value flier, or a high-risk investment on an inconsistent, aging player.
Shaquil Barrett – Broncos outside linebacker whose production shrunk in the shadow of top pick Bradley Chubb, but had a quality season in 2017 and could fly under the radar as a high-upside flier signing.