Sophomore Chris Herndon absolutely comes equipped with the talent required, but is he the New York Jets franchise tight end moving forward?

Through his first four drafts as the head honcho in the New York Jets front office, Mike Maccagnan hasn't exactly put together a very large collection of draft day steals.
Twenty-eighteen did not work wonders for Mac's overall resume, as the Jets stumbled to 4-12. But the Jets' disappointing campaign might have yielded him at least one bright spot to add to the portfolio.
That bright spot? The 25th selection Maccagnan made as the general manager of the New York Jets, tight end Chris Herndon out of Miami, the 107th overall pick taken in the fourth round of last year's draft.
While outside of the greater New York area it may have flown under the noses of anybody who isn't a die-hard fantasy fanatic, Herndon accomplished things that have very rarely been done by rookie tight ends.
The Norcross, Georgia native dropped 39 catches for 502 yards and 4 touchdowns in his debut season.
Those numbers are solid, but they might not pop off the screen at first glance.
For a number of reasons, they probably should.
Before we get into comparing him to the rest of the NFL, let's just put into context how rare it has been for young Jets tight ends to do what Herndon did.
Herndon's 39/502/4 slash line had only been hit by one rookie Jets tight end before—Pete Lammons in 1966. His four touchdowns matched Lammons for the most by a Jets rookie at the position.
Herndon became the first Jets rookie tight end to hit the 500-yard mark since Dustin Keller back in 2008.
He also helped break a prolonged dry stretch of brutal tight end production in Florham Park. Herndon's 500-yard season was the 17th ever by a Jets tight end, and it hadn't been done previously since Dustin Keller racked up 687 yards in 2010.
So, yes, Herndon was able to clear the absurdly low bars set by the past ineptitude of tight ends to swipe their IDs at the front doors of One Jets Drive. Congrats.
However, once we look beyond the green grass of Morris County, New Jersey, we find out that Herndon's rookie year was special even on a league-wide level.
In addition to scooping up 502 yards and 4 touchdowns, Herndon did it while averaging a uber-efficient 8.96 yards per target. Since the turn of the century, only one other rookie tight end had reached all three of those marks.
Let's get back to that sparkling 8.96 number. How does that stack up against other rookie tight ends in the millennium?
The answer? Extremely well.
Since 2000, among rookie tight ends to see at least 50 targets thrown their way, Herndon's 8.96 yards per target average ranks fourth-best. The top of the list is littered with stars.
Mark Andrews, Ravens, 2018 (11.04)
Rob Gronkowski, Patriots, 2010 (9.25)
Hunter Henry, Chargers, 2016 (9.02)
Chris Herndon, Jets, 2018 (8.96)
Heath Miller, Steelers, 2005 (8.83)
Aaron Hernandez, Patriots, 2010 (8.80)
Jordan Reed, Redskins, 2013 (8.46)
Zach Ertz, Eagles, 2013 (8.23)
George Kittle, 49ers, 2017 (8.17)
Herndon's efficiency shines the brightest, but even from a volume standpoint, his production stands out.
Among rookie tight ends since 2000, Herndon's four touchdowns tie him for the twelfth most and his 502 yards stands as the eleventh most. The former Hurricane developed a tremendous rapport with Sam Darnold and became the franchise quarterback's most efficient target.
When throwing to Herndon, Darnold registered a remarkably great 127.1 passer rating.
Josh McCown's struggles (62.7 passer rating throwing to Herndon) dipped Herndon's overall passer rating when targeted to 106.4, but if Herndon maintained that 127.1 passer rating throughout the entire 2018 season, it would be the best mark in the NFL among the 20 tight ends with 50-plus targets.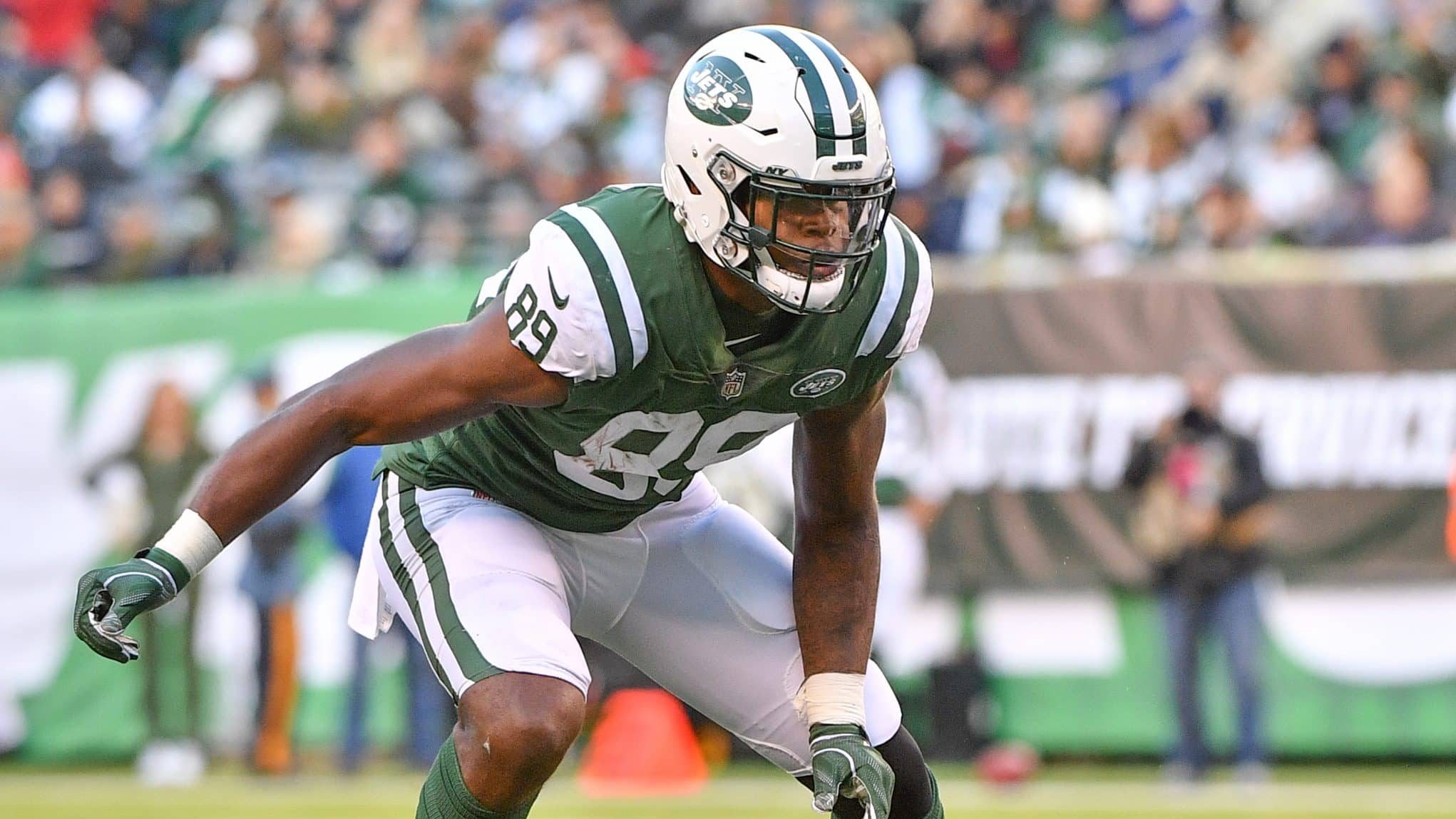 Herndon was particularly strong in the red zone. He caught six of his eight targets in that area for three touchdowns, generating a 144.8 passer rating when targeted—the best mark in the league among the forty tight ends to see at least five red zone targets.
The fourth-round pick's flame didn't burn from the get-go. It took him some time, but once Herndon found his stride, he became one of the league's most productive receiving tight ends from that point on.
Herndon caught only five passes for 47 yards over his first five games. His Week 6 clash with the Colts, when he caught for 56 yards and his first career touchdown, was the point where he really began to take off.
Here's a breakdown of Herndon's production from Weeks 6-17, and his ranks among tight ends over that period:
34 receptions (13th)
455 yards (7th)
4 touchdowns (T-4th)
9.29 yards per target (2nd out of 18 tight ends with 40+ targets)
108.8 passer rating when targeted (4th of 18)
No tight end reached all five of those marks over that span, but George Kittle came the closest, falling short only slightly in the passer rating department.
So, I'm sure the point has been made by now. Chris Herndon had a sweet rookie year as a receiver.
However, the tight end position is its own classification seperate from wide receiver because of another added responsibility – blocking.
I thought Herndon impressed in this area as well.
As a pass protector, I felt Herndon was getting it done throughout the entire season from start to finish. I credited him with 43 pass protection snaps on the year, most on the team among skill position players. On those plays, I tagged him with only three pressures allowed, none of them sacks.
In the run blocking department, Herndon had a rocky start to the year in which he was a bit of liability. However, I thought he made some impressive strides following the bye week to carry into his second year.
In his first 10 games leading into the bye week, I credited Herndon with a ratio of 10 assists on positive runs to 14 stuffs allowed—a very poor output. Over his final six games following the bye week, I credited Herndon with a ratio of fifteen assists to three stuffs allowed—a phenomenal output. He had more assists than stuffs allowed in five of those six games, coming up even in the other.
Altogether, it was a wonderfully promising first year for Chris Herndon. History suggests his performance as a rookie yields him a strong chance of putting together a star-level career in the future. Herndon set himself up with a trampoline that he could leap off of to soar into the elite ranks of tight ends.
That is if he can stay on the field to use that trampoline.
Herndon has had some troubles outside of the lines, dealing with DUI trouble and now potentially facing suspension next year.
Hopefully the budding star, who will turn 23 this Saturday, Feb. 23, can learn adequate discipline off the field to keep his career on the right path.
If he can do that, then the New York Jets just might have finally found themselves that bona fide late-round steal on offense that they have been waiting an eternity for.