Whether Gregg Williams runs the New York Jets base as a 3-4 or 4-3 matters very little aside from who's targeted, acquired via the offseason.

Just when you, the fan, thought you had it all figured out, the New York Jets viciously slam on the brakes (while you're simultaneously taking a sip of piping-hot coffee).
That's right. Sitting in the passenger seat of a carpool headed to the office, your brand-spanking-new white shirt is drenched in your favorite morning beverage. It's an absolute "go-home stain" yet you cannot go home.
Such is life as a Jets fan.
Gregg Williams runs a 4-3 defense. He always has.
The 2016 Cleveland Browns entered Williams's good graces as a 3-4 base. Prior to taking over Buffalo Bills head-coaching duties in 2001, the team ran, yes, a 3-4 under defensive mind Ted Cotrell (a former Jets employee as well).
Williams converted the base into his familiar 4-3 look the only two times he was afforded the opportunity. His other stops—New Orleans Saints, Jacksonville Jaguars, Tennessee Titans, St. Louis Rams, Washington Redskins and even his "growing-up" era with the Houston Oilers—featured a sturdy 4-3 look prior to and during his tenure.
It's why when Brian Costello of the New York Post, one of the best in the business, reported Williams will stay the 3-4 course with the Jets in 2019, everybody scratched one's head.
"Contrary to speculation, the Jets will still operate out of 3-4 base defense, according to sources."
I'm not completely buying it.
In no way is this a reflection on Costello; his sources must be trusted by the general public. Rather, it makes little sense.
First and foremost, the man runs a total number of 42 defensive fronts/variations. While he may always operate out of the 4-3, he runs a little Okie that features the base 3-4 look. He has no issues taking it even further to the nickel as a 3-3-5 could rule the 11 personnel matchup over the 4-2-5.
Reason stands that whichever base is identified on paper, it matters little in-season per game strategy.
It only matters during the offseason and thus, neither the 3-4 nor 4-3 will be specialized during such a stressful time.
An argument can be made the Jets currently possess the makings of a greater 3-4 defense. Another argument can be made that's nonsense. Leonard Williams absolutely fits the 3-technique under the 4-3. Darron Lee not only fits the WILL more perfectly under the base, but he also slides in as a MIKE much nicer than one of the two 3-4 ILBs (which need to be much bigger in size).
What's only critical now is acquiring assets that fit both systems and no, it's not as tough as one might initially think.
Weaponizing Williams with such flexibility is ideal. Bill Belichick has run a hybrid defense for years, flip-flopping as he sees fit (despite the paper look of a 3-4 all these years running).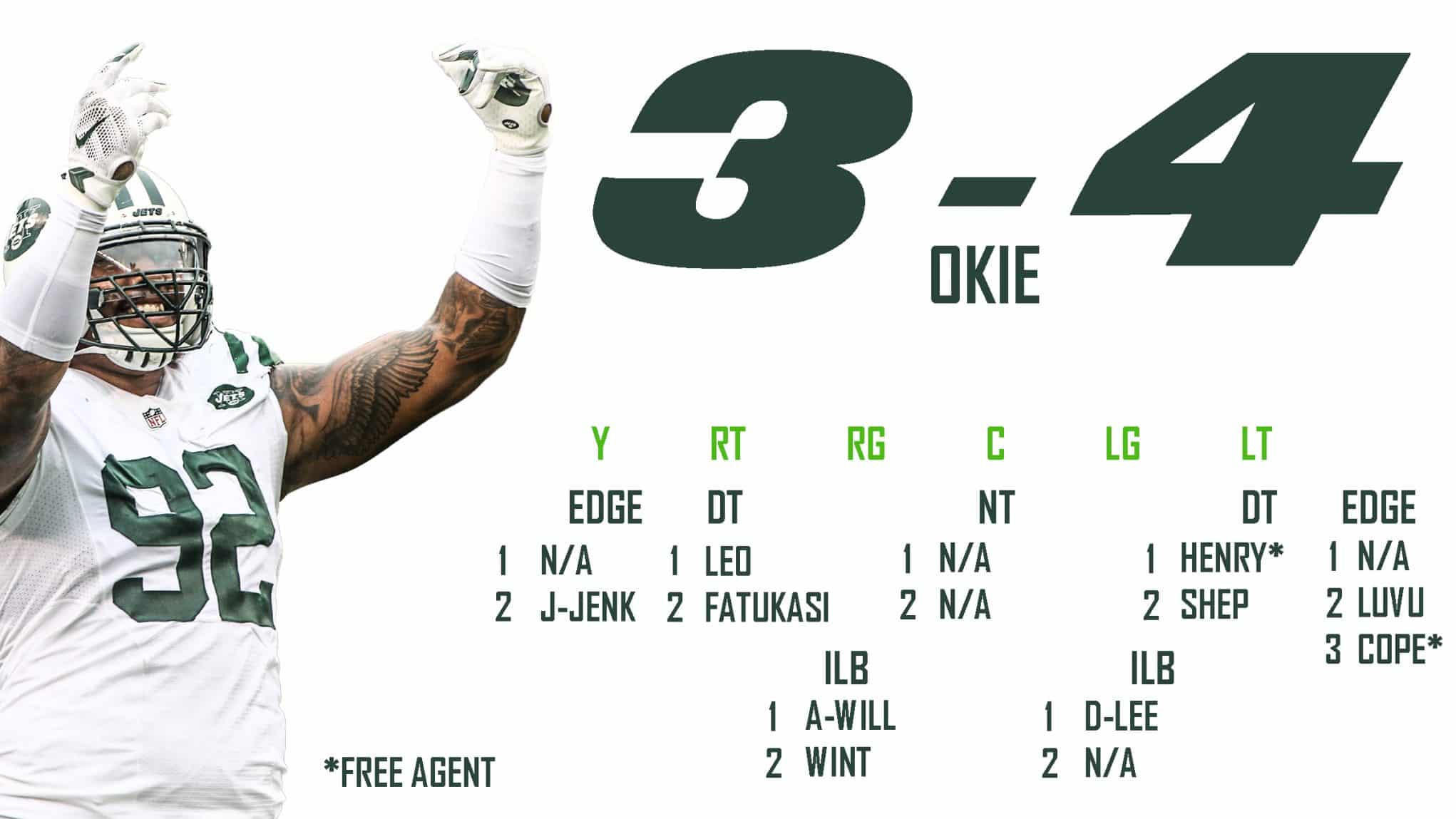 The standard 3-4 presents one clear advantage: Henry Anderson possesses a full-time spot (assuming he's re-signed). Other than that, there isn't much to like based on personnel.
Leonard Williams gets lost a bit. Darron Lee is a terrible fit for the 3-4. He's nearly smaller than Jamal Adams.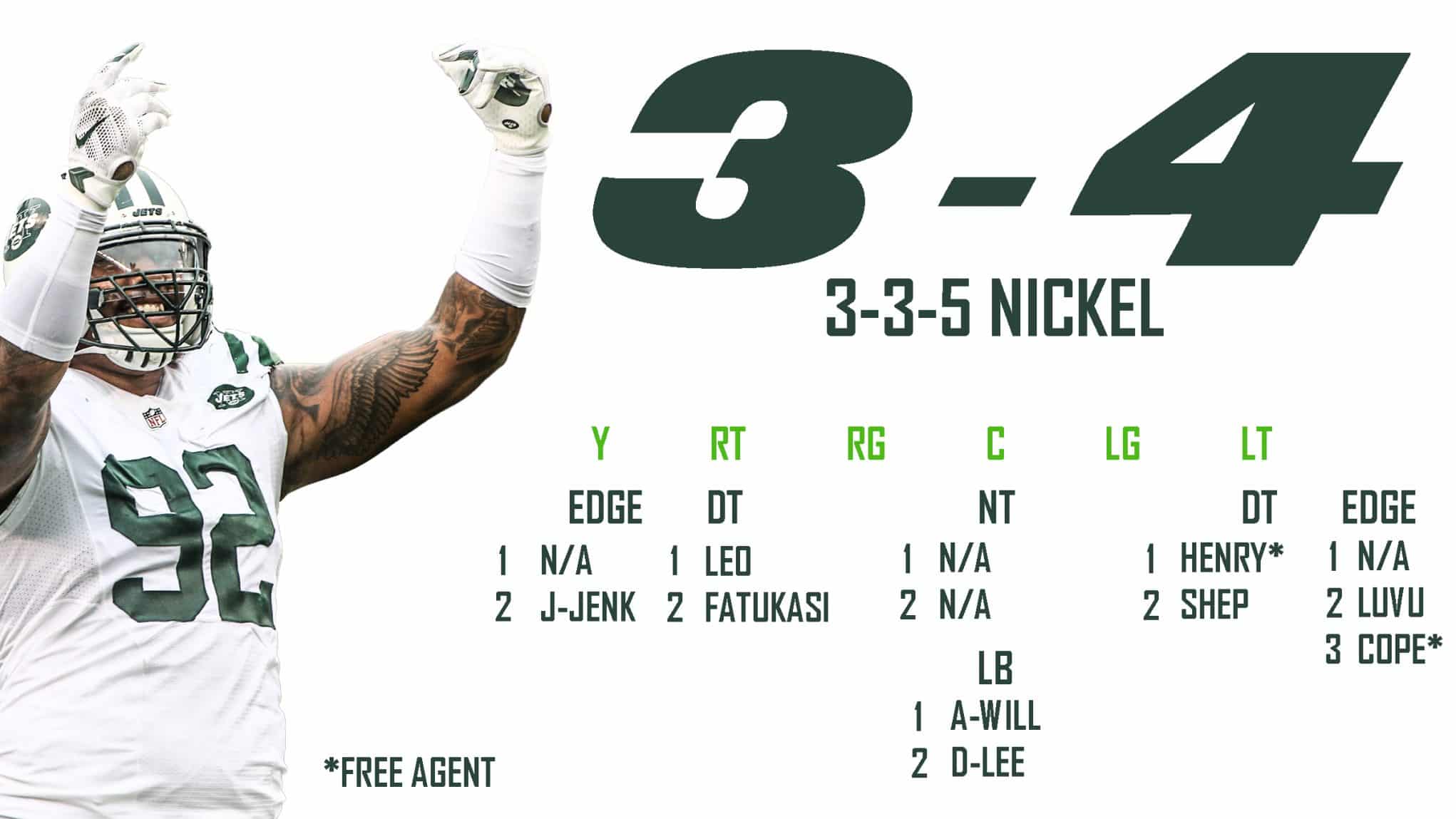 When moving to the 3-3-5 Nickel, the current personnel is hurting.
It makes no sense to throw Lee and Avery Williamson on the field at the same time. Neither can play the edge. Within the 4-3 Under, Williamson, assuming he's the SAM, will have to come down on the strong side of the line at times, but Williams doesn't want Williamson rushing the passer on passing downs.
It just doesn't work (which is why the edge within the 4-3 Under is greatly different than the edge within the 3-3-5). One is generally a straight pass-rushing spot while the other brings great rush responsibility.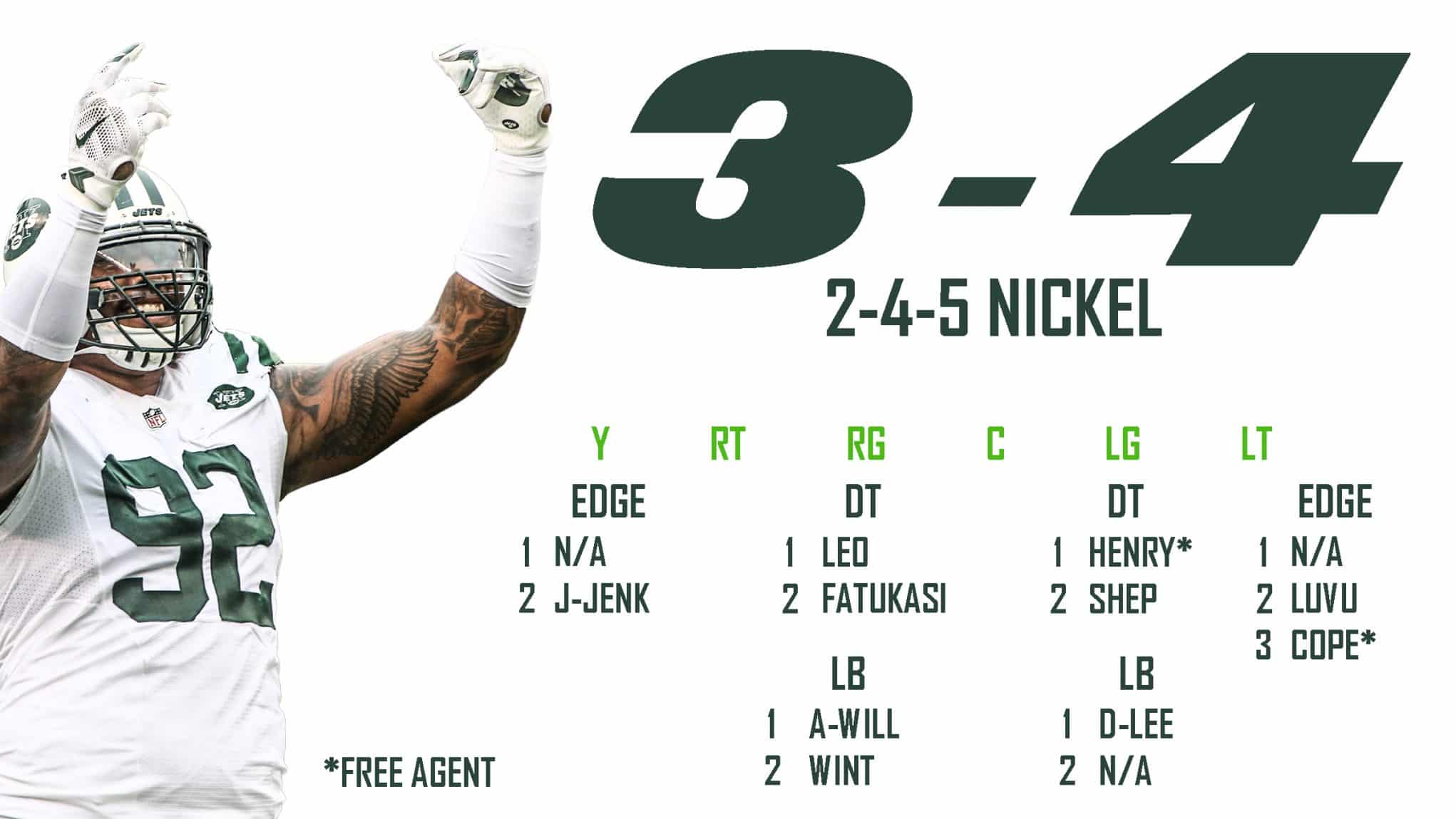 The 2-4-5 makes the most sense via the active depth chart. Interestingly enough, it's basically a mirror image of the 4-3's 4-2-5 Nickel.
Leo and Henry along the interior is dynamite on passing downs. Williamson and Lee on the second level works, though a better coverage linebacker is craved.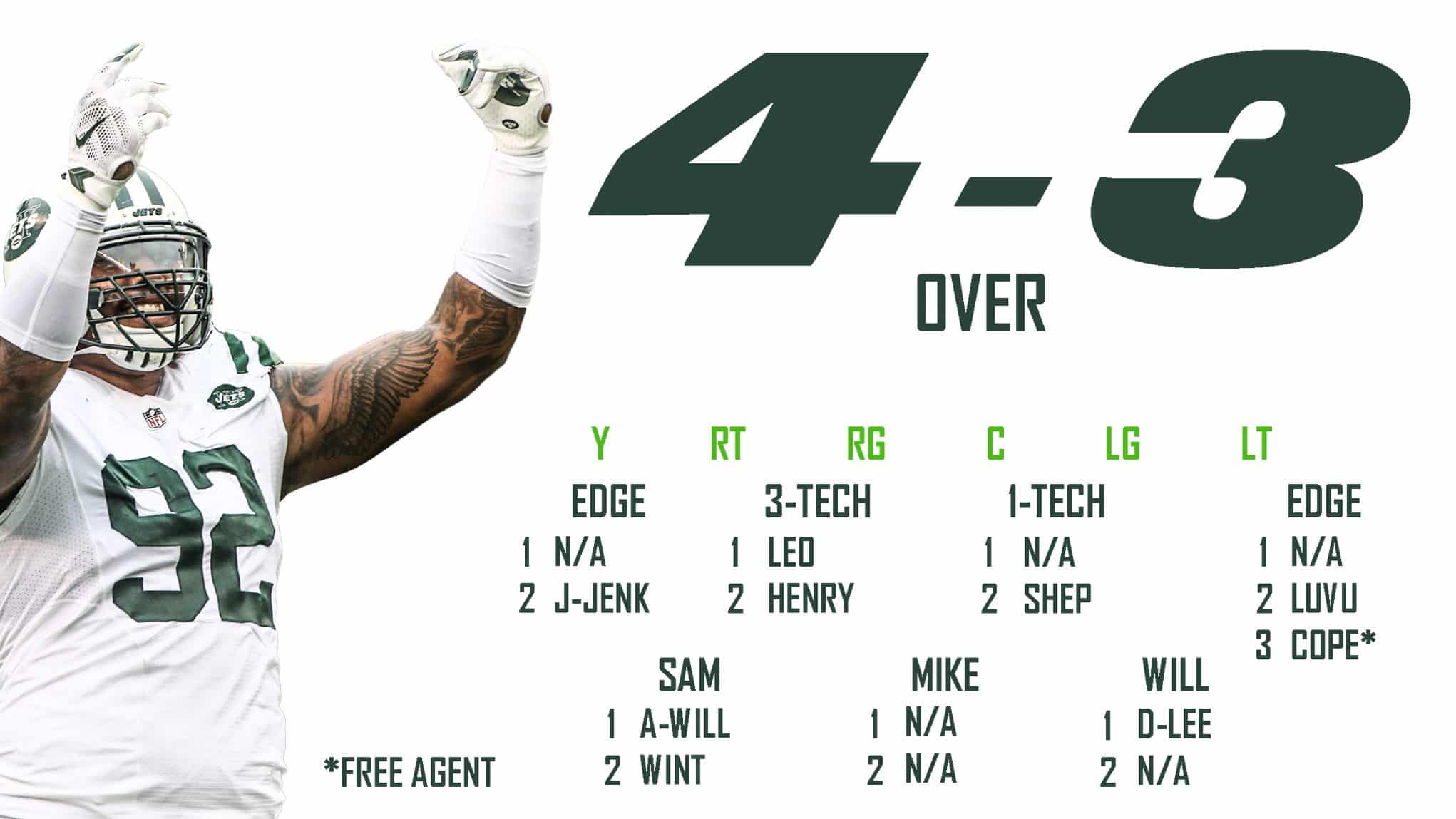 Now we're getting into the Gregg Williams wheelhouse. What's the advantage here as opposed to the 3-4 base?
First and foremost, Anderson doesn't fit. But that's OK in this NFL. This isn't the base in the NFL anymore. Rather, nickel is the base against 11 personnel and Anderson has a secure spot either in the 2-4-5, 4-2-5 or 3-3-5. He would absolutely still play over 65 percent of the downs if 4-3 is all Williams runs.
Secondly, another linebacker is required. A coverage backer.
To me, a MIKE is needed. Williamson is neither quick nor coverage-ladened enough to pull it off. Williams loves his Cover 2 Buc, meaning the MIKE (and any middle backer of a nickel) must play deep near the safeties. Darron Lee may just fit the MIKE better in Williams's eyes.
Whomever the Jets view as the MIKE, a third backer is needed.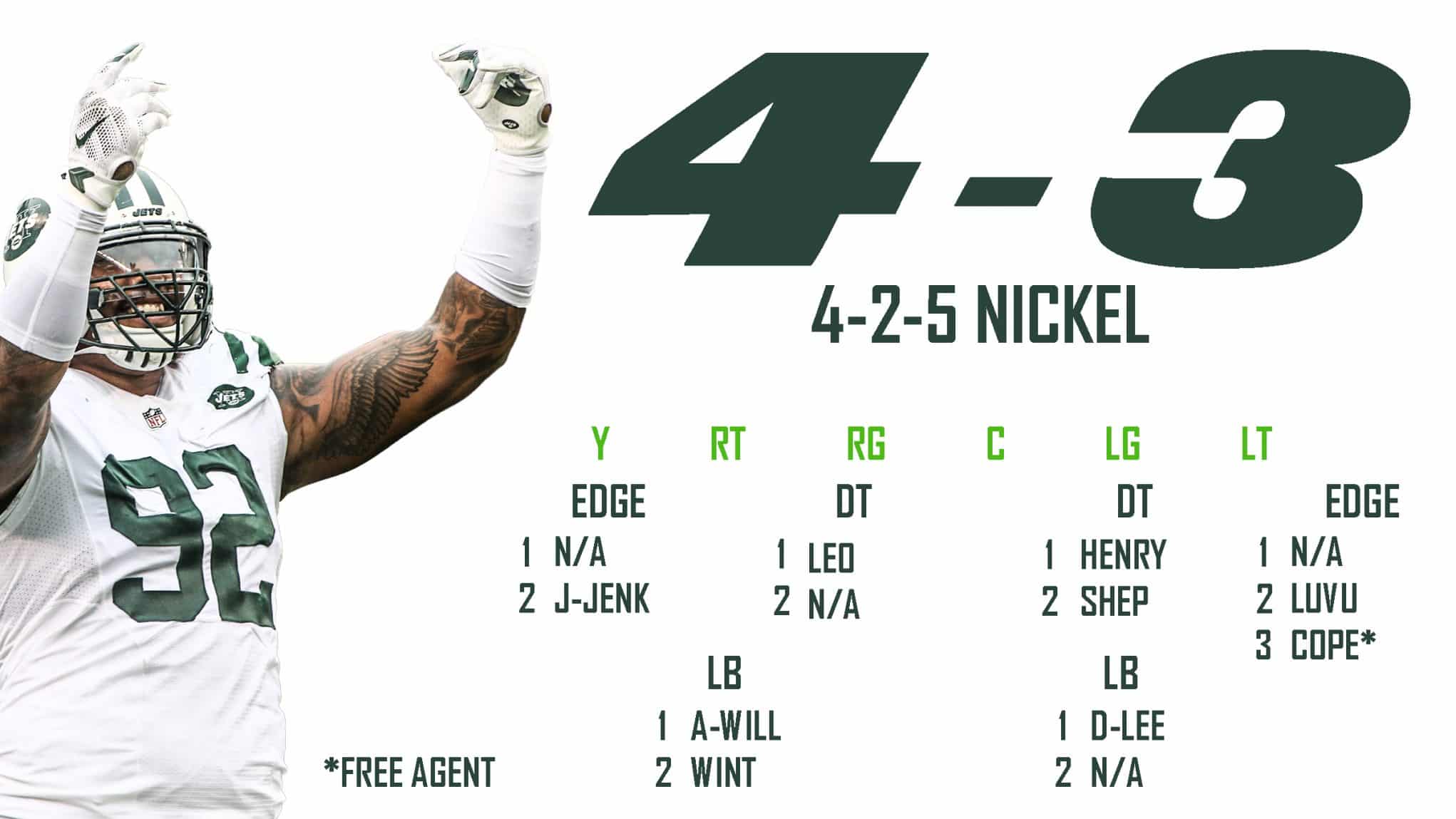 Very similar to the 2-4-5, Henry Anderson is in a great spot.
3-4 Positives / Negatives
Positives:
Henry Anderson fits every package.
A third stud linebacker isn't necessarily required.
Negatives:
Leonard Williams doesn't fit as well (fewer 3-technique opportunities).
Darron Lee fits poorly (undersized as a 3-4 ILB).
Williamson-Lee duo is a poor coverage tandem.
Needing a nose tackle (though not as prominent as the 4-3 1-technique).
4-3 Positives / Negatives
Positives:
Leonard Williams with more 3-technique opportunities.
Adding a true coverage, run-stuffing MIKE.
Negatives:
Needing a true MIKE, a third LB.
Needing a true 1-technique.
Henry Anderson doesn't fit the base.
To me, there isn't much of a difference right now. Two edges are needed. This much is certain and how it affects either base doesn't drastically change things.
What the offseason mindset needs to remain is fulfilling both the 3-4 and 4-3 in order to meet true Gregg Williams flexibility. With nearly $100 million in cap space, it can be done.
Players To Acquire
Re-sign Henry Anderson.
A true MIKE (or, at the very least, a third LB if Williams feels Darron Lee can hold it down).
A nose tackle (which fulfills the 1-technique via 4-3 and/or true NT via 3-4).
Two edges (which fulfills both the 3-4 and 4-3).
Look at the targets. It strikes a complete balance between both bases, allowing for complete flexibility not only in the base, but also when 11 personnel is trotted out on the field.
Forget the news and rhetoric referring to a base 3-4 or 4-3. Gregg Williams is a true 4-3 mind who will also use 3-4 principles. I expect the paper designation to remain as a 4-3, despite the recent rumors. But it matters not.
The only critical issue is targeting the right pieces this offseason to ensure flexibility moving forward, and it can be done.