Here is ESNY's response to Bill Barnwell of ESPN and his five-step plan to fixing the New York Giants this offseason. 
The New York Giants are coming off a disappointing 5-11 season that involved not making the playoffs. With that, comes a few questions that need to be answered this offseason.
What has to be done with the quarterback situation? Do you look towards improving the defense for the most part in the NFL Draft? How much will the offensive line be addressed? These are all up to Giants GM Dave Gettleman and his front-office staff.
However, for the time being, we can ponder upon these questions as much as we want.
Bill Barnwell of ESPN on Thursday gave his opinion on all 16 NFC teams and a five-step plan on how to fix all of them in the offseason. With the Giants, he addressed those three questions (quarterback, defense and offensive line) along with additional holes that need to be filled in order for the five-step plan to work.
Here is our response to that very plan from Barnwell:
1. Franchise Landon Collins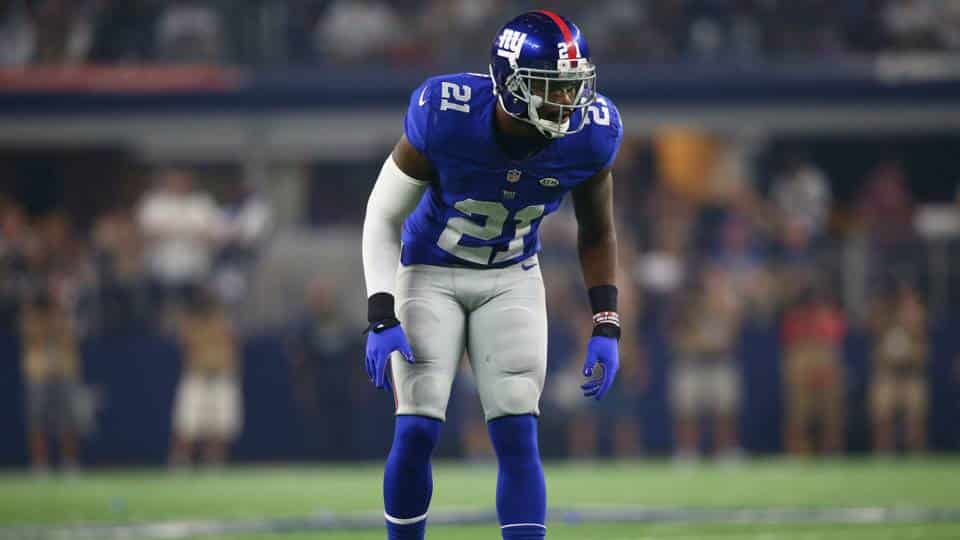 "Losing [Landon] Collins, one of the few young building blocks the Giants have on defense, would be a step backward for a team that already has plenty of problems on offense," writes Barnwell.
Barnwell here is absolutely right. Collins's four-year rookie deal has expired and the Giants need to do something quickly for him to remain in blue for a possible long-term deal next year.
Regardless of Collins ending each of the last two seasons on IR, he's still a top-notch safety for the Giants. Collins has made the Pro Bowl the last three seasons and has shown he's still an issue for opposing defenses. He led the Giants in tackles in 2018 with 96, and he didn't even suit up for the final four games of the regular season.
If Big Blue does decide to franchise tag their All-Pro safety, they would desperately need to find a free safety to play alongside Collins in the secondary. A reliable deep safety in this situation would free Collins up to work more towards the line of scrimmage. The past few years they just haven't had that.
Free safety Curtis Riley only had four interceptions in 16 games for the Giants in 2018. Darian Thompson, on the other hand, had only one pick for the Giants in 2017 through 16 games.
Collins is the Giants "quarterback" on defense, and they need to make sure he's around for a long time.
2. Move on from Eli Manning, and acquire a veteran to replace him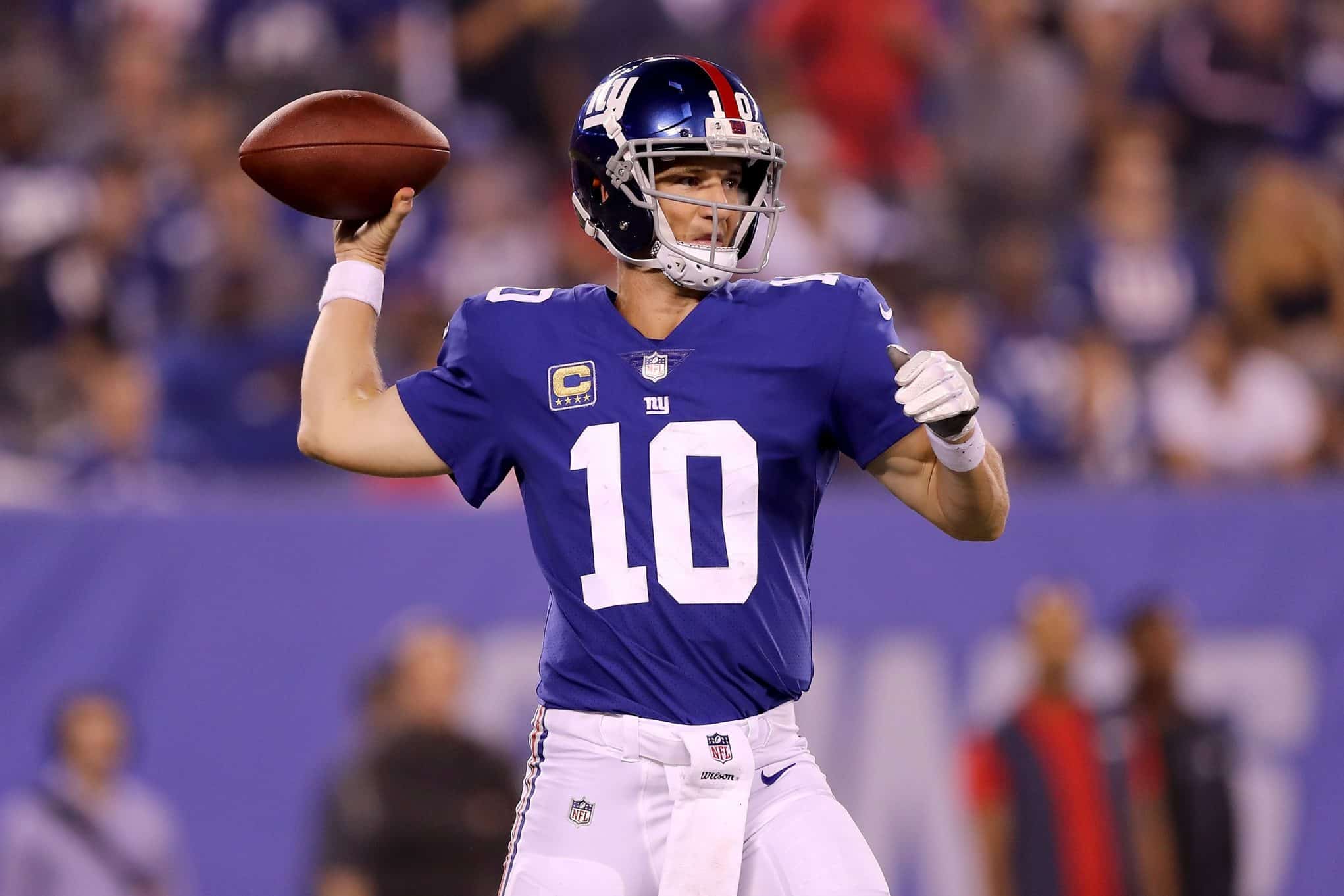 "[Eli] Manning is a Giants legend and deserves to be applauded for the role he played in two Super Bowl victories," writes Barnwell. "He doesn't deserve to be unceremoniously benched midseason, as he was during the 2017 campaign, for Geno Smith. But the Giants need to be realistic about their future, which doesn't involve Manning. They can free up $17 million in much-needed cap space by moving on from him."
No. No point in doing this at all.
If you're going to get rid of a quarterback who is 38 and aging, why would you go to another quarterback who's a veteran? Why wouldn't you just get a young guy in the draft who you can develop?
And who would the Giants even get in free agency? Ryan Tannehill? No. Case Keenum? Absolutely not.
Nick Foles would be the only guy I can think of that would be a reliable starting quarterback. But who's to say he's going to work well in a system other than Doug Pederson's in Philadelphia?
And the Giants don't have to move on from Eli just yet. In 2018 he completed 66 percent of his passes (highest rate of his career) and threw for 4,299 yards (fourth-highest of career). It also marks the seventh time in his career he's reached 4,000 passing yards in a season. Manning also posted a 92.4 quarterback rating, the fourth-highest of his career.
Going away from Manning for a free agent veteran wouldn't make any sense. Don't understand why Barnwell thinks it would.
3. Draft Dwayne Haskins with the No. 6 overall pick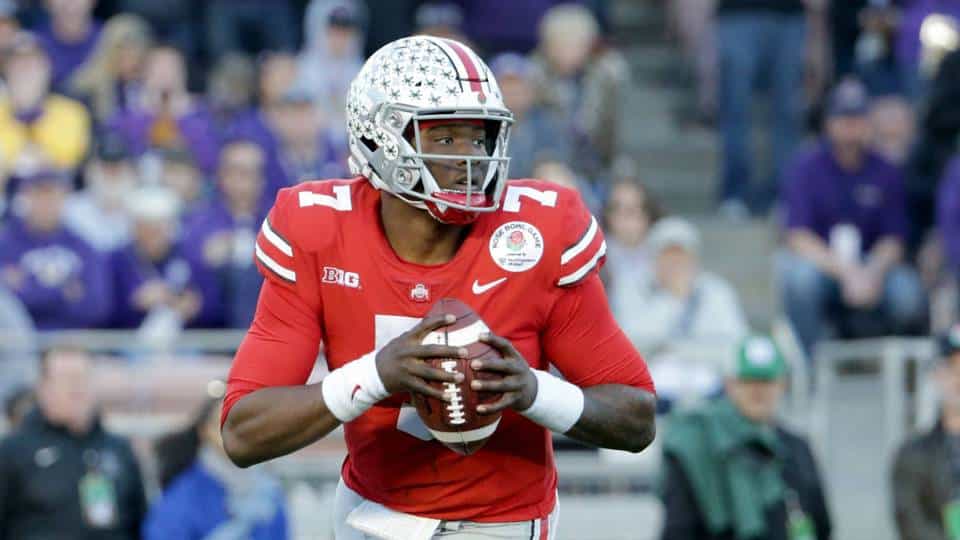 "[Dwayne] Haskins has the physical traits you would want from a quarterback coming out of school, and he was given a first-round grade by the NFL draft advisory board," writes Barnwell.

"The concern with Haskins is inexperience, given that the 21-year-old spent only one year as a starter and threw 590 passes in school."
Now this is something I can get behind.
I understand I like to look more towards the improvement of the defense and offensive line for this offseason, but I do like Haskins. I think he has good size and the right traits for a quarterback coming into the NFL. People favor Kyler Murray out of Oklahoma, but there's an issue with his size. With Haskins, there's no issue when it comes to those regards.
Sure, Haskins didn't have much experience at Ohio State. But when looking at his numbers, can't you just overlook that? I mean, the guy threw for 50 touchdowns and 4,831 yards in his lone season as a starter, both Buckeye records.
Those are NFL-ready numbers, and if the Giants can draft Haskins and sit him behind Manning for a year, he can blossom into the quarterback of the future for Big Blue.
4. Sign Mike Iupati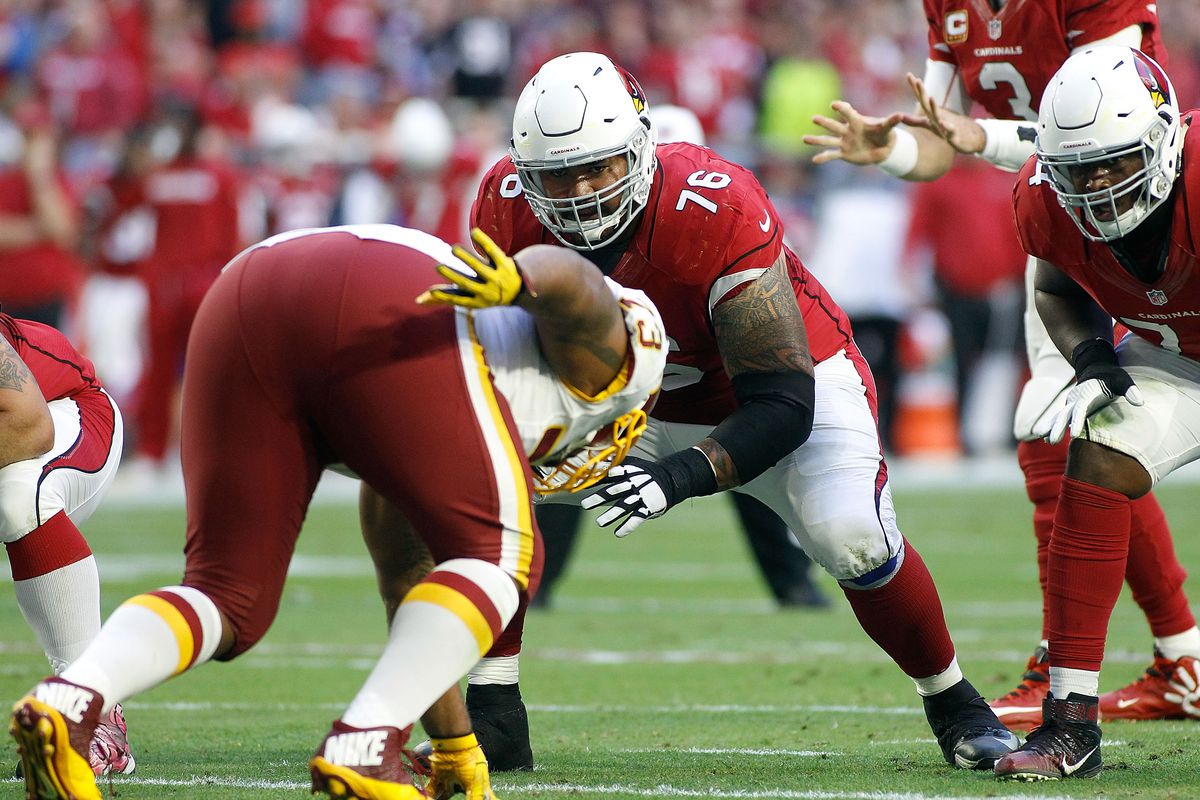 One of the bigger lingering issues going into this offseason for the Giants is their offensive line. It's evident that they need to improve going into 2019. They were ranked 22nd in the NFL with 47 sacks allowed this past season.
The Giants made left tackle Nate Solder the highest-paid offensive lineman in the NFL last March. They signed the former Patriot to a four-year, $62 million deal, and he did not play up to his standards, to say the least. Solder allowed eight sacks this past year; not a great statistic for how much money the Giants are paying him.
On the other side, right tackle Chad Wheeler was worse. Giants fans were just happy about getting rid of Ereck Flowers, but Wheeler wasn't even that much of an improvement.
With a Pro Football Focus grade of 47.1, Wheeler was the worst graded player on the Giants. He was also the worst-graded offensive lineman in the NFL when it came to run blocking.
Now with right guard Jamon Brown a free agent as well, there are a few things to fix with the Giants offensive line. That's where guard Mike Iupati comes in, who could be a target for the Giants this offseason being that he's now a free agent.
"The Giants have a hole at right guard with waiver-wire pickup Jamon Brown a free agent, and while Iupati's tenure with the Cardinals was a mess, there's still physicality and talent there in the running game," writes Barnwell. "A one-year flier could give Iupati a shot to prove he's still a starting-caliber NFL guard."
5. Add help at corner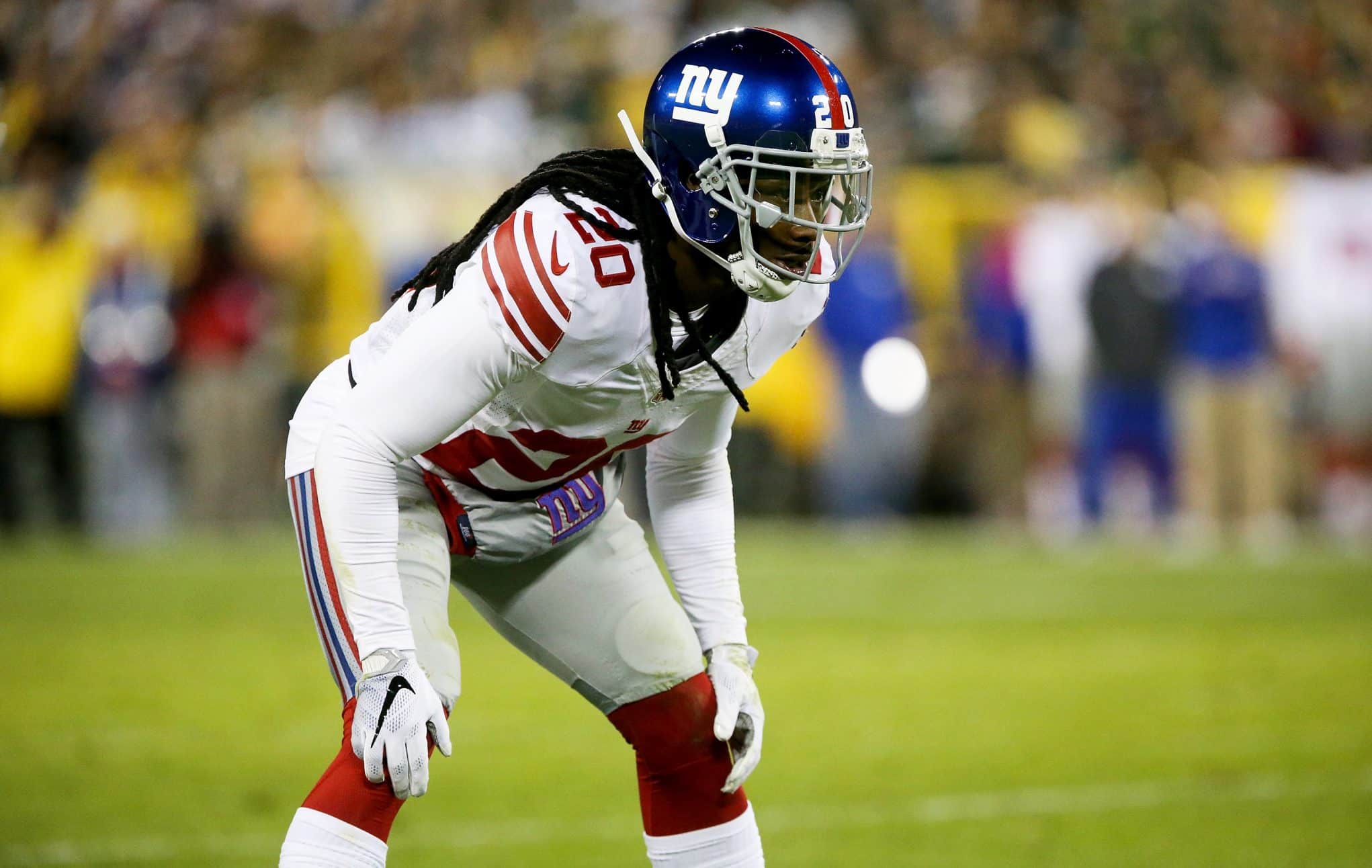 "[B.W.] Webb is a free agent, and while [Grant] Haley didn't completely drown as the team's nickel corner, it would be a huge stretch to count on him as a starter in 2019," writes Barnwell. "Investing in a cornerback to play across from [Janoris] Jenkins is the quickest way the Giants can improve a pass defense that ranked 26th in DVOA last season."
Barnwell is absolute right here. The Giants need help in the secondary. It can't be Jenkins and Collins making every play. Big Blue needs depth at the cornerback position, and quickly.
After trading 2016 first-round pick CB Eli Apple last October, the Giants haven't found their guy at that position. B.W. Webb came in and only had one interception and six pass deflections through 16 games with the Giants in 2018. Not a great statistic for a guy who was named the starting cornerback once Apple left.
And who knows how Sam Beal will be? The Giants selected Beal in last year's NFL Supplemental Draft out of Western Michigan. However, he missed his entire first season with a shoulder injury. Will he be the same guy they scouted last year once he returns to the practice/playing field? No one can tell at this point, and the Giants need to realize that and act upon it.