There's a concise avenue to an offseason plan B for the New York Jets should they completely strike out on big-time EDGE in free agency.

Demarcus Lawrence, Trey Flowers, Ezekiel Ansah, Jadeveon Clowney, Dee Ford, Brandon Graham, Frank Clark. The NFL garden of free agent edge pass rushers is buried with intense anticipation to sprout.
The New York Jets represent the gardeners looking to take advantage.
Recently, I put forth the offseason blueprint to success. It excludes the overvalued (mainly due to position) Le'Veon Bell while focusing on a simple formula that's presented itself to perfection.
The Jets greatest needs are easily identifiable. In fact, it's been this way for several years. It's about the offensive line and edge pass rush.
EDGE:
Loaded class in 2019 NFL free agency.
More of a bust rate via NFL Draft Round 1.
Money-well spent (even if overpaid to a degree).
O-Line:
Never available via NFL free agency. Never.
One of the safest positions to select in Round 1 of the NFL Draft.
Lifts the play of every offensive player on the outside or in the backfield.
Due to the fact offensive line talent is, once again, nonexistent on the market while pass rushers are, the formula is to go hard (even overpay) for edge talent while ensuring O-line talent early in the draft.
The first problem is obvious: the NFL Draft isn't black and white. No team can travel into the draft and force the issue via certain positions in certain rounds.
This is absolutely true.
At the same time, Mike Maccagnan has traveled down such a hard "best available player" path that it's served as counterproductive. Selecting Leonard Williams when Muhammad Wilkerson and Sheldon Richardson were already in-house had 300-plus pound dudes hilariously attempting to play the edge. The notion has also led Maccagnan's tenure to feature just two offensive line selections in 28 total draft picks over four years. (Both picks came in the fifth round, 2015 and 2016.)
There comes a legitimate point in time in which forcing the positional issue is the correct strategy, especially when forcing the issue for a unit that lifts the rest of one unit so drastically is apparent.
There's just one annoying little problem with my free agency = EDGE + offensive line = NFL Draft = Jets success blueprint.
What if the Jets strike out in free agency via the EDGE? It's not just possible, it's probable.
Rumors are already swirling around Lawrence, Clowney and Ansah remaining put in each's respective city. My blueprint has New York snagging (and probably overpaying) Flowers and Graham. What if none are newly-employed in Florham Park, New Jersey?
Plan B
The other issue with the perfect blueprint is that it features a Jacksonville Jaguars Round 1 trade that features complementary assets. For the sake of altering plan B drastically, we'll scratch the idea of a trade-down scenario.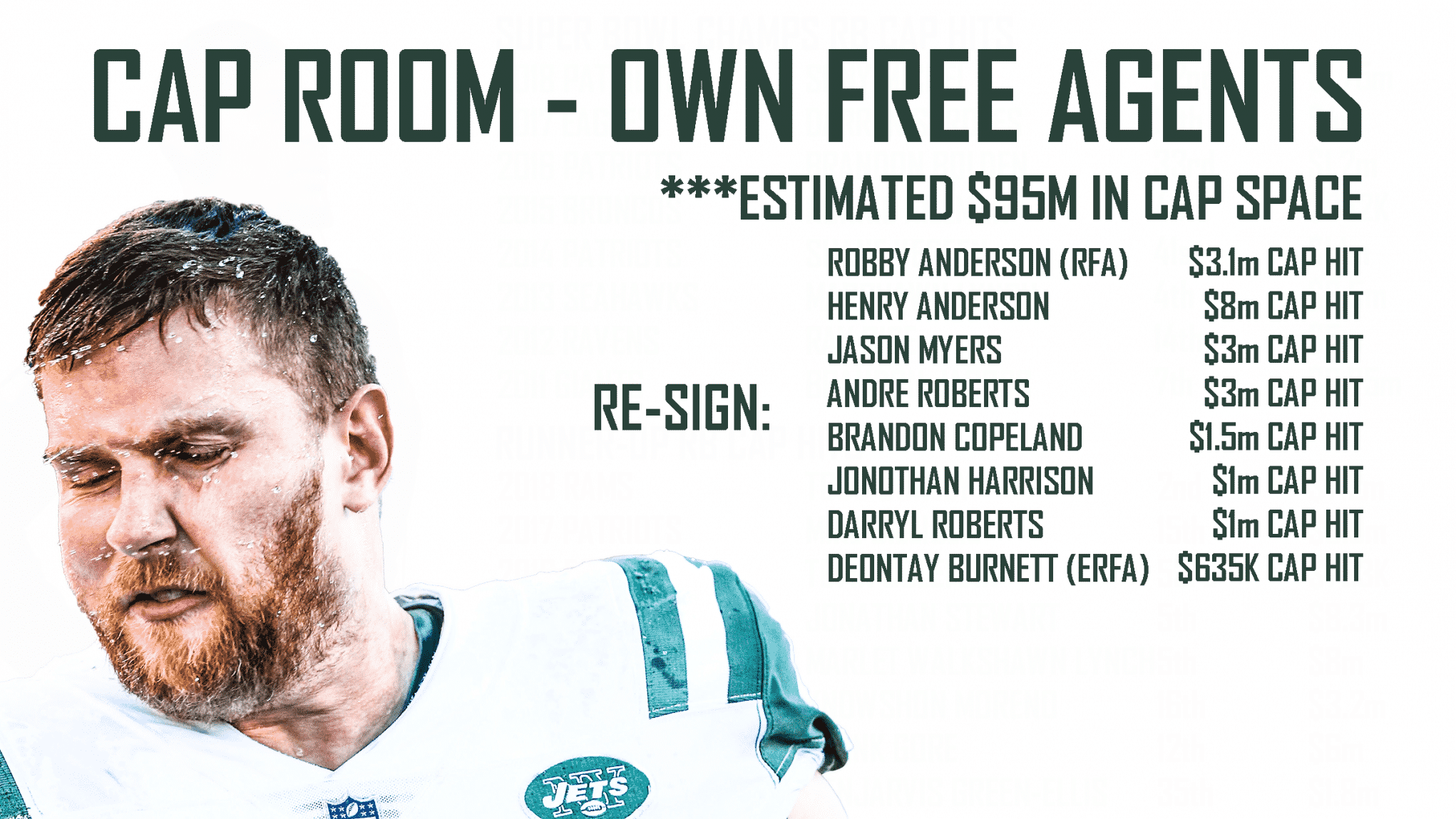 The re-signed plan from the original blueprint remains set in stone. Tender Robby Anderson and re-sign Henry Anderson.
Many would argue Henry doesn't fit the 4-3. It's an incorrect argument. He's a three-to-five technique who doesn't fit due to Leonard Williams's presence. Where he does fit beautifully is in every passing subpackage next to Leo, making for a tremendous interior pass rush.
Folks, we're not in 1988 anymore. The 11 personnel look has taken over the actual "base" look in the league, meaning Anderson will absolutely play nearly three quarters of the game.
What does change via plan B surrounds who's not cut.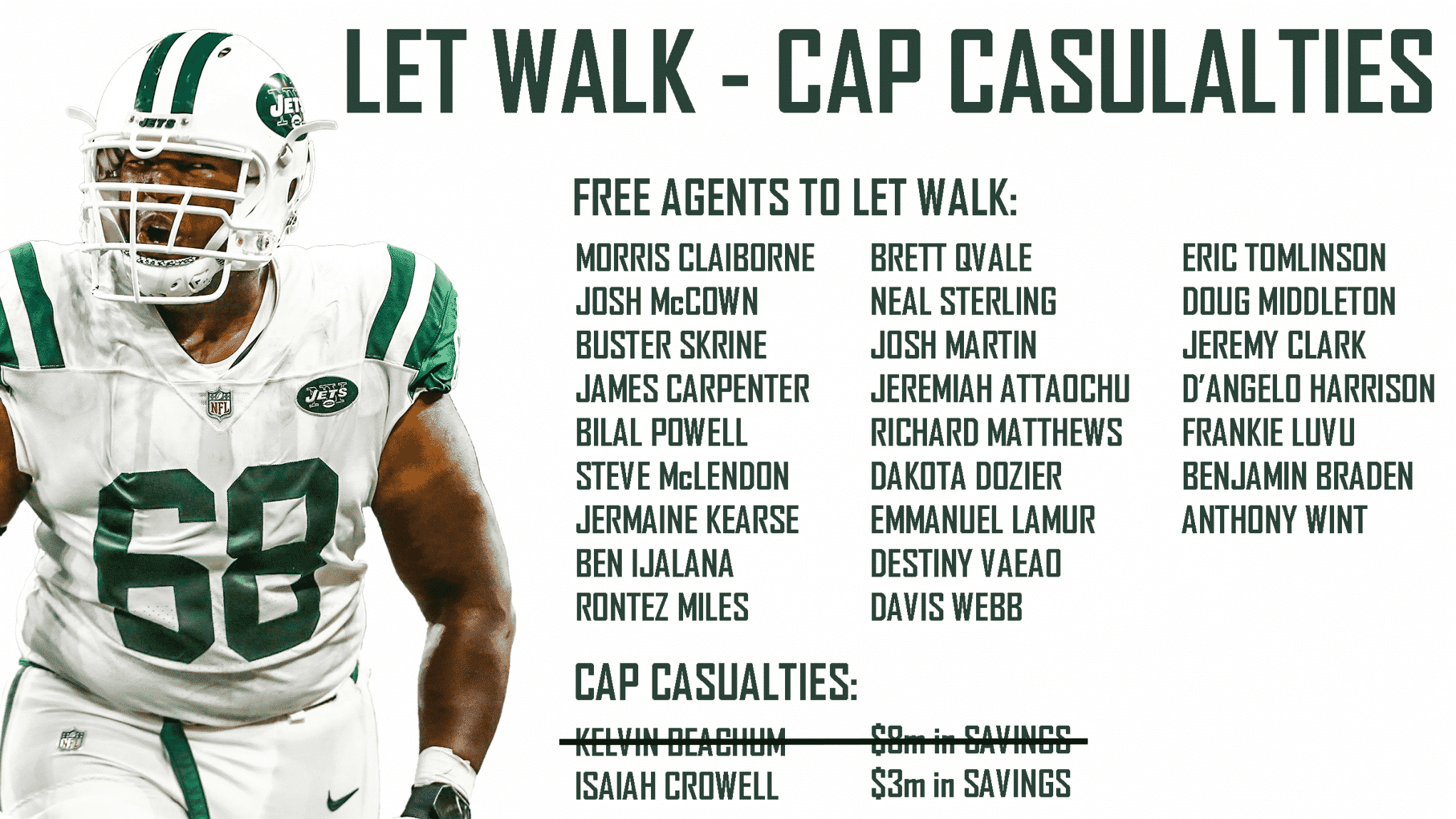 Kelvin Beachum is the only change. In striking out on the big-money edge guys in free agency, it would mean the draft would be needed for a possible edge. Beachum remaining is critical in this situation for assurance.
While I hate the idea of a Beachum-Brandon Shell duo for another year—never a winning offensive ticket—it's the appropriate path in plan B.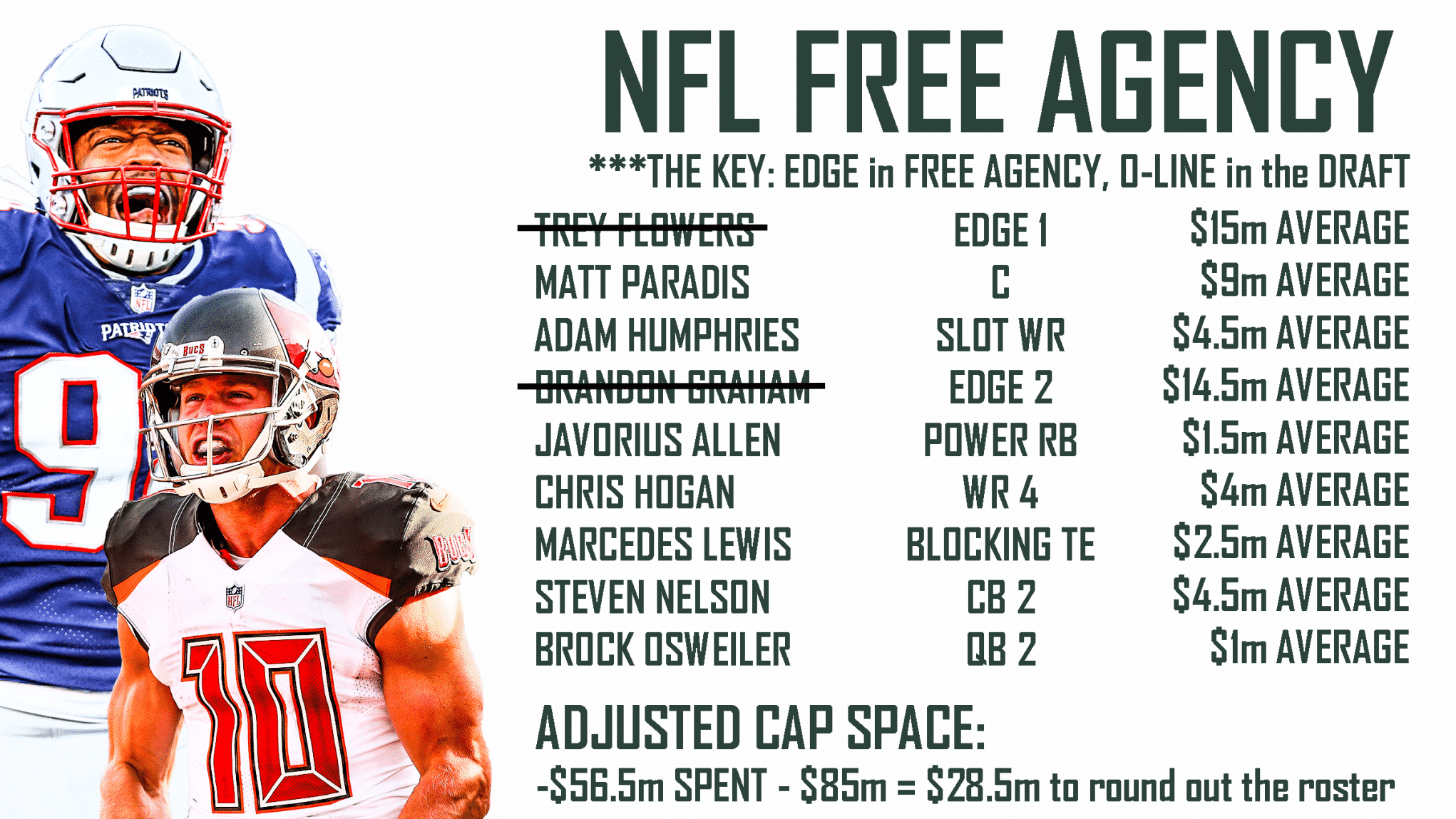 Flowers and Graham are wiped away. Instead, Matt Paradis and potentially a veteran guard such as Mitch Morse or Rodger Saffold become that much more critical.
Replacements in favor of Flowers, Graham:
Za'Darius Smith, EDGE: $8 million cap hit
Mitch Morse, C/G: $7 million cap hit
Za'Darius Smith will not only need to be targeted if the edge big boys don't come available, but he will also need to be overpaid. Collecting at least one free agent edge is crucial.
In having a little extra money to play with, bringing in center/guard Mitch Morse also fits the bill.
In the original blueprint, headed into the draft, New York would have possessed $28.5 million to round out the roster.
Within this plan B scenario, a hefty $35 million would remain. Figure another $10 to $15 million more is spent on rounding out the roster, leaving them at $20 million. That's fine. That's works. There's no reason to empty the chamber this offseason. (Remember, not cutting Beachum adds $8 million on the books.)
And no, Le'Veon Bell is not in my suggested plans regardless of the situation. The NFL running back is one that breeds insane value, meaning a stud can be had in the mid-rounds of the draft or even cheaper by way of free agency. This player is more dependent on the offensive line's production than any other position and unit in all of sports.
He's also simply way too unreliable.
Antonio Brown falls into the same category yet not due to position. He's 31 and requires assets to be relented. Already without a second-round selection, there's just no way it makes sense.
Grady Jarrett is a name I'm seeing float around. At 291 pounds, he makes no sense for big money. He plays Leo's position, the three-technique. What's needed is a one-technique player and there isn't much on the market.
Finally, there's no chance in hell I'm even entertaining the notion of Trent Brown. Dante Scarnecchia may just be the greatest offensive line mind in the history of the NFL. Any ex-New England Patriots lineman serves as the equivalent to a recipe for a disaster.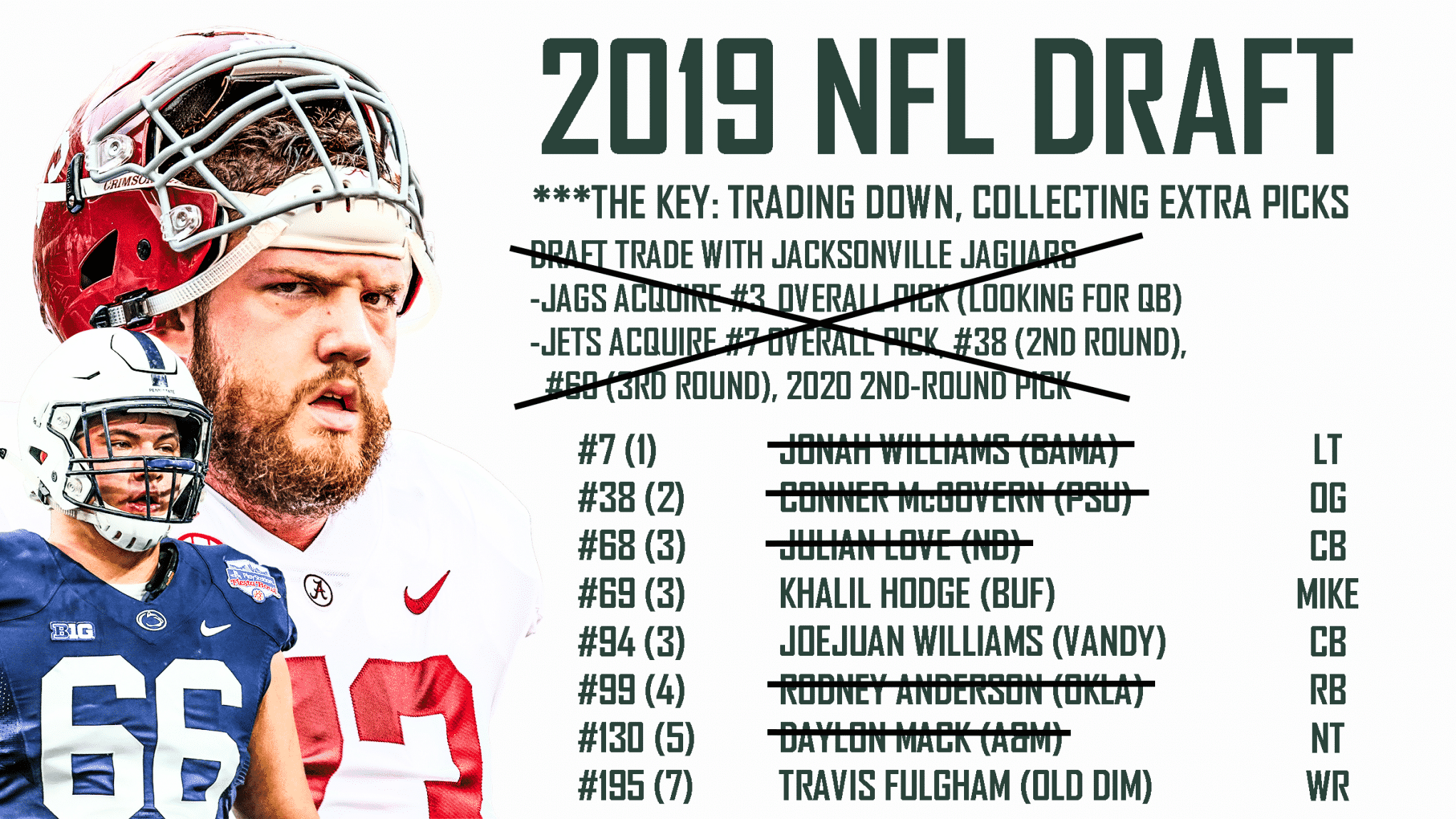 The NFL Draft goal must remain trading down. The stage is set for one of these franchises eager to hop the New York Giants for a franchise quarterback. The assets collected could be major.
Plan B NFL Draft: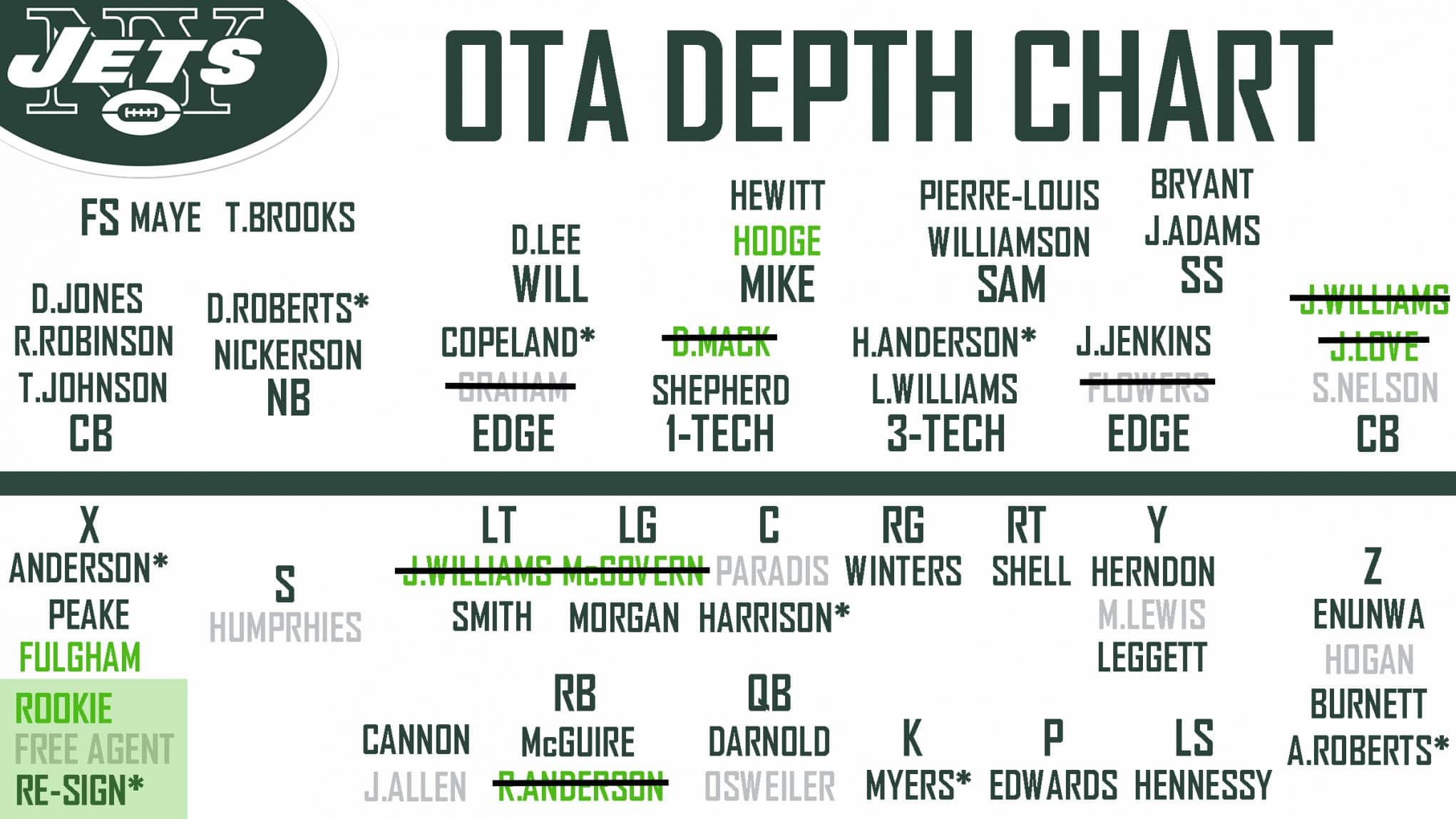 Plan B Depth Chart
Without any of the top edge rushers in free agency coupled with no draft-trade movement, here's where we're at:
RB: Elijah McGuire, Mike Weber, Javorius Allen, Trenton Cannon
WR: Robby Anderson, Charone Peake, Travis Fulgham
SLOT: Adam Humphries
LT: Kelvin Beachum, Michael Deiter
LG: Mitch Morse
C: Matt Paradis, Jonotthan Harrison
RG: Brian Winters
RT: Brandon Shell
EDGE: Josh Allen, Jordan Jenkins
EDGE: Za'Darius Smith, Brandon Copeland
3-Tech: Leonard Williams
1-Tech: Nathan Shepherd, Mike Pennel
Interior Sub: Henry Anderson
WILL: Darron Lee
MIKE: Khalil Hodge, Neville Hewitt
CB: Steven Nelson, Rock Ya-Sin
K: Jason Myers
P: Lac Edwards
LS: Thomas Hennessy
The offensive line is not primetime. Some reading this may say, "What a second. Kelvin Beachum is going to provide more value than any incoming rookie."
Wrong.
A top-10 or even first-round rookie is not just critical for 2019. It's crucial for the decade-long development of Sam Darnold. He needs that young stud to anchor down the line for a long time running. Based on actual bust percentages via draft history, first-round linemen are, by far, the safest.
At the edge, it's definitely drop off from Flowers and Graham yet holds more potential with Josh Allen slotted in.
Overall, the greatest difference is Beachum continuing to anchor that left side of the line. I'm not a fan of such a move. While he may just be the most talented of the group right now, based on age, contracts, etc., he's playing the position that needs change the greatest. Plus, an extra $8 million in cap space isn't too shabby.
An appropriate injection of youth along the offensive line is essential for Sam Darnold and the New York Jets moving forward.
If no stud edges are scooped up in free agency, however, this is the New York Jets most productive offseason route to travel.