Mike Maccagnan and the New York Jets are tasked with a fascinating decision regarding Pro Bowl kicker Jason Myers.

I'll readily admit it—when the dust settled and it was clear that Jason Myers was going to be the opening week kicker for the New York Jets, I was as skeptical of the decision as could be regarding the kicker position.
Free agent Chandler Catanzaro bolted for Tampa Bay, leaving the Jets on the prowl for a new starting kicker.
When they decided on Myers over the rookie Taylor Bertolet, I was enraged. Myers fizzled out in Jacksonville, connecting on only 81.0 percent of his field goals (77.6 percent over his final two seasons) and a ghastly 87.6 percent of his extra points, missing more point after attempts than anybody in the league from 2015-17.
He also struggled in clutch situations. From 2015-17, Myers hit only 12 of 20 (60 percent) field goals to tie or take the lead in the 4th quarter and overtime—36th of 36 kickers with 10-plus tries in that situation.
I thought to myself, "the Jets couldn't do any better than this?"
They couldn't give the young stud a shot?
There wasn't a more reliable vet out there?
Why couldn't they roll the dice on Dan Bailey?
Yet, as we sit here in February, Myers was one of only three members of the 2018 Jets to make the Pro Bowl.
My mouth was shut in the grandest of fashions.
Myers made 33 of his 36 field goal attempts on the season, a sterling 91.7 percent rate that was good enough for sixth best in the league and best among regular AFC starters. His 33 makes tied for third in the league, while he ranked seventh in the league in scoring with 129 points.
Myers' total of 129 points was the second-most ever in a single season by a Jet—Jim Turner dropped 145 in the Jets' 1968 championship season. Myers' 33 makes tied Nick Folk's 2013 campaign for the second-most ever by a Jet, also behind Turner's 1968 season (34 makes).
The Marist College product did all of that kicking from an average distance of 40.53 yards, the sixth-furthest average in the league among the 29 kickers with at least 20 field goal attempts.
It's only the second time in NFL history that a kicker made over 2.0 field goals per game from an average distance of 40.0-plus yards while connecting on over 90.0 percent of his kicks. The only other kicker to do it previously was potential future Hall-of-Famer Justin Tucker.
Myers' total of six 50-plus yard field goals made also tied for the most in the league. His total of 17 makes from 40-plus placed him alone at the top of the league.
Bottom line—Myers absolutely killed it for the Jets in 2018.
However, with the California native hitting free agency, the Jets now have a tough decision to make. Do they buy into his breakout 2018 season and give him the dough? Or, similarly to how they handled Catanzaro a year ago, do they decide Myers' 2018 season was a fluke and move on from him?
Let's take a look back at recent history and see if any examples exist that could help us figure out whether or not breakout kicker performances lead to sustained future success.
We can rewind the clock back a year and take a look at Myers' replacement in Jacksonville, Josh Lambo.
The Jaguars cut Myers six games into the 2017 season after he made only 73.3 percent of his field goals and 88.2 percent of his extra points, failing to bounce back after a poor 2016 campaign.
Lambo took over for the final ten games. He had previously struggled in San Diego, where he missed eight extra points and made only 81.5 percent of his field goals.
Finishing up 2017 for the Jaguars, Lambo hit 95.0 percent of his field goals and a decent 91.7 percent of his extra points, then followed it up with a perfect playoff run as he went four-for-four on field goals and nine-for-nine on PATs.
Lambo followed it up in 2018 with a 90.5 percent field goal percentage and a career-best 95.0 percent extra point rate, missing only one PAT all year.
The Jaguars just recently rewarded him with an extension—so we shall see from here how things turn out for Lambo.
How about some free agent examples from 2018?
While Lambo is a feel-good story, taking a look at the names given big money on the kicker market a year ago rings a much different tune.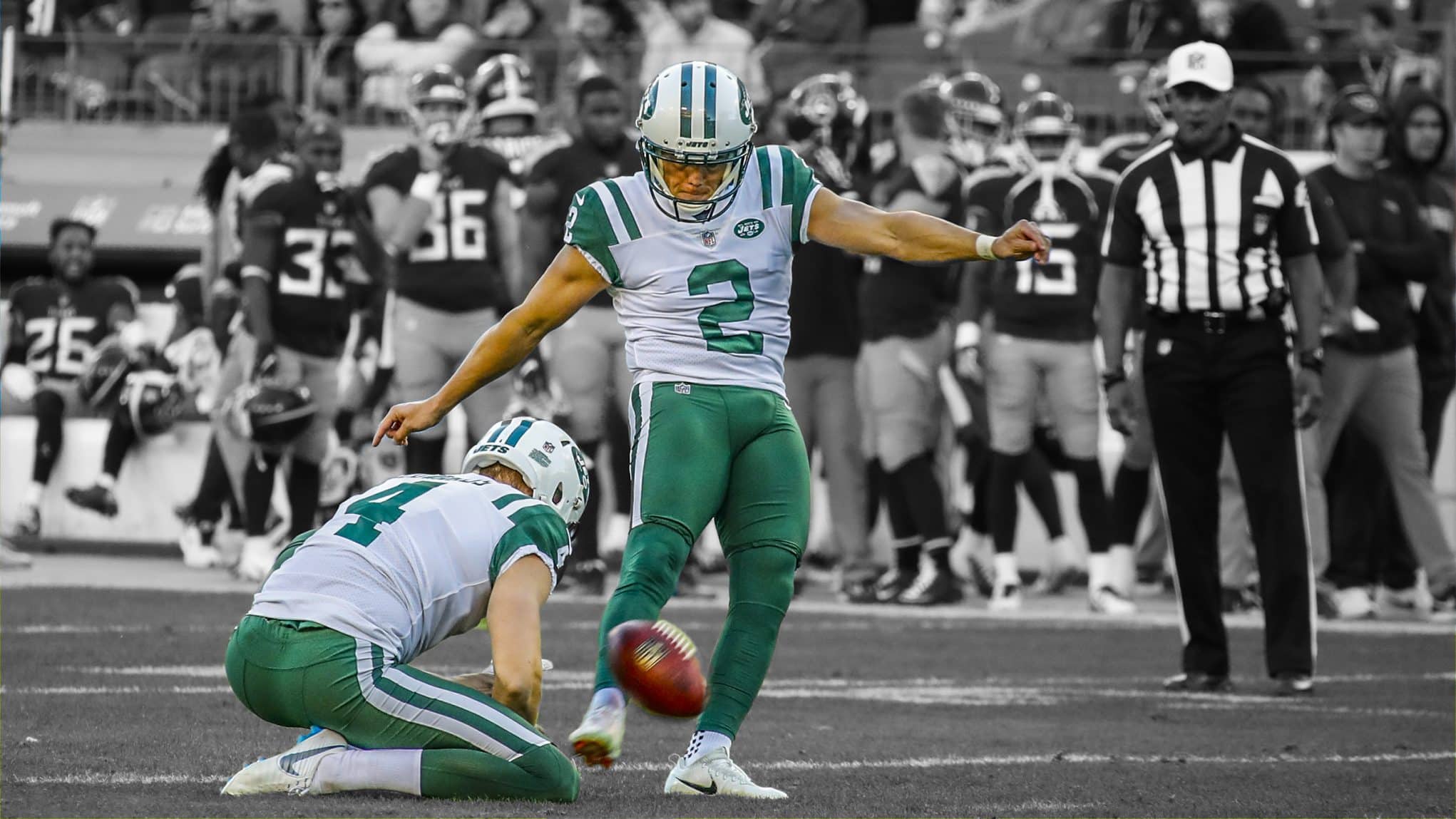 The highest-paid kicker in 2018 free agency? Cody Parkey.
The Bears gave Parkey a four-year, $15.0M deal that made him the ninth-highest paid kicker in 2018.
Parkey, who made a career-high 91.3 percent of his field goals for the Dolphins in 2017, cashed in big on his career year, but failed to deliver.
He kicked a career-higher high seven field goals in his first and only season as a Bear, making just 76.7 percent of his attempts.
The playoffs rolled around, and we all know what happened on that dark night in Chicago.
Doink. Doink.
Parkey is still a Bear as of today. The team will likely replace him – but they will not be cured of his salary cap hit in 2019 due to the $9M they guaranteed him last year.
How about the second-highest paid kicker in 2018 free agency?
That was the aforementioned Jets incumbent—Chandler Catanzaro, who signed a three-year, $9.8M deal with Tampa Bay.
Catanzaro made only 73.3 percent of his field goals and 85.2 percent of his extra points, missing four of each, and was cut by the Buccaneers just nine games into his deal.
The third-highest paid kicker of 2018 free agency was Caleb Sturgis, the former Eagle that was signed by the Chargers.
Strugis played in only one game for the 2017 Super Bowl Champion Eagles, but had a strong year in his previous fully healthy season. In 2016, he made 85.4 percent of his field goals and 96.8 percent of his extra points.
The Chargers gave Sturgis a two-year, $4.5M deal.
He didn't even last half the season in Los Angeles. Through six games, Sturgis had already missed four field goals and an astronomically terrible six extra points, converting on 69.2 percent of his FGs and 60.0 percent his PATs.
Rookie Michael Badgley took over for L.A. and was great, missing only one field goal and one extra point over the final ten games of the season.
So, the Jets have a tough decision to make. Myers was a truly elite performer in 2018. As it was only his fourth NFL season and he will only be 28 years old this season, that run could very well have been a sign of things to come for Myers rather than a blip on the radar.
Still, it doesn't erase the previous three years in which Myers was a major liability for the Jaguars. Until Myers puts together back-to-back strong years, he can't be considered a sure thing.
In my opinion, I'd take the risk and lock up Myers on a front-loaded longterm deal with little money guaranteed beyond the first year and go from there. The Jets are in a cap situation where they can afford to lose out on a tiny bit of extra space in the present to convince Myers to come back on a deal that keeps the team safe in the future.
Bring him back, cross your fingers he can make 2018 the norm, and just make sure you have the flexibility to move on if he bombs.
Who will the Jets bet on? Will it be their in-house Pro Bowler with a checkered past? Or will it be an unproven youngster on a measly deal for peanuts?
Your move, Mike Maccagnan.