Kareem Hunt, complete with heinous baggage, is getting another shot in the NFL. The New York Jets should be grateful it won't come with them.

The New York Jets ended 2018 with four wins but a plentiful supply of hope. With said hope, however, comes great responsibility.
Moving forward, New York's green football squad has perhaps their best shot to end the franchise-defining futility. On defense, Jamal Adams has a shot to become the face of metropolitan football. Sam Darnold can be the franchise quarterback the team has searched for since Joe Namath made his guarantee. The fact remains, though, that even if they do their part 16 times a year, the other 51 players on the active roster must do the same.
This offseason promises a drastic reshaping of the roster. The Jets have plenty of money to spend and those dollars won't be entirely dedicated to bringing their own free agents back, as 37 names from the 2018 squad will hit the market.
Failed roster makeovers have derailed otherwise hopeful stretches in Jets history. Neil O'Donnell, a Super Bowl finalist in Pittsburgh, won eight games in two seasons as a Jets starting quarterback in the Bill Parcells era. At receiver, they turned to another Steelers Big Game participant, this one being the 43rd edition's hero Santonio Holmes. Three career-worst seasons later, Holmes failed to help get the Jets past the conference title game hump and departed to quietly end his NFL term in Chicago. Even welcoming back an old friend back home in 2015 failed to pay dividends, as Darrelle Revis' $70 million return was a disappointing coda to an otherwise legendary Jets career.
Hope reigns in this new era of Jets football, one that has entered the fifth decade of championship-free outputs. But, to cash in, there must be as little turbulence and as little distraction as possible. It's hard to emerge scot-free when it comes to New York football, but the title drought has caused any slight mistake to be amplified fortyfold. To begin this era, the Jets need to eliminate any form of unforced error and distraction. They have offseason money to spend, but they must use it wisely to even start making up for lost time.
Hence, New York was not the place for Kareem Hunt to make his return.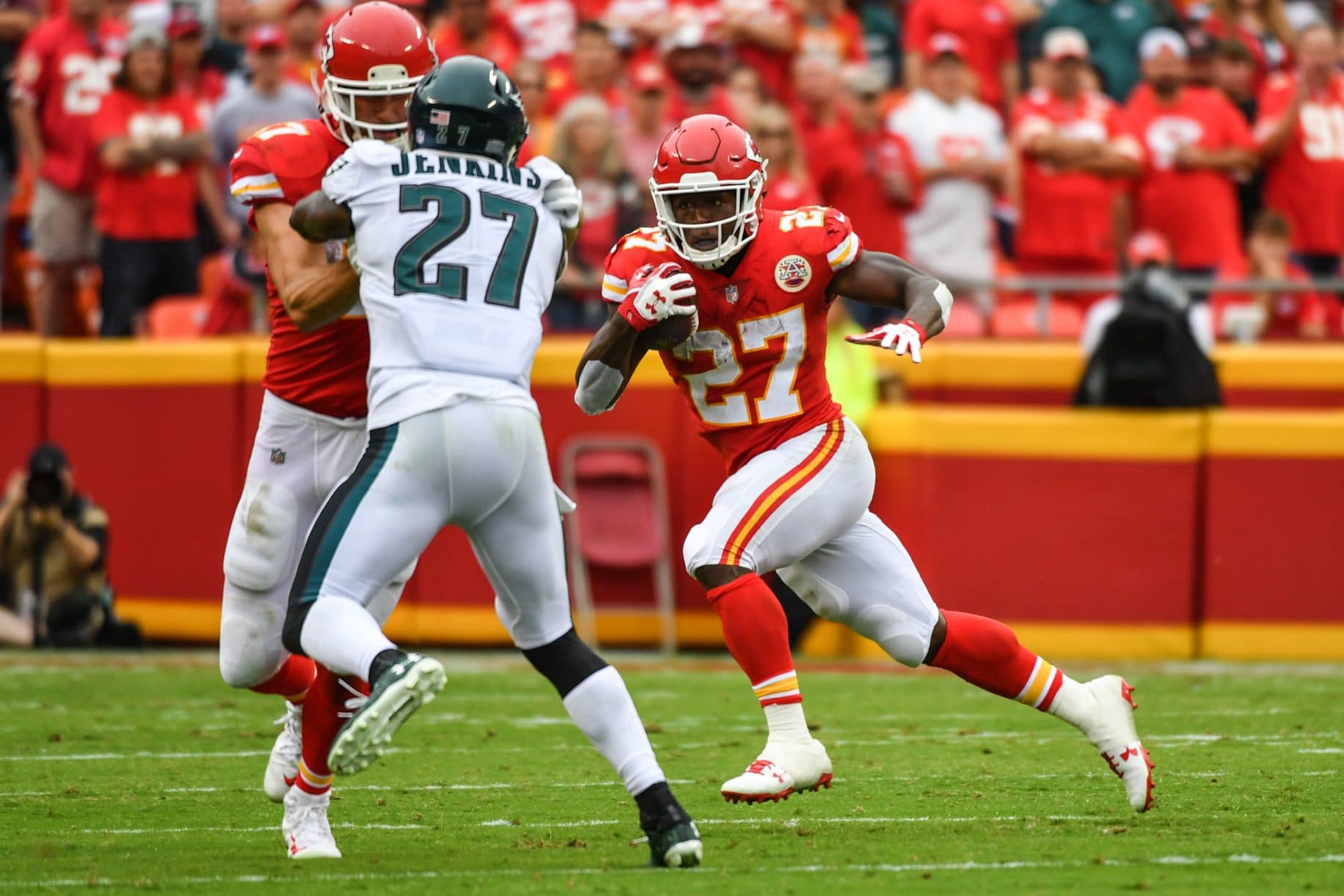 Hunt was the latest case in the NFL's extremely troubling domestic violence saga. In late November, six weeks before his Kansas City Chiefs would partake in the playoffs, a video emerged of Hunt involved in a physical incident at a Cleveland hotel. In the video procured by TMZ, Hunt shoves a female in the video and kicking the victim when she is down toward the end. The Chiefs released 2017's leading rusher shortly after the video's release, citing a lack of transparency on Hunt's end.
Nonetheless, Hunt's name continued to surface in NFL rumor mills. Speculation came to a halt on Monday, when he was signed to a one-year deal by the Cleveland Browns. Upon his signing, Hunt returned to the commissioner's exempt list, where he will remain until an NFL investigation is complete and a very likely discipline in the form of a multi-game suspension will be handed down.
The Jets reportedly said in January that they wouldn't pursue the rusher, but a vocal portion of the fan base felt the potential reward outweighed the guaranteed tribulations that would immediately begin upon Hunt's arrival.
With Hunt entrenched in Cleveland, the Jets no longer have to make that decision.
Even if you believe that Hunt deserves a second chance in this league, the heinous baggage he brings with him still yields fresh wounds. Despite Browns general manager John Dorsey's insistence that Cleveland had done "extensive research" before making the addition, Cleveland.com's Mary Kay Cabot noted that the team didn't reach out to the victim in the video.
The Jets have enough research and development to do this offseason as it stands. Looking deeper into Hunt's past, to discover if rehabilitation and remorse are truly in the cards, wasn't worth his NFL return going through New York. The Jets have plenty of problems and holes to fill as is. Further research on one player that could've been avoided is unnecessary and unneeded headed into 2019.
In his press conference announcing the signing, Dorsey made it clear that Hunt and his activities will be heavily scrutinized. With this second chance comes zero tolerance for further missteps. This is a scenario the Jets cannot afford to be in going into a crucial year of development. Again, there will be plenty of problems to deal with during the season. One more potential calamity is averted with Hunt's Cleveland arrival. The Jets had plenty of issues with chemistry last season. Those problems could only amplify with new names peppered throughout the lineup.
On paper, a Hunt addition could've woke up a dormant offense, one desperate for any kind of traction. The temptation was there, as was the means to bring him in. But in the long run, this is going to be a move the Jets are glad they didn't make.
Fans of any sports team will often dispose of their moral compass to tell you that as long as a player helps the team win, they don't care about prior transgressions. But with Hunt's act still fresh in the mind of casual and hardcore fans alike, the Jets made the right move. They could've made waves, but the next step of their rebuild will be tranquil, at least for the time being.
This football market knows the aftermath of a heinous domestic violence situation, as the Giants dealt with the Josh Brown debacle in 2016. That controversy was part of the Giants' own doing, with the team aware of Brown's activities. The Jets opted not to expose themselves to a similar situation.
The Jets have plenty of problems of their own to solve. Solving yet another, making up for a player's transgressions of the past for a fleeting offensive boost, would not have been wise. There's plenty of time this offseason to find a more permanent solution, one with far less controversy.
With coaches and players already bustling in and out, it's been a busy offseason for the Jets, and it's only February. This time, a lack of a move in an eventful down period was the best way for the Jets to go.
Follow Geoff Magliocchetti on TWITTER