As phenomenal as Saquon Barkley's rookie season was, the New York Giants stud back is poised to have an even better season in 2019.

To say Saquon Barkley exceeded the hype surrounding him after the New York Giants took him second overall in the 2018 draft would be a huge understatement.
Not only did he have the best season ever for a Giants rookie running back, he put forth one of the best seasons by a rookie running back in NFL history.
He became just the third running back to have 2,000 all-purpose yards as a rookie, joining Eric Dickerson (1983) and Edgerrin James (1999). This is why he was named the AP Offensive Rookie of the Year and Pepsi Rookie of the Year.
Along the way, he also set numerous franchise rookie records such as most rushing yards, most 100-yard rushing games, rushing touchdowns, receiving yards by a running back, receptions by a running back, total touchdowns, and yards from scrimmage.
What's your favorite @saquon play from this season?

Relive all of Barkley's greatest moments from his rookie season at https://t.co/LsYwcjkf2X.

— New York Giants (@Giants) February 5, 2019
In addition, his 91 receptions led the Giants and were tied for fourth-most in the history of the franchise.
107 Steve Smith (2009)
101 Odell Beckham, Jr. (2016)
96 Odell Beckham, Jr. (2015)
91 Saquon Barkley (2018)
91 Odell Beckham, Jr. (2014)
Normally, players make their biggest strides from year one to year two in the NFL. So just imagine the Giants coaching staff and teammates salivating over what their 22-year-old superstar running back can do for an encore.
The third running to begin their career with back to back 2,000 all-purpose yards
Barkley has already joined Dickerson and James as the only running backs to have 2,000 all-purpose yards as a rookie. If he accomplishes this feat again, he'll join Dickerson and James as the only running backs to begin their careers with back to back 2,000 all-purpose yards seasons.
Both Dickerson and James amassed more all-purpose yards in their second season than as a rookie. Following his rookie year in 1983 after he had 2,212 all-purpose yards on 441 touches, Dickerson followed that up with 2,244 yards in 1984 400 touches. After gaining accumulating 2,139 yards in 1999 on 431 touches, James gained a total of 2,303 yards in 2000 on 450 touches.
There's no reason to believe Barkley won't surpass the 2,028 all-purpose yards he had last season in 2019. With a year of NFL experience under his belt, expect Barkley to exceed the 352 total touches he had in 2018. As talented as Barkley is, it's not out of the realm of possibility that he comes close to 2,500 all-purpose yards.
Break Joe Morris' franchise single-season record for touchdowns (21)
Back in 1985, Joe Morris set a franchise record for most touchdowns in a season with 21. In today's NFL, offenses rely heavily on the passing game making it difficult for a running back to score 20 or more touchdowns as Todd Gurley was the only back to achieve this feat in 2018 (21).
But if anyone can find the end zone 20 or more times in 2019, it's Barkley.
Barkley found the end zone 15 times last season which was tied for third most in the NFL despite playing behind a shaky offensive line. You can be sure that general manager Dave Gettleman will continue to rebuild the offensive line to make life easier for Barkley and for whoever the starting quarterback may be.
Playing behind a better offensive line while picking up more touches could result in Barkley breaking Joe Morris's single-season mark for most touchdowns.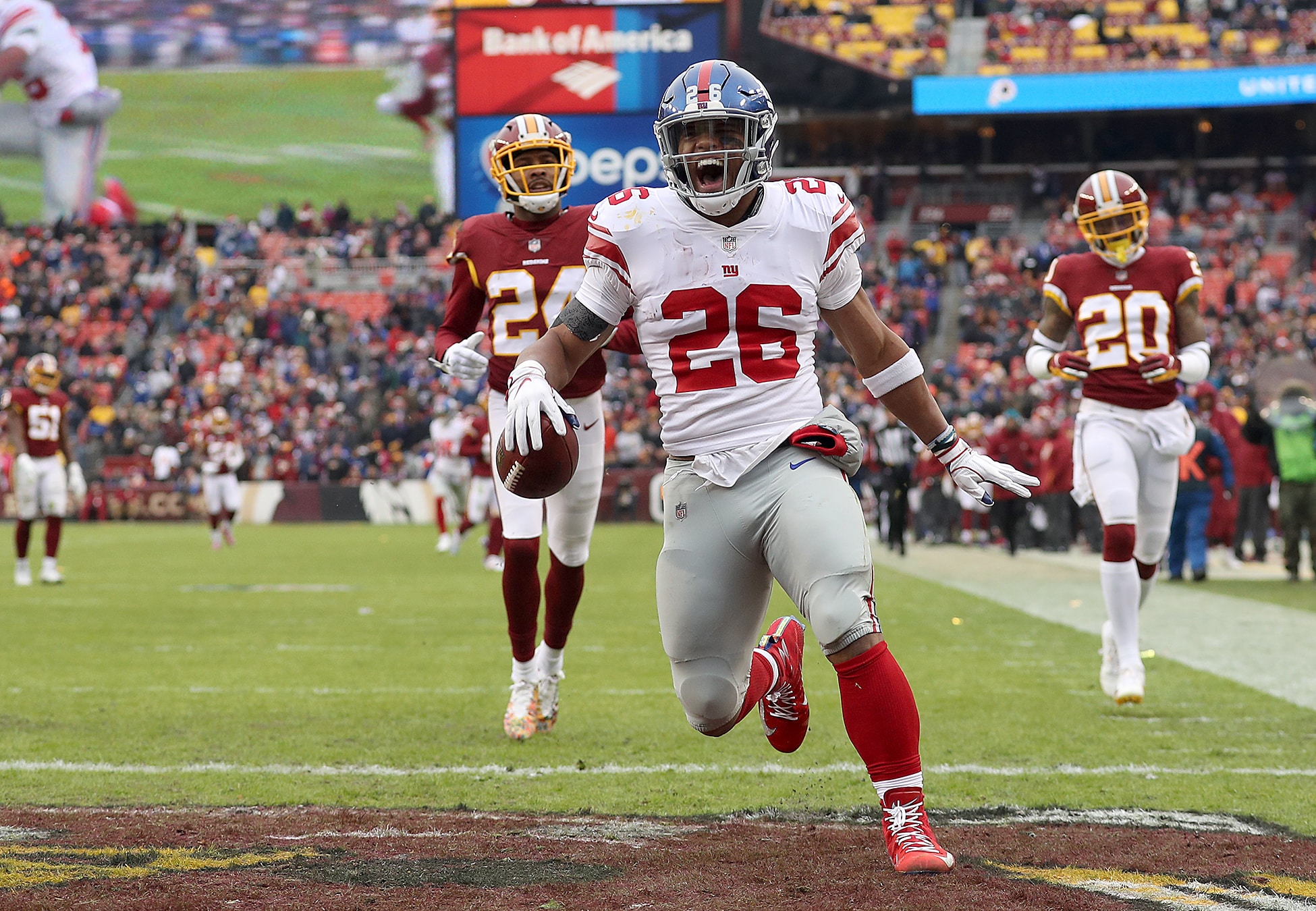 His first 200-yard rushing game
It's only a matter of time before Barkley has his first 200-yard game. He almost achieved this in the Giants 40-16 Week 14 victory over the Washington Redskins where he finished the game with 170 yards on just 14 carries. But with the Giants getting out to a 40-0 lead, Barkley carried the ball just four times in the second half.
The New York Giants are going to rely heavily on the quads of Saquon Barkley in 2019, and as a result, he'll pile up his first 200-yard rushing game this upcoming season.