With Bill Belichick winning another Super Bowl, one could assume his time with the New York Jets helped him mold the New England Patriots personnel.
Yes, everyone, the New England Patriots won the Super Bowl, again. Who would have thought it? After finishing a measly 11-5 during the regular season, the Patriots were huge underdogs against the Los Angeles Rams.
OK, I'm done with the sarcasm. I predicted the Patriots would win, but I was expecting a 28-3 score due to my superstitious nature while thinking more salt would be rubbed in the Falcons wound while in Atlanta.
Instead, it was 13-3. At least I was right on the Rams score.
Ultimately, it was a silly prediction by me. Other than that the Patriots were looking to redeem themselves from last years loss to the Philadelphia Eagles, I really didn't have any game analytics to back up my bold prediction. Why am I bringing this up? Because I have a theory that, like my prediction, does not have stats to back up.
But upon observation, it is plausible that the New York Jets wide receivers of the late 1990s inspired Bill Belichick's ridiculously amazing offense.
First, some background information. Some of you reading this might be too young to remember that Belichick was on the Jets coaching staff. He served as the Jets defensive coordinator under Bill Parcels for three seasons from 1997-1999. The two Bills coached the Jets to the AFC title game in 1998.
Unfortunately, they fell to the Denver Broncos, 23-10.
When Parcels retired, Belichick was the Jets head coach for about 24-hours before resigning to go coach the Patriots, and you know the rest of that story. Just even typing that hurts. Just to imagine what could have been. Representing Jets fandom is a true lesson in pain. Pure unadulterated, excruciating pain. But I digress …
In Belichick's time with the Jets, the offense employed two great receivers. One was Keyshawn Johnson, a guy who played four seasons as a Jet, going to the Pro Bowl in two of them. The other was Wayne Chrebet, second all-time in receptions as a Jet and third all-time in franchise receiving yards.
Now I know what you're thinking. "Jack, what the heck do these guys have to do with the Patriots?" Well, let's look at them side-by-side, in playing style and character.
They were polar opposites. 
First, we look at Johnson. Standing at 6-foot-4, 212 pounds, Johnson was a receiver who you could throw to in a one-on-one situation. Out of USC, he was an athletic stud you could throw the ball up to knowing he had a great chance to jump up and pull it down. Talent wise, Johnson is an ideal wide receiver on the field.
Off the field, he brought TWRDD (Typical Wide Receiver Diva Drama) that is, more often than not, the norm for top wide receivers (Antonio Brown, Terrell Owens, Dez Bryant, etc.). Larry Fitzgerald is one of the exceptions.
In 1997, Johnson published a book called, "Just Give Me the Damn Ball." He penned a lot of frustration, throwing the organization under the bus for a 1-15 season just a year prior. Granted, coach Rich Kotite is now infamous in New York for that incredible record, but to go as far as publishing it in a book after your rookie season is sure to draw unwanted media attention.
Not even Chrebet was safe from Johnson's frustrations. Johnson described Chrebet as the team mascot who would not make any other team. In fact, Chrebet was listed 17 times in the book's index. Imagine if Johnson had waited until after the '98 AFC title game or even the Jets vs. Buccaneers game in 2000 when Johnson was a Buc and Chrebet outclassed him both on and off the field.
Now let's look at Chrebet.
Undrafted out of Hofstra, Chrebet stands only 5-foot-10, 188 pounds. He is not the ideal body type that one would look for in a wide receiver, but what he lacked in size, he made up for in his heart and hard work on the field. Chrebet was a very effective player in the slot, he was a very dynamic route runner and difficult to cover, especially for linebackers. You could almost say Chrebet revolutionized the slot receiver like Lawrence Taylor revolutionized the A-gap. Earning a reputation of being nothing but clutch in key situations, Chrebet earned the nickname, "Mr. Third Down."
Off the field, Chrebet practically never drew attention to himself. All Chrebet had to say about Johnson's book was, "I'm flattered he's so obsessed with me." Bit of a cheeky response, but hardly throwing fuel onto a fire. Chrebet went about his business while Johnson relished in the media attention.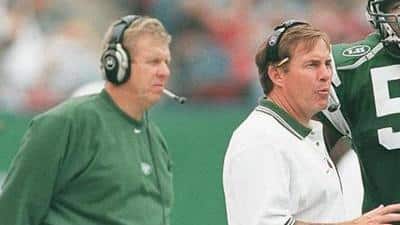 What do these two have to do with Belichick and what he brought to the Patriots? They showed him exactly what he wanted and didn't want in a receiver.
Chrebet is an identical prototype to the many great slot receivers that the Patriots have run on the field over the last decade. Remember, this is a copycat league, and Belichick is kind of allowed to copy himself.
Later on, Belichick took another Jets "non-prototype" player and turned him into a star, but I'll save my Danny Woodhead article for another day. Receivers like Wes Welker, Julian Edelman, and Chris Hogan bring a lot of the same qualities on and off the field that Chrebet brought to the Jets.
Johnson, on the other hand, showed Belichick what he didn't want. While great on the field, locker room drama was something Belichick did not tolerate. To Belichick, the risk was not worth the reward.
This was not always the case. The Patriots did employ Randy Moss for three and a half seasons. Moss and Tom Brady put up legendary numbers together. However, at some point, Belichick knew he could not afford the baggage Moss came with. While Moss did not stir up drama like earlier in his career, there were times when the Patriots disciplined him and eventually traded him.
Belichick took that risk again with Chad Ocho Cinco. That stint ended just as quickly as it began. We will see what happens with Josh Gordon, but he is still in hot water at the moment.
So yeah, after witnessing the drama of Johnson alongside the poise and underappreciated talent of Chrebet, Belichick made up his mind. At some point as the Jets defensive coordinator, Belichick must have thought to himself something along the lines of, "If I were a head coach, I would load my team with guys like Chrebet and try to avoid guys like Johnson." You know what, it has worked for him. Hard to argue against a guy that coached a team to six Super Bowls.
This theory makes sense when considering the types of receivers the Patriots thrive under and their reputation to cut players who don't step in line. Belichick looks for guys who are willing to do all the little things it takes to win. If you aren't, he will send you packing and find someone else who is, no matter how talented you may be. Chrebet was one of those guys who did those little things, Johnson brought too much drama.
So in a small way, the New York Jets may have a tiny sliver of credit for shaping the Patriots dynasty (other than Mo Lewis's nastiness that started it all). Obviously, they do not get a participation trophy—just another stop on the misery tour where fans can only sit and wonder what could have been.