Allen Crabbe and Caris LeVert are reportedly progressing nicely. The good news couldn't come at a better time for the Brooklyn Nets.

Help is on the way.
The Brooklyn Nets have been bitten by the injury bug recently, as players have been dropping like flies. Spencer Dinwiddie had surgery on his right thumb. Joe Harris has been in and out of the lineup with lingering pain in his right hip. Rondae Hollis-Jefferson is currently active but has missed some time since the start of the new year.
As a result, rotations have gotten pretty wonky for the Nets. Brooklyn has been forced to dig deep into its farm system, relying heavily on G-League callups like Mitch Creek, the undersized Treveon Graham, and Theo Pinson.
The results on the court have been less than pretty. Brooklyn has lost four of its last five games. Even worse, Brooklyn's losses have come with an average margin of -10.75 points. Simply put, Brooklyn has been blown out off the court.
However, some good news finally came Brooklyn's way.
The @BrooklynNets have assigned Allen Crabbe and Caris LeVert to the Long Island Nets for practice.

— Long Island Nets (@LongIslandNets) February 5, 2019
Brooklyn is very close to regaining two staples to its shooting guard rotation. Allen Crabbe and Caris LeVert appear to be progressing nicely, as both players practiced in 5-on-5 drills for Brooklyn's G-League affiliate, the Long Island Nets.
LeVert has been out since early November with a gruesome foot injury. At the time of his injury, it was presumed that he wouldn't make a return this season. However, this update confirms the belief that LeVert is progressing ahead of schedule. It suggests that he may step on the court prior to the All-Star break.
LeVert's potential impact for Brooklyn is almost immeasurable. With him back in the fold, Brooklyn would have its best defender. Not to mention, he would provide Brooklyn with a secondary ballhandler. This would be a major relief for the suddenly overworked D'Angelo Russell.
The Brooklyn Nets have looked like a different team since Spencer Dinwiddie went down. Brooklyn has greatly missed Dinwiddie's consistent attack toward the basket. His ferocity provides Brooklyn with the necessary offensive versatility to keep the defense on its toes. It also provides surrounding shooters with the required spacing to launch heat-seeking bombs.
Without Dinwiddie, Brooklyn has attempted to insert Shabazz Napier in his place. Napier has done a good (but not great) job at filling Dinwiddie's shoes. Napier is an excellent third guard, capable of providing an excellent off-the-bounce spark. He's also a great shooter from deep and can provide instant offense in a flash.
However, when given sixth-man or even starting minutes, Napier looks deeply miscast. As a heat check guy, his shot selection is below-average by design. This is fine for Brooklyn when he's their fourth or fifth option. However, when Napier becomes the second or third option, he's a liability to the team. In larger minutes, he becomes a shot-chucking ball-hog.
LeVert can make up for the loss of Dinwiddie and then some. Prior to the injury, it was LeVert (and not Russell) who looked to be the face of the Brooklyn Nets' franchise.
Much like Dinwiddie, LeVert is terrifying to opponents when working off the dribble. With some of the craftiest footwork in the entire league, LeVert has the uncanny ability to slither his way to the basket. He's even a willing passer, tossing 3.7 dimes per game.
To many, he looked to be the second coming of All-Star DeMar DeRozan.
Even though he may be on a minutes restriction, LeVert will give his All-Star teammate, D'Angelo Russell, some breathing room. In many ways, the two players are the Yin and Yang to each other on offense. While LeVert excels at getting to the basket and drawing fouls, he isn't the most reliable outside shooter.
Russell, on the other hand, has been absolutely lights-out from deep—shooting 41.3 percent from three in January. D-Lo's scoring comes from the midrange and outward, but he isn't much of a threat near the basket. If LeVert looks 100 percent, this won't be as much of an issue.
Fans have been waiting in excitement all season long for LeVert and Russell to play together again. Hopefully, LeVert hasn't lost a step and can pick up right where he left off.
Given the similarity in injury between LeVert and Boston's Gordon Hayward, there is some concern about LeVert's vitality. Gordon has looked like a shell of himself this season after breaking his ankle the previous season.
Unlike Hayward, LeVert merely dislocated his foot. He also recovered from the setback in half the time that it took Hayward to return to the floor.
Still, regardless of the severity of the injury, LeVert still has to get over the mental aspect of his ghastly trauma. For many athletes, restoring faith in one's body is perhaps the toughest part of recovery.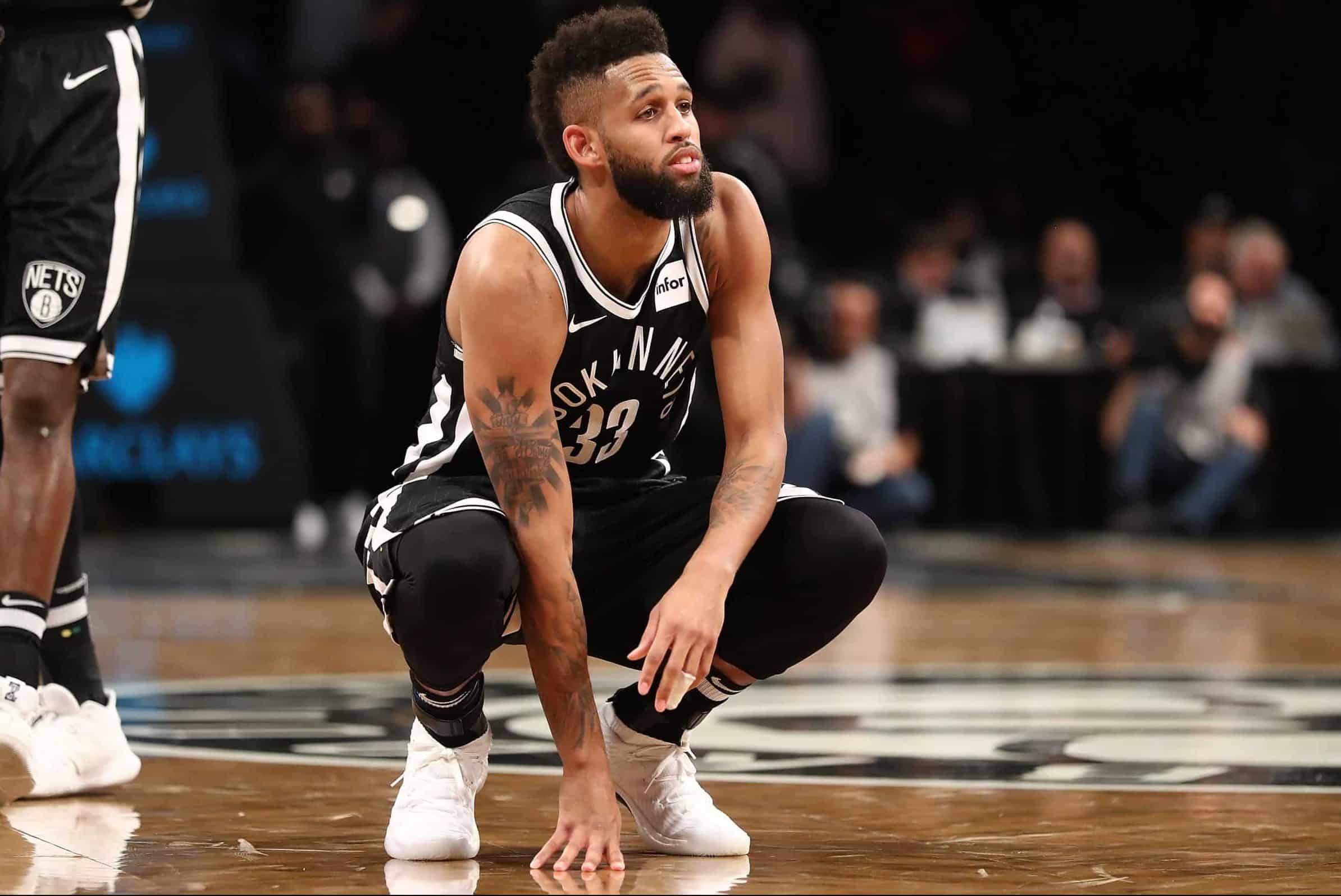 Allen Crabbe's impact should not be overlooked. Even though he's on an atrocious contract, he's still one of Brooklyn's better shooters. Prior to his knee injury, Crabbe was on fire from deep. During December, he shot 52.3 percent from three in six games. He was one of Brooklyn's most reliable players during that period.
Over the course of the last five games, Brooklyn has shot a combined 49-for-183 from deep—good for 26.8 percent. This five-game stretch was highlighted (or better yet, lowlighted) by the team's dismal 5-for-42 shooting night against the Bucks. Five of forty-two! How is that even possible?
For a Nets team that relies heavily on the long-ball (sixth in attempted threes per game), Crabbe's prowess from deep will be a welcomed sight.
Hopefully, these two starting-caliber players will find their way onto the court as soon as possible. Brooklyn is currently in the midst of a pretty tough stretch. After getting eviscerated on their home floor by the league's best team, the Milwaukee Bucks, Brooklyn's next couple of games are particularly challenging.
On Wednesday, Feb. 6, Brooklyn plays host to the Denver Nuggets—the two-seed in the Western Conference. Then, on Feb. 11, Brooklyn will head up North to play the other two-seed, the Toronto Raptors.
Brooklyn will need full artillery to get through this tough set of games. For the sake of this exciting playoff run, Crabbe and LeVert's returns are crucial.