Pavel Buchnevich has yet to find his groove with the New York Rangers begging the question, what else can be done to tap his potential? 

It's no secret; Pavel Buchnevich has not performed up to the standards head coach David Quinn is trying to establish for the New York Rangers.
What is more alarming, though, is the fact that Quinn is the second coach who has yet to get Buchnevich to be the player most fans think he can be. Former head coach Alain Vigneault also had trouble getting Buchnevich to that level, and as a result, Buchnevich saw time on the fourth line or was a healthy scratch. Now under a new coaching regime, Buchnevich finds himself in that very same boat.
Throughout 2018-19, the 23-year-old Russian forward has primarily seen action playing on the Blueshirts' fourth line along with time on the team's top powerplay unit. There he has done most of his damage picking up nine of his 15 points this season. If Quinn has shown anything with Buchnevich, it is that all, because you succeed with the extra man, doesn't mean you are going to more minutes in the top six.
So here we are at Feb. 1 two games after the Rangers bye week and Buchnevich has already been scratched once after not playing in 10 games. It was a rather odd decision for him to be scratched in the Rangers 1-0 loss to Philadelphia, and the Rangers paid for it after losing Brett Howden to injury and only having 10 forwards available. The injury to Howden opened a door for Buchnevich to return, but now the question remains what do the Rangers do with him if Quinn doesn't see the improvement he's looking for?
There is plenty of options Quinn and general manager Jeff Gorton could discuss, and perhaps they've already discussed them? But the goal here is the same as them: trying to get the most out of an extremely skilled forward.
Stay the Course
Staying the course with Buchnevich simply means what it reads, continue to do what you've done so far. That means continuing to giving him time on the fourth line while scratching him after games where he does not give the effort you think needs to be given.
While this tough love approach clearly has yet to work to this point, it is something Quinn has used successfully all season long. He's seen progress from Neal Pionk, Brady Skjei, Filip Chytil, and even Chris Kreider at times showing his team you have to earn your minutes.
The fact of the matter is we truly do not know what's going on inside that locker room. We do not know the conversations Quinn and Buchnevich have had, and we do not know if Buchnevich has taken what Quinn has told him and tried to apply that to his game. By staying the course, the teaching from Quinn will continue, but you can't help but wonder whether or not the message being received anymore.
A Top-Six Role
While this seems to be very unlikely at this point in time, moving Buchnevich to a top six, or even a top-nine, role with more skilled players can possibly do wonders for his game.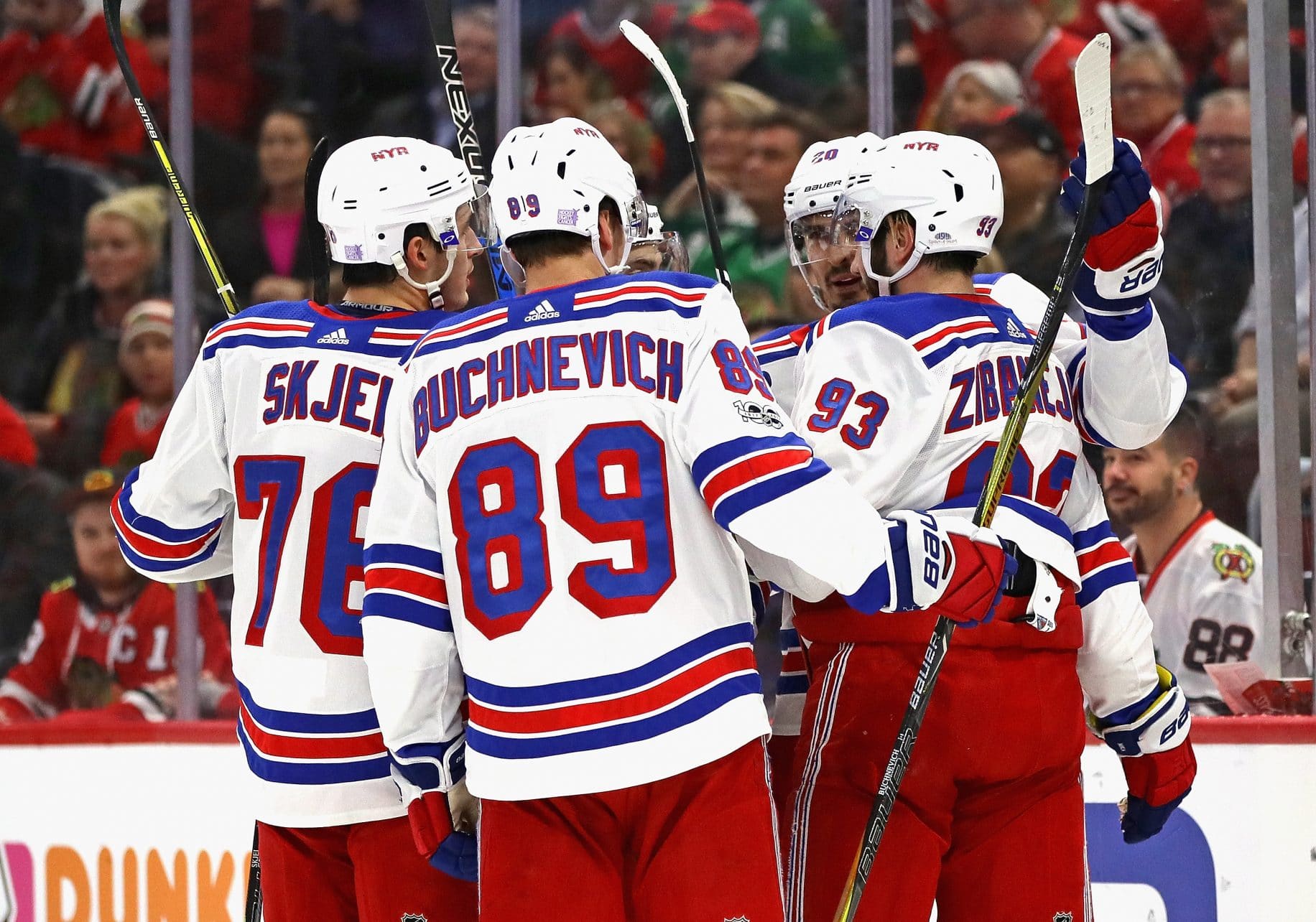 Returning the third year winger to a line with Kreider and Mika Zibanejad could bring out the best of Buchnevich's game from an offensive side, but sends the wrong message altogether. It sends a message that you don't have to work hard in all three zones, to just focus on your strength and the team will have to make up for the deficiencies where you struggle.
We all know that isn't Quinn's style of coaching, but doing this brings another element to the table. Moving Buchnevich to a top-six/nine can show him the team still believes in him and are not quite ready to give up on him yet. Perhaps that vote of confidence does something to Buchnevich and something clicks bringing the best out in his game.
Move On
If Quinn and Gorton feel like Buchnevich simply is not getting the message anymore, it might just be time to simply move on.
New York does not have the luxury of sending Buchnevich to Hartford anymore because he'll have to go through waivers. Should they even attempt to do that, he more than likely would be claimed by another team and the Rangers would lose him for nothing.
Perhaps at the deadline, they could package him along with another piece like they did when they move J.T. Miller in the Ryan McDonagh trade. Now it still seems too early in Buchnevich's career for both sides to cut their losses and move on, but this option should not be completely off the table.
Buchnevich will be a restricted free agent come seasons end, and with New York still in that rebuilding phase moving Buchnevich could bring in a piece that they feel will better fit the plan they have set in place. The change of scenery might also be good for Buchnevich. Let's admit it, sometimes it just doesn't work with a player and the best thing for both them and the team is to move on.
---
No matter how you spin it, Buchnevich has plenty of talent and skill when it comes to the offensive side of the game. What Quinn and the Rangers are trying to do is get him to be more of a complete player overall and that really isn't asking too much of a player.
It's up to Buchnevich to determine the minutes he sees, or if he remains a Blueshirt for the foreseeable future.