With Quincy Enunwa and (possibly) Robby Anderson in tow, the New York Jets will have several free agent wide receiver options this spring.

David Funchess's free agent resume strikes you more as that of a swing-for-the-fences mid-round selection. He's got the size you love at 6-foot-4, 225 pounds, but he just hasn't done enough with it.
Funchess regularly fails to use his god-given physical gifts to his advantage, losing battles for contested balls, dropping easy passes over the middle, and letting corners out-physical him.
In turn, his production matches up. Since he entered the league in 2015, Funchess is 63rd in receiving yards (2,233) and 78th in receptions (161), though he does rank 21st in receiving touchdowns (21).
On the positive side, Funchess's ripe age, as he will only be 25 throughout the 2019 season, is a big-time plus.
Funchess also had a down year in 2018, failing to hit the 600-yard mark. Would it be prudent to make him a top 25-30 paid wide receiver?
I don't think John Brown has received enough buzz as an intriguing pass-catching option on the free agent market. He led the Ravens' run-first offense in receiving yards this past season, albeit with only 715 in total, while his 17.0 yards per reception average tied for fourth best in the league.
Brown, at 5-foot-11, 178 pounds, is an undersized speed threat on the outside. He's averaged 15.03 yards per reception in his career, which is eighth-best among the 53 wide receivers with at least 200 receptions since 2014.
The big question marks with Brown are his age (29 at the start of 2019) and injuries. He played 17 of 17 games for the Ravens this year, but played only ten games the previous year, and had managed to play all of his team's games only twice out of five seasons.
Brown could be a really intriguing buy-low option. He has a 1,000-yard season under his belt, which came back in 2015 with the high flying NFC Championship-bound Cardinals. Among the other options on this list, Golden Tate and Tyrell Williams are the only other players to hit the 1K mark.
Tyrell Williams, who checks in at 6-foot-4, 205 pounds, is a big-play machine. Since 2016, his 42 receptions of 20+ yards ranks 13th in the league. 27.5 percent of his receptions over that span have gone for 20-plus, clobbering the league average of 8.9 percent.
With a career mark of 9.81, he's fifth in yards per target among the 113 players with 200+ targets since 2015, behind only Rob Gronkowski, Tyler Lockett, Tyreek Hill, and Julio Jones.
My biggest concerns with Williams are his versatility and his redundancy to Robby Anderson. Williams has not been very consistent for the Chargers, making plenty of big plays but not being a consistently productive chain-mover. He had zero four-plus first down games this year—even the terribly struggling Jermaine Kearse had two of those.
His skill set is very similar to Anderson's, as both are slender, speedy deep threats who aren't elite in any other area. If Anderson returns, do the Jets see a way to use the two on the same field effectively?
On the plus side, in 2016 when the Chargers lost Keenan Allen for the year, Williams went over 1,000 yards and scored seven touchdowns while ranking fourth in wide receiver DVOA.
Our top three options for the Jets are all primarily slot receivers. Personally, I see this position as the team's biggest need in the wide receiver core. The Jets really lacked that reliable underneath option in 2018. Having a legitimate threat out of the slot will open up a lot for the offense, make Sam Darnold's life a bit easier, and help Adam Gase become more unpredictable as more ways to use his chess pieces open up.
The 5-foot-9, 177-pound Jamison Crowder is a unique slot option. He is not just the classic dump-off or slant threat you expect out of the classic slot receiver. He can make plays downfield.
Crowder worked a lot of intermediate and deeper routes in Washington and accumulated proficient yardage totals for a slot receiver. For his career, he averaged over 11.8 yards per reception on a 67.2% catch rate. The only other wide receivers (minimum 300 targets) since 2015 who are averaging 11.8-plus yards per catch on a 67 percent-plus catch rate are Michael Thomas, Keenan Allen, Adam Thielen, Tyreek Hill, and Doug Baldwin. Hill and Baldwin are the only other sub-six foot players who have done it.
Crowder's question marks are injuries and hands. He missed seven games with an ankle injury in 2018.
Over his first three seasons, Crowder fumbled the ball 12 times, tied for the league lead among non-quarterbacks. Seven of those were as a punt returner, leaving only five of them as a pass-catcher, but that is still a high total over three seasons for a wide receiver. On the plus side, Crowder did not lose the ball a single time in 2018.
I really like Crowder's game. I'd be skeptical to pay a high price tag for a player who hasn't even had a 900-yard season yet, but the tools Crowder brings to the table feel like a very good fit for this offense.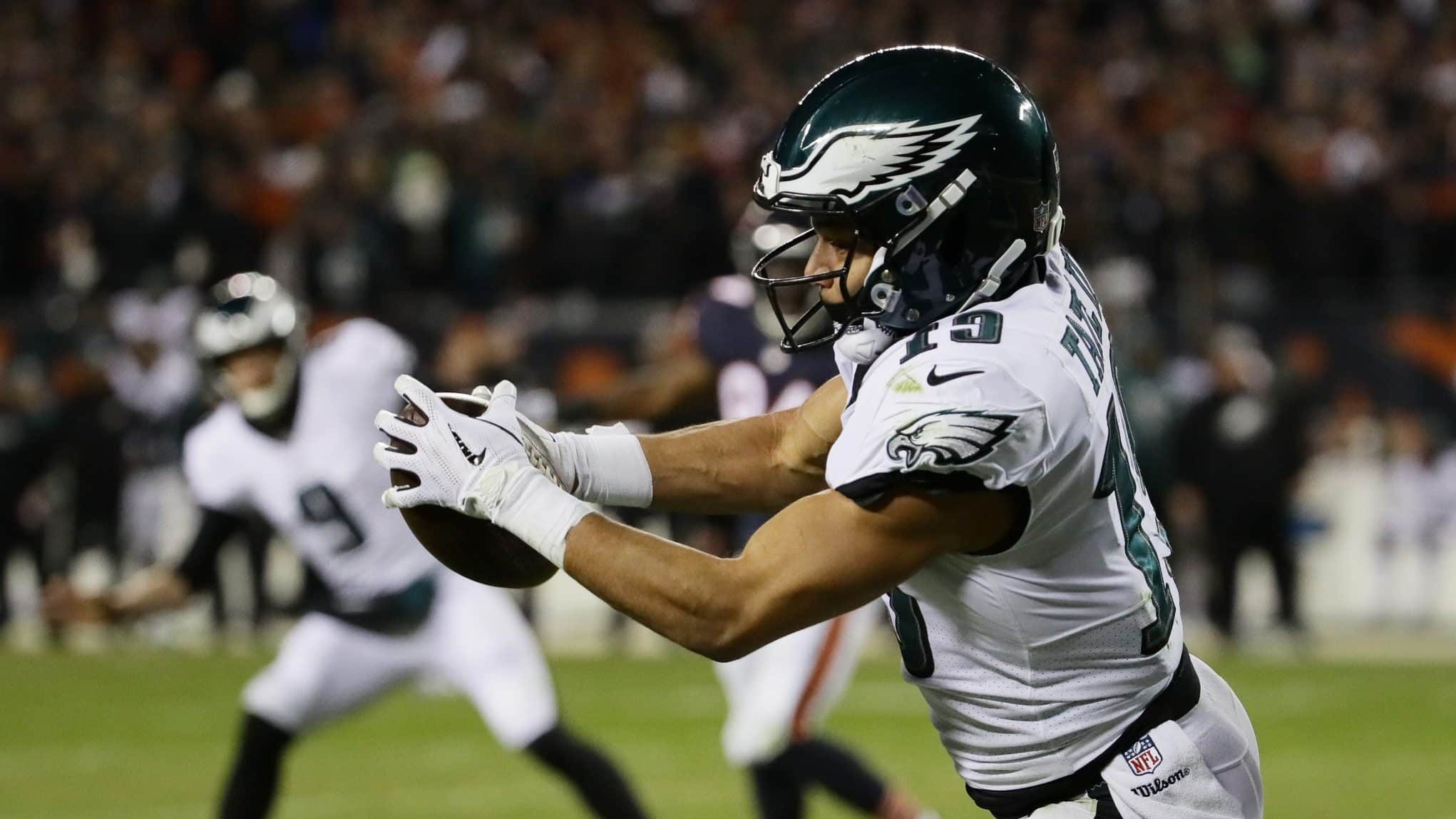 2. Golden Tate ($10.2M/year Spotrac market value)
Tate brings a far more proven track record of production than anybody else on this list.
The 5-foot-10, 197-pound Golden Tate ranked ninth in the league in receiving yards from 2014-17, his four full seasons in Detroit. He eclipsed 1,000 receiving yards in three of those seasons and hit 90 receptions in each of them.
The big question mark is just that dreaded number – his age, as he will be 31 throughout the 2019 season.
In 2018, his age-30 campaign, Tate was right on par with his career production over his first seven games of the season with the Lions. He was then traded to Philadelphia, and his production fell off of a cliff.
Tate averaged only 34 yards per game and six yards per target as an Eagle, scoring only two touchdowns in ten games. His first down rate in Philadelphia was a minuscule 27 percent, while his 82.8 passer rating when targeted was his worst since his rookie season in 2010.
The team who ends up signing Tate will hope he can prove his drop off in Philadelphia was a blip. They will bank on Tate continuing to play into his 30s the way he was playing over the first half of his age-30 season as a Lion when he was posting 6.3 catches and 73.9 yards per game.
Tate's durability gives you some confidence he can do just that. He hasn't missed a game since 2012.
His YAC ability, while the type of trait that you would think could decline quickly as a player ages, is very tantalizing. Tate ranked fifth (2016), sixth (2017), and 20th (2018) among wide receivers in YAC/reception over the last three seasons. He also led wide receivers in forced missed tackles every season from 2013-17.
For every other wide receiver on the market, teams would throw a parade if their man could even scratch the production Tate amassed for the Lions over the course of his first free agent contract.
The question for Tate is whether his early-30s version can even scratch the production of his prime self.
Whoever Tate's next team is, they will be betting quite a substantial amount of dough on him proving there is something left in that tank.
Adam Humphries stands at 5-foot-11, 195 pounds and will only be 26 at the start of 2019. He posted 816 receiving yards in the 2018 regular season, tops among wide receivers on the free agent market.
There are major question marks with every player on the market. That's just the life of free agency. Humphries played with a lot of talent around him on the Tampa Bay offense (DeSean Jackson, Mike Evans, O.J. Howard, Cameron Brate, Chris Godwin) and benefited from the team throwing the ball a ton. However, I think Humphries has a legitimate claim to be a top option for a few reasons.
His efficiency is absolutely terrific. He posted a 47.7 percent first down rate and a 107.7 passer rating when targeted in 2018, both top-15 caliber numbers at the entire wide receiver position. Those numbers improved on his already efficient tallies of 42.4% and 99.0 in 2017.
His production actually comes close to his projected market value. Humphries ranked 18th in receptions (76) and first down receptions (49) among wide receivers in 2018.
He is a great YAC receiver (2nd in YAC/reception in 2016 and top-25 in 2018), which I mentioned should be a key trait for Jets receivers to possess this season under Adam Gase. Humphries is also very reliable on quick curls and out-breaking routes, giving Sam Darnold an outside-the-numbers check down option he sorely lacked in 2018.
Humphries brings impressive consistency to the table. He's been durable, playing 47 of 48 games over the past three seasons, and has been easy to rely upon as a chain-mover. He picked up at least one first down in every game in 2018, and at least three first downs in a remarkable tally of nine games.
On the downside, in addition to the previously mentioned question marks as a beneficiary of the Buccaneers offense, Humphries just doesn't score much. You obviously don't expect a slot receiver to do much dancing in the end zone, but Humphries' eight touchdown catches since 2016 ties him for 65th in the league. That's a low ranking for someone set to command eight figures per year.
All in all, there are very legitimate pros and cons with all of these players. I easily could have chosen anybody out of this top four to be my favorite option. The New York Jets will seemingly be slightly overpaying for somebody in exchange for the reliability that solid starters on the free agent market present.
Who they ultimately target will tell us a lot about what their values will be on offense in 2019.