The 2018 NFL Rookie of the Year award is a two-man race between New York Giants RB Saquon Barkley and Baker Mayfield. It shouldn't be.
As a rule of thumb, any Player of the Year award should always go to the most productive individual player in the eligible group. Defensive Player of the Year, Offensive Player of the Year, NFL Offensive Rookie of the Year; when we're talking "of the Year," we're talking best player. Most valuable is another discussion. With respect to Baker Mayfield, New York Giants running back Saquon Barkley was the best rookie in the league last season, and by a resounding margin. That would ring true on any credible platform, from Elite Sports New York to Elite Sports Ohio (which actually exists).
Still, there's some truth to the narrative that top rookie honors could go either way. The question is why? Outside of it being great for content and dialogue, there are a few (actual) legitimate reasons.
Barkley is a generational talent, most thought so before the 2018 season kicked off. Now that it's in the books, 2,000-plus total scrimmage yards and 15 touchdowns later, it's the consensus. He's real.
There may be about 112 more eye-popping, deep-dive statistics to support that, but if you watch football, you don't need them. Those numbers have been rehashed in everything you've read about the Saquon vs. Baker debate in the last three months, head to Pro Football Focus if you need them again. Your eyes tell you there's almost nothing Saquon Barkley can't do with a football in his hands.
Trust them. The counter?
Mayfield was the "can't miss" number one overall pick in last year's NFL Draft who overcame his environment. Seriously. He got drafted by Cleveland Browns (the Browns Browns) who won exactly one of their previous 32 games and zero the year before he got there. A lot of great college quarterbacks drafted by bad organizations saw their NFL careers derailed right out of the gate. See David Carr.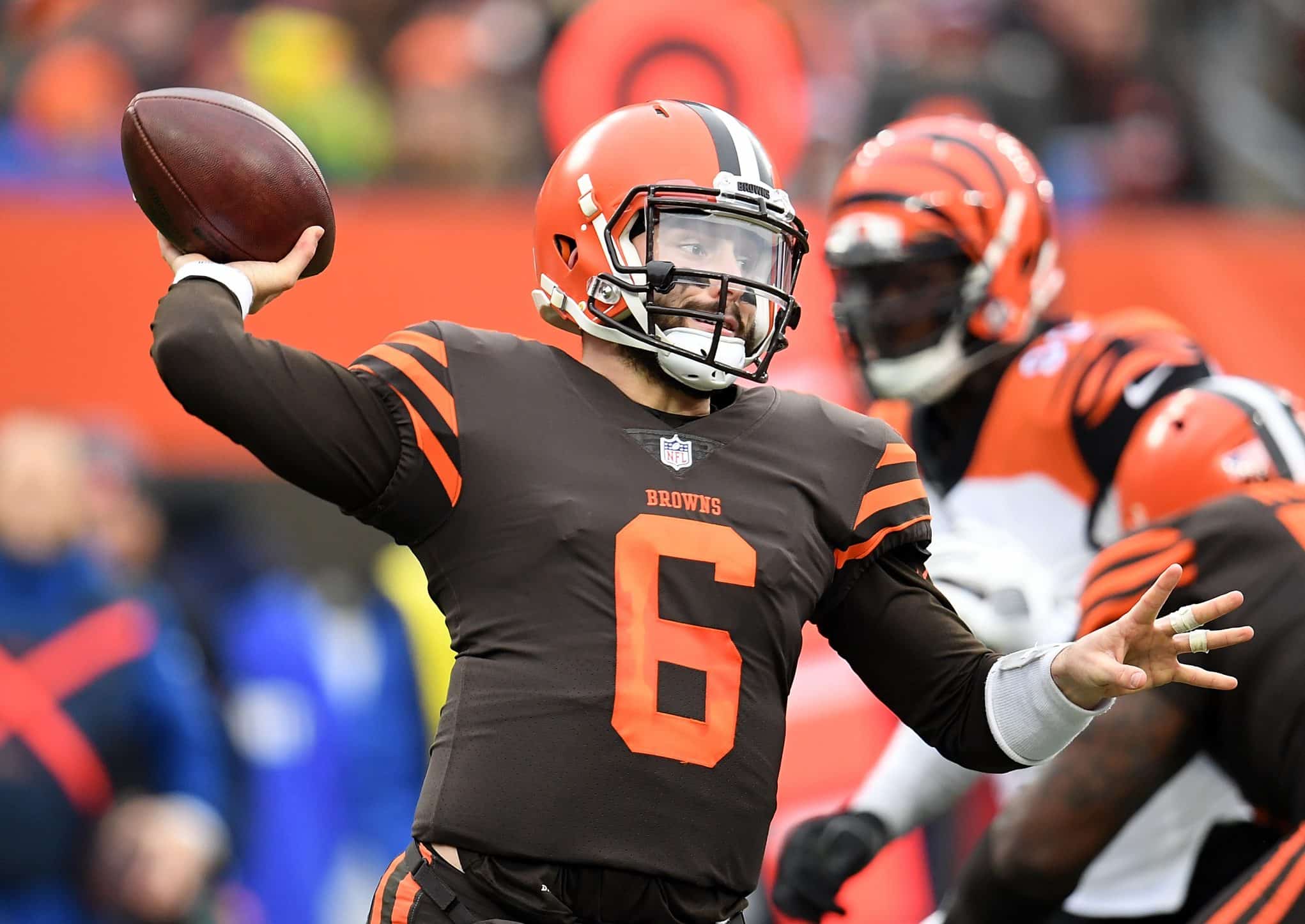 Mayfield didn't just survive in Cleveland, he thrived in Cleveland. He led them to a 7-8-1 record, which almost doubled their total wins (four) from the previous three seasons. This is when the word impact makes its first appearance.
In sports, impact is used to quantify a player's effect on a team when his individual numbers don't stack up. Short story made shorter, impact translates to wins and losses and the Browns won more games than Barkley's New York Giants in 2018.
Whether or not Mayfield was an elite quarterback in year one, and to be fair most at the position aren't, he injected life into a dead franchise. And his numbers weren't unimpressive (3725/27/14 in 14 games), Barkley's just blew them out of the water. The counter counter?
Mayfield's Browns only won two more games than Barkley's Giants. Make no mistake, the Giants were still bad and didn't take any significant step forward in 2018. But Cleveland wasn't some 9-7 team on the brink of the NFL Playoffs. The difference is, after going 0-for-2017, they couldn't go anywhere else except up.
The Browns haven't had a winning season since 2007. The Giants, as down as they've been most of this decade, have won two Super Bowl Championships since then. That isn't to say there was no pressure on Mayfield, there's always the expectation a number one pick plays like a number one pick. Just that there weren't any real expectations for the Browns as a team.
The Giants failing to live up to their own expectations, particularly on offense, shouldn't dim Barkley's star. You can't do any more than he did. He's fresh off of his first Pro Bowl. His name is already near, or on equal footing with Todd Gurley, Ezekiel Elliot and Alvin Kamara as the best backs in football.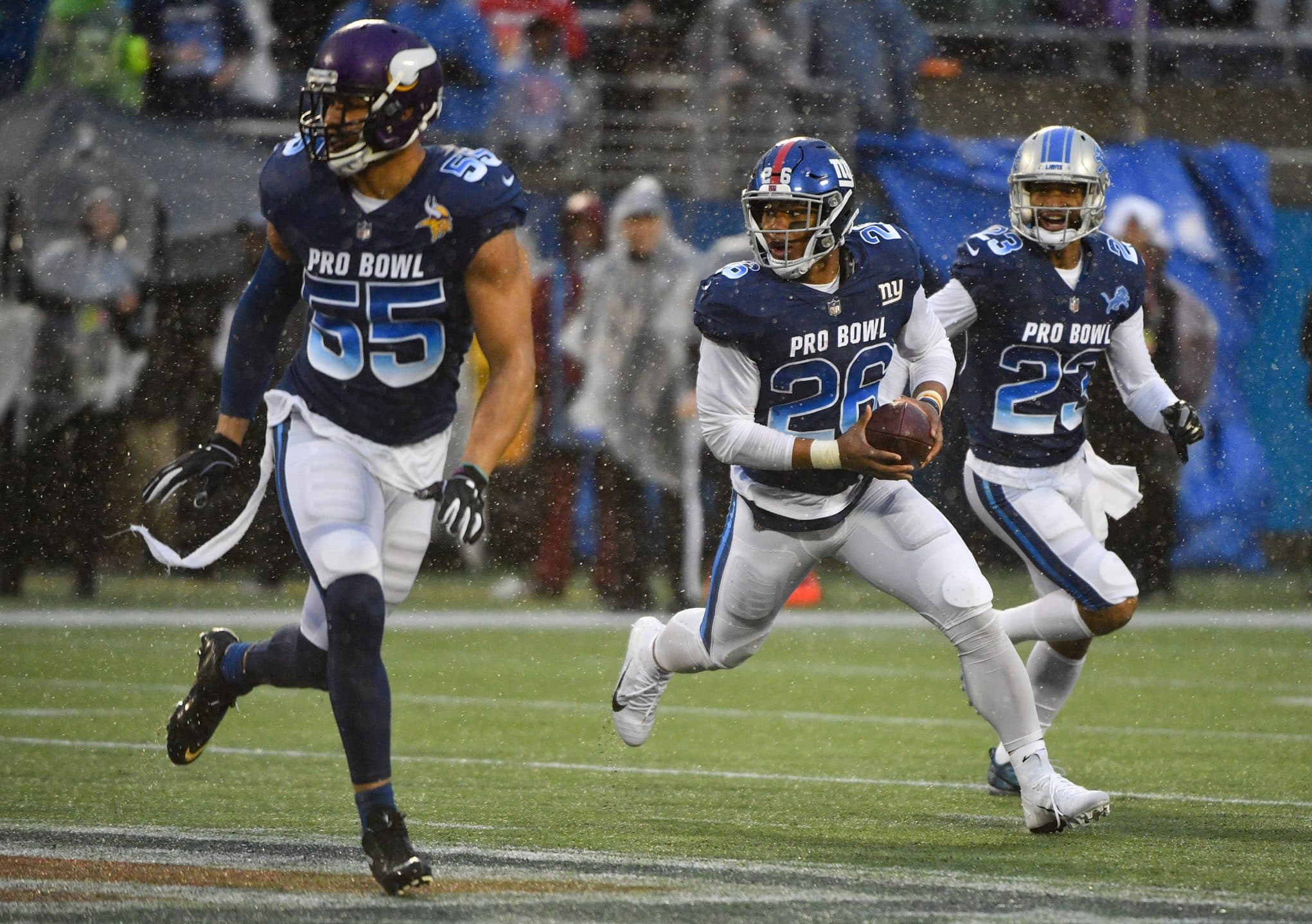 The conversation about where you place Mayfield includes names such as Sam Darnold, Josh Allen and Lamar Jackson. Young, talented quarterbacks with a lot of potential, but not among the best at their position. Not yet. Here's what one unnamed NFL executive had to say when asked to choose between Barkley and Mayfield:
"I'll go Saquon, because they don't have an offensive line and they don't have a quarterback." – NFL.com
Surprisingly, Mayfield outpaced Saquon in Pepsi Rookie of the Week honors, seven to one in 2018. The twist, thankfully, is Pepsi Rookie of the Week is voted on by fans, as is Pepsi Rookie of the Year. And fans love quarterbacks. So much so, that Teddy Bridgewater beat out Odell Beckham Jr. for the award in 2015. Jameis Winston beat out Todd Gurley for it the following year. If Mayfield takes any Rookie of the Year award, it'd be this one.
Beckham (2015) and Gurley (2016) did win the one Rookie award that matters, the Associated Press (AP) Offensive Rookie of the Year. The AP won't play both sides, they'll make the tough decision and usually get it right.
Contrarily, Pro Football Weekly and the Pro Football Writers of America took the easy way out when they named Baker their 2018 overall Rookie of the Year and Barkley their Offensive Rookie of the Year. Because, you know, impact.
Mayfield may lead the argument for Most Valuable Rookie, based purely on the Browns' reawakening. But if impact and record is your end-all, be-all, one could make a decent argument for New England Patriots rookie Sony Michel. Sure, he has Tom Brady, but his team won more than Cleveland and he made significant contributions to them doing so. They're playing on Super Bowl Sunday too. Is that not impact?
Not to get too far off-track, but that's exactly what "impact" does to a conversation. It rationalizes a feeling and gives it more credence than what you're actually watching. Reserve impact for the MVP race, and even then it's a touchy subject. Trust your eyes here. Saquon Barkley was the best rookie in the NFL from start to finish in 2018, and the obvious choice for Rookie of the Year.