It's been a while since the New York Jets have had a reliable face of the franchise on the field, but Jamal Adams is that long-awaited man.

For far too long, the New York Jets have been a team without a face. They've come close, sure. Rex Ryan had the spotlight for a good while, fueled by bold declarations and HBO's cameras. It might've been Darrelle Revis, had the shutdown corner not absconded off to New England for a season, winning a Super Bowl in the process. Mark Sanchez graced a GQ cover after a pair of AFC title games and fell off the face of the earth.
Those are ghosts of New York Jets' past. Enter Jamal Adams.
Sunday's Pro Bowl, a rare sign of the NFL's mortality, doesn't mean much in the grand scheme of things. A bunch of NFL stars, coupled with countless replacements who filled in for players either injured, indifferent, or playing in a different Bowl game next Sunday, descended upon Orlando for a backyard toss disguised as an all-star game.
Its lone effectiveness is catering to the fans through interaction, antics, and friendly competition. In that regard, no one completed that task better than Adams.
Contrasting the Pro Bowl's reputation of pax football, Adams ran around the Orlando fields like a child on Christmas. No fan's request went unfilled, even those of his closest rivals: the Florida Gators and New England Patriots. The latter's fans did get an entertaining, yet painful, reminder of rivalry when Adams laid out their grinning mascot, delighting NFL-worshipping tourists sick of New England's dominance.
And here's the hit from Jamal Adams on Pat Patriot. From his own twitter handle. @ABC6 #patriots #everythingwegot pic.twitter.com/BFslhgo0hl

— Ian Steele (@ISteeleABC6) January 24, 2019
When the game itself was finally played, Adams was the rainy afternoon's biggest winner. Breaking loose from the de facto two-hand touch antics that define the exhibition, Adams laid down a big hit on NFC quarterback Mitchell Trubisky on a botched flea flicker. Two plays later, Adams again snuffed out NFC trickery, intercepting a throw from Adam Thielen.
When all was said and done, Adams stood alongside the league's offensive breakout star, Kansas City quarterback Patrick Mahomes, in accepting positional MVP awards.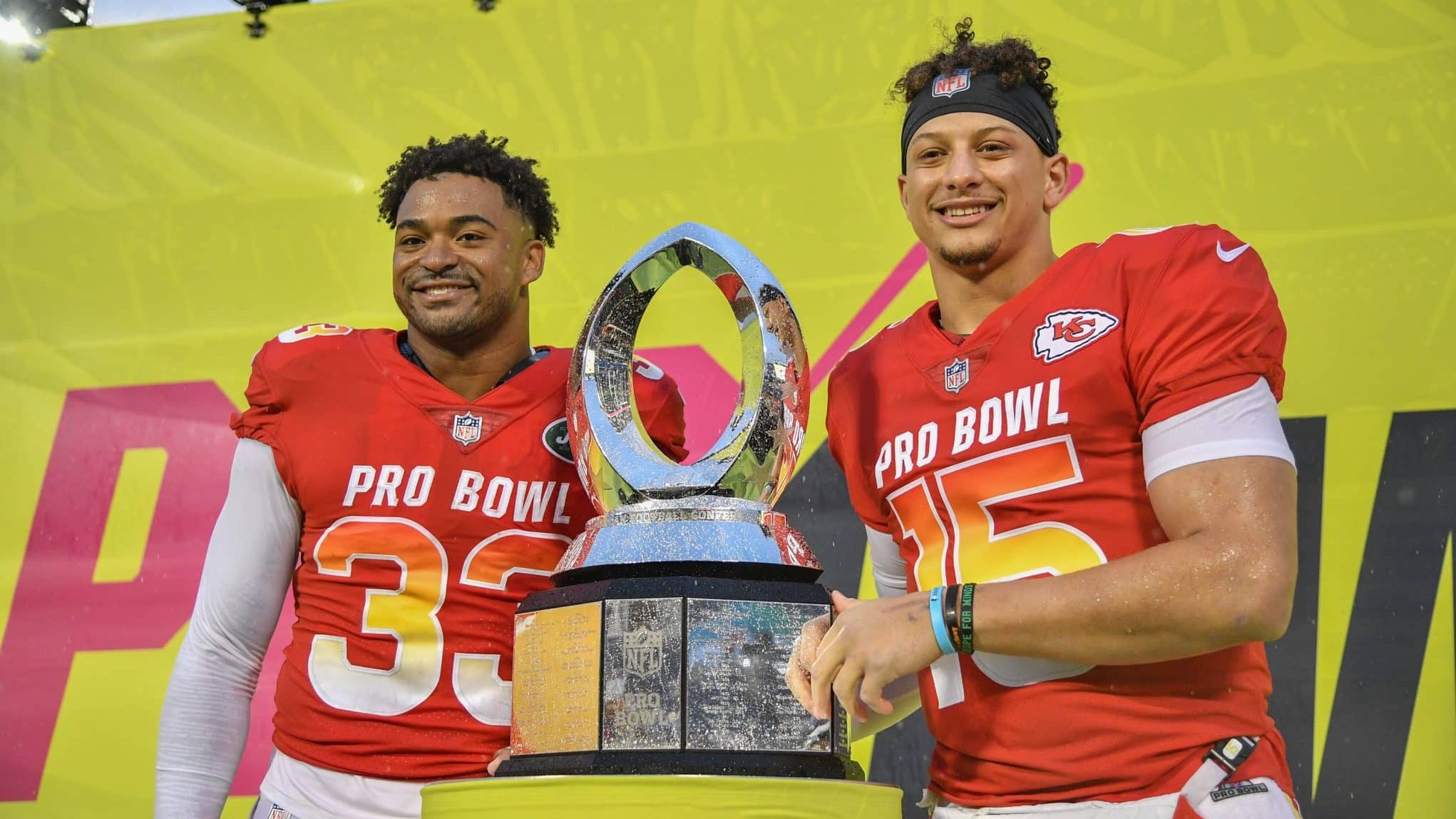 Standing next to the potential league MVP, the message is clear, if it wasn't already: a New York star is born.
New York, or New Jersey, professional football is in a state of disarray. Over the past two seasons, the Jets and their blue counterparts have won a combined 17 games. There needs to be a leader, a symbol of hope to lead the teams out of the abyss of losing. Those named as potential godsends either aren't truly ready (Sam Darnold, Saquon Barkley), labeled capable yet unreliable in the eyes of critics (Odell Beckham Jr.), or desperate reminders of the past that have outlived their elite days (Eli Manning).
The established Adams is the ideal candidate.
In just his second season, Adams has established himself as the head on-field architect behind the Jets' most recent rebuild. Obviously, no one in the Jets' locker room active seeks defeats on Sunday afternoons. Adams, however, has been far more vocal about it.
"We're going to figure it out," Adams vowed after the loss to the hated Patriots in November. "Do I know when? Do I know the timetable? No, but all I can continue to do is do my part as a leader on this football team, just do my job and help those around do better."
"My faith is strong. If you never know how to fix a problem, you lean on the man upstairs. Every time I start something in life, period, I don't lose. You can get knocked down 20 times, but at the end of the day, you got to get back up, it doesn't matter."
Adams never called anyone about by name, but includes himself in a general sense of change throughout Jets football. That was perhaps best on display prior to the Jets' December rematch with the Buffalo Bills.
The first 2018 meeting with Buffalo was marked by pure humiliation, a 41-10 shellacking that featured a career-best day from Matt Barkley, a successful fake punt, and an offensive tackle scoring a touchdown, all at the Jets' expense. No one wanted to put further emphasis on an otherwise meaningless December matchup, but Adams wasn't afraid to call it what it was.
"I'll cut to the chase: it's personal," Adams declared leading up to the game. "They came in and they whooped us. They don't like us, we don't like them. It's going to be a tough battle."
The team would go on to respond to Adams' challenge. They would erase an early 14-0 deficit and use a strong defensive performance to pull off a 27-23 victory, punctuated by the defense intercepting Bills rookie phenom Josh Allen.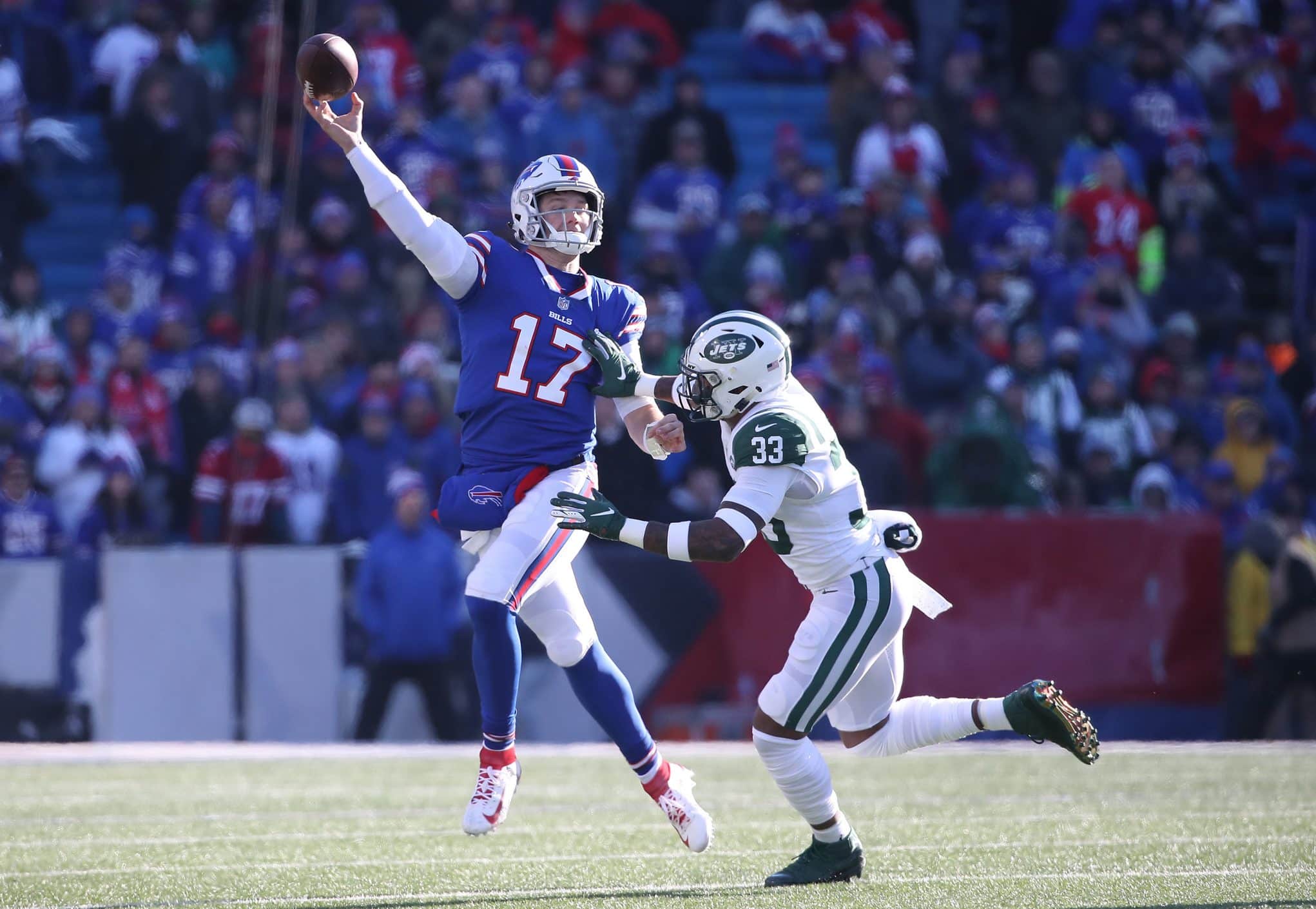 Adams' successful season has led to his first Pro Bowl nomination, one he took full advantage of. While most of the league's sleepwalked through the game, Adams gave the audience a potential sign of what's ahead.
It seems hardly the place to make a statement, with officials often blowing plays dead once a defender came within three steps of a ballcarrier. Paying no mind, Adams brushed off the concerns, as he often does, with his unique brand of personal flair.
"Who cares, man?" Adams said of the supposed lack of effort, per The Associated Press. "At the end of the day, we're like little kids out there just playing in the mud, playing in the rain."
Adams no doubt relishes and appreciates the opportunity the Pro Bowl affords him. His promise to never miss another Pro Bowl proved so popular, infamous awry prediction Twitter account Freezing Cold Takes made Adams' social promise to never miss another game their cover photo, at the safety's prompting.
However, if another certain bowl game was to present itself, Adams would happily break that promise.
Asked during Pro Bowl preparation about the arrival of head coach Adam Gase, Adams, who let his prior preferences be known on social media, gave a rave review for the former Miami Dolphins boss. While he enjoyed his figurative trip to Disney World, he's looking forward to working with Gase when it comes to making a literal, sponsorship-mandated visit as well.
"I'm excited to have Coach Gase join the start of something new, I believe. He definitely reached out to me and gave me kind words," Adams said, according to SNY's Scott Thompson. "He was just saying it's a long way ahead and he's excited (about) it. And he's looking forward to working with me. He said I gave him a couple of problems through the years, so he's definitely excited to coach me."
Follow Geoff Magliocchetti on TWITTER