With the New York Rangers selling once again, it's time to rank the players who are most likely to finish the season somewhere else.

The New York Rangers are still in the early stages of their rebuild and they will be, no doubt, selling at the approaching trade deadline. The team is comprised of a lot of veteran players, some of the younger variety, but veterans all the same.
While the team has several exciting prospects playing in Europe, college, the CHL, and the AHL, they will be looking to acquire more pieces at the deadline. So, without further ado, let's look at the players most likely to finish with another team.
Honorable Mentions
Henrik Lundqvist has been the face of the team since he broke into the NHL in 2005. While the 36-year old would bring back a good amount of assets in a trade, there is no way that any team would force out a player who has meant as much to a team as he has.
Additionally, he has a no-movement clause (NMC) and has given no indication that he wants to leave. When the team made the decision to rebuild, they gave Lundqvist the option to either stay with the only team he's played for or get sent to a contender.
He chose to stick with the Rangers through the rebuild, and try to serve as a mentor to the young players coming through the system. And he can still make insane saves.
Marc Staal and Brendan Smith: The team would no doubt like to move both of these players and get something for them, but their contracts make them virtually untradeable. Both are signed for two more seasons after this at high cap hits ($5.7M and $4.35M respectively).
Staal also has an NMC, while Smith has a modified no-trade clause (NTC). Staal is a buyout candidate despite making ESNY's Frank Curto's top 15 defensemen since 1972 list. Smith could also be bought out if the team is open to carrying two bought-out contracts against the cap.
7: Ryan Strome
Ryan Strome is in an unusual position, as he's a former top-five pick who has a 50 point season under his belt in 2014-15. However, he never found that form again and has yet to top 35 points in a season.
The team acquired him for another struggling forward in Ryan Spooner. The Rangers would be open to moving him, but it's hard to see any value for the player with seven goals and 13 points in 13 points in 47 games. If he turns it around he could be traded next season as a rental but is unlikely to move this season.
6: Chris Kreider
The Rangers must make a decision on Chris Kreider soon. He's signed through next season, and if they are going to trade him this is the time where he is the most valuable. However, he seems to have finally found his stride, recording 22 goals thus far.
His speed-size combination makes him a matchup nightmare, and he seems to have cleaned up the inconsistency that plagued him early in his career. Losing a player with his skill-set is difficult, and it's hard to envision the team not re-signing him. Anything is possible, but he's probably sticking around.
5: Tony DeAngelo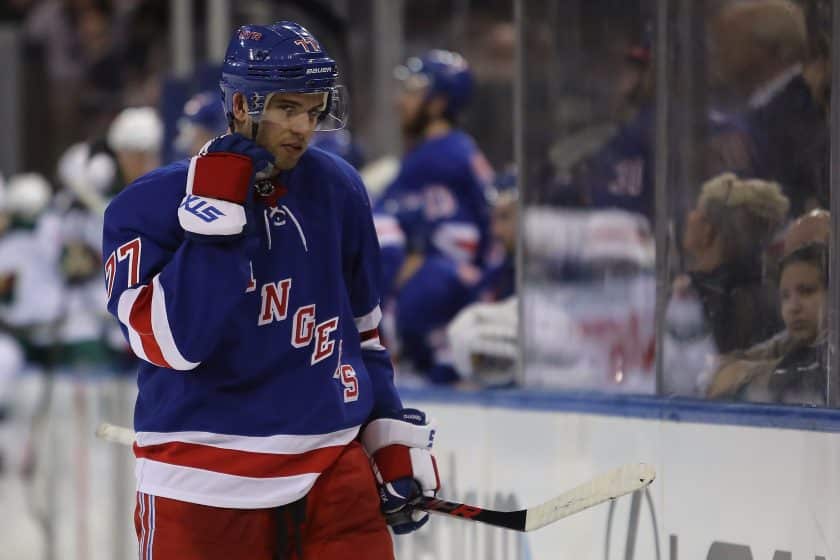 Tony DeAngelo has had a strange season. He's recorded 12 points in 31 games and has shown improvement in the defensive zone, albeit still with work to be done. However, he's also found himself as a healthy scratch more than a few times by head coach David Quinn.
The 23-year-old is no longer waiver eligible, meaning that the team will need to make a decision on him. However, he has shown enough this season that he will probably stick around, although he could be included as part of a bigger trade.
4: Kevin Shattenkirk
Kevin Shattenkirk has had a frustrating time since joining his childhood team. He missed half of last season with injuries and has looked uncomfortable this season while defending. However, he's got a reputation as a powerplay specialist and could help a contending team in a more sheltered role.
Shattenkirk is signed for two more seasons and has a modified NTC, but the team could work around that. The bigger question is if a team would be willing to take his $6.65M cap hit. A team in need of a puck-moving defenseman (Edmonton Oilers, Montreal Canadiens) could take that risk.
3: Vladislav Namestnikov
Last season, Vladislav Namestnikov looked like a bust after being acquired from the Tampa Bay Lightning. He recorded four points in 19 games after the trade. However, he has looked like a different player after signing a two-year $4 million per year contract.
He has only 16 points this season but has changed his game significantly. He plays a strong 200-foot game and battles for the puck well. A contending team could be interested in him as a secondary scoring option who plays with some physicality. The Rangers would no doubt be open to moving him if the price is right.
2: Kevin Hayes
Kevin Hayes is in the final year before he becomes an unrestricted free agent. It's possible but highly unlikely, the team will re-sign him. They have a glut of centers on the roster and are unlikely to want to commit the $7 million that they would have to to keep Hayes.
Hayes has 33 points in 39 games this season and is the most valuable piece the team has that they are likely to trade. Any team in need of a center will be interested in Hayes, and a bidding war should ensue.
1: Mats Zuccarello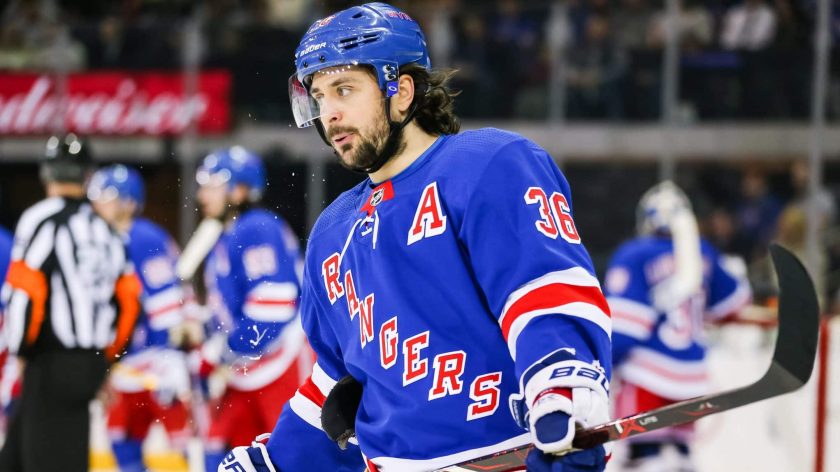 It's a matter of if, and not when, Mats Zuccarello is traded, a fact that he is aware of. He's had some issues this season, dealing with a lower-body injury and appearing to be distracted at times by the trade speculation.
However, he has topped 50 points in four of the past five seasons, and recorded 49 points in the only season he didn't hit that mark. His history of production and the edge that he plays with will make him valuable.
The Rangers will no doubt look different six weeks from now, but how different remains to be seen.
Follow Billy on TWITTER