The New York Rangers have usually employed strong players to stand on their blueline. ESNY ranks the top 15 defensemen beginning with the 1972 season.

The New York Rangers have been playing hockey for 92 seasons. Plenty of players have stood tall on the blue line defending the likes of Bryan Trottier, Wayne Gretzky and Alex Ovechkin. To choose the top 15 over such a long period of time is unfair to all of those who have worn the team's sweater.
So I have decided to list the top 15 defensemen beginning with the 1972 season. There are plenty of players to look at, some great names not included yet sure to be suggested by others.
Let's get the conversation started. Here are the top 15 Rangers to stand the Blueline over the last 47 years.
15. Tom Laidlaw (1981-1987)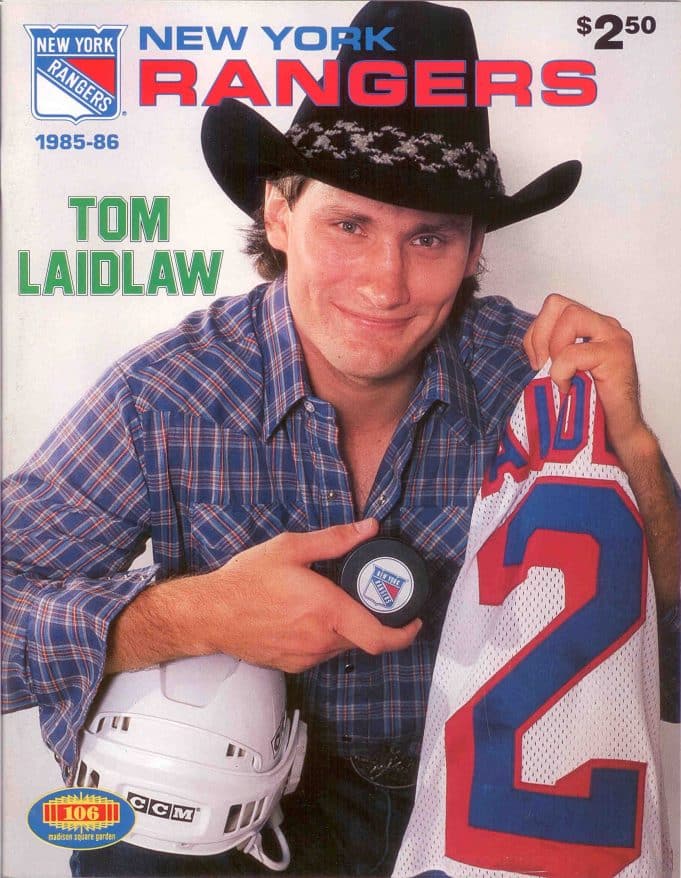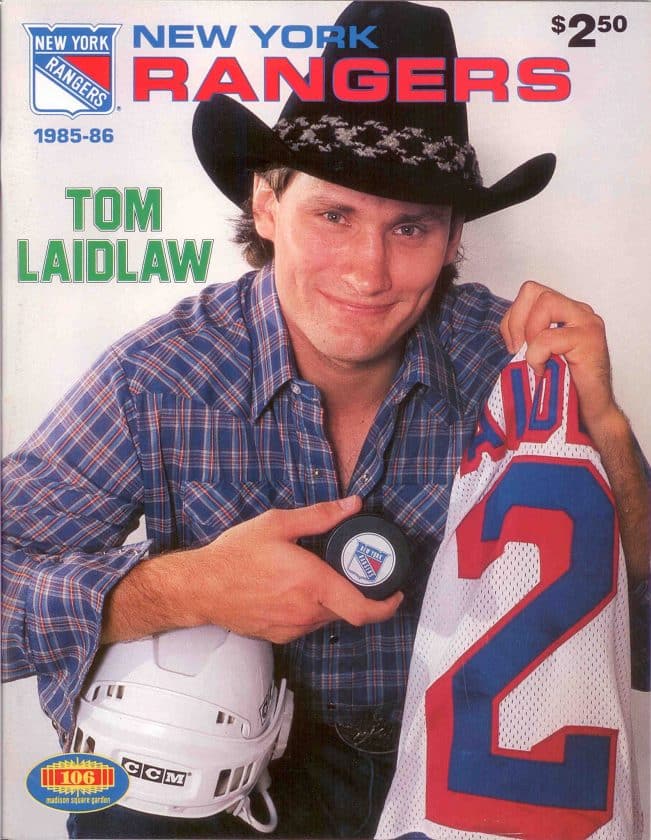 Tom Laidlaw appeared in 590 games for the Blueshirts in seven seasons on Broadway. A sixth-round pick, 93rd overall, in the 1978 NHL draft, Laidlaw scored 20 goals with 119 points, and 561 penalty minutes.
He made his NHL debut on Oct. 9, 1980, vs. the Boston Bruins. During his first four NHL seasons, Laidlaw only missed two of 320 games. Then in his fifth season, he ruptured his spleen against Boston (Jan. 5, 1985) and missed 19 games. Through his Rangers time, Laidlaw became the payer that up-and-coming rookie defensemen would play alongside.
He appeared in the playoffs six out of the seven seasons he played in New York. In 48 playoff games, he recorded two goals and 12 assists.
Among teammates, Tom was simply known as "Cowboy." The name derived as he liked westerns and his favorite actor was John Wayne.
He was traded to the Los Angeles Kings in March of 1987. He went on to play four more seasons before retiring in 1990 while a member of the Phoenix Roadrunners of the IHL.
14. Reijo Ruotsalainen (1981-1986)
The right-handed Finnish defenseman recorded 99 goals and 217 assists for 362 points in 398 games. He represented the Rangers when he was named to the 1986 NHL All-Star team. Reijo Ruotsalainen made the playoffs in all five seasons he played in New York, which included some classic contests against the rival New York Islanders and the Philadelphia Flyers.
In 43 playoffs games for the Rangers, he accumulated 27 points with 16 goals in 43 games.
Reijo was a fast, smooth offensive skating defenseman. His best season with the Blueshirts was the 1984-1985 season where he scored 28 goals with 73 points. Of the 28 goals scored that season, 10 were on the power play along with his 20 assists with the man advantage. He was the power play leader on the blueline.
In March 1987, he was traded to the Edmonton Oilers along with Clark Donatelli, Ville Kentala and Jim Wiemer for Mike Golden, Don Jackson, Miloslav Horava and future considerations (Stu Kulak).
13. Michal Rozsival (2005-2011)
Michal Rozsival played in New York for six seasons compiling 42 goals, 176 points in 432 games. He appeared in 41 playoff games for the Rangers scoring four goals with 14 assists.
He signed with the New York Rangers as a free agent on Aug. 29, 2005. The defenseman had his best offensive seasons as a member of the Rangers in 2005-06 when he tied for the NHL lead with a plus-35 rating. In 2006-07, he tallied a personal NHL-best 40 points (10 goals, 30 assists), and in 2007-08, he scored a career-high 13 goals.
Rozsival's time with the team was instrumental to the development of defensemen Marc Staal and Dan Girardi who joined the squad when Michal was one of the top defensemen in New York.
He was Traded to Phoenix for Wojtek Wolski on Jan. 10, 2011. He went on to win two Stanley Cups with the Chicago Blackhawks, retiring in 2017.
12. Barry Beck (1979-1986)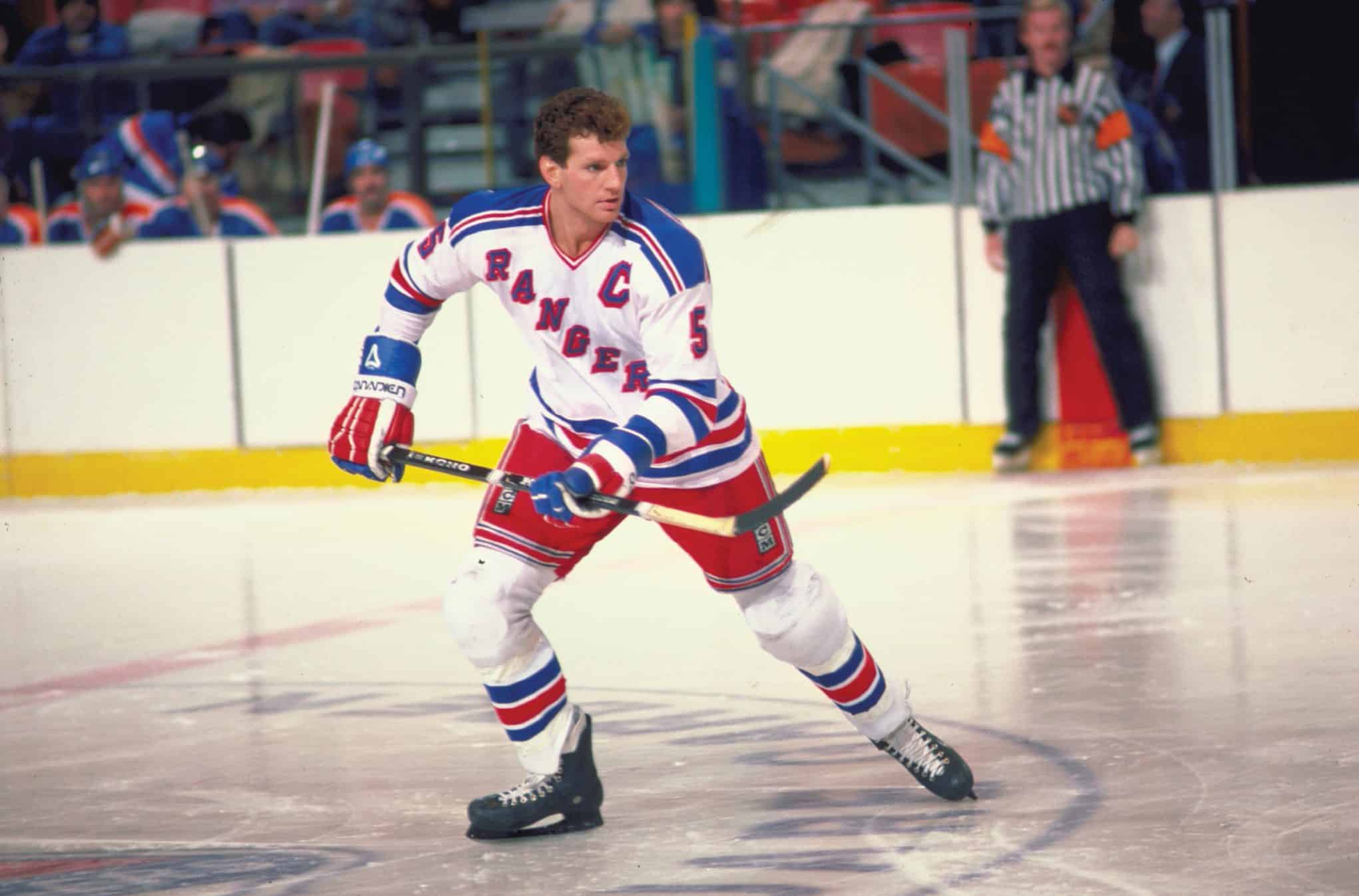 Beck was the first round pick, second overall, in the 1977 NHL Amateur Draft by the Colorado Rockies. He was traded from Colorado to the Rangers on Nov. 2, 1979, for Pat Hickey, Lucien Deblois, Mike McEwen, Dean Turner, and future considerations (Bobby Crawford, Jan. 15, 1980).
Beck was a strong defenseman who took the body as hard as anyone in the NHL. In his Ranger career, 415 games, he registered 715 penalty minutes. The defenseman scored a goal against the Los Angeles Kings in his first game at Madison Square Garden and went on to have an impressive first season on Broadway, putting up 59 points in 61 games. He was named the captain of the team in the 1980 season and kept that prestigious title until 1986.
During the 1981-82 season, Beck separated his shoulder which would prove to be a recurring issue. He suffered more injury woes the following year and eventually would need surgery in 1984.
He was named to the NHL All-Star team in 1982, a season that saw him record nine goals and 38 points. Beck was traded to the Los Angeles Kings for cash in September 1989.
11. Alexander Karpovtsev (1993-1999)
Alexander Karpovtsev was traded the Rangers by Quebec for Mike Hurlbut on Sept. 7, 1993. As a rookie defenseman on the team, he along with Sergei Zubov, Alex Kovalev and Sergei Nemchinov became the first Russian born hockey players to have their name inscribed on the Stanley Cup following their seven-game win against the Vancouver Canucks in 1994.
His ability to play the man one-on-one has made him a frustrating opponent for opposition forwards. Karpovtsev was also capable of jumping in on the rush and playing the point on the power play when required.
The Russian defenseman scored 22 goals with 97 points in 280 games played in New York. He led the NHL in plus/minus with a +39 in the 1988-89 season.
Sadly, he died in a devastating plane crash in September 2011 along with most of the team members of the KHL Lokomotiv Yaroslavl hockey team. Karppy, as he was known by his teammates, was serving as an assistant coach for the team when the crash occurred.
10. Jeff Beukeboom (1991-1999)
"Boom" was a steadfast on the Rangers blue line right next to their star defenseman Brian Leetch. A member of the 1994 Stanley Cup team, Jeff Beukeboom was the example of what a stay at home defenseman should be.
He was acquired from the Edmonton Oilers for David Shaw to complete transaction that sent Mark Messier to New York in October 1991. Jeff appeared in 620 games for the Rangers, accumulating 1157 penalty minutes. He led the team in penalty minutes three separate times.
He was a fan favorite on the ice as his aggressive style of play served as a protector to his teammates. His aggressive play took his toll as he only played in one full 82-game season for his career, 1992-1993.
His hard style of play also resulted in many concussions which lead to a post-concussion syndrome that he was unable to come back from. The headaches and blurred vision lasted for months following his last severe headshot and  Beukeboom officially retired in July 1999 with a total of 1,890 NHL penalty minutes in 804 games played. He is currently second all-time on the Rangers' penalty minutes list.
9. Ryan McDonagh (2010-2018)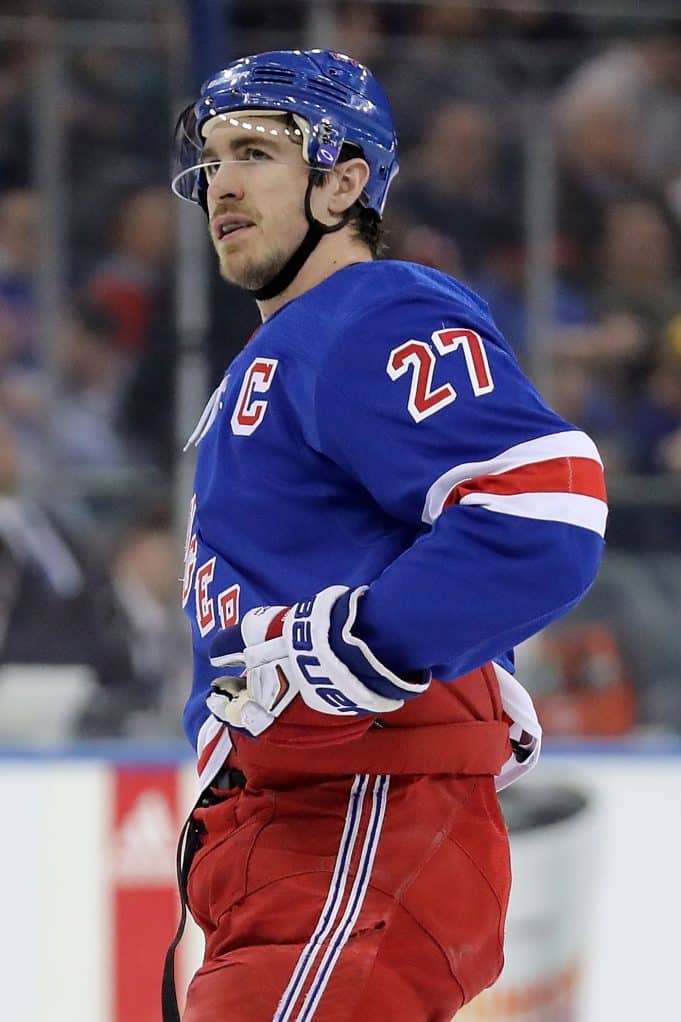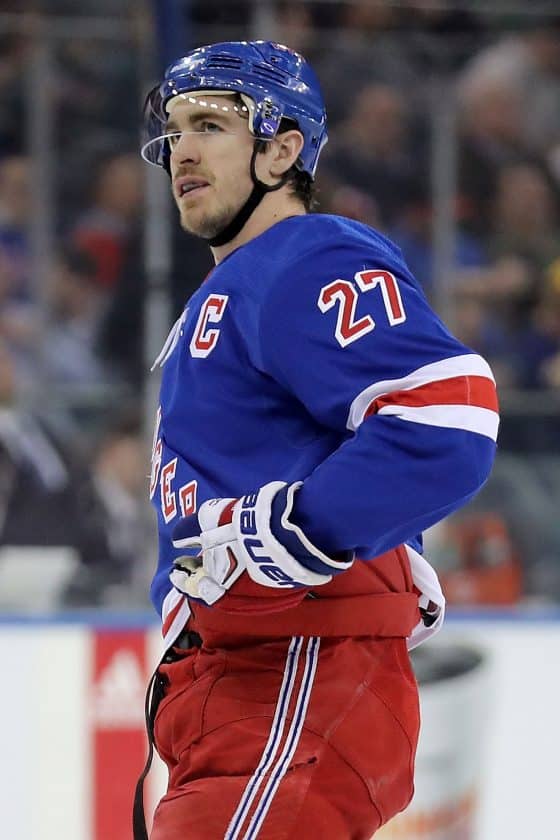 Ryan McDonagh was a first round pick, 12th overall by the Montreal Canadiens in the 2007 NHL Entry Draft. He was traded to the Rangers by Montreal with Chris Higgins and Pavel Valentenko for Scott Gomez, Tom Pyatt and Michael Busto on June 30, 2009.
Ryan was the team's quarterback on the power play. His stickhandling and speed enabled him to skate offensively and allowed him to get back when the opposition brought the puck into his end. Appearing in 516 games over his eight years in New York, Mcdonagh compiled 51 goals with 238 points. He played in 96 playoff games, scoring 10 goals.
The Rangers signed McDonagh to a six-year contract extension on July 8, 2013, and he responded with a 14-goal, 43-point season in 2013-14. He tied for fifth in the League with three shorthanded goals and was eighth in voting for the Norris Trophy. With a six-game point streak from Nov. 27-Dec. 7, 2013, McDonagh became the first Rangers defenseman to snag a point in at least six consecutive games since Brian Leetch in 2003-04. His six goals in March were the most by a New York defenseman in a calendar month since Leetch in January 1998.
McDonagh was named the captain of the Rangers in 2014, the season after Ryan Callahan, who was the captain, was traded to Tampa Bay.
Mac was traded to Tampa Bay along with J.T. Miller on Feb. 26, 2018 for Vladislav Namestnikov, Brett Howden, Libor Hajek and Tampa Bay's 1st round pick in 2018 NHL Draft and a 2nd round (conditional) pick in 2019 NHL Draft.
8. Sergei Zubov (1992-1995)
Sergei Zubov only played three seasons for the Rangers, but he accomplished so much in that time.
In 165 games, he scored 30 goals with 156 points. He played 49 games as a rookie for the Rangers, scoring 31 points, considered then to be above-average for a defenseman. Zubov's high-scoring ways continued, as he scored 12 goals with 77 assists during the 1993–94 season, which led the team in regular season scoring. He contributed 19 points to the Rangers' playoff campaign as the went on to win the Stanley Cup.
Zubov was traded to Pittsburgh by with Petr Nedved for Luc Robitaille and Ulf Samuelsson on Aug. 31, 1995.
7. James Patrick (1983-1994)
James Patrick made his NHL debut for the Rangers on March 7, 1984, just two days after he signed his first professional contract.
James skated with New York for 11 seasons. He was the Rangers first-round draft pick, ninth overall, in the 1981 NHL Entry Draft. Patrick recorded 104 goals with 363 assists for 467 points as he appeared in 671 in the Rangers sweater.
He settled in as a blueliner with good technical skills and an outstanding ability to make smooth transitions between offense and defense. In 1987, Patrick represented Canada on the international stage, as part of Canada's series victory of the Soviet Union at the 1987 Canada Cup.
Patrick retired in 2005 after playing 1280 games for New York, Hartford, Calgary, and Buffalo.
6. Dan Girardi (2006-2017)
Dan Girardi was a true warrior for the Blueshirts. Dan played in 788 regular season games for the Rangers scoring 46 goals, with 1984 assists for 230 points.
The New York Rangers signed Girardi to an entry-level free agent contract on July 1, 2006, and assigned him to Hartford to start 2006-07. After 45 games Girardi was leading the team with 22 assists when he was called up. He made his NHL debut with the Rangers on Jan. 27, 2007, against the Philadelphia Flyers.
Girardi became a stalwart on defense, playing 330 consecutive games, a streak that ended on Jan. 24, 2011, because of a rib injury.
Girardi has also become one of the premier shot-blockers in the NHL. On March 31, 2015, against the Winnipeg Jets, he became the first Ranger to have 10 blocked shots in a game since the NHL started keeping track of the statistic in 2005-06.
In 2014-15, Girardi had 30 or more minutes of ice time in three consecutive games, Nov. 1- Nov. 5, becoming the first Rangers player to do so since Brian Leetch in 2000-01.
In Game 5 of the first round of the 2015 Stanley Cup Playoffs, Girardi appeared in his 94th postseason game with the Rangers, passing Walt Tkaczuk for most among skaters in franchise history. On Feb. 12, 2016, against the Los Angeles Kings, he became the 11th player to appear in 700 games for the Rangers.
His contract was bought out by New York in June 2017.
5. Dave Maloney (1974-1984)
For 11 seasons, Dave Maloney was the heart and soul of the New York Rangers defense. Drafted in the first round, fourth overall, in the 1974 NHL Amature Draft. He recorded 70 goals with 295 points during his Rangers career.
Maloney earned a full-time slot with New York in 1976-77. He was named the captain in the 1978-1979 season, the youngest player to serve as Captain for the New York Rangers at just 22-years old, and helped lead the team to the Stanley Cup Finals.
In 1978-1979, he also registered the first of four consecutive years with at least 10 goals and got to play with his younger brother, Don. Dave Maloney was an excellent two-way player, which gave him the opportunity to get plenty of power play time beginning with the 1980 season.
In 1984, Maloney was traded to Buffalo with Chris Renaud for Steve Patrick and Jim Wiemer.
He now enjoys a great broadcasting career with MSG Network, appearing on both television and radio.
4. Marc Staal (2007-Present)
A 12-year veteran on the blueline, Marc Staal has skated in 809 games for the Blueshirts. In that time, he has recorded 41 goals with 175 points. His offense is not what he is known for, rather his defensive skill on the ice. Staal's long reach, fearless commitment to getting into the corners first and relentless battles to clear the front of the net have been a staple of his work since his arrival to the team.
In March 2013, Staal suffered an injury that at first looked career ending. The defenseman had a deflected slap shot hit him in his right eye. Fortunately, he suffered only facial fractures and some vision loss. Until that point, he had never worn a visor face shield. He missed the remainder of the season and when he returned for training camp the next season he wore a shield and has ever since.
Stall has appeared in 104 playoff games with six goals and 19 points. He continues to be a top-four defenseman for the team while tutoring the many young players on the team such as Neal Pionk and Brady Skjei.
3. Ron Greschner (1974-1990)
Ron Greschner played for only one team for his entire 16 year NHL career. The New York Rangers. Nine-hundred-and-eighty-onen regular season games, 179 goals with 431 assists for 610 points. Greschner was selected in the second round, 32nd overall, by the Rangers in the 1974 NHL Amateur Draft.
He was one of the most popular rearguards to ever play on Manhattan and reached the 20-goal mark four times. In 1978-79, he scored 12 points in 18 playoff games as the Rangers reached the finals for the first time since 1972.
In 1979-80, Greschner scored 21 goals and was. selected to play in the NHL All-Star game. Though the Rangers rarely made noise in the playoffs, he was a consistent performer for the club. By the late 1980s, young players like Brian Leetch played the point on the power play and keyed the club's transitional game. Greschner spent his last three NHL seasons providing leadership in his own zone before retiring in 1990.
2. Brad Park (1968-1975)
Brad Park was the Rangers first round pick, second overall, in the 1966 NHL Amateur Draft. He appeared in 465 games, scoring 95 goals to go along with 378 points. He was selected to the All-Star game six times as a member of the Blueshirts. Park quickly became the Rangers' best defenseman and drew comparisons with the great Bobby Orr, as both were credited with revolutionizing the "offensive" defenseman. Park's offensive skill and stickhandling attracted much attention from fans.
He played in 12 playoff games with the Rangers scoring 12 goals with 44 points.
On Nov. 7, 1975, Park was traded to Boston by with Jean Ratelle and Joe Zanussi for Phil Esposito and Carol Vadnais.
He was elected to the Hockey Hall of Fame in 1988 and in 2017, Park was named one of the "100 Greatest NHL Players" in history.
1. Brian Leetch (1987-2004)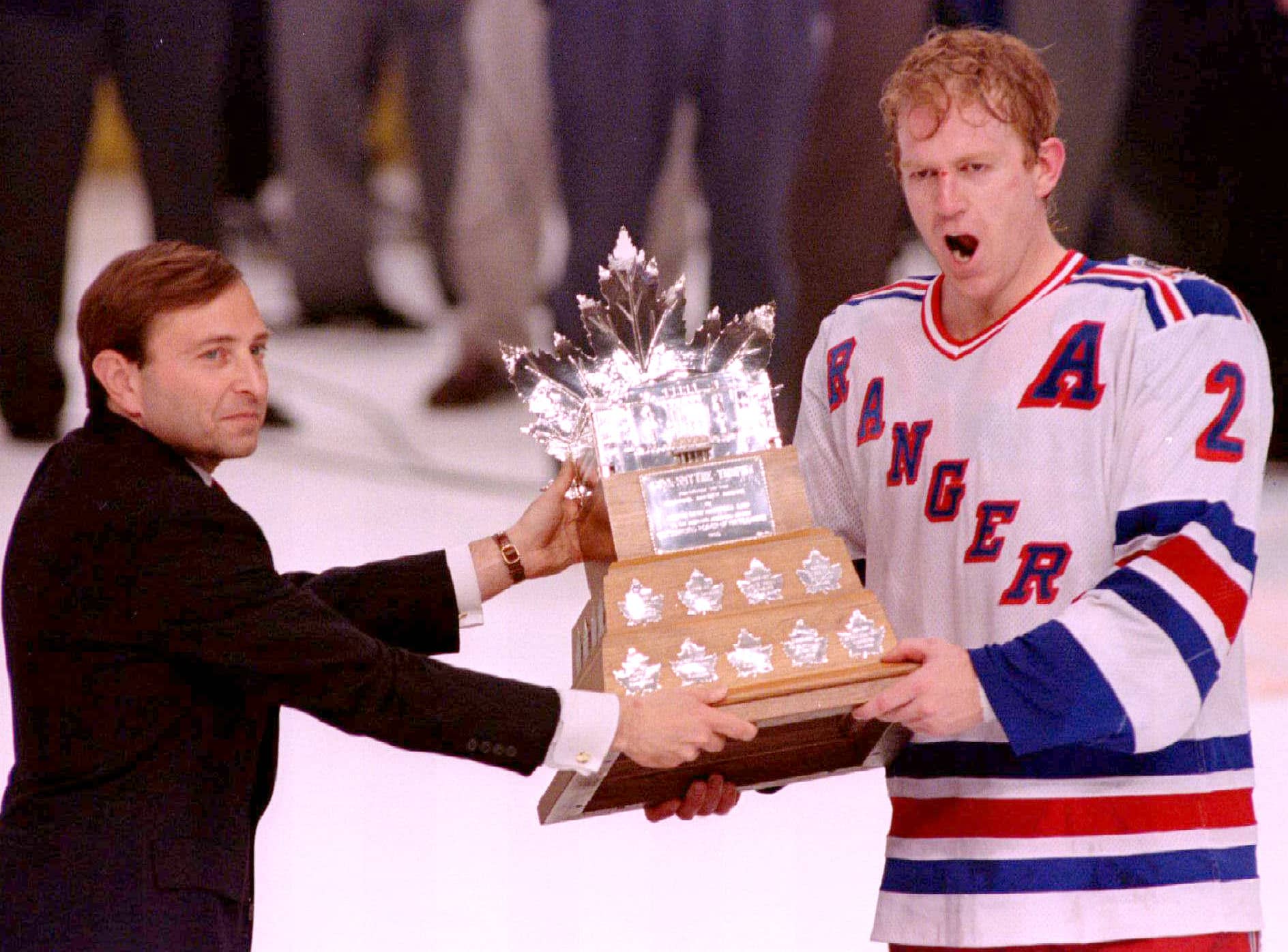 Brian Leetch accomplished almost everything a player could imagine. He won the Calder Trophy for the league's Rookie of the year honors. A five-time NHL All-Star, two-time Norris Trophy winner, 1994 Conn Smythe winner, the first American born player to win the award, and 1994 Stanley Cup Champion, Leetch is the definition of what a New York Ranger should be.
Leetch was named the team's captain in 1997 and then gave up the "C" when Mark Messier returned to the team in 2000. His leadership displayed even as he gave up the captaincy proving what a true professional he was always putting the team first.
His numbers speak for itself: 1,129 games played, 240 goals, 741 assists for 981 points. The playoff numbers were just as impressive: 82 games, 28 goals, and 89 points. Leetch was inducted into the Hockey Hall of Fame in Toronto in 2009 (his first year of eligibility). In 2017, Leetch was named one of the "100 Greatest NHL Players" in history. Brian is one of only five NHL defensemen to score 100 points in a season with his 102-point campaign in 1991–92.
The Rangers defenseman was the last NHL player at this position to hit the 100-point plateau. Leetch was the top scorer in the Stanley Cup Playoffs in 1994 with 34 points (11 goals) in 23 games.
On May 24, 2007, he officially announced his retirement. Leetch's Number 2 was retired by the Rangers on Jan. 24, 2008.
Honorable Mentions:
Ulf Samuelsson
Carol Vadnais
Jim Neilson
Willie Huber
Odds are, some may say I missed a few defensemen. There was a lot to choose from, but all in all, this is a pretty good list of the top 15 defensemen. A diversified group that, from one time or another, all contributed to the success of this Original Six franchise.
The team is in the middle of a rebuild, but there are a few defensemen now that we hope could make this list 10 years from now. Brady Skjei, Ryan Lindgren and Neal Pionk all have the skill to be with the team for a long period of time. All should be able to contribute in the same way as a Dan Girardi or Brian Leetch.
The defense leads the team, from behind the goal line all the way to the back of the opponent's net. The defense of the New York Rangers has enjoyed great players standing on that Garden blueline since 1972.
Follow Frank on TWITTER