With so many holes to fill with so little time, evaluating the New York Jets overwhelming offensive free agency needs is a major task.

Via Spotrac, the New York Jets are set to enter the offseason with the second-most cap space in the NFL, behind the Indianapolis Colts. Coming off of a 4-12 season, they have a lion's share of holes they will try and patch with that space. Which positions are the biggest priorities?
Let's go position by position and scale how much the Jets are in need at every position.
Quarterback: 1/10
Sam Darnold is the guy, period. Barring struggles at historical levels of ineptitude, Darnold is locked into being the starter through the end of 2020 and the very least.
The Jets could use a backup, though. Josh McCown will be 40 at the start of next season and was absolutely terrible in his three relief starts this past season. Is Davis Webb a fit for the role? Will the Jets roll the dice on McCown yet again?
Running Back: 8/10
The running back spot is one of the most replaceable in the NFL, but the Jets find themselves in the unique place of having a dire need at the position with an elite player available.
Many signs point in the direction of saying "no" to the idea of bringing in Le'Veon Bell. Mileage. Money-first mentality. Potential of locker room volatility. James Conner easily filling his shoes. The fact that competitive teams often have cheap backs.
With all that said, Bell just might make sense for the Jets. The team needs to get Sam Darnold as much help as possible to help him along in his development—and they also need to maximize the space created by having a quarterback on a rookie deal. There are no other elite offensive skill players on the market. Bell is a two-phase threat, as he averaged more scrimmage yards per game over his first five seasons than any other player in history.
Only time will tell if the team who ends up adding Bell made the right decision, but the Jets certainly seem like the team that could benefit from his services the most.
If the Jets miss on Bell, they do need to add some proven talent at this position. Tevin Coleman and Mark Ingram headline the list.
Wide Receiver: 7/10
The Jets gave Quincy Enunwa an extension, locking up at least one starter for 2019.
Robby Anderson is a restricted free agent, and the team absolutely needs him back. Anderson and Darnold started to develop a tremendous rapport towards the end of the season. Even though fans didn't start to notice Anderson until his production boon in December, he was actually playing solid football throughout the season. He just didn't get the numbers to show for it as Darnold struggled to work the downfield game early in the season.
The Jets would be wise to place a second-round tender on Anderson and go from there.
Beyond those two, the Jets will most definitely need to add another weapon. They cannot be complacent and rely on Deontay Burnett to step into a large role. Again, Darnold has a rookie contract to build upon. Time to get him some legit help.
I view the slot receiver position as the variety of wide receiver the Jets should be looking for first and foremost. Adam Gase loves to feature wide receiver screens in his offense, and as evidenced by his team construction in Miami, he values pass catches with speed and after the catch ability. Enunwa has the versatility to operate anywhere, and if brought back, Anderson has the X role down. The Jets need that safety blanket in the slot.
While there are no home-run options, the Jets will have a few intriguing choices to pick from at this position. Golden Tate, Adam Humphries, Randall Cobb, and Jamison Crowder top the list of slot receivers that could potentially hit the market.
Humphries is my favorite option. While he benefited from playing on a talent-stacked pass-happy offense in Tampa Bay, he quietly was very productive last year. He ranked 18th among wide receivers in both receptions and first downs, while quarterbacks had a 107.7 passer rating when targeting him. He's a productive player in the screen game and loves to eat on short out routes.
At only 26-years-old, Humphries' youth also makes him an attractive alternative to the soon-to-be 31 Tate.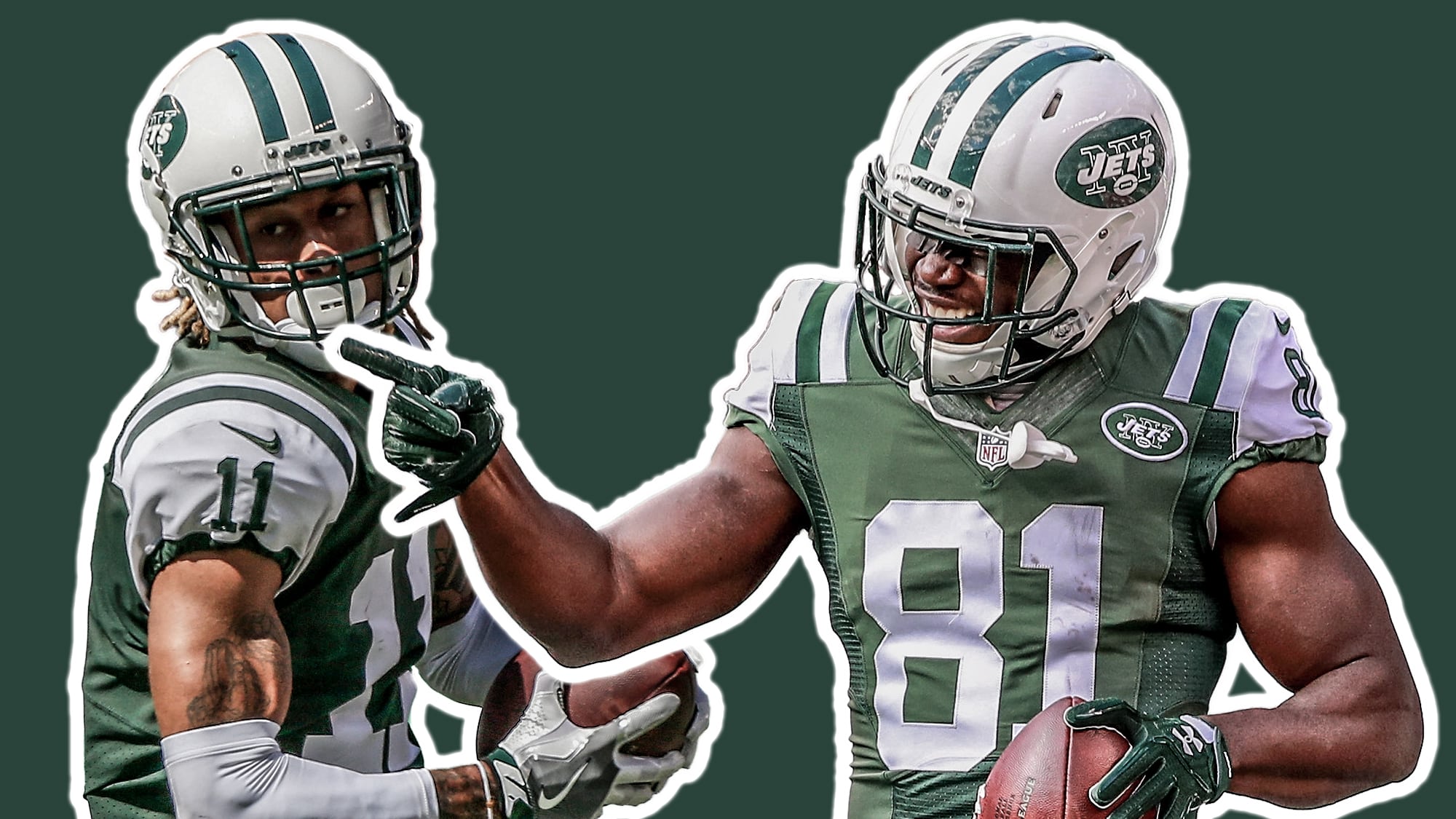 If the Jets are looking to add another X receiver, the big-bodied Devin Funchess and the uber-efficient speedster Tyrell Williams highlight the list.
Either way, the bottom line is the Jets can use as much depth as possible. They can't have Darnold throwing to kick returners and gunners once one of his starters go down.
Center: 10/10
It is a thin market, but I think this is the most vital need for the Jets offense.
After slogging through the 2017 season with Wesley Johnson struggling at center, the Jets entered the 2018 offseason with that position as a major need.
Unfortunately, they didn't come up with either one of the top options, Ryan Jensen or Weston Richburg, and instead, settled on Long.
Coming up with option C would eventually haunt the Jets. Long killed the team throughout the year. He was abysmal as both a pass protector and a run blocker, but those weren't even his worst offenses. His snap accuracy, particularly in two games against Minnesota and Miami, was horrific, and all but eliminated Darnold's chance of success in nearly two whole games.
Finger injuries may have been to blame though, as Todd Bowles inexcusably refused to pull Long from the Miami game in spite of the clear effects that Long's known injury was having on his performance.
Eventually, Long moved to guard, where he was about equally as poor but couldn't hurt the team with snapping issues. His replacement at center, Jonotthan Harrison, was about as good as you'd expect the backup to one of the league's worst starters to be.
The Jets have to learn from their mistake and take this position seriously. They can't afford another year of UFO snaps, zero power run game, pressure straight up the middle, and a 22-year old quarterback having to stress about all three of those things.
Matt Paradis and Mitch Morse headline the market. Both have injury question marks, but when healthy, they've each been top-tier centers.
Outbid everybody, and get a proven high-quality center.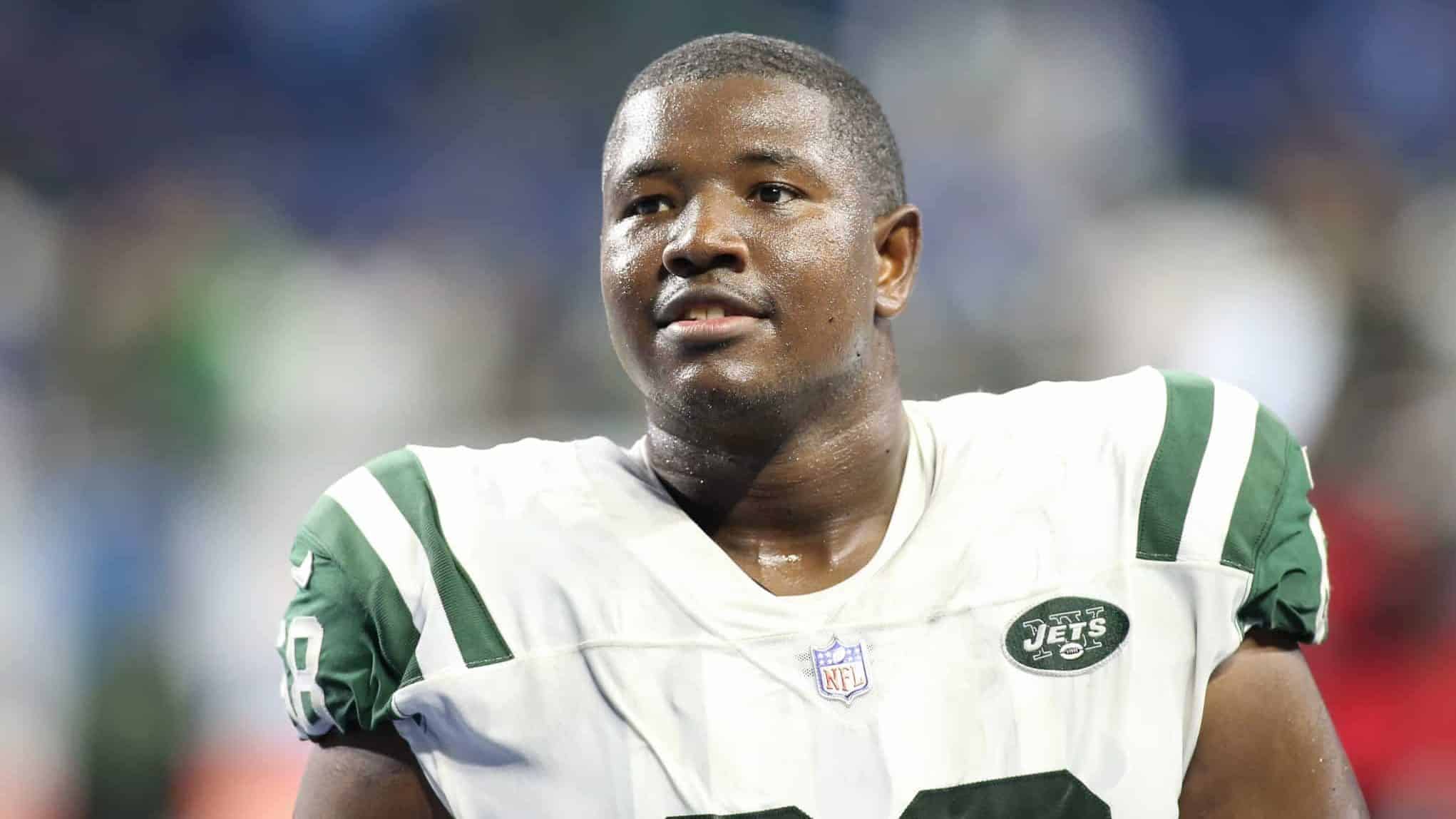 Tackle: 4/10
There's little debate that the two best players on the Jets offensive line last season were Kelvin Beachum and Brandon Shell. Both had their struggles in the run game (every player on that front did), but they were each solid in pass protection.
A player like Beachum can be taken for granted. He isn't elite, but he has played reliably well at one of the most important positions in the NFL. Left tackles who can play every down in back-to-back seasons and provide above-average pass protection absolutely do not grow on trees.
Shell is a rare Mike Maccagnan late round hit. While he will be 27 at the start of next season, he has only logged 29 starts to date—less than two season's worth. He has room to grow and showed a lot of progression this past season.
With that being said, we need to stay with the theme of this piece. The Jets have a rookie quarterback to nurture and his cheap contract to take advantage of. Shell and Beachum are nice, but neither is an All-Pro level tackle nor is it likely either of them will come close to being one. If the Jets can somehow reel in an elite tackle on the market, be it through free agency or trade, they, by all means, should do it.
Tackle could also be an option in round one. Taking a college tackle and starting him off at guard in the pros could be an option, but if the Jets do see a guy as a shoo-in high-quality tackle and an upgrade over what they have, then they should go for it.
Guard: 8/10
The three interior spots were the main source of the Jets offensive line struggles in 2018. In addition to the ineptitude at center, the Jets got subpar play from both James Carpenter at left guard and Brian Winters at right guard.
Carpenter is getting up there in age and is a free agent anyway, so the left guard spot is wide open and will need filling. Unfortunately, it looks like a thin market. It's headlined by the Rams' Roger Saffold, who is a very good player, but is already 31-years-old. There is a bevy of middling gamble options, mostly made up of players who have starting experience but are either old, mediocre, injury-prone or some combination of those three.
Brian Winters is an interesting case at right guard. While he was a John Idzik draft pick in 2013, he was extended by the Mike Maccagnan regime prior to the 2016 season on a four-year deal, of which he is heading into the last year.
Winters has been maddeningly inconsistent, from season to season, game to game, and snap to snap. He enjoyed some good years early in his career that led to his extension, but since then has been all over the place. His 2018 was very poor overall. While he stayed healthy for every snap and threw some highlight-worthy pancakes on pulls and helping out in pass protection, his overall production as both a pass protector and run blocker was bad.
The Jets can cut Winters at any point this offseason with no hit to their cap, relieving themselves of $6.5M in cap room.
So, which way will the Jets go here? Winters started every game for the Jets this past season and has been starting for them each year since 2013. He was extended by this general manager. The team already has a lot of holes and would be hard-pressed to create another one.
However, he has plainly not been a good player over the past couple of years, and the team can easily move on from his contract. With a developing quarterback to foster, this position is an essential one for the team to have a thriving player at. Will they stand pat or go bold and move on?
My bet is the Jets stick with Winters for another year, as they seem to value him, but cutting bait with him is definitely a legitimate possibility (and would be my preference). It is tough to find three new starters on the offensive line in one offseason, but I also think it's tough to be much worse than the Jets offensive line was in 2018, and Winters was a big part of that.
Going boldly at right guard by cutting a 16-game starter to create a third hole will be risky, but the time has never been better to take that shot.