There are several directions the New York Giants can go with the sixth pick of the NFL Draft. One of the directions is hometown boy Dwayne Haskins.

The biggest question for the New York Giants in 2019 revolves around the future of the quarterback position. Eli Manning just turned 38 and is entering the final year of his contract with a hefty cap number of $23.2 million.
Shortly after the Giants season ended, general manager Dave Gettleman was asked if he was committed to Eli Manning in 2019.
"Here's what I'm committed to do. I'm committed to making the best decision in the interest of the New York Football Giants. That's what I'm committed to do. We're in the evaluation process. I know that you guys want answers now, but very frankly, I didn't come in yesterday. I've got to do what I do, which is get in my office and watch film."
"We're going to meet this week with the coaches and get their evaluation. We'll meet next week with pro personnel and get their evaluations and get their feelings on everything. That's our schedule, and I will be watching film for the next who knows how long until my eyes bleed. That's what I do. So, my commitment is to make this team the best team it can be and if that happens to have Eli playing quarterback, it does."
Gettleman's comments are certainly not a ringing endorsement for Manning remaining the Giants signal caller in 2019. If the Giants were to cut him, they would be hit with $6.2 million in dead cap space.
But for the Giants to move on from Manning, they would need to have someone to replace him. Some of the names that have been thrown around that the Giants may have interest in are Joe Flacco, Tyrod Taylor and Nick Foles (if the Eagles don't exercise their team option).
But instead of acquiring a veteran quarterback, it might serve the Giants best to take a quarterback with the sixth pick in the draft. If the Giants go that route, many feel it will be Ohio State quarterback Dwayne Haskins.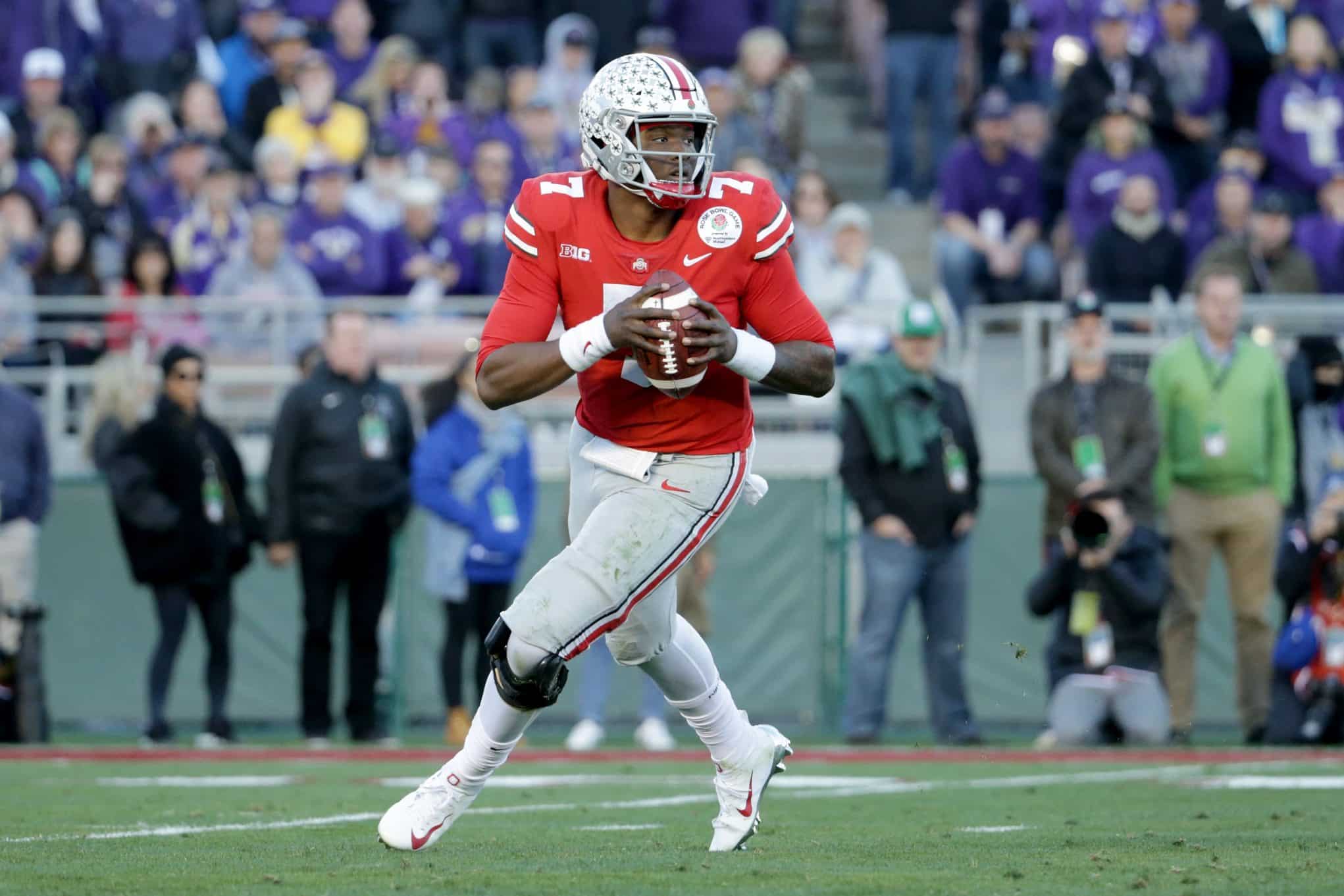 Last season at Ohio State, Haskins completed 70 percent of his passes, threw for 4,831 yards and threw 50 touchdowns. His 50 touchdown passes broke Drew Brees single-season record (39). This is one of the reasons why he finished third in the Heisman Trophy voting.
At 6-foot-3 and 220 pounds, Haskins is the ideal size for an NFL quarterback. Plus, his pocket elusiveness would add another dynamic to the Giants offense.
Perhaps Haskins's best attribute is his accuracy when it comes to throwing deep passes. This is an area where the Giants struggled this season as despite having playmakers such as Odell Beckham Jr. and Sterling Shepard, Manning did not throw a touchdown pass of 40 yards or more.
Haskins, who is a native of Highland Park, NJ, was asked in December how he would feel if the Giants drafted him.
"It would be pretty nice."
"I played "(NFL) Madden" a lot, and they were really good running the football," the 6-foot-3 Haskins said. "The whole offense was nice. Plaxico Burress, Jeremy Shockey, Eli [Manning], Ahmad Bradshaw. I was basically the stats guy from my family. I would know everybody's height and weight, what college they went to. I've been a Giants fan for a long time."
Another person who believes Haskins to the Giants would be a nice fit is ESPN's NFL draft expert Mel Kiper Jr. who, in his latest mock draft, had the Giants drafting the youngster.
After passing on a quarterback in last year's draft to take Saquon Barkley, Gettleman didn't envision that the Giants would have a top 10 pick in 2019. Now that they do, it would be hard for Gettleman to pass on another talented quarterback.
The NFL is slowly becoming a young quarterback's league as six of the 12 teams that made the playoffs this year where led by quarterbacks that had three years or less of playing experience (Mahomes, Prescott, Trubisky, Watson, Jackson, Goff). Haskins has the talent to be as good if not better than those six quarterbacks mentioned.
So that's another reason why the Giants need to draft a young quarterback. Young QBs are thriving in today's NFL.
We're still months away from the draft and at this point, it's just mere speculation on who the New York Giants will decide to draft. But selecting Haskins would make a ton of sense if he's available because a talent like this is hard to pass on, especially when it's a position of need.