Sometimes, abiding by the executive NFL Draft norm of "available best player" is counterproductive. This applies to the 2019 New York Jets.

Sometimes the sky brings dark clouds. Sometimes it presents rain. Sometimes these very same skies allow rays of sun to hit the New York Jets organization smack dab in the face over Florham Park, New Jersey.
Never would Jets fans admit to an ounce of Tom Brady fandom. Rarely do they enjoy a New England Patriots-themed Super Bowl (unless Eli Manning or Nick Foles is present). Maybe this specific (horrible) issue won't be a worry come Sunday night.
The sometimes, rarely, maybe game is silly. It's useful in the case of preadolescents and toddlers. Adults, however, shouldn't be tortured with such silliness and confusion.
That is, unless, a top-level NFL executive can't figure out that "best available player" is only a painfully boring football print phrase rather than an all-out bible readily used despite depth chart realities.
It's a great strategy in many situations, just not all.
Mike Maccagnan must take note. Better yet, note is all he'll need as what follows is pure football logic as opposed to analytics, film or historical evidence.
From Leonard Wiliams to Jamal Adams, Darron Lee to Sam Darnold, rarely would anybody dare say a word about Mikey Mac's first-round draft picks as a big-boy exec. Perhaps the D-Lee pick can be dissected and yes, maybe selecting Leo while already possessing Muhammad Wilkerson and Sheldon Richardson was a tough look, but collectively speaking, it's all good in this regard.
The area the Jets general manager misses the boat is forcing the "best available player" issue at every turn.
O-Line & Conventional Pass Rush Is What Greatly Improves The Depth Chart
Only twice has Maccagnan drafted offensive linemen. In 2015, he selected Jarvis Harrison in the fifth round. A year later, he traded up to snag the NFL-blood rich Brandon Shell in the very same round. That's it. Two big heavies within the unit that represents nearly half of the entire offense (five of 11) over the course of 28 total draft picks.
But why? Have there actually been 26 better available players to choose from during those non-OL instances? Of course not. One quick look at Christian Hackenberg not only provides the answer, but it allows a for a nice, quick shiver (and a cold sweat to boot).
Certain NFL positions must be forced. The offensive line is the perfect example.
Anybody who's played the game knows one simple fact: it always starts up front. The level, style and country matter not. Should the NFL ditch the helmets and move to flag football, the old-school bible still remains true. Quarterbacks, backs and weapons possess no succeeding shot unless the O-line is ready to roll.
Think about the ladder of talent each player climbs if/when playing behind/with an excellent O-line. That alone ditches the idea of "best available player." To stubbornly remain true to "best available player" while deploying a horrid offensive line means every offensive skill player on the depth chart is playing below his actual skill set.
One O-line selection—even if conventional wisdom pushing the idea that he's lagging in talent compared to another spot—improves the play of every quarterback and weapon on the entire roster. Sure, the wideout helps the young quarterback. But doesn't the O-line allow the quarterback, running back, wide receiver, and tight end all to feel an uptick in play?
The very same principle applies to pass rushing.
Imagine stud Jamal Adams with one-half extra second to roam sideline-to-sideline. Half the offensive coordinators would pack up and call it a career.
A four-man conventional pass rush is the backbone of any football defense. The quicker the unit beats the five-man offensive line, the nastier the entire second unit and secondary become.
So let's get this straight. If the offensive line and four-man conventional pass rush are the two units that affect the rest of the depth chart the most, the Jets must have an influx of young talent introduced to professional football on a yearly basis. Right?
In addition to only Shell and Harrison on the offensive side, Jordan Jenkins, Lorenzo Mauldin and Dylan Donahue represent the sole edge pass rushers on the other side. Oh, and neither spot (other than fifth-round Donahue in 2017) has been addressed over the last two drafts (15 total picks).
(Yes, I am aware the quarterback is the other spot that radically increases the talent level of his surrounding personnel, but it's so damn obvious I feel embarrassed typing it.)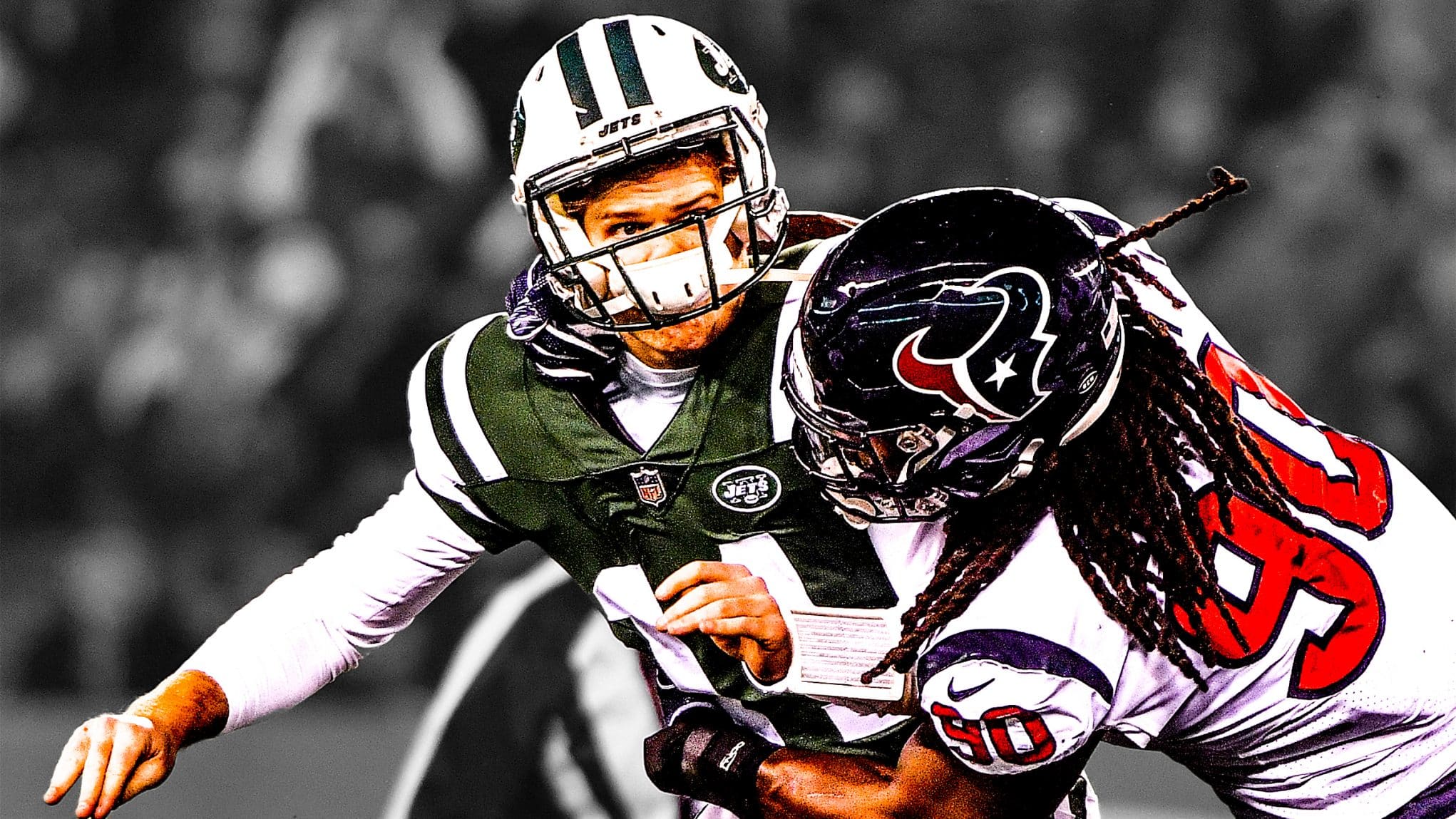 Just Look At The Successful Teams
It doesn't take the late Stephen Hawking to understand pure logic. Look at the Los Angeles Rams. Glance at the New Orleans Saints. Check out those Super Bowl champion Philadelphia Eagles. All possess nasty offensive lines. Until New Orleans reeled in rookie Ryan Ramczyk, the unit was a hurting mess.
The previously mentioned Tom Brady is an NFL great—despite certain questions (here's looking at you, Ernie Adams). What places so many football minds in desperate trouble is when they believe he does it on his own.
New England Patriots offensive line coach Dante Scarnecchia is a genius. Track the offensive line play when Scarnecchia took a quick sabbatical. Brady was falling to the ground quicker and more frequently than a soccer player drawing yellow or red.
This man isn't a mobile quarterback. Turtle from "Entourage" can beat him in a footrace. He's a pure pocket guy blessed with one of the greatest head coaches of all-time who understands the importance of O-line play.
Until Sam Darnold experiences his own personal fortress, true development isn't possible.
O-Line Talent Is Never Available In Free Agency
Again, in 2019, there is nothing available in free agency. Trent Brown from the Pats? Rodger Saffold from the Rams?
This means continuously hammering away at the O-line spot on a yearly basis is a must. Ensuring that a flow of O-line youth is coming to the training camp party is critical. Offensive linemen thrive within a competitive environment.
Over the last several seasons, these highly-paid veteran big heavies haven't experienced a dash of competitiveness. The Jets average starters have been carved in stone by the time minicamp unfolded.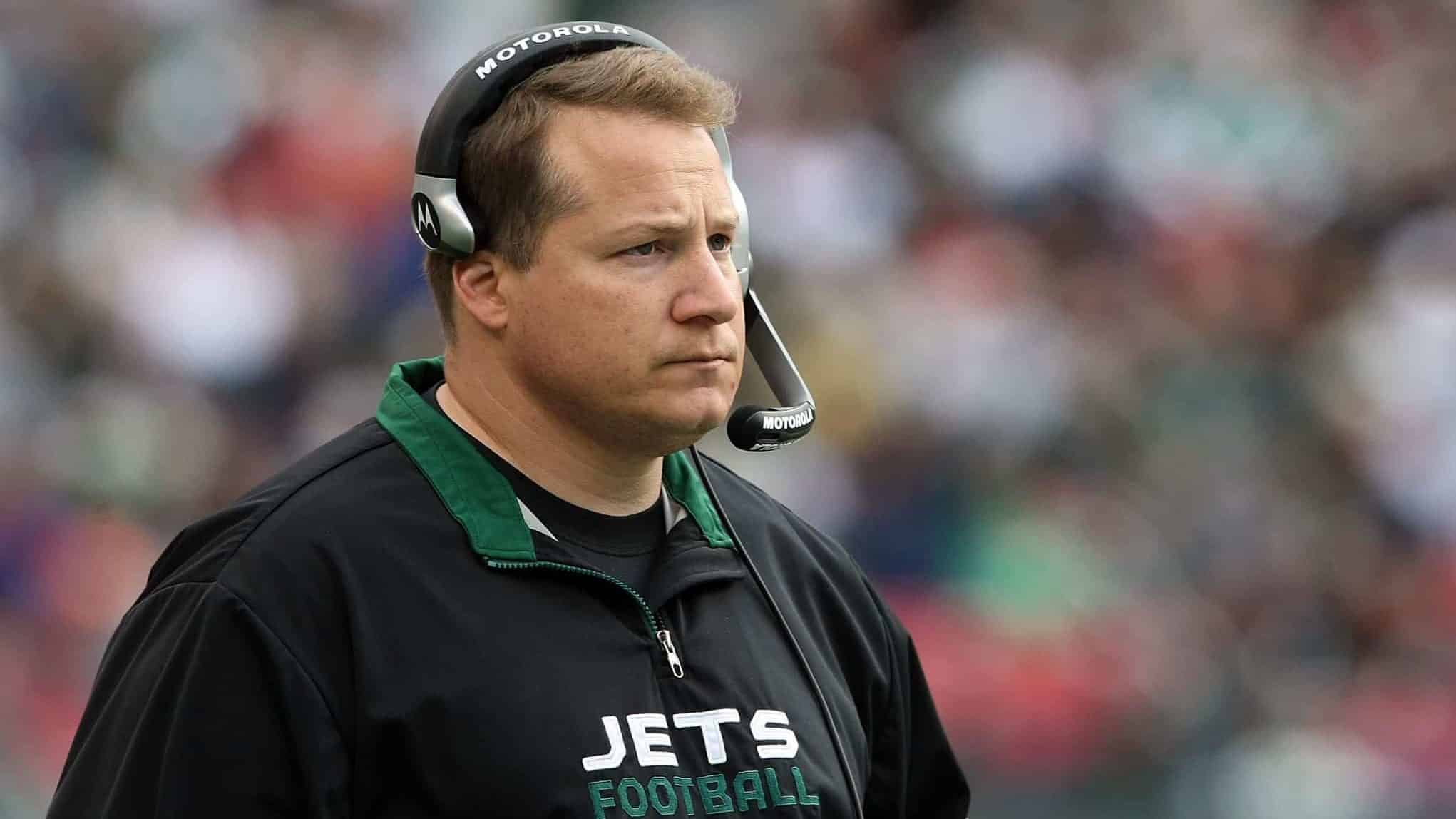 Just Look To 2006
The 2006 campaign is all that's needed to understand this entire situation.
A fresh-faced Eric Mangini coupled with Mike Tannenbaum didn't mess around. The regime's first two draft picks were D'Brickashaw Ferguson and Nick Mangold.
Were these two big dudes the "best available?" It's highly doubtful.
What Mangini and Tannenbaum understood was that it starts up front and nothing else matters until that's initially hammered home. All that did was kickstart the most talented Jets personnel base since Bill Parcells (helping Rex Ryan ride the duo's personnel-brilliance to two AFC Championship Game appearances).
Though the pass-rushing situation hasn't been solved since John Abraham, Mangini and Mikey T. surely attempted (Vernon Gholston). What's comforting is that the vision was apparent. The most basic idea of team-football building was placed at the top of the executive chart.
It's 2019, It's Time
It's 2019. Free agency and the NFL Draft are around the corner. Enough with the "best available player" nonsense.
I'm already on record with the blueprint. Due to the fact so many edge rushers are available (in such a freakish collection via free agency, for those who actually reach that unemployed level), New York should target two (Brandon Graham, Trey Flowers, Demarcus Lawrence) and either draft Jonah Williams at No. 3 or trade back while collecting assets and drafting Cody Ford or Dalton Risner.
Kelvin Beachum may be the Jets most consistent offensive linemen. It doesn't matter. He's almost 30-years-old, represents extra cash upon release, and plays the most critical position along the line. Keeping Brian Winters and Brandon Shell while attempting to find newbies at the other three spots is the logical strategy (based age, salary and skill).
Some may suggest signing only one edge in free agency to draft Josh Allen or pray that Nick Bosa falls.
No.
It's time to push the issue. It's time to clean it up and build those football walls Sam Darnold and Jamal Adams deserve. Sign two edge free agents and draft a left tackle in the first round. Until those spots are taken care of, the entire depth chart is playing with a severe handicap.
Enough with the "best available player." It's cool with the depth chart is balanced, ready. It's counterproductive when both sides of the line of scrimmage are lowering the play of ever man behind each.
It's time to force the offensive line/conventional pass rush issue.