The subject of an NFL Films feature set to premiere on Tuesday, former New York Jets scout Connie Carberg spoke with ESNY on her NFL journey.

No matter how much you know about New York Jets football, Connie Carberg more than likely has you beat.
Carberg has been one of the foremost experts on the Jets for the past five decades.
Growing up in Babylon, Long Island, Carberg's father Calvin served as a Jets team doctor. After a successful college stint at Ohio State, Carberg returned to the Long Island in a Jets capacity, serving as a secretary at the team's Hempstead headquarters. Shortly after, she made her mark as one of the most notable trailblazers in NFL history.
In 1976, when general manager Al Ward and director of player personnel Mike Holovak named her the first female scout in the history of the NFL. She worked directly with the Jets' front office throughout numerous drafts, helping form some of the best draft-hauls in franchise history. Most notably, Carberg's scouting led to Mark Gastineau's appearance in the 1979 Senior Bowl, whose North squad was coached by the Jets' staff.
After the East Central Oklahoma State alum impressed the big eyes of the NFL, he became the Jets' second-round pick and one of the most memorable on-field careers in the history of the Jets.
Carberg's NFL journey will be showcased on the latest episode of NFL Films Presents, entitled "Forever A Jet." She shared a clip from the episode on her Twitter account, featuring interviews with Joe Namath, Lou Holtz, and Carberg herself. The full episode will premiere on Tuesday night at 6 p.m. ET on Fox Sports 1.
Here's a sneak peek from the @NFLFilms feature, "Forever A Jet". I'm so thankful to get to talk about my life with the @nyjets and the @NFL. I hope you'll be watching @FS1 tomorrow (Tuesday, Jan 15) at 6PM EST. #ForeverAJet pic.twitter.com/gDNymrBN1T

— Connie Carberg (@ConnieScouts) January 14, 2019
Prior to her showcase, Carberg sat down with ESNY to speak about her Jets experience from a past, present and future perspective.
Q: Your football journey unofficially began at Ohio State. What can you tell us about your time in Columbus?
A: I transferred to Ohio State from an all-girls college in Massachusetts, best move I ever made. I majored in home education, and I thought I would coach girls sports after graduation, but my passion was football. But there were no women trainers, announcers, reporters, PR, etc. at that time. I was president of my ZTA sorority and enjoyed every moment at my school.
Q: What do you remember about Woody Hayes and how big of an influence was he on your career?
A: I loved Ohio State and its football traditions. I got to meet Coach Woody Hayes and he was so great to me. He saw my football passion and had me come to the football offices and speak with him. He encouraged me to pursue it and said come to OSU practices, whether open or closed, which I did. He was a true mentor. He continued to be helpful when I went back to scout Ohio State in 1976 for the Jets.
Q: You joined the Jets in 1975, and played a huge role in their ensuing drafts. Are you surprised at the phenomenon the draft and its preparation has become?
A: It's amazing how different the draft is how it used to be, 17 rounds, no computers, no pre-draft physicals, and it sure wasn't televised! Also, back then, there were a few "draftniks" like Joel Buchsbaum and the Marasco brothers, but nothing like the thousands of draft predictors with the advent of social media and the TV coverage for three months on sports channels.
Q: Can you please describe your feeling when Al Ward and Mike Holvak offered you the position of scout? 
A: I was honored when they asked me, and yet, they didn't make a big deal out of it. They had let me make the last draft pick in 1975, becoming the only female to ever do so) and I always felt confident in my football knowledge (Writer's note: the pick was Ohio State tight end Mike Bartoszek.) The New York Jets were so far ahead of the times!
Q: What is your favorite memory made with the New York Jets?
A: I have a million wonderful memories with the Jets, but my favorite has to be being the only female in the building and receptionist/scouting secretary when Weeb Ewbank Hall opened in 1974. I met everyone that came in or called. It was such a family!
Q: Your status as the NFL's first female scout puts in a strong group of female football role models, alongside names like Amy Trask and Sarah Thomas. How does it feel to be a role model for women trying to break through in the league?
A: I really didn't know I was a role model at the time, but now I do. It's a great feeling and I hope to see more women become scouts!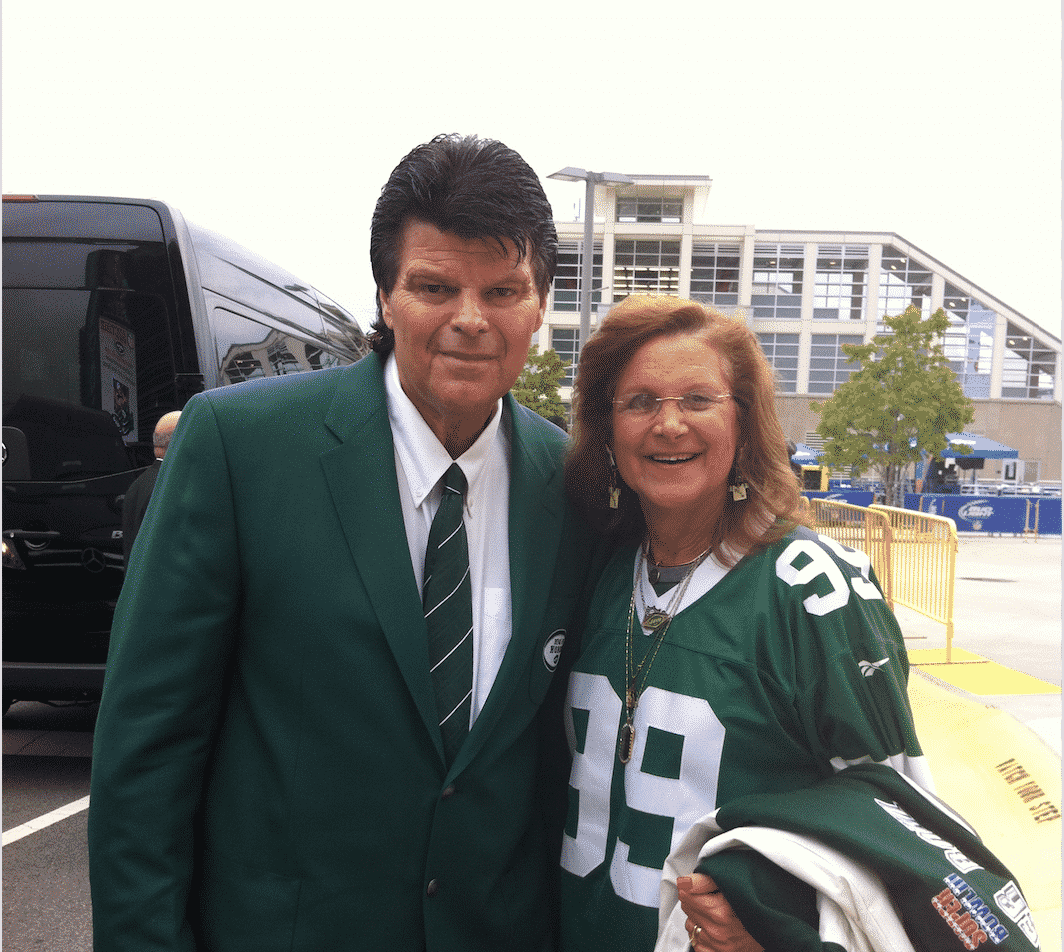 Q: As a scout, what are the traits you seek out most in a player?
A: As a scout, measurables of height, weight, and speed are a given. But it's still far from an exact science, as the heart and football smarts are harder to measure, but just as important. Do they love the game, are they, leaders, are they disciplined, do they have character? Each position has certain things to look for.
Q: You are currently stationed in South Florida, but maintain your love of the Jets, as well as the love of the game. What are you working to on to introduce the game to new legions of fans and analysts?
A: Even though I live in Florida, I will always bleed green and white. I have done many speaking engagements to women's groups and colleges about being the first female scout, taught football 101 to women, written blogs on my web site Connie Scouts, am always active on Twitter and published my biography last year. It's available on Amazon and entitled X's and O's Don't Mean I Love You, written by Elisabeth Meinecke. I still visit Jets camp in New Jersey every summer for two weeks.
Q: What are your thoughts on the current state of the New York Jets?
A: My heart is always with the Jets. We finally have our QB, which is huge. I've been through so many coaching changes since 1962, and it's so hard to predict the success of a head coach. I know the "in" thing is for the head coach to be an offensive genius now. I've always been one to concentrate on the offensive and defensive coordinator, as they spend so much time with each player, and I look to the head coach as the leader of men. It's such a tough job! I'm rooting for coach Gase!
I love that we finally have a vocal leader and a passionate guy who wants to win so badly in Jamal Adams. if the rest just follow with the same intensity even if not vocal, the Jets will be fine!
Q: What do you see out of Sam Darnold and how can he build on the promise shown at the end of 2018?
A: I fell in love with Sam Darnold his first year at USC, but never thought we'd get him. He's dedicated to football and has the temperament to succeed in New York. He's, mobile but looking to pass. He's smart and has a good arm. I loved the way he watched Josh McCown and learned, even when injured.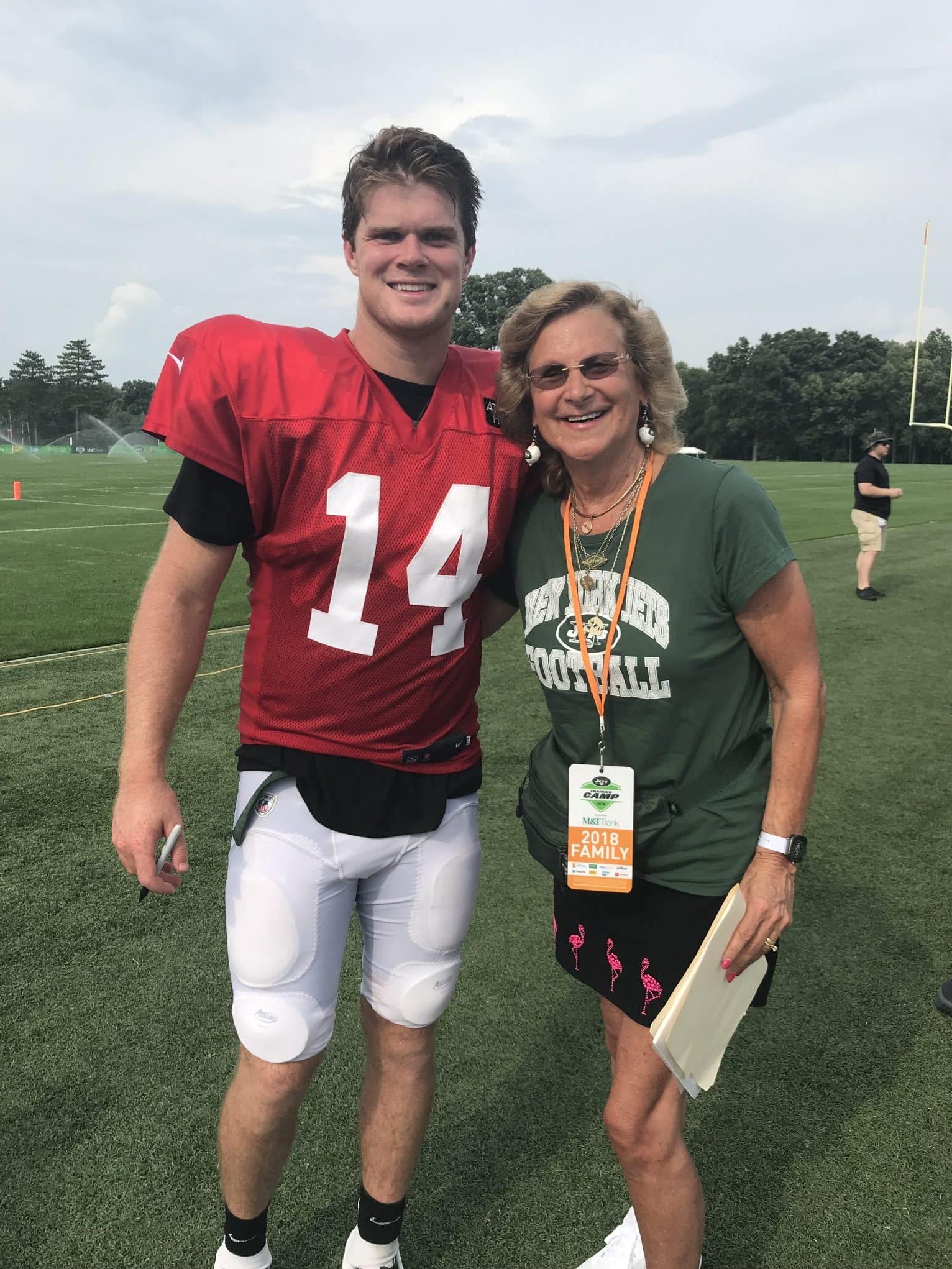 Follow Geoff Magliocchetti on TWITTER