The transition from 3-4 base to the 4-3, should the New York Jets make Gregg Williams as DC official, could be a tricky one early on.

The brand-types of NFL defensive fronts have never broken off into superior-inferior categories. The 3-4 base has frequently led the defensive charge via Super Bowl champions. The 4-3 front falls in a similar category. Even the 46 enjoyed its short-lived day in the sun (1985).
It matters not which base is presented, rather how efficient it runs. This principle has accelerated in thought since 11 personnel and nickel have taken a large chunk of the base pro personnel from the time of the game. Instead of seven or eight in the box, base defense during the NFL season of 2018 frequently features six or seven.
The New York Jets organization is no different. From the 4-3 New York Sack Exchange look to Bill Parcells's 3-4, Herm Edwards's four-man front to Rex Ryan's aggressive 3-4 scheme, success relies upon play and quality.
Yet again, due to the impending arrival of the team's newest defensive coordinator, Gregg Williams, change is upon the defense that resides in Florham Park, New Jersey.
Via Ian Rapoport of the NFL Network, Adam Gase and the Jets are nearing contract conclusion with Mr. Williams.
New #Jets coach Adam Gase is on the verge of a big hire: Former #Browns interim coach Gregg Williams is in talks with Gase to become their new defensive coordinator, sources say. Things are progressing in this direction, and those involved believe it'll get done.

— Ian Rapoport (@RapSheet) January 11, 2019
"New Jets coach Adam Gase is on the verge of a big hire: Former Browns interim coach Gregg Williams is in talks with Gase to become their new defensive coordinator, sources say. Things are progressing in this direction, and those involved believe it'll get done."
It's not official. Rumors of a certain NFL team toying with the idea of offering him a head-coaching role are floating in the atmosphere.
It's understandable. He's a fiery defensive leader, a former head coach who doesn't take much lip from anybody. He's also a leader whose 4-3 scheme usually showcases the two edges as the star of the show (see Myles Garrett in Cleveland).
For now, forget scheme. Forget tendency. Forget individual attentiveness. The first order of business if figuring out the transition. This organization has run the 3-4 since Herman Edwards's last day as sideline boss.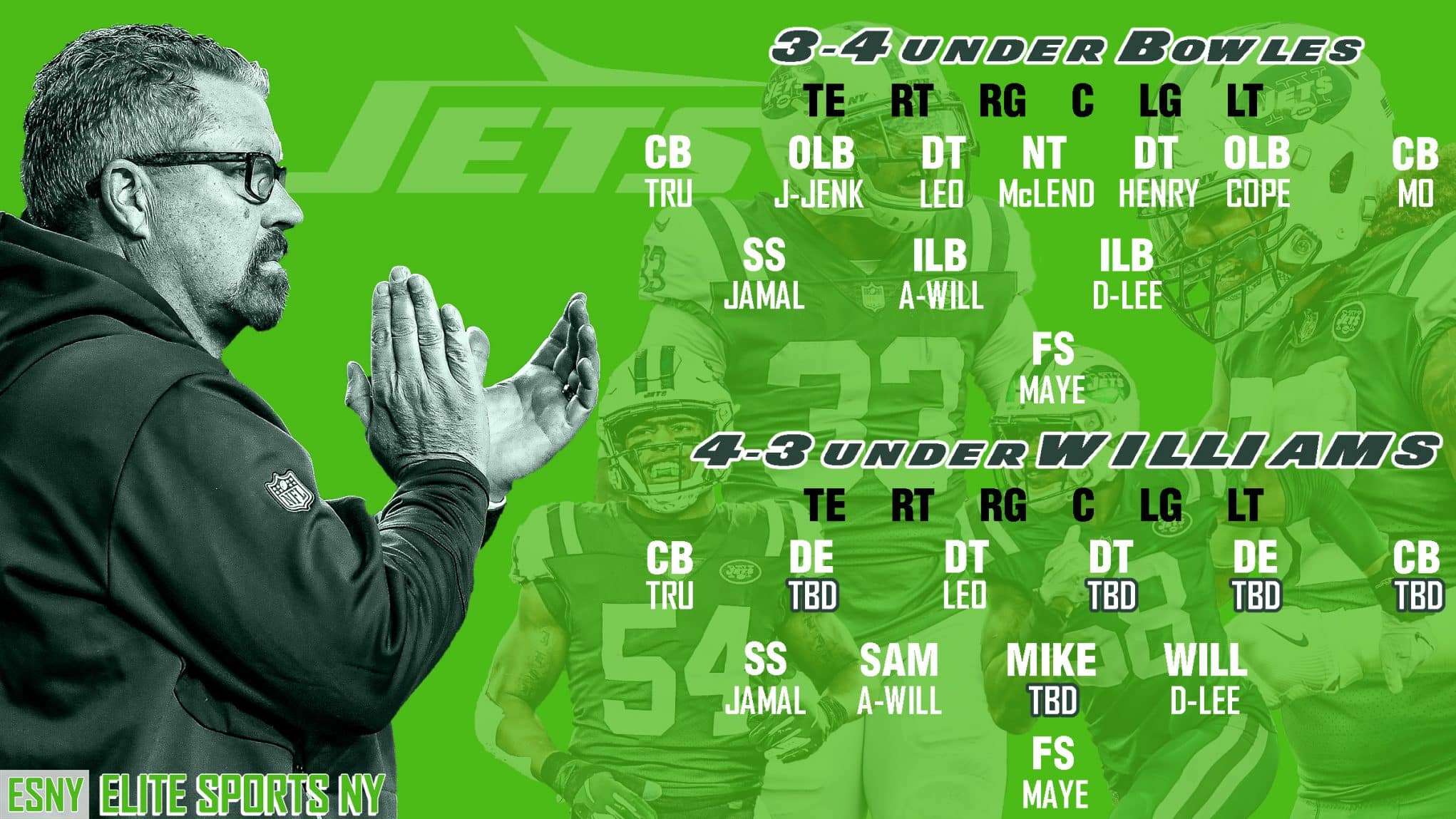 3-4 under Bowles
DT: Leonard Williams
DT: Henry Anderson/Nathan Shepherd
NT: Mike Pennell/Steve McLendon
OLB/EDGE: Jordan Jenkins
ILB: Avery Williamson
ILB: Darron Lee
OLB/EDGE: Brandon Copeland/Frankie Luvu
You already know the look. The Jets box in 2018 was rather unspectacular. They couldn't stop the run despite Todd Bowles's usual stubbornness in that area while deploying All-Pro Jamal Adams as that eighth man in the box.
Finishing 25th in the NFL (surrendering 126.3 yards per game on the ground), the timing is perfect to blow it up.
But why didn't it work?
Well, the personnel is the main reason. Of course the 3-4 works when the players are right. Still, there are two glaring individuals who'd thrive in the 4-3 base as opposed to the 3-4.
Darron Lee is a prototypical 4-3 WILL. Coming in as one of the lightest linebackers in the league, playing the inside of a 3-4 is tough. As the clear weakside guy in a 4-3, his freedom to roam will be propelled by miles.
More importantly, Leonard Williams will find glory as a true 3-technique defensive tackle. This can be accomplished on a regular basis in Gregg Williams's scheme as opposed to Bowles's.
4-3 under Williams (Max Potential)
DE/EDGE: TBD
DT (3-technique): Leonard Williams
DT (NT-type): TBD
DE/EDGE: TBD
SAM: Avery Williamson
MIKE: TBD
WILL: Darron Lee
Admittedly, it's not a great look having just three players fill out the max potential front seven. Bad look or not, it's the truth.
Jordan Jenkins is not a stud edge player in the NFL. He's an excellent run-support edge and a guy who works much better as a bigger, stronger 3-4 outside linebacker. He can remain with the team for the final season of his rookie deal, but ideally as that third or fourth defensive end and a player who can fill in at the SAM in a pinch.
The same can be said for Brandon Copeland and Frankie Luvu for other reasons. These kids just don't possess starting talent at the moment.
The talent that could show face in free agency is loaded at the edge.
Demarcus Lawrence
Trey Flowers
Dee Ford
Jadeveon Clowney
Frank Clark
Brandon Graham
Preston Smith
Ezekiel Ansah
Shaq Barrett
Za'Darius Smith
Granted, many of these free agents will be re-signed or tagged, but considering the Jets desperate need for a starting left tackle (i.e. Jonah Williams in the first round and nothing available in free agency), attacking two of these edge free agents is the smart move.
The lighter, quicker defensive end is now needed in the 4-3 look and they shall represent the star of the show.
Henry Anderson is a man who unfortunately finds himself lost, again. The very same thing happened to him in Indianapolis a year ago. He's a true 3-4 DE/DT. The only spot he fits into the 4-3 base is the 3-technique and, unfortunately for him, that's Leo's spot. He and Anderson together in the base is far too soft.
Thankfully, as previously mentioned, this NFL shares the base look. Nickel on 11 personnel is as base as it gets in today's league and Anderson can be re-signed as that interior sub-rusher next to Williams. He just can't start in the seven-man box base.
SUB Interior Rusher: Henry Anderson
SUB Edge Rusher: Brandon Copeland or Frankie Luvu
SUB Edge Run Support: Jordan Jenkins
SUB Interior Run Support: Mike Pennel and Nathan Shepherd
SUB Linebacker: Neville Hewitt
[membership level="0"]
Is Avery Williamson best at the SAM or MIKE? This is a genuine question. I believe it's as a SAM, but he can easily play MIKE. For max potential, I like the Jets searching for that next second-level leader.
If no big man is found to play alongside Leo, Mike Pennel and/or Nathan Shepherd will have to man down the fort.
4-3 under Williams (With Current Roster)
DE/EDGE: Jordan Jenkins
DT (3-technique): Leonard Williams
DT (NT-type): Mike Pennell
DE/EDGE: Brandon Copeland
SAM: Neville Hewitt
MIKE: Avery Williamson
WILL: Darron Lee
When taking the existing personnel and wrapping it around the 4-3, the front is severely flawed on many levels. First and foremost, those edges cannot and will not do (and this was the case in the 3-4 as well).
SUB Interior Rusher: Henry Anderson
SUB Edge Rusher: TBD
SUB Interior Run Support: Nathan Shepherd
SUB Linebacker: Anthony Wint
Kentucky's Josh Allen fits the Jets defensive needs perfectly. No player in the upcoming NFL Draft fits what Gregg Williams needs as phenomenally. Unfortunately, a load of edge players are available in free agency while no offensive linemen are free. Also, there's the kid named Sam Darnold who needs a fortress built in front of his golden right arm as soon as possible (before winds of Andrew Luck running for his life seriously take hold and stick).
Final Thoughts
Overall, the transition won't be so tough for one specific and depressing reason: the Jets need many players any way it shakes out.
If the front-seven was secure in the 3-4, it'd be a tough move. But it's not. Both edges need to be secured to go along with a rush eater in the middle and a middle backer who can quarterback for the next decade.
Bring on Gregg Williams. Bring on the 4-3. It's time.